By Kieran Darcy
Page 2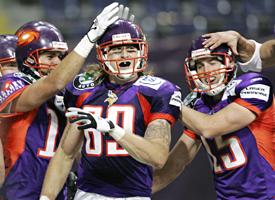 Alexander Heimann/Bongarts/Getty Images
Sure, it's in Europe, but it's still football.
Memorial Day weekend is here, meaning the summer is about to begin. Soon, we'll only have baseball to keep us occupied. Which is cool and all, but …
Aren't you ready for some football?
It's been 111 days since Super Bowl Sunday. And NFL training camps are a couple months away. Don't you need a football fix?
Well, you're in luck. Because the one pigskin holiday even bigger than Super Bowl Sunday is upon us. What is it, you ask?
Why, World Bowl Saturday, of course!
NFL Europe's Amsterdam Admirals and Frankfurt Galaxy will do battle in World Bowl XIV Saturday in Dusseldorf, Germany. Kickoff is at noon ET here in the U.S. So whether that's breakfast or lunchtime where you live, if you're a real football fan, you really should throw a party. After all, it's a holiday weekend -- you've got two days off to recover!
So, without further ado, the Page 2 guide to planning a World Bowl Saturday party.
FOOD & DRINK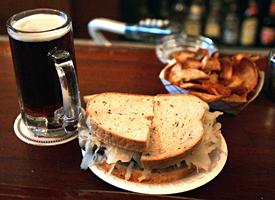 Tim Boyle/Getty Images
Let's see, you got beer, chips, meat ... and sauerkraut.
This is the first thing you think about when planning a Super Bowl party. But you can't serve the same stuff, like pizza and buffalo wings, at a World Bowl party. What would be the fun in that?
The game's in Germany, and Frankfurt's one of the teams playing -- so go with a German theme. Bratwurst, sauerkraut, soft pretzels … maybe a little apple strudel for dessert. Plus German beer, of course. Pick up some Beck's, Bitburger, Spaten, St. Pauli Girl, or whatever German brew you can find. And if you've got an abnormally large beer stein to drink it out of, all the better!
SPECIAL TREAT
Well, only one of the two teams is from Germany. The other is from Amsterdam. So, you catch my drift.
PREGAME
According to NFLEurope.com, World Bowl XIV will be shown in more than 120 countries and will reach an estimated global audience of more than 150 million people. (I'm not kidding.). And it will air live for the first time on the NFL Network in the United States. If you don't have that channel yet, you better find someone who does, fast.
Problem is, the NFL Network isn't showing several hours of pregame programming, like we usually get before the Super Bowl. In fact, it isn't showing any World Bowl pregame programming at all -- just repeats of "NFL Total Access." That's an absolute travesty.
You could always watch "SportsCenter" -- that'll be running for several hours leading up to kickoff. But the females in attendance might scoff at that.
Luckily, another channel is offering what seems like a great compromise. Beginning at 8 a.m. ET Saturday, MTV will be airing 810 consecutive minutes of "Laguna Beach." That's right folks, 27 episodes -- the entire first two seasons! Clearly this is a ploy by MTV to snag the pre-World Bowl audience. The women will love it -- and the guys can get creative with it. For instance, every time LC and Kristen say something catty about one another, or every time Kristen says "dunzo" (yes, I clearly watch the show), you take a drink … of water. Or something like that.
It's the next best thing to tailgating in Dusseldorf!
POOLS
You should already have this covered. Undoubtedly you've come across lots of World Bowl pools set up at your local watering holes over the last several weeks, and bought a couple boxes. And you could always do your own pool as well, depending on how many people are attending your party.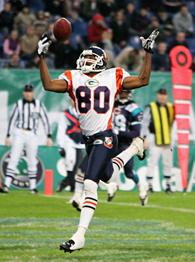 Stuart Franklin/Bongarts/Getty Images
WR Chad Lucas did a stint with the Packers and then went to Amsterdam.
THE GAME
Oh yeah, there's an actual football game to watch. Since there's no pregame coverage, I'll give you the quick lowdown on World Bowl XIV. Amsterdam and Frankfurt (both 7-3) qualified by having the top two regular-season records during the 10-week NFL Europe season. Twenty-seven of the 32 NFL teams have at least one allocated player on one of these two teams.
The Admirals are the defending World Bowl champs; but you probably knew that already.
And they're the only non-German team left in the six-team league. Their distinguished alumni include kicker Adam Vinatieri (1995) and quarterback Kurt Warner (1998), both of whom went on to become Super Bowl heroes. But I'm sure their NFL Europe experience has a special place in their hearts.
Frankfurt is playing in a league-record seventh World Bowl. The Galaxy have won it three times (1995, 1999, 2003). Jake Delhomme played for them in 1999 (he also backed up Warner with Amsterdam in '98), and their original coach was Jack Elway, John's father.
Amsterdam won each of the matchups earlier this season, 38-20 in Amsterdam and 17-12 in Frankfurt. But in the 1995 World Bowl, Frankfurt defeated Amsterdam 26-22.
These two teams feature the top two offenses in NFL Europe this year. Frankfurt is led by running back Roger Robinson (affiliated with the Arizona Cardinals), who set a league record with 1,087 rushing yards this season. Amsterdam does most of its damage in the air -- but the Admirals have lost starting quarterback Gibran Hamdan (Seattle Seahawks) to a broken ankle. They do have the league's leading wide receiver in Skyler Fulton (Seahawks), who finished the season with 992 receiving yards. And they'll rely on quarterback Jared Allen (Tampa Bay Buccaneers) to get the ball to him and others.
The bottom line? So what if this is basically a minor league game? Let's get it on!
COMMERCIALS
You probably won't see many new commercials during the World Bowl, so flip the script. Watch the commercials, and vote on which ones you think are the worst. Or perhaps, whenever you see a commercial that's so bad you actually groan out loud, take a drink of … water. You dig?
HALFTIME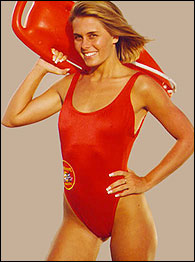 Many a man would fake drowning to be rescued by Nicole Eggert.
There'll be no Lingerie Bowl to keep you occupied at halftime. You could always go back to "Laguna." Or, two other suggestions:

• "Baywatch" DVD: You probably haven't seen the show in a while. Watching "Baywatch" babes is probably the next best thing to the Lingerie Bowl. Plus you'll get to see David Hasselhoff, a bona fide music superstar in Germany!
• Mike Myers' SNL "Best of" DVD: And go straight to Sprockets!
POSTGAME
There's been so much hype about the upcoming World Cup in Germany. But that's not real football, right? You'll be able to brag about watching the World Bowl, and your World Bowl Saturday party -- proof that you're a truly big-time football fan.
And after all, if nothing else, it's a good excuse to wake up early and drink beer in the dead of the football offseason, right?
Plus, watch "Laguna."
Kieran Darcy is an editor with ESPN.com. And if anyone actually throws a World Bowl party, he would love to hear about it! You can e-mail him at kieran.d.darcy@espn3.com