CLEVELAND -- The Missouri Valley was my main course. This was my dessert.
For those of you following my travels, I tacked on another 4 hours, 17 minutes and 258 miles, in the car on Friday. My destination? Columbus, Ohio, to see Greg Oden play in person for the first time -- then on to Cleveland for Sunday afternoon's Lakers-Cavaliers game.
Here are 20 observations from watching the weekend.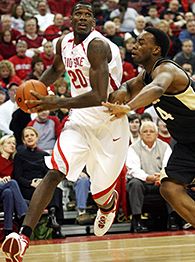 AP Photo/Terry Gilliam
Greg Oden isn't just supremely talented -- he hustles, too.
• From the minute I walked in Value City Arena at Ohio State on Saturday morning, I missed the Missouri Valley. It's a nice arena, don't get me wrong. But it's too big, too "pro" looking and feeling. It certainly doesn't have the character of some of the buildings I visited last week.
• Why does Michael Buffer saying, "Let's get ready to rumble" still give me goose bumps?
• The second-best free throw shooting story in college basketball this season -- after Blake Ahearn -- is Greg Oden. I can't mention this enough. The guy is 7 feet tall, and he's shooting 61.1 percent from the foul line with his weak hand. Against Purdue, Oden hit two ultra-clutch free throws late, with the Buckeyes up just 54-52. Both nothing but net.
• After a foul called against Purdue, I saw perhaps the greatest scoreboard graphic ever. A picture of John Goodman appeared on the screen, along with the words: "DUDE there are rules." Awesome. For the record, my second-favorite movie after "Hoosiers" is "The Big Lebowski."
• Oden moves so gracefully for his size. He never looks like he's in a hurry, but he seems to be involved in almost every play when he's on the floor.
• Oden goes after every rebound. This comes across on TV, but even better in person. He does a great job of boxing out, and if one of his teammates puts up a shot, he'll immediately charge right to the rim or try a spin move around his man to get to the rim. With his size, the ball finds his hands pretty often.
• If it wasn't for Oden getting so much press, Mike Conley Jr. would be getting a whole lot more. The Buckeyes' freshman point guard is going to be a heck of a player -- he's already pretty darn good. He's very quick, and he's sixth in the nation in assists (6.3 apg). If he develops a consistent perimeter jumper, watch out.
• The Buckeyes clearly feed off Oden. There's a different energy when he's on the floor. He hasn't fouled out of a game yet this season, but he was limited to 21 minutes against Purdue because of foul trouble -- and he still had 14 points and nine rebounds in OSU's 63-56 win. Coach Thad Matta admitted he made a mistake not taking Oden out late in the first half -- Oden picked up his second foul right before the break and a third just 1:14 into the second half.
• Oden made the assembled media chuckle on multiple occasions in the postgame press conference. He looks like a man, with the beard and that height -- his head practically grazed the ceiling when he stepped up to the podium. But he has the soft-spoken voice of a child, which surprises you. When Oden was done speaking, Matta asked him something away from the microphone. I couldn't hear what Matta asked him, but Oden's response was, "I'm going to sleep right now." Sounds like a typical college kid, doesn't it?
• Can the Buckeyes win the national championship? Yes. But their effort will have to be much better than it was on Saturday. Ohio State looked lethargic from the get-go, like it was going through the motions. A couple of the players indicated that the early start time (12:17 p.m.) may have contributed to that -- "We didn't have juice from the beginning of the game," said Jamar Butler. But in the NCAA Tournament you can have some weird start times. Hopefully the Buckeyes will learn from this.
• Stayed with a friend in Akron on Saturday night, where we grabbed some food and a couple beers at The Winking Lizard. No LeBron sightings, even though Akron is his hometown.
• A trio called Valor performed the national anthem in Cleveland on Sunday -- and it was the worst rendition I have ever heard. "The Star-Spangled Banner" is not a doo-wop song, it's our national anthem. Why can't people just sing it in the traditional manner?
• On several occasions when a Laker was shooting a free throw, a picture of the University of Michigan logo flashed on the scoreboard. I thought that was pretty funny -- except for the one time they did it when they also flashed a picture of Bo Schembechler. I mean, come on guys! The man died only three months ago!
• LeBron looked like most of the Buckeyes on Saturday -- lethargic. He settled for too many fadeaway jumpers, many of which were way off. He sat out for practically the first half of the fourth quarter -- not sure whose decision that was, coach Mike Brown's or LeBron's, but it was strange. LeBron didn't score in the second half until there were less than three minutes remaining, and he was very cranky with the refs all game long.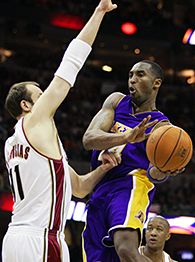 AP Photo/Mark Duncan
Kobe Bryant evokes even more memories of MJ in person.
• Kobe, on the other hand, looked like he was on a mission -- particularly in the second half, when he scored 25 of his 36 points. He'd settle for fadeaway jumpers sometimes too -- except he'd make most of them.
• The halftime entertainment was Speed Stacks -- basically, it was four kids stacking and restacking plastic cups at lightning speeds. It was one of the most bizarre things I've ever seen -- even frightening.
• Before the game, and even at halftime, some guys from opposing teams were fraternizing. Not to hate on friendliness, but where's the intensity? I grew up watching rivalries like Lakers vs. Celtics, Bulls vs. Pistons, Knicks vs. Bulls and Knicks vs. Heat. Those teams didn't like each other, and I preferred my NBA basketball that way.
• The Cavs' two biggest stars of the game were two nonstarters, Sasha Pavlovic (21 points) and Anderson Varejao (12 points). Both hit key shots late, and if the Cavs continue to get that kind of play from their bench, the rest of the East better watch out. "I'm a prophet, I've been talking about how good Sasha is for three years," LeBron said after the game, his feet buried in a bucket of ice water. "I caught both of those guys a couple times. That's just what my game is all about, I always trust my teammates."
• Listening to a little sports radio over the weekend in Ohio, several people were talking about trading LeBron. Even a security guard at The Q leaned over to me at the end of the game Sunday and said, "They're finally finding out they can win without LeBron." When LeBron missed two consecutive free throws in the second half, there were even scattered boos. That's ludicrous. The Cavs might be 8-2 when playing without LeBron the past two seasons, but he's one of the most unique, special talents in the history of the game. You think you have it bad, Cavs fans? Come visit me in New York and attend some Knicks games.
• Overall, I'd say Ohio basketball fans have it pretty good right now.
And for a weekend, so did I.
Kieran Darcy is an editor for Page 2. You can e-mail him at Kieran.d.darcy@espn3.com.