BROOKLINE, Mass. -- On a sunny but brisk Tuesday afternoon in early May, the Newbury College baseball team is collectively standing along the first-base line, watching the Becker College team taking batting practice. They've been watching for several minutes now, after finishing their own stretching and throwing warm-ups.
One after another, the Becker players continue to take turns in the batting cage -- without wearing batting helmets, some without uniforms on -- while the players in the field whoop it up and joke around with each other as they retrieve the hit baseballs.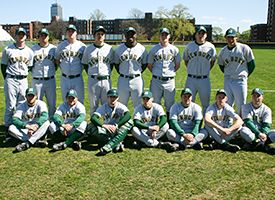 Newbury College
Introducing the 2007 Newbury College Nighthawks baseball team.
Newbury head coach Greg Sullivan decides to take action. He disappears into the dugout and emerges moments later with a package of golf ball-sized Wiffle balls, then a milk crate full of larger, orange and yellow hardballs.
"All right guys, let's take some cuts with the Wiffle balls, and practice some bunts," Sullivan yells to his team.
A few Newbury players -- already in full uniform, except for black warm-up jackets in place of their jerseys -- walk off to the right with the Wiffle balls, while the other players start taking turns practicing bunts with the hardballs. Sullivan watches the bunters intently. "Separate those hands," Sullivan urges one player. "Look it down."
The other players are coaching their teammates too. "Square up!" one reminds another. "Keep your head down!"
After several minutes of this, Newbury freshman Tomas Mathew has had enough of waiting for Newbury's turn for batting practice. "C'mon, they're taking triple rounds of BP!" he exclaims, raising his hands in the air.
Sullivan quickly gathers his players in a huddle.
"Guys, don't pay attention to what they're doing," Sullivan says. "Just focus on playing our game. It doesn't matter."
After all, the Newbury Nighthawks have been through much, much worse.
---
Newbury is a small college with eight buildings nestled on Fisher Hill in Brookline, just a few minutes from downtown Boston. The campus is right by the Charles River, surrounded by multimillion-dollar mansions. Red Sox sensation Daisuke Matsuzaka is believed to reside in one of the majestic homes nearby.
Newbury was founded in 1962, and currently has 925 undergraduates, studying everything from criminal justice to culinary management. The school offers seven varsity NCAA Division III sports for men and five for women. But its most recent addition is its baseball team.
Newbury athletic director Peter Centola, a former baseball coach, had contemplated starting a baseball team at Newbury since he took the job in 2003.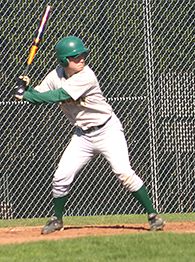 Mike Colangelo/ESPN.com
Newbury students like David Carroll and Brian Fish (pictured here) were overjoyed when they found out Newbury would field a team.
"A bunch of us used to play catch and hit grounders to each other in the courtyard," says junior David Carroll, one of Newbury's players. "Pete would walk by, and tell us he'd try to get something done for us."
He did. With the support of the school's administration, Centola created a club team in 2006 that played three games. And he got the green light to make the team an official Division III member for 2007.
"We were so excited when we heard, everybody was on the phone calling each other immediately," says Carroll, who played in high school but thought his baseball career was over when he came to Newbury. "We couldn't believe we were actually going to have a real NCAA team."
Centola's next move was to hire a coach -- he'd coached the club team himself, but wanted somebody who could fully devote himself to the baseball team. It took him longer than he had hoped.
"I knew this job was going to be a challenge," Centola says. "I wanted to make sure I had the right fit."
Finally, in December 2006, he hired Sullivan.
As a player, Sullivan starred for four years at Eastern Connecticut State, a D-III baseball powerhouse, where he played in three Division III College World Series. The last one being in … 2006.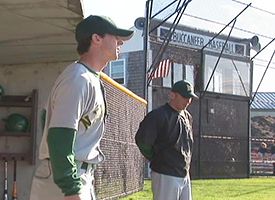 Mike Colangelo/ESPN.com
Greg Sullivan looks more like a player than a coach, but he has a commanding dugout presence.
That's right. Sullivan is 23 years old -- making him barely older than some of his players, and among the youngest head coaches in the entire NCAA.
After finishing his playing career, Sullivan had opportunities to play independent pro baseball, and to play overseas. But the coaching bug bit him during a stint helping out with a summer league team in South Carolina in the summer of '06. He received offers to be an assistant coach at several other programs, including D-I programs. But he decided to take the job at Newbury.
"Not only was it a head collegiate job, at my age," Sullivan says, "but I knew I'd have great support from the administration here. I just thought it was a great opportunity to build something, and to make an impact with these kids."
After taking the job, Sullivan had just a few weeks to prepare for the season -- practice started on Feb. 5. With just a club team to build upon, Sullivan held an open meeting.
"I basically told everyone who showed up, 'If you want to make this commitment, you're in. I don't care what your baseball background is,'" he said.
Sixteen players made that commitment -- only four had played for their high school baseball team. Those 16 filled out Newbury's inaugural roster.
The team practiced six days a week for the next two months, at various local fields, since Newbury doesn't have its own diamond. Sometimes they'd even practice on a plain rectangular field right next to East Hall, which houses the school's athletic department. The focus was on the fundamentals -- for obvious reasons. Then they opened the season on April 6 by dropping both ends of a doubleheader against the University of Maine-Presque Isle, 5-1 and 5-3.
The losses were no surprise. But the team still had a blast.
"Man, putting that Newbury uniform on for the first time, that was unreal," Carroll says. "I'll never forget it."
Then, three days later, the Newbury Nighthawks had a blast of a different kind, against Bridgewater State.
Final score: Bridgewater State 57, Newbury 1.
---
The Becker players finally finished up their batting practice, and within seconds the Nighthawks sprinted into action. Several flew to their designated positions in the field, while the first group of three hitters donned batting helmets and began taking practice cuts one by one in the batting cage.
Watching them prepare to play, you wouldn't think this team was 0-9 (the team had difficulty finding opponents to play). You wouldn't think this team had set NCAA records for runs allowed in a game (57), hits allowed (44) and margin of defeat (56).
And you wouldn't think anything positive could come from something so negative.
Think again.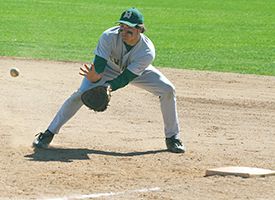 Newbury College
The Nighthawks do have some talent. Tomas Mathew, for instance, is pretty slick at first base.
"I thought I'd have to get on them, but they played their hearts out the whole way," Sullivan says. "It would have been easy to quit and roll over, but at no point did they hang their heads or get on one another. I saw we had something special here that day."
Against Bridgewater State, Newbury was down 22-2 after the second inning. Newbury was clearly seriously outmatched talentwise. The Nighthawks huddled up in front of their dugout after that inning and vowed to keep fighting no matter what.
"It was a humbling experience for sure," Carroll says, "but it was also a great learning experience. We hung in there, together, and realized it's not all about wins and losses. It's about how you play the game."
The game was called after seven innings because of the NCAA's 10-run mercy rule.
"When we made the last out in the seventh, three or four of our guys sprinted out to their positions," Sullivan says. "If they were gonna let us play nine, we would have played nine."
The next day, the Nighthawks were scheduled to play Anna Maria College.
"I was running late that day," Sullivan says. "When I got to East Hall, they were all waiting for me, in uniform, saying, 'Where've ya been coach? We've got a game!'"
"Move on. Stuff happens," freshman Bill Maddock says about the team's approach following the Bridgewater game. "We just play for each other."
"Guys' bosses were giving them crap [after the Bridgewater game]," Mathew says. "My family got on me about it. Who cares? We've got a bunch of kids who just love baseball. We don't have all the necessary skills or physical talent. But we just love to play."
After finishing their batting practice before the Becker game, the players sprinted off the field to their dugout to take off their warm-up jackets and put on their game jerseys -- gray, with "Newbury" across the front in green letters with gold trim. Mathew, a first baseman/pitcher with permanent bed-head who's also the unofficial team comedian (he says he has "an extra corporal zone") was hard at work applying eye-black under both eyes. He flagged down starting catcher Chris Cooper.
"Hey Coop, how does this look?" Mathew asked.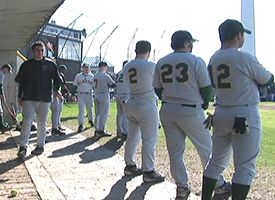 Mike Colangelo/ESPN.com
If you go to a Newbury game, you'll see the Nighthawks rarely sit down in the dugout.
"Yeah, looks great!" Cooper replied.
Soon after that, Sullivan summoned his team together: "Hey, we don't have much time guys. Do you guys want to take infield/outfield [practice]?"
"Yeah!" replied several of the players.
After their infield/outfield session, the game began. The Nighthawks were mowed down 1-2-3 in the top of the first -- junior Evan Hudson lined out, sophomore Brian Fish grounded out, and Maddock struck out.
In the bottom of the first, Becker's leadoff man reached on an error by Hudson at shortstop, stole second base, stole third base and scored on a sacrifice fly. Becker led 1-0 after one.
In the top of the second, Carroll singled to right field, stole second and scored on a double by sophomore Wayne Borden. The Newbury dugout erupted in cheers. But frankly, the Nighthawks' dugout was a loud place all game long -- even as Becker began tacking on run after run in the later innings. Sullivan was constantly pacing up and down the first-base line, chirping at his pledges.
"Compete! Compete! … Routine plays! Routine plays! … Don't be out-enthused! Don't be out-enthused!"
He had nothing to worry about there. Most of his players rarely sat in the dugout, instead standing and repeatedly cheering on their teammates -- either by their uniform number or by some variation of their name. (Fish got called everything from "Trout" to "Swedish Fish" to "Fishsticks.")
The Nighthawks had a few things to cheer about on the field, including a double play. "First double play in Newbury history!" Sullivan exclaimed afterward. But the final score was Becker 13, Newbury 1.
After the final out, the Newbury players lined up to shake hands with their opponents, then jogged down the right field line to huddle up with their coach.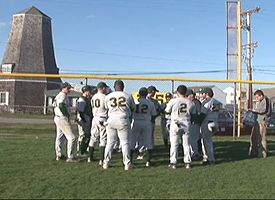 Mike Colangelo/ESPN.com
Sullivan gathers the team in right field after every game for some postgame words of wisdom.
"You're gonna have good days and bad days," Sullivan told his team. "We're a family, we win or lose together. Tomorrow is a new day.
"Now let's go pack up the dugout and leave the place better than we found it."
With that, the players ran back to the dugout, packed up their gear and loaded it up in the two team vans before climbing in themselves. The players in Sullivan's van were all animatedly talking among themselves on the hour-or-so ride home.
"Coach," Maddock said, "I think we need to put out an MIA for my fastball, and my slider."
"Hey coach, on a couple of my at-bats, I think I looked like I have two left feet," Hudson chimed in soon after.
"Yeah, you did," Sullivan replied, cracking a smile. "Yeah, you did."
---
The team was supposed to be at East Hall ready to go at 12:15 p.m. on Wednesday, but by 11:45 most of the players were milling around outside, some already in uniform and playing catch in the parking lot.
Twenty minutes later, the players began piling in the two vans. Just before pulling out of the lot, Sullivan yelled out the window at the other van.
"Do we have Tomas?" Mathew waved from the other van.
"Tomas, do you have your hair? Do you have your laptop? Do you have your life?" Everyone burst out laughing.
The day before, Mathew had managed to "miss" the vans while searching for his laptop -- the team was 10 minutes into its journey before he called to say he was still back at school.
On Wednesday's van ride, to Massachusetts Maritime Academy on Cape Cod, the players first asked Sullivan for their daily update on his kindergarten class -- yes, Sullivan also teaches kindergarten on the side.
"Today they were obsessed with playing tag. They just love when I play tag with them," Sullivan said.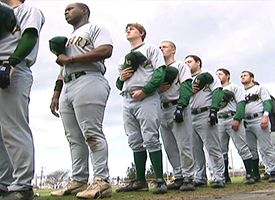 Mike Colangelo/ESPN.com
The Nighthawks during the national anthem before the Mass. Maritime game.
Then the team -- including its coach -- spent the bulk of the one-hour, 15-minute ride working collectively on crossword puzzles.
Mass. Maritime's field is beautiful, right on the water, under a giant wind wheel. The Newbury players were taking batting practice within minutes of arriving at the field. After BP and infield/outfield, both teams lined up in front of their respective dugouts for the the national anthem. Then the public address announcer introduced several Mass. Maritime seniors, who would be playing their final collegiate game.
"Thank you very much for four years of baseball," the PA announcer said.
The Nighthawks joined the couple dozen fans in applause.
Sullivan then gathered his team in front of the dugout for some final instructions.
"Let's play like we have all year," Sullivan said. "It doesn't take talent to compete. It doesn't take talent to hustle. Play hard and have fun."
Hudson led off the game by walking on four pitches. He advanced to second and third on successive wild pitches. Fishsticks struck out, but Maddock was hit by a pitch and took first base. Maddock then attempted to steal second, and the throw from the catcher went into center field, allowing Hudson to score. Senior James Siedlecki then hit a ground ball to second base, which drove in Maddock from third. The Nighthawks suddenly had a 2-0 lead.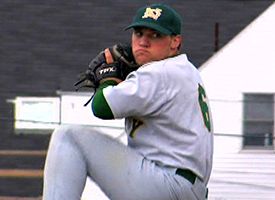 Mike Colangelo/ESPN.com
Evan Hudson battled through some tough innings on the mound against Mass. Maritime.
The Newbury dugout was loud and boisterous, just like the day before. But that's not all that was going on in the first inning. Senior Manny Badeau -- a benchwarmer but a team favorite -- was trying to figure out how to chew and spit sunflower seeds like his teammates. Sullivan came over to instruct him. "That's just one of the things you gotta learn in baseball," Sullivan told him. "It's dugout etiquette!"
Mass. Maritime got one run back in the bottom of the first and led 6-2 after three innings. But the Nighthawks had another rally left in them. In the top of the fifth, Hudson slammed a triple and scored on a sacrifice fly. The players in the dugout ran out to greet him. But Sullivan flagged Hudson down before he could join his teammates, for some instruction. Hudson had hesitated before tagging up.
"Evan, you've got to tag up right away on that," Sullivan said. "Don't look at the ball. If it's a home run, it's our job to tell you. And if the ball drops, it's a base hit and you score anyway. You have to think tag first, OK?"
The Nighthawks scored another run to make it 6-4 and had the bases loaded with one out. One hit would have tied the game, and maybe even given Newbury the lead. Not a single Nighthawk was sitting in the dugout. But Mass. Maritime brought in a reliever, who induced a double play, ending the rally.
The game went predictably from there. Mass. Maritime tacked on several more runs. But there were still some Newbury highlights. Mathew laid out his entire body in a diving bid to catch a foul pop-up down the first-base line. It just popped out of his glove. (He said afterward that if he'd caught it, the play would have made the Top 10 on "SportsCenter" -- and he'd have been right, if there were TV cameras around.) The Nighthawks also were extremely crisp in the field, not charged with a single error on the day. But they still lost the game, 13-4.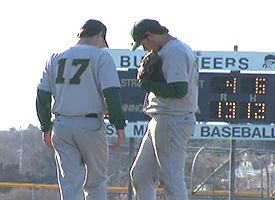 Mike Colangelo/ESPN.com
Sullivan is firm but encouraging with his inexperienced players (seen here with Tomas Mathew).
"We're getting there guys," Sullivan told his team in their postgame huddle. "Way to do battle. We played Newbury baseball, the kind of baseball we want to play. … You guys are not a bad ballclub. Keep crawling, keep fighting. You guys are fighters. You guys are bulldogs."
If you hang around Sullivan for a couple of days, you'll realize that calling someone a "bulldog" is the absolute highest praise he can give.
The players voted down pizza as their postgame meal, since they'd had pizza the day before. So the team stopped at McDonald's instead. Then they piled back in the vans. The players in Sullivan's van spent much of the ride home debating their favorite Red Sox players of all time … and then their favorite MLB players of all time … and then they got a phone call that Manny Badeau and assistant coach Robert "Kaz" Casavant were having a freestyle rapping contest in the other van, and they put the contest on speakerphone.
And the Newbury Nighthawks laughed and smiled the rest of the way home.
---
On Thursday night, Newbury's 12 sports teams and guests gathered at the school's student center auditorium for their annual athletics banquet. One hundred and eighty-three people were in attendance, spread out at circular tables with white tablecloths, and white, gold and green balloons rising from each.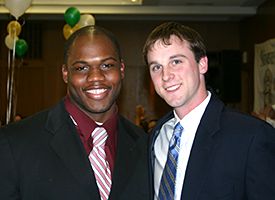 Newbury College
Sullivan (right) with senior Manny Badeau at the banquet. Who do you think looks more like the coach?
The baseball team was there, of course, the players dressed up in collared shirts, many of them with ties. But they didn't look quite right.
They look much better in those gray jerseys with "Newbury" across the front, written in green letters with gold trim.
Over the course of the evening they heard about the various successes of the other Newbury teams -- particularly the men's volleyball team, which came into existence only seven years ago, but won 30 matches this year and finished the season ranked No. 12 in the nation in Division III. Finally, after all the other Newbury teams had been introduced, Centola read off the baseball team's names.
Each one of those Nighthawks was smiling as he walked up to Sullivan, shook his hand and accepted a certificate. None were thinking about the 57-1 loss at that moment. More likely they were thinking about Tomas missing the van. Or Manny freestyling. Or buttoning up that Newbury jersey for the first time.
The team has five recruits coming in next year. Newbury's first five baseball recruits. They'll be a bigger team, and a better team. They'll most likely win a game, maybe several.
But they'll never savor another season so much.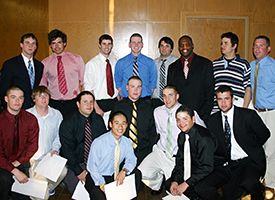 Newbury College
The Nighthawks would much prefer to be wearing their Newbury uniforms.
"We get to say we played college baseball, in the NCAA," Carroll says. "And it's cool to know we're building the program here. We were the first. We'll always be the first."
The banquet ended. The season was over. Time to party, or start focusing on next week's finals, right?
Except, no. The Nighthawks wanted to keep playing. They wanted one more game. And they got one.
MIT agreed to play them. On Friday at 3 p.m. So these Nighthawks would be buttoning up their jerseys one more time this season. And taking batting practice, and infield/outfield. And they'd hear coach Sullivan's chirping. And they'd cheer like crazy for Fishsticks and the rest. And they'd play like bulldogs.
Do you really need to know the final score?
You already know who won.
Kieran Darcy is an editor for ESPN.com. You can e-mail Kieran at kieran.d.darcy@espn3.com.