NEW YORK -- Six words the New York Yankees don't want to hear: Joba Chamberlain is playing "Guitar Hero."
You may remember the case of Tigers reliever Joel Zumaya, who missed the 2006 ALCS with a sore wrist. Later, it was disclosed that the soreness came from playing too much "Guitar Hero."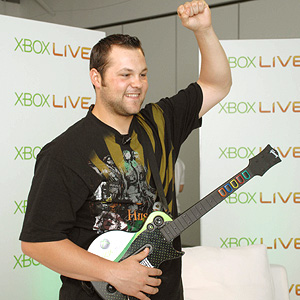 Taylor Public Relations
Don't worry Yankee fans, Joba Chamberlain did not injure himself while playing "Guitar Hero" over the All-Star break.
Page 2 got the opportunity to meet Chamberlain last week while he was participating in an Xbox LIVE Game With Fame event (playing "Guitar Hero: Aerosmith" against a few fans).
As the Yankees starter riffed away, we peppered him with some questions.
Darcy: First of all, Joba, how is your father feeling?
Chamberlain: He's good; he's doing real well. He's excited to finally be healthy and going. Every time that somebody asks, he wants me to thank them because everyone who prays for him has helped him get back to where he is today. So on behalf of my dad and myself, I just want to thank everybody for their support.
Cool. Now, did you have to ask permission to play "Guitar Hero" or anything like that? Didn't you see what happened to Joel Zumaya?
[Smiles] Uh, no, I don't think so. I think I'm all right. I stretched out and everything, so I think I'm good.
Are you a big video game guy in general?
Yeah, I would say so. We have a lot of off time on our hands, and when you want to relax, it kind of takes you away. And to be with Xbox and the Game With Fame is awesome. It allows you sometimes to catch up with friends that you don't see for a while.
I take it "Guitar Hero" is one of your favorites?
You know what, I've played every version but this one, so it's exciting to play the Aerosmith version.
[Chamberlain stares in at the television screen and realizes he's getting whupped by one of his fans online.] Wow, this guy's good. What on earth is he doin'? Wow, who is this guy?
So you were at the All-Star Game. Where did you watch it?
I watched it up in a box, so it was kind of different being up there, instead of being on the field. I was by myself, just with a couple buddies. It was actually pretty fun. I mean, you'd rather be on the field, but it was cool to just sit there and be able to watch it and relax and have fun.
Did you stay for the whole thing?
I tried to stay for as much as I could. I did leave a little early, but the game went on so much longer than anybody thought.
What was the best party you attended over the break?
I hosted one on Sunday, so that was kind of weird. You really don't have hosted parties in Lincoln, Nebraska. But just to be there, be around everybody, meet with the people and just have the opportunity to do something like that was special.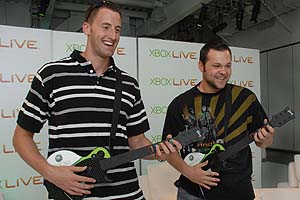 Taylor Public Relations
One of Joba's buddies came along and tried to take him on.
Did you get a chance to renew acquaintances with Kevin Youkilis over the break in New York?
[Chuckling] You know, I didn't even see him. You know what, I mean, he's a good player, there's no getting around it. You try to get him out as best you can, that's it.
It seems like you guys are having a lot of fun with the Jason Giambi mustache. Lot of laughs in the clubhouse about it?
Yeah, it's good. You've got to mix it up -- sometimes it takes something like that to get going. It's so bad, it looks good. It's gonna be weird when he does shave it off, if he does ever shave it off.
Have you given any thought to growing one yourself?
You know, I grew one, and I looked miserable. It was so bad, it was embarrassing.
What do you like to do when you're not at the ballpark, besides playing video games? Any hobbies?
I just try to enjoy the time you get to yourself. You sit back and evaluate what you need to do to get better. There's a lot of alone time. You know, sometimes this game can make you very lonely. But you just try to make the best of it and have fun.
But you're careful not to do anything to endanger that pitching arm, right?
You just have to be smart about what you need to do, and what you don't need to do. You've gotta make sure that you're ready. It's a grind the rest of the season.
Kieran Darcy is an editor for Page 2. You can reach him at kieran.d.darcy@espn3.com.