So we've got a basketball player moving into the White House. Regardless of your political leanings, you must admit, that's kinda cool.
If that isn't exciting enough, here are 65 reasons to get pumped about college hoops season.
(If you don't know why we picked that number, stop reading. You don't belong here.)
1. The season has already started! Who were the first Division I teams to take the floor this year? Georgia Southern and Houston, at 4 p.m. Eastern on Nov. 10 (Georgia Southern won 65-63). I've said it before, and I'll say it again -- why doesn't the NCAA make a bigger deal out of the college basketball season tip-off?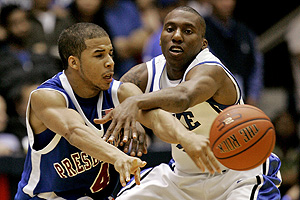 AP Photo/Gerry Broome
Duke beat Presbyterian 80-49, but the Blue Hose still have the cooler nickname.
2. The second game of the young season featured the Duke Blue Devils versus the Presbyterian Blue Hose. Here at Page 2, we have a soft spot for the Blue Hose.
3. The ESPN family of networks will televise more than 1,000 college basketball games this season.
4. If you're a hoops junkie, you'll love this: Starting at midnight Tuesday morning, ESPN will air 14 games over 23 consecutive hours -- commencing with UMass at Memphis, and highlighted by Kentucky at North Carolina. Tuesday would be a good day to come down with the flu, folks, if you know what I'm saying.
5. Anyone on the East Coast who watches the 4 a.m. ET Idaho State at Hawaii game in its entirety earns our undying respect.
6. As usual, there are some outstanding early-season tournaments. In particular, look for Duke and UCLA to play each other in the Coaches vs. Cancer championship game on Nov. 21 at Madison Square Garden, and for North Carolina to play either Notre Dame or Texas in the Maui Invitational championship game on Nov. 26.
7. Speaking of North Carolina, the Tar Heels return all five starters from last season's 36-3 Final Four squad, and they're the definitive favorite to win the national championship. (Meaning we all have an overdog to root against.)
8. The Tar Heels' Tyler Hansbrough, last season's national player of the year, is back for his senior season. We'll have to see how much his shin injury hampers him, but any time a national player of the year comes back for another year of college ball, it's a good thing in our book.
9. Another player we're happy stuck around: Oklahoma's Blake Griffin. The 6-foot-10 sophomore, who averaged 16.9 points and 10.4 rebounds per game in Big 12 play as a freshman, was a surefire NBA lottery pick, but elected to stay in Norman. Now he might challenge Hansbrough for national player of the year.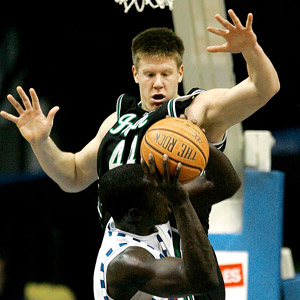 AP Photo/Brian Kersey
Notre Dame forward Luke Harangody was the Big East Player of the Year last season, averaging 20.4 points and 10.6 rebounds per game.
10. One more big man in the running for national player of the year: Notre Dame's Luke Harangody. All he did was average 20.4 points and 10.6 rebounds per game a season ago.
11. The NFL's first two Thanksgiving offerings (Tennessee at Detroit and Seattle at Dallas) are foul. Enjoy a college hoops feast instead. Michigan State, Gonzaga, Tennessee, Arizona State, Georgetown and Wake Forest -- all preseason top-25 teams -- will be in action on Turkey Day on ESPN2 or ESPNU.
12. Unfortunately, there are zero college games on Christmas Eve or Christmas Day this year. But there is one game on the schedule the day after Christmas: Fairfield at UConn. (We're using the word "game" loosely here.)
13. In case you forgot, the 3-point line will be 20 feet, 9 inches from the hoop this season -- a full foot farther away. It remains to be seen how that change will affect play, but it'll be intriguing to watch.
14. Best conference this season: Big East. It's got seven teams in the preseason top 25: UConn, Louisville, Pitt, Notre Dame, Marquette, Georgetown and Villanova. And the first four teams are all in the top 10.
15. In another change, all 16 Big East teams will get to play in the Big East tournament at Madison Square Garden … meaning St. John's will have the opportunity to get smacked around one more time on its home floor.
16. Thankfully, Jim Calhoun is healthy after another battle with cancer during the offseason. He has enough talent to win a third national championship.
17. Once again, Pitt has no superstars. Yet once again, the Panthers are one of the top teams in the country.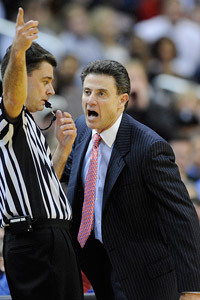 AP Photo/Nick Wass
We look forward to another season of Rick Pitino whispering sweet nothings to Big East officials.
18. Rick Pitino might have his best team since he arrived at Louisville. The Cardinals lost to the Tar Heels in a regional final last season -- this season those teams might very well meet at the Final Four.
19. Georgetown lost big man Roy Hibbert, but McDonald's All-American Greg Monroe will make Hoyas fans forget about Hibbert quickly.
20. Best conference last season: the Pac-10. The only team under .500 overall was Oregon State (which went a sparkling 0-18 in conference play). The Pac-10 has three teams in the preseason top 25 (UCLA, Arizona State and USC), but it won't be as competitive top-to-bottom this season.
21. UCLA has its sights set on a fourth consecutive Final Four. Can the Bruins finally get over the hump and cut down the nets in April?
22. Even Oregon State will be fun to watch this season -- thanks to Craig Robinson, Barack Obama's brother-in-law, being named head coach.
23. Speaking of Pac-10 coaches, Mike Montgomery is back, this time at Cal. Wonder how he'll be received back in Palo Alto on Jan. 17.
24. And how will Mike Krzyzewski's longtime protégé, Johnny Dawkins, fare as a head coach at Stanford?
25. If you like soap operas, enjoy the Arizona Wildcats -- and following the Lute Olson saga -- this season.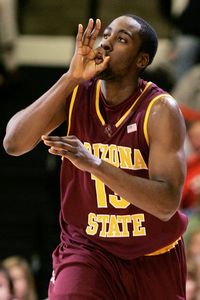 AP Photo/Marcio Jose Sanchez
Sophomore guard James Harden and Arizona State could give UCLA a challenger in the Pac-10.
26. Player you might not have heard of who's about to become a big-time star: James Harden, Arizona State. Points, rebounds, assists, steals -- this kid (he turned 19 in August) can do it all.
27. Best player you've almost definitely never heard of: Chris Wright, Dayton. If he stays healthy, you'll be seeing his dunks regularly on "SportsCenter."
28. Can't wait to see what Stephen Curry does for an encore for Davidson. By the way, he'll be manning the point this season.
29. Can't wait to see what Curry's team does for an encore. Could it go all the way to the Final Four?
30. Gonzaga has had some great teams over the years, but the Zags have never advanced past the regional finals. That could change this year.
31. The non-Davidson mid-major darling of 2009: Saint Mary's. The Gaels will give the Zags a run for their money in the West Coast Conference and are a legitimate threat to make the Sweet 16 and maybe even beyond.
32. The No. 1 reason why? Patty Mills. The Australia-born point guard, who had a fine freshman season, surely learned a lot from playing for Australia's Olympic team this summer. (In fact, Mills scored 20 points in the Aussies' quarterfinal loss to the Redeem Team.)
33. Mark your calendar: Feb. 21, 2009 = BracketBuster Saturday, one of the best days of the college hoops season. Gotta love those intense mid-major clashes.
34. Good news for Northwestern fans -- your team might not finish last in the Big Ten this season because of the chaos at Indiana.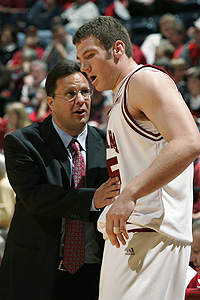 AP Photo/Darron Cummings
Tom Crean faces a difficult start
in Bloomington, but his long-term prospects for success are good.
35. Good news for Indiana fans -- this season is going to be rough, but Tom Crean will turn the Hoosiers into winners again before very long. Mark it down.
36. Michigan State is my pick to win the Big Ten. But if the Spartans really wear these, as my friend Paul Lukas indicated, then I might have to jump off that bandwagon.
37. Purdue is a top-10 team again, which makes me remember Glenn Robinson. I always enjoy thinking about the Big Dog.
38. For the third straight season, Ohio State will have a talented freshman 7-footer. Quick prediction: B.J. Mullens won't be better than Greg Oden. But he will be better than Kosta Koufos.
39. Speaking of freshmen, Memphis lost Derrick Rose, but adds Tyreke Evans. He'll score in bunches and could make a Rose-like impact.
40. Duke's Kyle Singler made an impact as a freshman. This year he'll emerge as a superstar.
41. If guys slapping the floor on defense is your thing, enjoy one more year of Greg Paulus! He'll be coming off the bench, though.
42. North Carolina versus Duke is always compelling. With both teams ranked in the top five to start the year, their two regular-season matchups this season (Feb. 11 and March 8) are mandatory viewing.
43. It's also good to see Wake Forest in the top 25 again, as the Demon Deacons continue to recover after the death of Skip Prosser.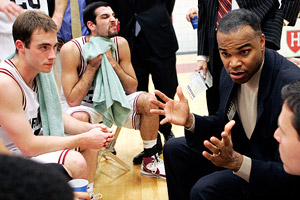 AP Photo/Michael Dwyer
Tommy Amaker and Harvard should be greatly improved in the Ivy League this season.
44. The Ivy League race should be competitive. Cornell, coming off an undefeated conference season, is favored to win again. But Tommy Amaker (remember him?) brought in an excellent recruiting class at Harvard, and Penn should be improved as well.
45. There's still no Ivy League tournament, meaning it remains the only conference in which the regular season still truly matters. Please don't change that!
46. North Dakota, South Dakota, Seattle, Southern Illinois-Edwardsville and Bryant -- welcome to Division I! Good luck, you'll need it.
47. The NJIT Watch: Can New Jersey Institute of Technology win a game, or will the Highlanders go winless for a second consecutive season?
48. After a down year, missing the NCAA tournament, Billy Donovan's Florida Gators will be a force to be reckoned with again this season.
49. It's year two of the Billy Gillispie era at Kentucky, and the Wildcats already lost to Virginia Military Institute. How much patience will UK fans exhibit this season, as Gillispie continues to rebuild?
50. There's always a chance of a shirtless Bruce Pearl sighting this time of year.
51. The defending national champion, Kansas, lost all five starters, and seven of its nine top players from a year ago. The Jayhawks are still going to be formidable.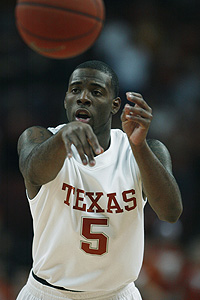 AP Photo/Harry Cabluck
Damion James and Texas open with a top-10 national ranking.
52. Another player poised to make a huge leap this season: Damion James, Texas. He's already a monster on the boards, and his scoring will increase now that he'll be playing his natural position, small forward.
53. Let's see how Pat Knight will fare in his first full season at Texas Tech.
54. We're going to see a lot more of his dad on TV.
55. As long as we're talking about TV, we would like to wish the best of luck to Clark Kellogg as he embarks on his new role as CBS' lead analyst. He replaces Billy Packer, who had worked every Final Four since 1975.
56. Best nonconference game of the season, candidate No. 1: North Carolina vs. Michigan State in Detroit (Dec. 3.)
57. Candidate No. 2: UConn vs. Gonzaga in Seattle (Dec. 20).
58. Candidate No. 3: Davidson at Duke (Jan. 7).
59. Candidate No. 4: Memphis at Tennessee (Jan. 24).
60. Candidate No. 5: Notre Dame at UCLA (Feb. 7).
61. Don't forget about women's hoops. UConn is the favorite to win it all, as Geno Auriemma aims for a sixth national championship.
62. It's only 118 days until Selection Sunday.
63. This year's Final Four locale: Ford Field in Detroit. The media won't be thrilled, but it's the first time the Final Four will have a minimum seating capacity of 70,000.
64: One man's Final Four prediction: North Carolina, Notre Dame, UCLA and UConn.
65. Who will cut down the nets on Monday night, April 6? No idea.
But I'm already looking forward to "One Shining Moment."
Kieran Darcy is an editor for Page 2. You can reach him at kieran.d.darcy@espn3.com.
2008-09 Season Preview
Hear that, college hoops fans? It's the sound of college teams returning to the hardwood, as another season is just around the corner. If North Carolina is the best in the land, who checks in just behind the Tar Heels? Dickie V thinks he knows the answer. Vitale's preseason top 40
Preseason Top 25
• Katz: Heels to tip season as No. 1
• ESPN/USA Today Top 25 poll … Rank 'em

Experts' top 10 rankings



• Fraschilla: Impact freshmen | Defenders
• Bilas: Best conference | Top rebounders
• Gottlieb: Top PGs | Cut-rate coaches

Fresh starts
• Katz: Jayhawks prepare for Round 2
• Katz: Memphis on the mend after KU debacle
• O'Neil: Samuels, Caracter take separate paths
• O'Neil: Humble pie a good remedy for Gators
• Schlabach: Slimmer Pittman hopes to power UT
• O'Neil: Griffin ready to power Sooners
• Katz: Robinson campaigns to rebuild OSU
• OTL: Behind the scenes with Robinson, Obamas
• O'Neil: The evolution of Madness
• O'Neil: Injured players ready to return
• O'Neil: Steele ready to run again for Tide
• Katz: Healthy Mitchell ready to lead LSU
• Katz: Curry returns to run revamped Friars
• Whelliston: Mid-majors welcome in transfers

Coaches
• Katz: Wake frosh trio ready to power Deacons
• Katz: Barnes has steadily built Texas into power
• Katz: Williams, Marquette on the line
• Katz: Johnson and LSU a good fit
• O'Neil: Bo knows good conditioning
• Katz: Davis ready for next step at PC
• O'Neil: From Ivy to A-10, Dunphy fits in Philly
• Katz: Kruger enjoying second chances
• Katz: Older and wiser, Alford feels at home

More
• Katz: Aboya plans for life off the court
• Katz: Mills impresses at Saint Mary's, in Beijing
• O'Neil: Hardship waivers causing headaches
• O'Neil: Duke focuses on slaying March demons
• Katz: Curry gets used to life in the spotlight
• Katz: UConn bunker is all business
• Forde: In Kentucky, Madness begins in October
• O'Neil: Landry's a family man off the court
• Katz: Siena ready to take the next step
• Katz: Miami's McClinton finds a perfect fit
• Whelliston: Welcome to the Great West
• Ford: B.J. Mullens heads hot list on Draft Watch


• Katz: Roe's recovery great news for Spartans

ESPN Top Headlines