Names of the Dead
Those words jolt me, every morning when I open the New York Times and see them. Whenever a member of the United States military dies in Iraq or Afghanistan, the Times lists his or her name, age, rank and hometown in a small box in the front section of the paper.
Sadly, that box appears almost every day. On some days, there's just one name. On other days, there are as many as five or six.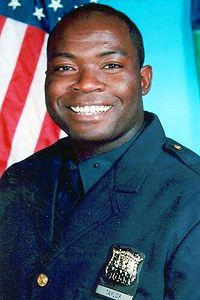 AP Photo/NYPD
On Thanksgiving, it's worthwhile
to remember armed service members such as Deon Taylor,
who lost his life in Afghanistan.
In the past couple months -- after reading Jim Sheeler's powerful book, "Final Salute" -- I've gotten into the habit of plugging each of those names into a Google News search, and reading a little bit about each person. It's startling to read how many of them were in their teens or early 20s; how many were married; how many had children, or a child on the way.
It's also startling to read how many of them were athletes and huge sports fans. On second thought, I guess that's not really all that surprising. But it's poignant nonetheless.
Last month, I read several stories about one particular member of the U.S. Army, Deon Taylor. He was a member of the New York City Police Department, an undercover narcotics officer. He was also a member of the New York Army National Guard, on his second tour of duty in Afghanistan.
Taylor's story jumped off the page to me because of the many things we shared in common. He was from New York, just like me. He was 30 years old, just like me. He was a basketball player in high school, just like me. He was a fan of the Yankees, Giants and Knicks, just like me.
But Taylor's story also jumped off the page because of what we didn't have in common. He was doing something far nobler with his life than I was with mine. He was making a far greater sacrifice, serving his city and his country. On Oct. 22, 2008, he made the ultimate sacrifice, losing his life when the Humvee he was riding in was destroyed by a roadside bomb.
At the time of his death, Taylor actually was filling in for another member of his unit, who had flown back to the U.S. to attend a funeral.
Taylor was due to return home himself in December.
Taylor's story left tears in my eyes, a lump in my throat and a pain in my gut. Especially when I read about his family -- including his 8-year-old son from his first marriage, DaRue, and his fiancée, Caitlin Casey. I know this must be an extremely difficult time for all of them.
I tried to think of something, anything, I could do to help. All I could come up with was to write a letter to Taylor's family -- expressing my condolences for its loss, and my thanks for producing a young man who was so selfless and inspiring.
Then I thought of something else I could do.
We've lost more than 4,000 armed service members in Iraq, and more than 500 in Afghanistan. It's so easy for us to forget that those aren't just names in the newspaper. They are people. People like you and me -- with parents, and significant others, and children, and favorite sports teams. Except they are putting their lives on the line every day, and sometimes losing them, to protect our freedom and our way of life.
Maybe this Thanksgiving, around the dining room table, we all could take a moment and remember those who are still fighting, and those who won't be coming home.
Maybe we all could do one more thing, too? Maybe each of us could find the name of a serviceman or servicewoman who died in the line of duty, and write a letter to that person's family, expressing our sorrow and gratitude. The names aren't very difficult to find.
I hope Taylor's family knows I'll be thinking of them this Thanksgiving, and one more person will be remembering him in the weeks and months to come.
Thank you, Deon. Thank you for your service, and your sacrifice. May you rest in peace.
Kieran Darcy is an editor for Page 2. He can be reached at kieran.d.darcy@espn3.com.