Selection Sunday is still more than a week away, but we've already found the best Cinderella story of March Madness this year. This team is as likely to discuss macroeconomics in the locker room as zone defense.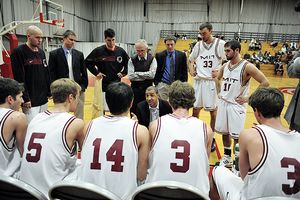 DSPics
The MIT Engineers are headed to the NCAA Division III tournament for the first time.
The Massachusetts Institute of Technology has produced 73 Nobel Prize winners and 34 NASA astronauts. Now, at long last, it has produced an NCAA tournament men's basketball team. Trust us, these guys aren't driving the lane wearing pocket protectors. They're led by 6-foot-4 shooting guard Jimmy Bartolotta, who averages 27.6 points per game while taking classes in subjects such as statistical mechanics and thermodynamics.
You're probably thinking, "MIT has a basketball team?" Yes, MIT has played intercollegiate basketball for more than 100 years. But the team had never qualified for the NCAA tournament -- not until March 1, 2009, when a 76-50 victory over Springfield College in the New England Women's and Men's Athletic Conference tournament championship game gave the Engineers an automatic bid to the Division III Dance.
MIT Update
Curious to know how the MIT Engineers fared this weekend? They actually notched an upset win over No. 17 Rhode Island College on Friday. But their dream season came to an end one night later, when they lost 67-61 to Farmingdale State.
MIT's senior tri-captains -- Jimmy Bartolotta, Billy Johnson and Bradley Gampel -- finished as the best class in MIT history, leading their team to 68 total wins and the school's first NCAA tournament berth.
-- Kieran Darcy
Believe it or not, MIT holds the distinction, along with Harvard, of having the broadest intercollegiate athletic program in the country. MIT fields 41 varsity sports teams, in everything from alpine skiing to water polo, and its athletes have enjoyed a great deal of success. In the past five years alone, MIT athletes won 11 individual national championships, in diving, gymnastics, pistol-shooting, track and field, and tennis.
Men's basketball, however, hasn't traditionally been one of MIT's stronger sports. The team plays in a venue called the Rockwell Cage, which was previously used by the U.S. government for indoor drill. But the program has steadily improved since head coach Larry Anderson came aboard in 1995.
Anderson arrived from Rust College in Holly Springs, Miss., where he played and spent several years as an assistant coach and associate athletic director. At that time, he was applying for a number of positions around the country, hoping to land a good junior college head coaching job, or maybe hook on as an assistant coach at a larger school. Then he came across a job posting for the head basketball coach position at MIT.
Anderson sent in an application, although he admits feeling skeptical at first. "All I knew about MIT was that it's one of the leading institutions in the world," Anderson said. "I wondered if I'd really fit in at a place like MIT."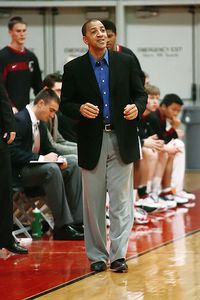 DSPics
Coach Larry Anderson called MIT, and getting to work with such smart and dedicated student-athletes, "heaven on earth."
Anderson flew to Boston, where he talked to students and members of the basketball team. "The kids were just like any other kids I have ever coached," Anderson said. "The only difference was, they seemed to be a little more focused, in regards to what they wanted to do in life -- maybe not a specific job, but how to try to make the world a better place.
"I immediately knew this was a place I wanted to be."
After a rough first season, Anderson engineered (pun intended) a 15-game turnaround in his second year, with the team going 18-7. MIT has been consistently competitive since, including finishing above .500 in five of the past seven seasons.
But up until this year, an NCAA tournament berth had eluded the program. Ending that drought had been a major goal of Anderson's when he arrived in '95, and it was the focus of Bartolotta, Billy Johnson and Bradley Gampel when they decided to attend MIT four years ago. The three seniors are co-captains this season.
Bartolotta is the star of this year's 20-8 squad -- in fact, he is the second-leading Division III scorer in the nation. As an all-state high school player in Colorado, Bartolotta garnered interest from a few Division I schools and several Division II programs. He had absolutely no interest in MIT -- in fact, he didn't even want to waste the money on sending MIT his game film. "I figured these [MIT] kids probably can't even shoot a free throw," Bartolotta said.
But his parents insisted he send a tape to MIT and encouraged him to keep an open mind. When he visited the campus, he was quickly sold. He loved the coaching staff, and the opportunity to play right away. He also was pleasantly surprised by the players. "Those stereotypes started breaking down," Bartolotta said. "The team really seemed like down-to-earth, regular people, and they could play."
Bartolotta has gone on to become MIT's all-time leading scorer, with more than 2,000 career points. But he's not just a basketball standout. Bartolotta is a double major in physics and management sciences. This semester, he's taking an advanced health economics seminar, an advanced macroeconomics class, an earth atmosphere and planetary science seminar, and two physics classes -- one on the history of physics in the 20th and 21st centuries and one on statistical mechanics and thermodynamics.
Oh, and his GPA? A 4.6 on a 5.0 scale.
On the court, Bartolotta has had plenty of help, particularly from his fellow captains and best friends. Johnson, a 6-8 forward, is the team's second-leading scorer at 17.3 points per game. Gampel, a 5-8 point guard, dishes out 6.9 assists per game, with a better than a 2-to-1 assist/turnover ratio.
After graduation, Johnson is planning to stay an extra year at MIT to work on a political science thesis on the economic relationship between Taiwan and China. Gampel is an economics major and premed.
"We're not gonna kid ourselves -- we're all nerds," Johnson said. "But we can play a little ball, too."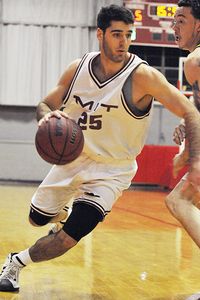 DSpics
Jimmy Bartolotta would be the first MIT player to go on to play professional basketball.
Somehow they find a way to cram two hours of basketball practice into their hectic daily schedules. There's a common saying that you only have time for two of the three S's (sleep, social life, school) at MIT. "Throw in a fourth 'S' in sports," said Johnson, "and you really have to learn to manage your time quickly."
These young men clearly have bright futures. Bartolotta has even received a few feelers from professional teams in Europe, and hopes to play pro ball for a couple years before beginning a business career. But right now, they're all focused on one thing -- their first-round NCAA tournament game against Rhode Island College on Friday night. They're dreaming big dreams, too, of going all the way to the Division III Final Four in Salem, Va.
"I look at this as Step 1 on the whole path that we're traveling," Bartolotta said. "We have possibly six games left, and I wholeheartedly believe we have a shot, as good a shot as anybody, of coming out on top. I truly believe that."
As for their coach, he'll miss these three seniors terribly when they're gone. But he's cautiously optimistic about the future.
"Just like any other program, we want to be a national contender every single year," Anderson said. "Is that possible? Honestly, it remains to be seen.
"For now we just want to enjoy the ride, and live the dream."
Kieran Darcy is an editor for Page 2. You can reach him at kieran.d.darcy@espn3.com.