Commentary
Yankees-Phillies and the power of love
Originally Published:
November 5, 2009
By
Kieran Darcy
| Page 2
Pretty cool cake, eh?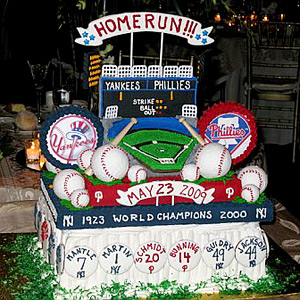 Courtesy of Michael BoyleEach team's retired numbers are cookies along the bottom of the cake.
In case you're wondering, that really is a cake. My very generous father- and mother-in-law surprised me (well, more like shocked me) when they had that thing rolled out onto the dance floor at my wedding reception in May.
No, neither of them are soothsayers. I'm a Yankees fan, my wife and her family are Phillies fans -- and the Yankees and Phillies just happened to be playing each other on the weekend of our wedding. So they decided to have some fun with that. (And as good as it looks, it tasted great, too.)
When I first started dating my wife 4½ years ago, and found out she was a Philadelphia sports fan, I wasn't too concerned. I'm not really into hockey, so the Flyers don't bother me. NBA? The Knicks have been irrelevant for years. Yankees-Phillies? They rarely play each other. Eagles-Giants? Now that's a pretty fierce rivalry, but I figured I could deal twice a year.
Then the Eagles and Giants faced each other in the playoffs last season. The Giants were favored -- they were the top seed in the NFC, trying to make it to their second straight Super Bowl. But the Eagles outplayed them, pulling away in the fourth quarter for a 23-11 win and a trip to the NFC Championship Game.
The loss stung -- but not quite as much as I thought it would. I chalked it up to still feeling satiated by the Giants' Super Bowl win the year before.
Then came this year's World Series. My wife and I were rooting for the cake to "come true." When it did, we were really excited. But today, a day after the Yankees secured their 27th World Series title, all I can say is:
It's been a long, strange week.
I'll admit, when Cliff Lee stymied the Yankees in Game 1, I was pretty steamed. Angrily yelling at the television, tempted to throw things -- pretty typical behavior.
But over the next seven days, as the Yankees won four of the next five games, I found myself feeling the strangest feelings, considering my favorite team was winning a world championship.
Remorse. Guilt. Compassion.
Now don't get me wrong -- I'm ecstatic about the Yankees' win. Those weren't my predominant feelings. But the fact that they were even there at all, lodged somewhere in my soul, confused me a little. Amazed me, even.
But when my wife put her arm around me last night and said she was happy for me and watched the postgame celebration with me, it all became clear.
My favorite team isn't the Yankees anymore.
My favorite team cut a cake on May 23, 2009.
Kieran Darcy is an editor for Page 2. You can reach him at kieran.d.darcy@espn3.com.
ESPN Staff Writer
Kieran Darcy is an ESPNNewYork.com staff writer. He joined ESPN in August 2000 after graduating from the University of Pennsylvania, where he played four years of JV basketball.
Follow Kieran on Twitter »