By Michael Davies
Special to Page 2
Day 9: Some meditations on the glory of football
Sunday, June 10, a sunken garden, Minato Mirai, 11 a.m.
I go for a run. Someone alert the media. After a good, I don't know, half a mile, I stop for a rest in a beautiful, Zenlike sunken garden. Overlooking the bay, in this paradise of modern architecture and urban planning that is Minato Mirai, "port of the future," I contemplate football. I'm a deep thinker, me.
My U.S. friends often complain to me about the scarcity of goals in football, but to me that misses the point. Goals are precious; if there were too many of them, they wouldn't be. And World Cup goals are even more precious, the World Cup taking place only once every four years and qualification for any nation, unless you're Brazil, being far from automatic.
But there's more to it than that. Nothing's assured in football, and great moments are rare. That's what makes it lifelike. Sometimes you only get one chance, sometimes you don't take it. Your world can change with one bad decision or one mis-hit volley; one saved penalty, one lucky break, and you can win. You don't get cheered and high-fived every 15 seconds; sometimes you earn applause for something beautiful, a pass, a tackle, a shot tipped over the bar, that results in nothing other than contributing to the flow of the game ... or rather, its story.
For these are epic conflicts, England vs. Argentina, Italy vs. Croatia, Japan vs. Russia -- they are virtually games of "Risk," matters of national and tribal pride that transcend sports and transfix nations. Constantly here, you are aware that you are a participant in a live motion picture, an action movie unfolding on the battlefield in front of you, while in homes, in bars, in offices all over the world, billions, literally, are watching over your shoulder.
I stare into the reflecting pool; the monumental façade of the Yokohama Museum of Art, invites me inside. My head hurts.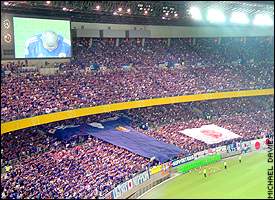 Michael Davies
Shinji Ono bows his head on the big screen as the Japanese national anthem plays, and 70,000-plus people get ready for the biggest night in Japanese football.
Ten minutes later, inside the Yokohama Museum Of Art
I like art, in theory. But you have to be in the right mood. There's some spectacular work in here, Dali and Magritte doing their whole "surreal" thing. But as I stare at the flaming pipes and topless dolly birds melting into the clouds and at incomprehensible silver eggs suspended on pieces of string, it seems to pale in comparison to Senegal beating France. Or the United States beating Portugal. Or South Korea beating Poland. Or Croatia's second goal against Italy. Just not surreal enough, Rene, Salvador. It's back to the drawing board for you two.
In the "progressive gallery of new art," there is a staggering exhibit of what could only be described as a pile of old pants. I suppose to tie in with the World Cup, the museum is exhibiting the sports-related installations of a certain Tsuchiya Takiyoshi. It's all video loops of tennis and football matches with full audio and commentary but invisible players, the footage obviously spliced together during end changes and halftimes, the audio taken from the actual game play. Oh, there's also a clothesline of skinned and ripped up basketballs, and a collection of children's soccer and baseball games, and a rather unexceptional collection of U.S. baseball tickets. I pick up the program to try to figure out what the artist is trying to say. There is an English translation:
"All the events in a stadium will be confiscated to the face gradually. Be replaced a purpose secretly with other things gradually, and be guided to another place when notices that thing. Such a thing will be to apply to a system it itself supporting us of advanced capitalist society instead of story to remain in one culture of sports."
Right, then.
There's an impressive, if dark, exhibit of a Japanese artist named Miyazaki Shin. It is deeply influenced by his time as a prisoner in Siberia after the war, and its title could not be less descriptive: "I want to sing songs of joy," scream the posters. I want to go and watch football. I leave for the media center to catch Mexico vs. Ecuador.
Art 1, Football 7.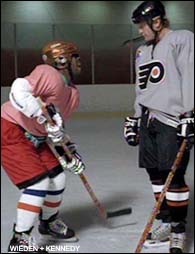 Reggie Reg is messing with the wrong guy in Jeremy Roenick.
Yokohama Stadium, Media Tribune, 8:25 p.m.
The Japanese national anthem is playing, and beside me, Taki is singing with more than 70,000 of his countrymen and countrywomen, dressed in their blue Japan jerseys, holding the simple but elegant Japanese flag above their heads. This is even more spectacular than Saitama on Wednesday.
And I too am in my Japan colors now, having made a brief stop earlier at the Sports Authority. The Japanese have turned out for England, I'll turn out for them. And I'm not the only one. On the way to the stadium tonight, I've seen dozens of Irish and English wearing blue shirts and cheering for jolly old Nippon.
The game starts. Russia looks dangerous on the counter, but Inamoto and my favorite Japanese player, the bright red-haired Toda, are giant in midfield. Japan, though, seems nervous in the first half, each pass just a little behind its man, but Russia seems intimidated by the Japanese speed; they hang way back, they create very few chances. In fact, at halftime, neither team has made a single shot on goal.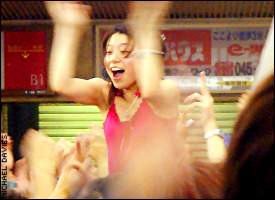 Michael Davies
Women and men share in the victory celebration at Yokohama Station.
The Media Tribune, full-time, Japan 1, Russia 0, 10:30 p.m.
At the final whistle, I stand and put my arm around Taki, as he holds his head in amazement. The second half was epic, Toda was giant again in midfield, thwarting single-handedly almost every Russian attack, releasing Inamoto into space where he made a real nuisance of himself. He got one chance to score in the second half, released by Yanagisawa (with his only decent touch of the match), and he took it. He's clutch, Inamoto. I repeat, if Arsenal doesn't want him, we'll take him at Chelsea. Ken? Get on it.
For the uninitiated, Ken Bates is Chelsea's chairman. The Chelsea Football Club plays in the English Premier League. They're always looking for more foreign players.
Grass Roots, an American bar, near Yokohama station, 11:45 p.m.
Taki and I finally find a bar that is open so we can celebrate with a beer. It's an American Southern blues joint, Allman Brothers posters on the wall, fried chicken on the menu and empty SPAM containers for the napkins. The scenes at Sakuragi-cho and Yokohama Stations were amazing. Taki has never seen anything like it. He talks in Japanese to the barmen, the waiter and some of the other late-night diners. "What are they saying?" I ask. "That they have never seen anything like this in Japan, young people so patriotic, singing the national anthem voluntarily."
Beautiful scenes of celebration, unrestrained, unthreatening, joyous, free form, in the stations, on the train, in the streets. Everyone wearing a Japanese shirt is hugged, high-fived and screamed at -- "NIPPON, NIPPON" -- myself included. I'm one of them tonight and genuinely share their joy.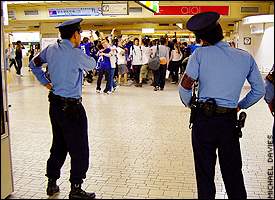 Michael Davies
Police at Yokohama Station aren't quite sure how to react to celebrating fans.
The police, incidentally, are confused by the whole thing; they have never seen anything like this either, it seems. But there's more to it than that. They are generationally, and therefore culturally, separated from these kids.
You see it everywhere and not just with the police: The Japanese young people I have been around, under the age of 25, seem part of an aggressive counter culture, exhibiting in their Bohemian appearance and an aggressive lack of formality (though not friendliness), a disdain for the rigorous manners and restraint of traditional Japanese life.
Taki laughed at a ludicrous announcement at Sakuragi-cho: "There will be no celebrating at the station," says a cop over a loudspeaker. It must have been inconceivable to him: cheering, chanting, dancing, shenanigans. How would the trains possibly be able to run on time? He was greeted by looks of disbelief by the throng of young people. They moved on, respectfully, but ... good for them ... loudly.
Taki and I are celebrities at Grass Roots -- we were at the most important game in the history of Japanese football, the most significant national event in these young people's lives. We drink Kirin, eat Nachos and watch the replays. It is still unbelievable to me that the Russian substitute striker, Vladimir Beschastnykh, missed a sitter from no more than five yards. I'm thinking about the power and glory of football again. This game is going to be enormous in Japan, I think. These young people will take the game from here and pass it on. If only tomorrow's U.S. game could arouse the same passion among more young Americans.
The news then starts to filter through from Russia about the rioting in Moscow, the death of a fan and the beating up of Japanese students. This is the depressing side of the game, the flipside of the passion we have witnessed at Yokohama station. In one country, a win inspires a joyous, peaceful and undiscovered patriotism amongst a newly optimistic youth; in the other, a loss provokes violence from a nationalistic mob who have newly discovered the connection, inspired by English fans of mostly yesterday, between right-wing thuggery and football fanaticism.
"I want to sing songs of joy," I say to Taki.
He smiles at me. I think he's become used to not understanding half of what I'm talking about.
Michael Davies, a native of London, is executive producer of ABC's "Who Wants to be a Millionaire." He'll be filing five diary entries per week from the World Cup for Page 2.