By Michael Davies
Special to Page 2
Day 22: Waud vs. Platini, Wenger and Dunga
June 22, Room 1412, Pan Pacific Hotel, 9:05 a.m.
Note to self: Perhaps it is not such a good idea to lead with one's hotel and room number when one is actually publishing one's diary in real time. I was awoken this morning by a man named ... Wade. I have never met anyone named ... Wade. It's a name that just seems so unlikely to someone British, it requires ... pause. "I'm calling from Dallas, Mr.Davies," said ... Wade, "I want to talk to you about your column."
This guy is nuts, I'm thinking. But screw the fact I hardly slept, I'm still sick and I'm a little scared of ... Wade -- he's reading me, he's really reading me. He's also gone to the trouble of finding the number for the Pan Pacific Hotel in Yokohama and has spent a small fortune on an international call. I indulge him for a good 15 minutes. Don't know if it was the fever or the lack of sleep or just him, but I didn't really understand anything he said. He promised to e-mail me.
Shinkansen to Yokohama, 12:45 p.m.
Dom and George had something of a late night in Rappongi, or early morning (they took the 5:30 a.m. train home), depending on how you look at it. Dom's decided not to come to Osaka for the Turkey-Senegal quarterfinal, so it's just the boy, Waud, and I -- and he's such a joy to travel with when he's tired and a bit hungover.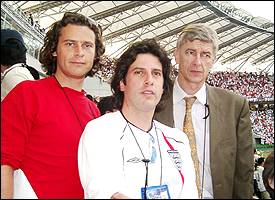 Arsene Wenger gives the signal while posing with George, left, and Dom, center.
Let me try and define our friendship. We have been mates for about 10 years, we are both from London, both support Chelsea, know many of the same people, but somehow never met there. We met in Los Angeles and became close when we started spending our weekends driving all over the state to find its best public golf courses, on which we play for the Waud-Davies Cup, a beautiful trophy, which George has only won once under controversial circumstances that I don't want to go into. I am George's least glamorous friend -- he's a movie executive; I'm a game-show producer. He goes out with great-looking women, but my future wife is convinced it's down to her to find him one. She adores him. As does everybody. But I don't find him adorable at all. Our relationship revolves around him taking the piss out of me constantly, until I hit him and hurt his feelings. He's very delicate. But, as I've said, he's my mate.
We spend much of the trip dissecting the England-Brazil game. For some reason, I was convinced that Rivaldo had stolen the ball in midfield (when it was Kleberson) and it was Rohaldinho, not Rivaldo, who did the double stepover that sent Ashley Cole the wrong way (something of an understatement when you watch the replays) before passing to Rivaldo who made himself room and scored. Not quite sure how I could have imagined it was all Rivaldo, but that's the sort of thing that happens when it's hot, you have a fever, and you're watching Brazil beat England. George is very critical of David Beckham (who he refers to as my boyfriend), thought he looked like the worst player on the pitch and was directly responsible for the first Brazilian goal. I disagree, violently (there's a bruise to prove it).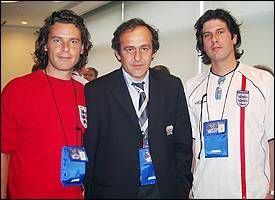 Michel Platini, center, looks pleased to pose with a couple of England fans.
But Beckham was certainly far from fit for the whole World Cup, and Brazil pushed him way upfield to defend Roberto Carlos, but defensively I thought he was superb (despite jumping out of the tackle that indirectly led to the goal), as was England (how often did Brazil really look dangerous?). Brazil deserved the victory if for no other reason than England could not find the imagination to beat them 11 on 10.
But all those doom-and-gloom merchants in the English media saw a different game than I did. Ronaldinho's goal was a freak (don't tell me you really believe he was shooting), and that was what ultimately separated the teams. England's goal and Brazil's first goal were similarly soft, the result of superb exploitation of the opposing team's mistakes. The midfield battle, until Ronaldinho's unjustified (with the hindsight of slow motion replay, which the referee did not have) sending off, was drawn. Both defenses, outside that one small mistake by Lucio, looked solid. Both teams created scant scoring opportunities.
England is never going to be, has never been a team of stunning creativity. We are opportunists. It didn't seem to bother our football writers when we beat Germany 5-1 last September in a crucial World Cup qualifier. With Steven Gerrard fit, Phil Neville fit, Beckham and Kieron Dyer truly fit, I still conclude that this young team will get better and better -- however many games they play in the Premier League. England is never going to be able to abandon its domestic league for a year so their national team can practice and play exclusively with each other like South Korea, or hone their teamwork playing as heavy a fixture list as The United States or Brazil. But this is a uniquely new team, forged in the last year over a handful of friendlies and qualifiers by a new coach.
Anyway, enough football. I ask George to explain what exactly happened to my cell phone. He surprises me by insisting that it was stolen by former French World Cup star and captain, Michel Platini, working in tandem (trandem?) with Arsene Wenger, the Arsenal manager, and the former Brazilian star and captain, Dunga. He opens up his G4 and shows me the evidence which he has downloaded from his digital camera.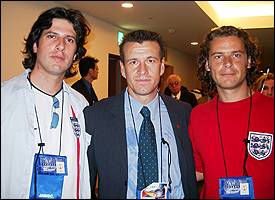 Dunga, center, completes the caper.
For proof, just take a look at the accompanying photographs. Exhibit 1 is a photograph, taken at the beginning of halftime, of George (left), Dom (center) and Arsene Wenger (right). At first glance, it simply appears that Mr. Wenger is far from overjoyed at having to have his picture taken with two English louts who couldn't even manage a jacket and tie in the VIP box. But George insists that Wenger is looking in the direction of his countryman and partner in crime, Michel Platini, and giving him the signal that George has a very nice cell phone sticking out of the left front pocket of his pants (shielded by Dom in the foreground).
Exhibit 2 is Platini (center, looking pissed off, drunk or guilty, you make the call), with George in the red vintage and Dom in the white England shirt. George points out the suspicious proximity of Platini's right hand to his front left pants pocket, where he was keeping the phone. "He's clearly either about to, or has just lifted it," says George.
Exhibit 3 is what George describes as the smoking gun. At left, Dom, right, George and center Dunga. But what is that sticking up over George's left shoulder? It is clearly a cell phone aerial. Wenger made the mark, Platini made the lift and passed it to the speedy escape man, Dunga. Case closed.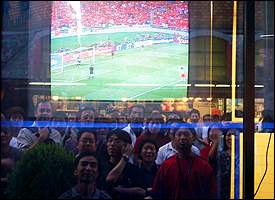 A crowd's reflects against the glass while watching the Spain-South Korea penalty kicks.
Shimsaibashi district of Osaka, 4:45 p.m.
I take back everything I wrote about Osaka when I came here for England-Nigeria and Japan-Tunisia. Or maybe I didn't write it, but I didn't like it. This time I love it here. We've found a phenomenal district, sort of like Osaka's version of New York's Soho -- design stores, trendy bars and restaurants, galleries and great people watching. It's a lovely late afternoon, sunny and breezy, and we roam the streets searching for gifts and indulging in George's unhealthy obsession -- officially licensed FIFA World Cup products -- which are everywhere. Along the way, we keep on drifting in and out of bars -- Irish, Italian, Brazilian, Korean -- to check on the score of the World Cup quarterfinal across the Sea of Japan -- Korea vs. Spain. As it drifts toward the second half of extra time, we stand in the street with a growing number of people, nearly all Japanese, and watch in the window of a Korean restaurant. The crowd seems to be pulling strongly for Korea, and when it gets to the penalty shootout, it's captivating. Traffic stops, the crowd is blocking the entire intersection. George takes a great digital photo.
When it's over, and Korea wins, an elderly woman walks out of the restaurant and hands out Korean flags. Two young Japanese men, one more self-conscious than the other, take off running down the street waving them. This is nothing like the scenes at Sakuragi-cho or Yokohama Station after the Japan victory against Russia. It is understated, almost silent, and charmingly awkward. But it is powerfully significant, perhaps something that the older Korean woman never believed she would see.
Osaka Stadium, Category 1 seats, 9:45 p.m.
The people sitting behind us think George looks like Senegal coach Bruno Metsu, and I can see the resemblance. We really enjoy the Turkey-Senegal game. And George makes an excellent point that everyone who plays a bit of football should really take note of -- these players get on the right (or left) side of the ball to shoot it, shield it, pass it, control it with such ease and speed. Senegal looks electrifying every time (which tonight is not that much) they touch the Fevernova, but Turkey -- now that I'm seeing them play against someone other than Japan (arguably, the fastest team in the tournament) -- combines electrifying quickness, physical and intelligent defensive and midfield play, superb goalkeeping and the creativity to produce chance after chance.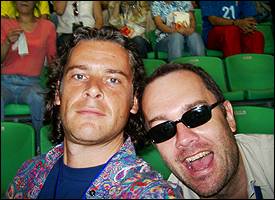 George and Michael Davies behave so antisocially at the Senegal-Turkey match that most people around them have left.
There is nothing extraordinary about this team. Even Hasan Sas, who is bloody good, does not grab you in the way that great footballers grab you -- in that every-time-I-get-
the-ball-you're-going-to-think-about-what-I'm-going-to-do-with-it-before-I-do-
something-you-never-imagined kind of way. But they will be incredibly difficult for England to beat (drawn against them in the qualifying group for Euro 2004) ... and I dare say, for Brazil in the semifinal. But they do miss a lot of chances on the night until their golden goal, which is beautifully taken. I think they're better than Germany and Korea. New Dubious -- and ever-changing -- Power Rankings coming on Day 24.
George and I drink lots of beer, eat phenomenal noodles at halftime, buy lots of officially licensed products and somehow manage to grab a taxi in front of hundreds of others on the main street outside the stadium immediately after the game.
The back of a taxi, 11:15 p.m.
We jump in and ask the driver to take us back to Shimsaibashi. We decide to make tonight my stag night. But as the cab ride gets longer, and we both grow tired, we decide to just go back to the hotel, get a good night's sleep and get up early and go antiquing. Dead hard, us two. Dead hard.
Michael Davies, a native of London, is executive producer of ABC's "Who Wants to be a Millionaire." He'll be filing five diary entries per week from the World Cup for Page 2.