Page 2
EDITOR'S NOTE: Here at Page 2, we think we know what we're talking about when it comes to athleticism and sports. But if you promise not to tell, we'll share a little secret with you: We aren't elite athletes. (Except in our dreams, of course.) So to get the straight skinny about the way this world works, we rounded up the Real Thing -- athletes, active and retired, including some currently in the employ of ESPN. We asked them a number of questions about sports and about their peers. Through the course of our three-week package on Athleticism and Sports Degree of Difficulty, we'll let ... The Athletes Speak.
Today's question: WHAT IS THE MOST IMPRESSIVE FEAT YOU SEE DONE IN SPORTS OTHER THAN YOURS?
Here's what they told us.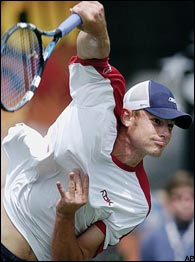 Andy Roddick's 150-mph serve is second to none right now.
Michael Weiss, figure skating
"The speed at which they're serving tennis balls now is pretty crazy. I remember when 110 mph was really fast. Now it's 150 mph. That's pretty impressive. I (can't imagine) even being able to see the ball go by, let alone getting my racket on it. A pitch might be 100 mph in baseball. A slap shot gets up to 105 mph in hockey. But taking that next step to 160 -- that's about as fast as anything in sports is going right now. Unless it's on wheels and driving."
Tom Pappas, world decathlon champion
"It's a toss-up. Either Lance "Big Tex" Armstrong winning a title boxing bout, or Chris Moneymaker winning the World Series of Poker. But seriously, I think maybe Tiger Woods winning four consecutive majors."
Dexter Coakley, linebacker, Dallas Cowboys
"Hitting a baseball. I've never been very good at it."
Teemu Selanne, right wing, Colorado Avalanche
"Win in golf. Even make the cut. The difference between No. 1 and like No. 200 is nothing."
Mark Webber, Formula One driver
"Consistency in golf, because it's a sport that seems so simple but is very, very difficult to do to perfection."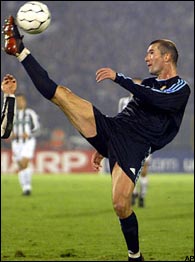 Do not try this at home unless you're Zinedine Zidane, of course.
Steve Nash, guard, Dallas Mavericks
"Everything Zinedine Zidane does with a football (soccer ball). You can't really articulate the way he dribbles or the control and power he has when he shoots or passes, but I love to watch him play. Some of the goals on his DVD (a Zidane biography) are absolutely ridiculous."
Tom Tolbert, former NBA forward,
ESPN basketball analyst
"No. 1: Hitting an MLB pitcher. A batter has milliseconds to decide whether a pitch will be a strike, what type of pitch it is and whether to swing. No. 1A: Completing a pass in the NFL. A quarterback has seconds to drop back, dissect the defense and the coverage, go through his progressions and get the ball to a receiver ... as several 250-to-300-pounders who run 4.5 40s come at him from all over."
Keith Brooking, linebacker, Atlanta Falcons
"Just in general, I would say a triple-double in basketball. You can't just be good at one thing and accomplish that. You have to do basically every basketball skill extremely well. That's why you don't see many of them."
Zdeno Chara, defense, Ottawa Senators
"Armstrong winning five times in a row. I was there to see it last year and I'm going again this year. He had a 20-percent chance to live and he fought like crazy. Some people might have been scared and given up, but he fought through it."
Tony Kanaan, Indy Car driver
"It's tough to talk about other sports because I don't do them. But again, I think people who do their sport day after day after day and have the motivation the do it well every time -- I think that is the biggest thing. I appreciate people like Michael Jordon and Michael Schumacher. They've accomplished so much in their lives, but they still have the motivation. It's really easy, when you accomplish something, to lose the motivation. I think it's hard to wake up every day and work at your sport. If you're going to be the best in a sport you play every day, you basically don't have a life. That's really hard and that is why some people stand out more than the others. It's a combination of talent and perseverance."
Seth Kelsey, ranked No. 1 in U.S. in men's epee (fencing)
"Probably hitting a home run in baseball. Small ball, not a big bat, a lot of hand-eye coordination."
Sean Salisbury, former NFL quarterback, ESPN football analyst
"Hitting a baseball is the most difficult feat outside of football. A batter has to guess where the pitch is going, how fast it's going and what kind of pitch it's going to be. All while thousands of fans scream and attempt to disrupt his concentration. It doesn't get much harder than that."
Jason Taylor, defensive end, Miami Dolphins
"I guess if shooting a hole-in-one was easy, everyone who ever played golf would have done it, right? But it's such a function of luck, as well as ability, and that's what helps to make it so difficult. I mean, there are great golfers who never shot even a single hole-in-one, right?"
Chris Webber, forward, Sacramento Kings
"Hitting for the cycle in baseball."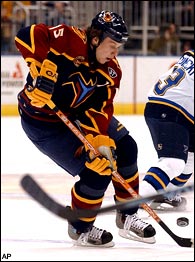 Dany Heatley's coordination is a thing of beauty.
Tony Gwynn, former outfielder, San Diego Padres; coach, San Diego State University; ESPN baseball analyst
"Taking the handoff and hitting the hole for a running back. It takes vision, speed and toughness, not to mention that there are 11 guys chasing you. And throwing a perfect spiral downfield has to be up there, as well. I played basketball and I know how tough that is, but being outmanned as a ballcarrier has to be the hardest. But handling a puck on ice with that long stick must be difficult, too."
Justin Gimelstob, tennis
"I was at the Lakers-Chicago Bulls NBA Finals the first year the Bulls won it, when Michael Jordan switched hands in the air -- Game 3. That was probably one of the most amazing athletic feats I've ever seen. You know, being courtside to watch Jim Courier's five-set heroics in Davis Cup in the fifth-set match against England was incredible, too."
Laveranues Coles, wide receiver, Washington Redskins
"Every sport has incredible accomplishments. I guess if you were a marathon runner, that would be (really hard)."
Barry Melrose, former NHL coach, ESPN hockey analyst
"Running a marathon. Many athletes do some kind of distance running in their training, and we all know how hard it can be. But what marathon runners do to their bodies is amazing. They are basically running 26 consecutive five-to-six minute miles. The athletic gifts combined with the mental toughness it takes to overcome that kind of punishment is above and beyond just about anything else in sports."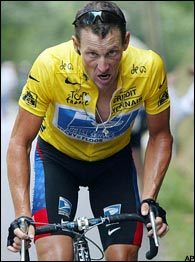 How can you not be impressed?
Chad Senior, modern pentathlon (sixth in 2000 Olympics)
"It could be not getting hurt in football. Someone like Brett Favre -- that's probably a hell of a feat. But what Lance Armstrong is doing is ... I don't know how someone can do something more impressive than that. That's pretty damn good. Not only is he outclassing everyone, he's beaten them all and he's doing it year after year. And to suffer that much. I think what impresses me most about it, what a lot of people might not think about, is the motivation to train in the offseason, to ride your bike up a freakin' mountain, and to continue to have that desire. I don't know how he does it. That part is the most impressive for me. And the last, I'd say, is Al Oerter winning four consecutive gold medals in the Olympics. I don't think we'll ever see that again. Unbelievable. And most people have never heard his name."
Chad Hedrick, speedskater, 2004 World All-Around champion
"The most amazing thing I have ever seen from an athlete or team would probably be when I was 17, and my Houston Rockets won the NBA Finals. It was the most memorable time I have a had living in Houston. When you have a championship team, it definitely brings out something special in your city."