Page 2 staff
We've all seen our share of games, but every sports fan has that moment that they'll never forget. That moment of pure athleticism that leaves them shaking their heads not for a few minutes -- but for the rest of the their lives.
What do we think? Well, here's a collection of what has left our writers shaking their heads. Take a look and let us know what moment you're still talking about.
Stepping stones
Beyond a doubt the greatest feat I've seen is Cal Ripken climbing the Metrodome stairs leading from the field to the clubhouse in six strides. Let me tell you, it's a LONG, high staircase, with four landings and like 28 steps. Ripken turned going up it into a contest to see how many strides he could do it in and he eventually got it down to six.
Current Twins have heard this repeated as legend and they don't believe it's humanly possibly but I saw him do it one day and then he showed me exactly how he goes about it. and when he described it, I could tell that in addition to being a great athlete (and he was), he also put unbelievable thought and planning into whatever he did. I mean, this was a contest guaranteed to twist an ankle, but Ripken did it every time he was in Minnesota, regardless of the streak. People say he put the streak above everything else, but he didn't. It was incredibly important to him but he didn't worry about it or let it stop him from trying something risky athletically.
-- Jim Caple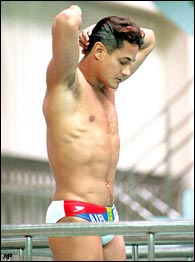 With everything working against him, Louganis stuck the dive in '88.
Pride and prejudice
The feat that took my breath away was Greg Louganis' perfect dive off the 3m. springboard at the 1988 Olympics in Seoul. Driving himself against divers half his age, haunted by an HIV diagnosis, he had split his head open with a sickening thunk on a previous dive. We were amazed when he came back, blown away when he nailed the dive.
-- Robert Lipsyte
Prime Time Live
Deion Sanders, then a Cowboy, let Raiders' receiver Rocket Ismail get several yards ahead of him, making it look as though he was beaten. When he was sure Raiders' quarterback Steve Beurlein saw an open Ismail, Sanders went into action. While the ball was in the air, Sanders, in a superhuman burst of speed, closed the gap on Ismail, then hovered on Ismail's shoulder. (Bear in mind that Ismail sports the nickname Rocket and, at the time, he ran a legitimate 4.3 in the forty) Then Sanders, without even the slightest contact, reached over Ismail's shoulder and plucked the ball from his grasp in the most incredible combination of speed, finesse, and guile I've ever witnessed on the field.
-- Alan Grant
Supernatural speed
After the race, after the disqualification, when I could watch the slo-mo video from every conceivable angle, I saw the wild yellow in his eyes and the inexplicable tidal waves of thigh muscle as he hurricaned down the track. But live, there from press row at the 1988 Summer Olympics in Seoul, no evidence of the anabolic steroid stanozolol was visible to the naked eye. All I saw was a man making an absolute mockery of what was supposed to be the best, most-competitive 100 meters in history. Ben Johnson's time was an astonishing 9.79 seconds. He left Carl Lewis, the most accomplished sprinter of my lifetime, so far in the rear that Lewis might just now be crossing the finish line.
Just kidding: Lewis finished in second place in 9.92, which became the world record once Johnson's time (along with his 1987 world record of 9.83) was disallowed. Second place, though, was .13 seconds behind first -- an eternity in an Olympic 100 meters. Johnson didn't run that race fair and square, but that doesn't make the sight of it any it less impressive. It is the most extraordinary thing I've seen the human form do.
-- Michael Knisley
Over and out
A forward body flip is an amazing feat under any circumstances. Even when performed by an 89-pound gymnast, it's still awe-inspiring to see a human being start out flat-footed, leap forward and invert themselves, fly around in a full 360 and land with both feet again flat on the ground.
It's even more amazing when the feat is performed by a 210-pound football player.. That's why I still flip out when I think about the play that Arizona quarterback Ortege Jenkins made to beat Washington in October of 1998.
It's fourth-and-goal from Washington nine, Arizona is down 28-24, only seconds remain. With no one open, Jenkins decided to make a run for the goal line with linebacker Lester Towns the only thing in his way. At full speed Jenkins somersaulted in the air and landed on his feet just inches over the goal line. Upset bid squashed. Game over and the most amazing athletic feat I've ever seen.
-- Kevin Jackson
Whale watching
Who can forget "The Whale"?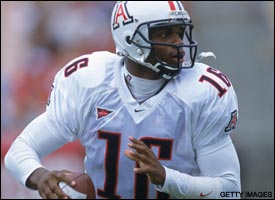 What you can't go through, go around -- right Jenkins?
His real name was Rick Reuschel, a fine National League hurler during the '70s and '80s, who looked exactly like a walrus. I saw him fo the first time at Wrigley Field in '84, when he was pitching for the Cubs. I literally laughed out loud as he jogged to the mound. When The Whale came to the plate, that's when I stopped laughing.
Reuschel laid down a bunt and hit the trail to first. Have you ever seen a two-ton boulder, rolling down a hill toward you, gathering momentum as it goes? Now picture the same terrifying, irresistible sight occurring on a flat surface, like an infield, only the boulder has feet and is wearing cleats and hat. That was Reuschel. His bunt was so perfect, there was no play anywhere and, without even turning his head, he made the turn around first and dug for second. Imagine a boulder suddenly turning left, in defiance of all the laws of physics. The crowd did not roar; it gasped. The fielder held the ball in his hand, unable to believe his eyes. For a moment, he just stood there, frozen; then, as if suddenly remembering where he was, he threw the ball -- into center field. The Whale migrated all the way to third.
-- Chuck Hirshberg
Multi-tasking, Magic style
We forget now, when all the kids have handle, but in 1980, Magic Johnson was a revelation. And never more than on May 6, 1980, when he played all five positions to lead the Lakers to a title-clinching win over the Sixers in Philadelphia. Kareem was home hurt that night, so Magic played for him, ... literally, jumping center, D-ing up Dawkins and Caldwell Jones, running the floor, scoring inside and out. He scored 42 points, had 15 rebounds, seven assists, and three steals. It was the purest, most complete game of hoops I've ever seen.
-- Eric Neel
Diamonds are forever
Back when he was still "The Kid" -- it must have been 1991 or so -- Ken Griffey Jr. made a play for the ages, except it was a meaningless midseason game between the Rangers and Mariners at the Kingdome so nobody knows about it. Ruben Sierra drilled a screamer deep into the gap in right-center, one of those bullets that never gets more than 10 feet off the ground and the only question is if he'll be able to stretch it into a triple. But here comes Griffey, flying through the air like Bob Beamon, catching the ball at the apex of his leap and then crashing hard into the wall. He was fearless back then, and probably smiled after he unglued himself from the padding.
-- David Schoenfield