Commentary
The Page 2 Thanksgiving dinner draft
Originally Published:
November 25, 2009
By
Page 2 staff
ESPN.com illustration
Page 2 set out to bring sports and Thanksgiving together in the best way possible -- by holding a mock draft for our holiday feast.
The participants:
• Lynn Hoppes, ESPN.com senior director for Page 2 and commentary
• DJ Gallo, Page 2 writer
• Paul Lukas, Page 2 writer
• Mike Philbrick, Page 2 editor
• Thomas Neumann, Page 2 editor
• Patrick Hruby, Page 2 writer
• Scoop Jackson, Page 2 writer
• Jim Caple, Page 2 writer
• Jeff MacGregor, ESPN.com columnist
• Kieran Darcy, Page 2 editor
• Toby Mergler, Page 2 writer
• Jemele Hill, ESPN.com columnist
Without further ado, we proudly present the Page 2 Thanksgiving dinner draft:
FIRST ROUND
1. Turkey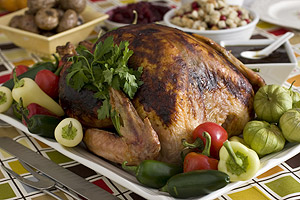 AP Photo/Larry CroweThe undisputed heavyweight champion and No. 1 pick of our Thanksgiving draft must be the bird.
Hoppes, on his selection: This is the LeBron James of a Thanksgiving draft.
2. Mashed potatoes
Gallo, on his selection: Mashed potatoes are delicious. Butter. Garlic. Yes, please. More importantly, they are the best food to play with. You can sculpt all kinds of things with them. Or use them as cement to build little structures out of turkey. Or build a massive gravy lake with them. And this is important, because when the Thanksgiving conversation gets really awkward, when your uncle gets drunk and starts dishing family secrets, you can just keep your head down and create wonderful works of potato art.
Neumann: DJ, I'll trade you the fifth and 20th picks for mashed potatoes and a dessert to be named later. Think about it.
Gallo: If you draft sweet potato casserole at No. 6 and give me your first-rounder in 2011 (I'm up against the cap), we've got a deal.
Neumann: No can do. You probably want Adrian Peterson, too.
3. Gravy
Lukas, on his selection: I'm keeping the whole boat for myself (just try eating that turkey without the gravy, Lynn).
4. Stuffing
Philbrick, on his selection: I think "Thanksgiving" is Iroquois for "stuff your fat face," so let's set the gluttony and carbs for full throttle and wolf down what is essentially butter and bread soaked with oil. Bonus points if there's sausage in it. Mmmm … sausage.
5. Pumpkin pie
Neumann, on his selection: Pumpkin pie and Detroit Lions football -- the essentials of any splendid holiday.
6. Chinese takeout
Hruby, on his selection: Our fore-forefathers celebrated their first New World harvest by feasting with the very same indigenous people they would later betray, oppress and massacre. So right from the start, Thanksgiving has been a bit checkered. Why not emancipate yourself from Turkey Day -- family you don't want to see, traffic you don't want to fight and tryptophan-induced flatulence you don't want to hold in -- by staying home and ordering Chinese? It was good enough for General Tso. He only commanded an army or something.
7. Chitlins
THANKSGIVING DRAFT ANALYSIS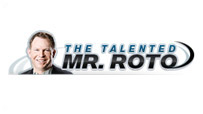 Fantasy guru Matthew Berry determines the Thanksgiving draft's winners and losers without pulling punches. Analysis
Jackson, on his selection: The main course in any "real" Thanksgiving meal. Chitlins are a taste acquired over time. Some will turn their noses up and question this pick. Don't forget, Walter Payton (Jackson State) and Jerry Rice (Mississippi Valley) were overlooked at first, too.
8. Ginger-marshmallow carrots
Caple, on his selection: My wife's ginger-marshmallow carrots. I'm drafting for need here because we need some healthy vegetables amid all these fatty calories. I'm also drafting the best plate on the board, because it's not only healthy, it's filled with rich marshmallowy goodness.
9. Ambrosia salad
MacGregor, on his selection: This fancy-dress salad for striving Midwesterners implies "food of the gods" and thus immortality, but delivers instead shredded coconut, Mandarin oranges and mini-marshmallows in a matrix of sour cream and/or mayonnaise. A sweet, creamy counterpoint to the usual holiday savories, it is at once light on the palate and easy on the eyes.
10. Oven-roasted potatoes
Darcy, on his selection: I'm Irish. I need a potato, and I got just the one I wanted. I'll take roasted potatoes over mashed potatoes any day.
11. Sweet potatoes
Mergler, on his selection: I'll open conservatively. You cannot go wrong with sweet potatoes.
Hoppes: Good choices. Let's tally the first round.
Hill: Wait … wait … are y'all trying to do me like the Minnesota Vikings?
12. Collard greens with smoked turkey
Hill, on her selection: I thought about going with cranberry sauce here, but if given the choice, I could do without it. But you cannot possibly have a Thanksgiving without greens.
SECOND ROUND
13. Sweet potato pie
Hill, on her selection: Three times better than pumpkin pie … and 7,000 more calories.
14. Dressing
Mergler, on his selection: Best available on the board.
Caple: I'm throwing a red flag! There's no difference between dressing and stuffing! Dressing is merely a Victorian term used because they found stuffing too graphic!
Philbrick: Yeah, you either take a forced feeding of Aunt Rose's fruit cake or pick again.
14. Leftovers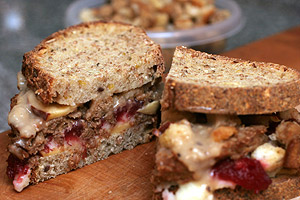 AP Photo/Larry CroweLeftovers can be just as good as the original meal
if you use the right inspiration and imagination.
Mergler, on his selection: OK, whatever. You guys eat what you want, and I'll take what's left. It's the best part of Thanksgiving anyway.
15. Parsnips
Darcy, on his selection: I'll admit it, it's a stretch. I don't even eat parsnips! But I'm telling you, I've seen too many people come to Thanksgiving dinner at my mom's house and rave about her parsnips. They look like giant French fries the way she cooks them. Maybe I should give them another try this year?
16. Oyster stuffing
MacGregor, on his selection: Only slightly less complex in its truest form than differential calculus, this is not a stuffing for sissies, dilettantes or lackwits. This is the real thing, requiring the kind of conviction, expertise and commitment we seem to find absent in so many of our young Americans these days. If, for example, at any point one whined or complained about shucking the dozen-and-a-half oysters necessary to make even an average-sized casserole of this stuff (to say nothing of the giant batches necessary to feed a big family at holiday time -- in which case you'd be bent over a bushel of oysters on the back porch bloodying your knuckles for the better part of an afternoon), my Uncle Mac would squint hard at you through the smoke of the Lucky Strike stuck to his lower lip, shake his head in slow dismay at where history had brought these United States, and walk back into his kitchen in a cloud of perfect disappointment. So, the rare side dish that builds character.
Neumann: Wait, wasn't stuffing already … oh, never mind.
17. Gewurztraminer wine
Caple, on his selection: Honestly, I can't believe all alcoholic beverages were still available, let alone a sweet wine which pairs so well with turkey. There's a serious bias toward solid food over liquid in this draft.
18. Cornbread
Jackson, on his selection: Cornbread is Scottie Pippen to the main course's MJ. With butter or without, with real corn kernels and jalapeño or not, whether you use it to "sop" up the juices of the meal or not, there's no better finisher in the draft.
19. Pizza delivery
Hruby, on his selection: This is what happens the day after Thanksgiving: You take one look at the contents of your fridge -- the congealed gravy, the gelatin cranberry sauce, the lumpy mashed potatoes, the half-eaten pie, the slightly greasy slabs of dark meat turkey -- and feel a little a lot queasy. That's when you reach for the phone to order pizza, because who on Earth wants to spend another day cooking, or anywhere near a kitchen? So why not get a day's jump on the whole, sorry scenario?
GALLO: Patrick is anti-Thanksgiving! Patrick is anti-Thanksgiving!
20. Wild Turkey
Neumann, on his selection: Probably the only way to stomach an entire meal with this group.
21. Cranberry sauce
Philbrick, on his selection: Made with actual cranberries purchased in your friendly neighborhood produce department. If your "sauce" can be sliced, if its gelatinous form has taken the shape of a metal can, if it comes into being with a disgusting slurping sound, then I'm sorry … it's not cranberry sauce.
22. Turkey carcass
Lukas, on his selection: For making soup and stock the next day.
23. Whatever is in that bowl over there
GALLO, on his selection: Nobody has touched it. Because it looks disgusting. And smells disgusting. But someone has to try some, or whoever made it will have their feelings hurt. So I'll take one for the team. Then I'll spit it into my napkin.
24. Ham
Hoppes, on his selection: See, you rookies are going for sides. The big boss man has stocked up with two power running backs in turkey and ham. They will carry me to the championship.
PAGE 2 STAFF (IN UNISON): Another great pick, sir!
UNIDENTIFIED WHISPER: See, I told you we should leave ham on the board for him -- especially with our performance reviews coming up.
THIRD ROUND
25. Green bean casserole
Hoppes, on his selection: I love it for those crunchy onion things. I don't really care for the beans or mushroom soup. But the crunchy onion things are yummy.
26. Beer
GALLO, on his selection: Really, people? Really? Jim's wine isn't going to last all day.
27. Frozen TV turkey dinner
Lukas, on his selection: College student's austerity special.
28. Apple pie à la mode
[+] Enlarge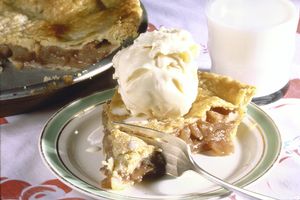 John Dominis//Time Life Pictures/Getty ImagesTry to resist apple pie à la mode in the third round.
We simply can't believe it was still on the board.
Philbrick, on his selection: À la mode? That should never be a question. If you don't like this, may I direct you to Cuba or North Korea, because you, my former friend, are a communist.
GALLO: FYI: Roadkill is still on the board.
29. Silverware
Neumann, on his selection: I've got liquor, pumpkin pie and all the cutlery. NOW, who wants to talk trade?
Hoppes: Pilgrims didn't have silverware.
Neumann: Touché. Maybe Hruby has some extra chopsticks.
30. Pepto-Bismol
Hruby, on his selection: Ginger-marshmallow carrots. Turkey. Ambrosia salad. Turkey. Collard greens. Smoked turkey. Oyster stuffing. Turkey leftovers. Chitlins. Pie. Back to back to back to back … look, I'm not saying you need some Pepto. I'm just saying: be prepared.
31. Macaroni and cheese
Jackson, on his selection: Specifically, my Uncle Clif's Homemade Upscale Macaroni and Cheese, baked with red bell pepper, celery, bleu and Parmesan cheese, bay leaves, whipping cream and penne pasta.
Hill: Mac and cheese is a steal this late in the draft.
32. Boysenberry pie
Caple, on his selection: My dad's boysenberry pie was the dish I wanted all along. Seriously.
33. Corn on the cob
MacGregor, on his selection: This may seem cynical to younger diners, but you draft the corn on the cob not just as reminiscence on summer past, or as an historical homage to the first Thanksgiving dinner, but to have some trade bait handy at meal's end.
34. Salami with cream cheese
Darcy, on his selection: I need some meat! Turkey and ham are off the board, so I'm going with one of my favorite Thanksgiving appetizers. I can eat them like candy.
35. Turducken
Mergler, on his selection: BOOM!
36. A Snuggie
Hill, on her selection: This was a purely selfish selection. I'm going to need a nap after all that food.