Commentary
NBA draft gallery: Group photo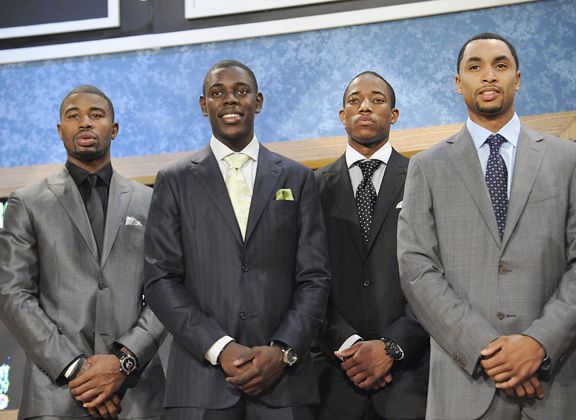 Jesse D. Garrabrant/NBAE/Getty ImagesPictured from left to right: Terrence Williams, Jrue Holiday, DeMar DeRozen and Gerald Henderson
Fern Mallis on Terrence Williams' look: I'm not crazy about shiny fabric, but this isn't bad with the black shirt and black tie. He looks very handsome and very put-together. The average Joe can look at this and see he can wear a black shirt and tie and look sophisticated. But it's about the right attitude, and he has it.
Ben Tobar on Jrue Holiday's look: Does a great job differentiating himself from the pack by opting for a navy suit. The average Joe can look at this and consider navy as a valid option for an important event in the summer. But what really works is the softness of his tie and that his pocket square is a shade brighter. It really gives some life to his look.
Tobar on DeMar DeRozen's look: I like the seriousness of his getup. The intensity of his tie definitely draws attention to his face. Normally, when shopping for ties, guys fall in two categories -- Mr. Flash and Mr. Subtle. The goal is to be a hybrid of the two, bold but reserved. He does that.
Tobar on Gerald Henderson's look: The look is very conservative. He could speed it up by opting for a suit that has narrower lapels and a lower button stance. He also has a very sloped shoulder stance, in which case he should opt for a suit with a roped shoulder and higher armhole, which would broaden his shoulders.
---
Senior Writer, ESPN The Magazine
Edited NBA and tennis for ESPN The Magazine
Columnist at The Atlanta Journal Constitution
Fellow at Hechinger Institute, Columbia University
2009 NBA Draft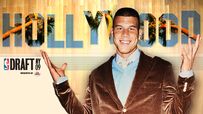 The 2009 NBA Draft is in the books.
Home
TODAY'S BEST
INSIDER: D.R.A.F.T. INITIATIVE