By Wayne Drehs
ESPN.com
EDITOR'S NOTE: ESPN.com's Wayne Drehs is spending the week behind the scenes with the unsung people in Jacksonville who make the Super Bowl what it is -- the party planners, the limo drivers, the beer distributors and, yes, the bouncers who muscle the rest of us out of the really cool shindigs. His series on Super Bowl Lives continues at the FHM party, hosted by the World's Fastest Man.
A mere 9.85 seconds has brought them here. A mere 9.85 seconds that has changed their lives forever. That's the time it took Justin Gatlin to complete the 100-meter dash at the Summer Olympics in Athens this past August. That time made Gatlin faster than any other human in the world.
SUPER BOWL LIVES
Wayne Drehs is spending the week with the unsung people in Jacksonville who make the Super Bowl what it is:


Day 1: The Beer Man

Day 2: Cruise Control
Five months after he earned the title, "world's fastest man," the soft-spoken sprinter from Pensacola, who will turn 23 next Thursday, finds himself here, at the epicenter of American excess, the Super Bowl, living the life of a bonafide big-time celebrity.
Along with women's soccer star Heather Mitts and Tampa Bay defensive end Simeon Rice, Gatlin was chosen by FHM Magazine to host Thursday night's 2005 Super Bowl Players Party.
Gatlin's father, his best friend, a pair of uncles and a publicist -- they're all here, all along for the ride, all soaking up what it must feel like. Squeezed into the back of a stretch Lincoln Town Car, with strobe lights flashing in their faces and Lionel Richie singing in their ears, they fill their glasses with Hypnotiq, a fruity baby-blue-colored concoction, and toast the man who brought them here.
"A toast to our benefactor," says Franky Gatlin, Justin's father. "With all that he's accomplished, he's kept himself grounded. He's never forgotten anyone. He's never forgotten his surroundings. Justin, we appreciate everything. Cheers."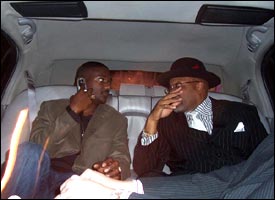 Justin Gatlin and his uncle joke around in the limo on the way to the FHM party Thursday night
And with the clink (or thud) of plastic, the night is underway. It's Gatlin's first big celebrity party, and certainly the first he's ever hosted. Before it is through, Gatlin will gawk at Mitts' beauty, introduce his family to a never-ending stream of girls and completely freeze up when he meets a female goddess of his own.
The limo pulls up to the red carpet and Gatlin slowly climbs out. He's one of the first to arrive. On a night when partygoers can see their breath, when the longest lines aren't at the bathrooms but rather the space heaters, eight barely-dressed, jaw-dropping FHM models are waiting for Gaitlin. This is close to bobsledding weather at the Winter Olympics, but the models' outfits of choice are skimpy enough to be banned from the beach volleyball venue in Athens.
Ultra-tight t-shirts barely cover their chests and skimpy black skirts barely cover their behinds. Ankles, calves, thighs, stomachs, abs -- all there for the viewing. After a quick television interview, Gatlin and his family stop for pictures. Pictures. More pictures.
"Umm ... We don't even need to go inside," Gatlin jokes. "We can just take pictures all night if that's OK with you ladies."
The models, cold and excited to have a warm body to stand beside, aren't exactly opposed.
"That's just fine by us," one says.
Eventually, the group leaves, heads into the Endo-Exo nightclub and begins to mingle.
Gatlin has never been to the Super Bowl before, never even been to an NFL game. He's attended a couple of movie premieres, but never a party like this, never an event that has his name on the invitation.
Now he finds himself in the heart of Super Bowl week. The game is a big deal, of course; but the corporate parties, thrown by everyone from Leigh Steinberg and Nike to FHM and ESPN The Magazine, are the center of the social calendar.
Gatlin's inexperience with the high life is evident from the opening minute, when he walks to the bar, orders a drink and pulls out his wallet.
"Um, it's open bar," the bartender says.
"Right," Gatlin acknowledges, chuckling.
"Hey, you never know," he says later. "I just wanted to be ready. I used to date a bartender. Those people work their butts off."
Not that he needs it, but his family and his friends keep Gatlin grounded. They're the ones who keep him loose. Start to get a big head -- even for a second -- and they call him on it. And he's teased about everything, even being fast.
"Sometimes, you know, you don't want to be fast," his uncle says coyly. "You know, you don't always want to be the fastest shooter in the West. There are certain things in life to slow down for. Just make sure you know that, Justin."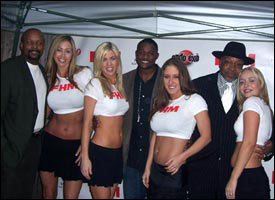 Gatlin and company posed with the FHM models before they headed inside.
In the beginning, the party starts just that way: slowly.
"I'm never at an event this early, waiting for everyone else to show up. Usually I'm the late guy," Gatlin says. But the club fills quickly. A rumor starts to float that the ultra-popular Maxim party, an archrival to the FHM function, has been canceled due to venue issues.
Gaitlin starts to mingle. He smiles. He shakes hands. He takes pictures. He puts his arms around blondes, brunettes, black women, white women. When the tide of women starts to ebb, an onlooker says, "Man, I gotta get fast."
Gatlin laughs, then explains: "It's all about how you present yourself. It doesn't even matter what you've accomplished. It's just how you carry yourself. Watch this."
He walks over and calmly introduces himself to a curvy brunette, a woman with straight hair, pouty lips and olive-colored skin, and proceeds to talk for 20 minutes. He doesn't tell her who he is.
"He's a magnet for women like that," his uncle says, looking on. "Always has been."
He's charming. Approachable. Has a great smile. And has been chosen by FHM simply because they like him. After participating in a couple shoots for the magazine this past year, he hit it off with deputy editor Michael Dolan. After he won the gold medal in Athens and completed the requisite media gauntlet, Gatlin turned to Drew Johnson, his publicist at Octagon Sports, and randomly asked, "I wonder how Mike at FHM is doing."
"He'll just pick up the phone and call the guy," Johnson said. "He's one of the most down-to-earth people I know."
How many celebrities would bring their father, two uncles and a best friend from home to one of the hottest Super Bowl parties, arguably one of the most exclusive events in the world? And how many would not only mingle with the family, but bounce around the club, shake hands, take pictures and consistently come back to "make sure" his people were having fun.
Only a handful.
"At a party like this, you can go one of two ways," FHM's Dolan says. "You can go with the superstar celebrity that you think is going to bring a lot of people but is going to be a royal pain in the butt to work with, or you can go with someone you like, who is going to mingle with the crowd and welcome the guests. With Justin, we went with the latter. And look at this -- it's worked out perfectly."
A few cocktails into the night, Gatlin and his best friend from middle school, Paul Lawrence, explain that Thursday is a "warm-up party." It's a night that you go out and try to meet people to have fun with the rest of the weekend.
"Or you get off to a bad beginning and you'll just want to go home," Gatlin says.
Tonight's progress thus far?
"Look at this. There are beautiful girls dancing almost half-naked inside the bathroom," Gatlin says. "I think we're headed the right way. And you can quote me on that."
While Lawrence is infatuated with Mitts, the female soccer star and a fellow Octagon client ("I've got to watch more soccer," he confesses), Gatlin has some female kryptonite of his own.
Her name is Vida. She's a model for FHM. At one point in the night, Vida is chatting with Lawrence when she turns around and looks at Gatlin. The track star freezes.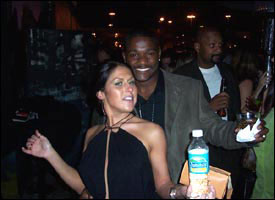 Gatlin and one of his happy guests inside the FHM party.
"I didn't know what to say. I couldn't speak," he says. "I've been checking her out since like 11th grade. I couldn't believe it was her."
Dumbfounded, the fastest man in the world walks away ... fast. When he is re-introduced later, he fares better.
"We're moving along," he says.
So, too, are the NFL celebrities. Peyton Manning. Jerome Bettis. John Lynch. Tony Gonzalez. They all arrive as the party continues. Even Philadelphia Eagles receiver Freddie Mitchell, with a Super Bowl to play in less than 72 hours, is on hand.
There's an inside, an outside, a stage -- anywhere guests turn, there's a throng of people. Gatlin takes a few pictures, shakes a few hands and smiles for anyone who says hello. But as the night wears on, he pretty much sticks with his family.
When a pair of high school friends from Pensacola show up, he introduces one as "Cookie."
"My name is not 'Cookie', " she says.
"Yeah, that's just her stage name," Gatlin says. "I forget sometimes. You'll have to ignore her."
The girl rolls her eyes, sticks out her hand and introduces herself. "My name is Aliah," she says. "Just ignore him."
It's another example of Gatlin rocking the boat of the people who know him best.
"These people are the reason I'm here," he says. "They're the ones who taught me the work ethic, who taught me about life. You can't repay that. I owe them a lot."
And in 9.85 seconds last summer, he began the payback process.
Wayne Drehs is a staff writer for ESPN.com. He can be reached at wayne.drehs@espn3.com .