By Wayne Drehs
ESPN.com
EDITOR'S NOTE: ESPN.com's Wayne Drehs is spending the week behind the scenes with the unsung people in Jacksonville who make the Super Bowl what it is -- the party planners, the beer distributors, the limo drivers and, yes, the celebrities who frequent the really cool shindigs. His series on Super Bowl Lives finishes up today with a congregation that worships something other than football.
She can't be 16, and here she is, proudly proclaiming her love in front of some 65 peers. Six seats to her left, another teenage girl, her head also bouncing to the Christian rock band in front of her, joins in, closing her eyes, raising her hands and mouthing the words to the hallelujiah-driven lyrics. She, too, can't be a high school sophomore yet.
As the music begins to soften, a youth pastor named Gator grabs the microphone.
SUPER BOWL LIVES
Wayne Drehs is spending the week with the unsung people in Jacksonville who make the Super Bowl what it is:


"I ask you: If you were to die tonight -- tonight -- would you go to heaven?" he beseeches the group. "Think about it. We all deserve Hell. We do. But Jesus releases us of that. Accept Him in your heart, because nothing is guaranteed. Your next breath is not guaranteed."
Ten miles down the road, on the biggest night in this city's history, another set of soul-searching decisions are being made. Run or pass? Blitz or drop back? Light beer or regular? The Philadelphia Eagles and New England Patriots are fighting for pro football supremacy on sports' grandest stage. Some 83,000 fans have filled Alltel Stadium, and another 90 million are watching at home to see who will win the Lombardi Trophy.
But back here, one year after Janet Jackson's "exposure" and three months after Nicolette Sheridan's dropped towel -- at a time when our country's moral divide is affecting policy all the way up to the White House -- people don't think twice about missing the big game to spend some time with God.
In a town known as "the buckle of the bible belt," a place that's home to the Florida Baptist Convention as well as First Down First Faith (an organization geared solely to spreading the gospel to Super Bowl visitors -- with the unprecedented blessing of the NFL), God has proven to be just as powerful a religion as football.
Friday night, some 3,000 worshipers gathered for the NFL's Super Bowl Gospel Celebration. They heard Pittsburgh Steelers receiver Antwaan Randle El yell to the crowd, "You are in town for the Super Bowl. But you are here because of God."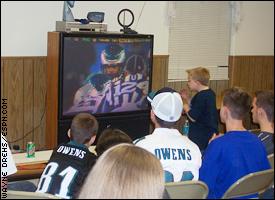 Sunday night, inside the Dinsmore Baptist Church on this city's Northwest side, the sanctuary lights are on 30 minutes after kickoff. The piano is being played. And roughly 125 adults -- many of retirement age or older -- are singing "How Great Thou Art."
"Sure, we're football fans," says Richard Henderson, who sings in the choir. "But it's a church day. We come to church."
Says another churchgoer, passing by Henderson and overhearing his comment: "Put it this way -- if you can't hunt it, catch it, clean it, cook it and eat it, I don't care to watch it.
"I'll spend that time with God."
Before services begin, Pastor C. Winson Butler says he doesn't plan on mentioning the big game.
"This group is pretty conservative. If they're out during the game, they don't want to hear about the game," he says.
But he changes his tune once the sermon begins, using the Super Bowl hype to supercharge his congregation into strengthening its size.
"They say this weekend is nothing but alcohol, mayhem and explicit sex," Butler says, his voice growing louder with each passing word. "(They say) that these people are just trashing our city. That may be. But they're going to leave something else."
His voice rises in a Martin Luther King Jr.-like crescendo.
"And it would be a disgrace -- AN ABSOLUTE DISGRACE -- not to take advantage of that."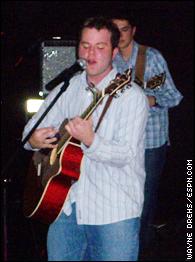 When it comes time for a hymn, Henderson sings Ray Stevens' "Mississippi Squirrel Revival." It's a jingle about a squirrel getting loose in church, running up a woman's leg and causing all sorts of commotion, which prompts a roomful of people to be saved.
The day the squirrel went berserk.
In the First Self-Righteous Church
in that sleepy little town of Pascagoula.
It was a fight for survival,
that broke out in revival.
They were jumpin pews and shouting Hallelujah!
The congregation roars in hilarious approval.
"I guess we're using the Super Bowl to get away with all sorts of stuff," Butler jokes. "He's going to want to sing 'The Streak' next."
At the other end of the building, there is Gator, relying on football analogies to sell kids on Christ. Some 65 teenagers have filled the multipurpose room, nearly double the turnout at the same event a year ago. Room for Enough, an up-and-coming Christian rock band, helps. As has the visibility of the game being played just down the road. As has, too, the efforts of Gator, Pastor Butler and others who pounded the pavement and knocked on doors to pass out more than 300 fliers in recent weeks.
"It could have been a bomb in there, they didn't care," Butler said. "We just told them we had their Super Bowl material, and they grabbed it right from us."
The kids watch the first half of the game with commercials.
"Sometimes the parents give me a hard time about that," Gator confesses. "They can be pretty legalistic."
But halftime and the first chunk of the third quarter is a time for worship. After Room for Enough's John Mayer-like four-song set, Gator continues his push for salvation.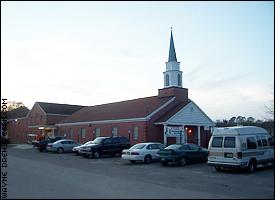 "God has a game plan for you," Gator says. "He's the offensive coordinator of your life. He's the defensive coordinator of your life. He's the head coach, the equipment manager, the quarterback, the fullback. He's everything you could ever need. Praise Him like only you can."
Two boys in the front row wear Terrell Owens jerseys. Apparently, he's hot in the Christian community after his ankle-related comment about God being his doctor. Despite the way he's perceived by the mainstream media, despite the way he's received by sports fans, T.O. has become a hero of sorts to the God squad.
"Even though he may not stand for what we stand for, when somebody of his stature in the NFL or any professional league takes a stand like that," Gator says, "the kids just wrap their arms around it and embrace him. They love it."
But how to explain the trash talking? The Sharpie? The lack of sportsmanship? And that towel-dropping incident with a "Desperate Housewife" back in November? Is it better to keep kids from those experiences, or let them experience such things so that they can be educated about them?
"It's a changing culture," Gator says. "A lot of these people were raised in a very structured setting. They are more of the older, conservative leaders. But we live in a TV-driven, media-driven, MTV-generation world. We have to go there and get these kids to drag them out."
Gator says the group watched last year's halftime show, but nobody noticed Jackson's wardrobe malfunction. This year, they couldn't care less about Paul McCartney. They want the lights turned off, the strobes turned on and the four Jacksonville teenagers in Room for Enough to pick up their instruments and rattle Dinsmore's rec room to its foundation. The band obliges. And for 20 minutes, the game is all but forgotten. The event culminates in 65 impressionable teenagers singing softly to an impossible-to-get-out-of-your-head Room for Enough song about salvation.
"We want to educate them on what God will do for them and how much God will guide them," Gator says. "We want to sell them Jesus. I want to encourage them to stand alone, to be different. And to go places no one else thinks they can."
And what better night to start that crusade than on Super Bowl Sunday.
"It opens doors for us," Butler says. "We're using the Super Bowl to get our message out, to bring people in. And tonight, with all those kids, you're seeing the results of that."
Wayne Drehs is a staff writer for ESPN.com. He can be reached at wayne.drehs@espn3.com .

Wayne
Drehs
SUPER BOWL RELIGION