Commentary
Dallas' Scoops Callahan is bee's knees
Originally Published:
May 24, 2011
By
Kevin Duffy
| Special to Page 2
It was an extraordinary case of the screaming meemies.
Like when a baby vamp with gorgeous gams struts into the joint and drives the fellas absolutely goofy. Not just any jane, but a doll; a flapper you don't dare approach without a little bit of the ol' giggle water in the system. It was just how you felt midway through Dempsey and Tunney in '26 if you wagered an Abe's cabe or, even worse, a sawbuck on the champ.
Need a translation?
Tom Gribble was a nervous wreck.
Gribble, otherwise known as "1920s Reporter Guy," has made a habit of pranking athletes and coaches with questions worded in Jazz Age lingo and delivered in the frantic tone and high-pitched voice of an old-time reporter. The gag started in 2005, with this zinger directed at then-Phoenix Coyotes coach Wayne Gretzky: "Champ, how do you think the zebras called the show? Were they the cat's meow, or did they give your boys the business?"
Since then, he's popped up in news conferences to fearlessly mess with A-list sports celebrities such as Tom Brady, Bill Belichick, Magic Johnson, LeBron James, Phil Mickelson, Sidney Crosby and Paris Hilton (sure, she belongs on this list).
But Gribble's gutsiest feat may have been his most recent.
Let's put it this way: When it comes to basketball, Phil Jackson knows his onions. If he wanted to wear all of his championship rings at once, he'd need one to be custom-made for his big toe. The man won 11 NBA titles in 20 years. He never had a losing record.
[+] Enlarge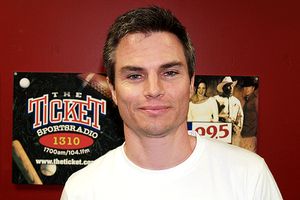 Tom Gribble Tom Gribble of The Ticket in Dallas has made a name for himself with his "1920s Reporter Guy" character.
Assuming he goes through with his retirement plans, about the only thing that went wrong in Jackson's career was the final playoff series he coached with the Lakers, a clean sweep by the underdog Dallas Mavericks. After his team's 122-86 disfiguring in Game 4, Jackson took the podium for the final news conference. And when it came time for the final question of that presser, a familiar voice re-appeared: "Champ, champ, being a Hall of Famer like the legendary Barney 'Mighty Mite' Sedran and having more rings than Douglas Fairbanks even has Oscars, you have to ultimately take a lot of pride in knowing that you and your cager career were nothing but the bee's knees."
Jackson covered his face with his hands, cracked the slightest of smirks and simply replied, "Amen."
Anyone courageous enough to ask that question, at that moment, in that ridiculous tone must be completely desperate for the spotlight … right?
With Gribble, it's quite the contrary. That's what makes the 1920s Reporter Guy -- or Scoops Callahan, his official nickname -- so unique. Gribble is a 44-year-old behind-the-scenes producer at the "BaD Radio" show (short for Bob and Dan) on Sportsradio 1310 "The Ticket" in Dallas, which explains his press access. He occasionally interjects on-the-air contributions and, by his own account, is a shy person. So shy, in fact, that he denied three separate phone interview requests for this story ("I'm a producer, so I'm not used to doing interviews, per se," he wrote) and insisted on answering everything via e-mail.
"I'm not the kind of person who likes to be the center of attention," Gribble said. "Honestly, I'm not really comfortable doing bits. But I just like contributing to the show, and if I have an idea, I think it's healthy to force myself out of that comfort zone and do it. I hate almost every second of these bits until after they're done."
Growing up, Gribble was never the "funny guy" in class. He had a knack for imitating voices -- especially those of characters on "Saturday Night Live" -- but hardly exploited his comedic abilities. Get this: The fella with enough sand to reference Barney Sedran -- a 5-foot-4 player/coach of the ABL's Cleveland Rosenblums -- in Phil Jackson's final question, has only made one prank phone call in his entire life. And he did it as a 7-year-old.
Still light-years away from puberty, Gribble (somehow) impersonated a sports radio host from a Philadelphia station and called a random "contestant" with an off-the-wall trivia question. There was only one flaw. The kid knew he didn't have enough moxie to get through the bit without cracking up, so he recorded himself on a cassette player and played the tape over the phone.
"I remember the contestant actually answered the question right, but I had taped myself saying, 'Sorry, you're wrong. The correct answer is …' and it was the answer they gave," Gribble recalled. "It was horrible but it made me laugh."
Despite that botched attempt, Gribble stuck with comedy -- or at least radio -- through college. He served in a Marine artillery unit in the first Gulf War and attended Texas A&M upon his return. He graduated in 1996 and launched his career as an intern with Kidd Kraddick, a nationally syndicated morning radio host. The idea for 1920s Reporter Guy came to Gribble in 1999 while he was working alongside Kraddick, but he didn't carry it out until he landed at "The Ticket" years later.
Early on, Gribble admits he'd lose sleep the night before he crashed a news conference. His hands trembled six years ago when he asked Gretzky about the officials and, despite pulling the prank 26 times since, Gribble still gets the heebie-jeebies on the regular.
"Tom's kind of a nervous fellow anyway," said Dan McDowell, who co-hosts the "BaD Radio" show. "So when he's in the crosshairs there, you know, you can see him get nervous. But he served in Kuwait in '91, so he's definitely been through worse."
By no means is it a life-or-death matter, but approaching a high-profile athlete or coach -- especially after a loss -- isn't exactly whoopee, either. The level of nerves usually correlates with the potential awkwardness of the situation. Take Game 4 of the Lakers-Mavs series: Gribble noticed that his hands were clammy hours before he even left for the American Airlines Center. As the game neared its end, Gribble developed "dry mouth syndrome" (and, according to the BaD Radio hosts, bad breath to go along with it) and needed to borrow a stick of gum before his big scene. He paced back and forth in the press box, quietly rehearsing the bit and making final edits to one of the most long-winded questions -- in one of the tensest settings -- of Scoops Callahan's "career."
And by golly, Phil Jackson smiled at it.
Most of the surrounding media laughed. It was a swell reaction, something his tomfoolery hasn't always elicited. In other instances -- namely news conferences with Alex Ovechkin and Gregg Popovich -- Gribble was essentially told to go chase himself. He says a New York Giants beat writer once refused to shake his hand and even asked him "How can you call yourself a journalist?"
LeBron James, a three-time victim who used to treat the act as applesauce, may have finally grown tired of Gribble's phonus balonus. When James got pranked for the third time, Gribble said he heard LBJ mutter "This is the kind of [expletive] you have to put up with sometimes." Peyton Manning and Bill Belichick didn't snap back, although both refused to answer Gribble's inquiries. And Vince Young -- well, he was just incredibly confused.
"Champ, champ, what are you talking about?" Young said in 2005.
Texas football coach Mack Brown and former major league pitcher Roger Clemens took the opposite approach. Neither even flinched at the peculiar voice or jargon.
"I'll never forget the first time I heard him with Clemens -- it was one of the most bizarre things I've ever seen," said Dave Heuschkel, the former Boston Red Sox beat writer at The Hartford Courant. "Clemens answered the question like it was from any normal reporter, like it was from Jeremy Schaap at ESPN."
Then there's Mickelson -- Gribble's all-time favorite. Mickelson had just rallied to win the 2008 Colonial in Fort Worth and Scoops, feeling a bit more relaxed than usual, had just enjoyed some giggle water at the 13th hole. Gribble approached the champ with his scripted question, but stumbled over it and blurted out a whole bunch of hooey. Mickelson rolled with it, in Gribble's words, and asked "Why are you yelling? You're a foot from me."
If that's not his most famous clip, the escapade with Jackson very well may be. After he sent the Zen Master off into the sunset with that memorable question, there are only a few ways -- "Jordan or Obama," McDowell suggests -- for Gribble to top himself.
"I'd say he's probably become the William Hung of media," Heuschkel said. "You kind of become a goofball and people take a liking to you."
This goofball is steadily approaching one million views on YouTube. As of press time, his videos -- some compilations, others just individual segments -- have received more than 985,000 hits. His star, whether he's comfortable with it or not, has grown with each stunt. When it comes to all things sports comedy, Gribble is nothing but the bee's knees. And now, the shoe's on the other foot. Now the fella who pranks sports celebrities has become one himself.
Or has he?
"Well, I'm just a simple Joe lollygagging to the mill each day in my ol' jalopy," Gribble insists. "Scoops is the name and sports is my game. And you're all the cat's pajamas."
Amen.
Kevin Duffy is a freelance writer. He can be reached at kevin.r.duffy@gmail.com.