For all the talent on the early-'80s Expos, mid-'80s Mets, early-'90s Reds and the White Sox of the strike era, one team of recent vintage eclipsed them all in terms of wasted opportunities. At the height of its powers, that team featured three future first-ballot Hall of Famers and another player deserving of induction. It also included a three-time 40-homer hitter, one of the best finesse pitchers of the past 20 years and a cavalcade of capable role players. Even the team's manager, Lou Piniella, already had won a World Series ring, in 1990 with the Reds. Yet for all those assets -- Ken Griffey Jr., Randy Johnson, Alex Rodriguez, Edgar Martinez, Jay Buhner, Jamie Moyer -- the 1995-99 Seattle Mariners never won a championship of their own. In fact, they never even made it to the World Series.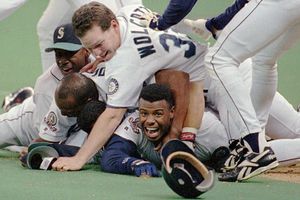 AP Photo/Elaine Thompson
Ken Griffey Jr. and the Mariners were all smiles after beating the Yankees in the '95 playoffs.
In "The Bill James Historical Abstract," James makes a case for the mid- to late-'90s Mariners as the most underachieving team of all time. In his usual eloquent and elegant style, author and Kansas City Star columnist Joe Posnanski makes the same argument.
It's asking a lot to expect one of the key players on those teams to run through 100 years of baseball history and offer a similarly rigorous analysis. Still, Martinez remembers those Mariners clubs like it was yesterday. And yes, from time to time he'll think about what might have been.
"Those years when we had Junior, Alex and Jay, we had so much power, a lot of hitting," Martinez said. "Then we'd get into the playoffs and we just lacked what we'd had in the regular season. Good pitching always beats good hitting, and that's basically what happened. The pitching just shut down our offense pretty much."
The numbers support Martinez's claim. The Mariners were third in the league in runs scored in 1995, averaging about 5½ runs a game. But after beating the Yankees in a dramatic ALDS showdown, they scored just 12 runs in six games in the LCS, losing to the Indians. In 1997, the Mariners led all of baseball by scoring 5.71 runs a game. But facing the Orioles in the ALDS, they tallied just 11 runs in four games en route to another disappointing series loss.
1995 MARINERS AT A GLANCE
Record: 79-66, 1st in AL West
Runs scored: 796, 3rd in AL
Runs allowed: 708, 7th in AL

Key hitters
Ken Griffey Jr., 25 (.258/.379/.481); Edgar Martinez, 32 (.356/.479/.628); Jay Buhner, 30 (.262/.343/.566); Tino Martinez, 27 (.293/.369/.551); Dan Wilson, 26 (.278/.336/.416)

Key pitchers
Randy Johnson, 31 (18-2, 2.48); Jeff Nelson, 28 (7-3, 2.17); Norm Charlton, 32 (14 saves, 1.51); Bobby Ayala, 25 (19 saves, 4.44)

Dynasty potential
Sure, the rotation was shaky, but Randy Johnson was the Cy Young winner, 21-year-old rookie Bob Wolcott won Game 1 of the ALCS and the lineup was fearsome … with 20-year-old Alex Rodriguez taking over at shortstop the next season.

What went wrong
1. Pitching, pitching, pitching. The team acquired Jamie Moyer in '96 and Jeff Fassero in '97, but Johnson was injured in '96 and the back of the rotation remained terrible.

2. Bobby Ayala. His time finally ended after a 1-10, 7.29 ERA mark in '98.

3. Bad trades. Tino Martinez and Nelson for Sterling Hitchcock and Russ Davis. Jason Varitek and Derek Lowe for Heathcliff Slocumb. David Ortiz for Dave Hollins.

4. Did we mention the bullpen?
Of course, looking at the Mariners' playoff results from those seasons fails to explain what happened in those other three seasons, the ones when the M's failed to even reach the postseason. With the likes of Griffey, A-Rod, Buhner, Johnson, Moyer, Freddy Garcia, Paul Sorrento, Dan Wilson and others on board, the lack of results is jarring.
No one called 1995 a disappointment, though. In fact, the Mariners staged one of the most dramatic pennant race comebacks in major league history -- then pulled another huge comeback out of the hat against the Yankees in the playoffs. On Aug. 2, the M's were 13 games out of first place. Three weeks later, the team was still 11½ games out, in third place in the AL West and a game under .500. Gigantic seasons from Johnson, Edgar Martinez, Buhner, Tino Martinez and the bullpen tandem of Jeff Nelson and Norm Charlton looked as though they'd go to waste. Instead the M's won 25 of their final 36 games, caught the Angels in a tailspin and won the division in a dramatic one-game playoff. The dingy Kingdome came alive as the team finally got to play on in October, the first time the Mariners had cracked the postseason in their 19-year history. After going down 2-0 to the Yankees, the M's stormed back to win three straight, capped by a rally in the 11th inning to capture the series. There was no shame in losing to the Indians in the ALCS, especially not after such an incredible late-season run.
"We went from a team that looked like it didn't have a chance to get into the playoffs to playing great in September and all of a sudden getting in," Martinez mused. "Even after we went down two games, we had a lot of confidence. We just felt, with the Yankees coming to the Kingdome, we were going to take the series. Winning that series was such a great feeling."
Given the talent on that team and the excitement of '95, '96 was a big letdown. Tino Martinez was traded to New York in a cost-cutting move, but new first baseman Sorrento had a strong year, hitting .289/.370/.507. Edgar Martinez and Griffey had huge years, smoking 75 homers, scoring 246 runs and knocking in 243 between them. Buhner hit 44 homers and drove in 138. The team's best player that year, though, was Rodriguez. In his first full season, A-Rod hit a ridiculous .358/.414/.631, off the charts for a shortstop, let alone a 20-year-old.
A-Rod didn't win the MVP that year, though -- ostensibly because his teammates didn't pitch well enough to lift Seattle over Texas and slugger Juan Gonzalez in the standings. Johnson, the Cy Young winner in '95, had an injury-plagued season that restricted him to eight starts. Late-season pickup Moyer was great in his 70.1 innings with the team. The rest of the rotation, however, was a disaster. Adjust for the Kingdome's hitter-friendly park effects all you want -- there's just no salvaging the 5.30, 5.35, 5.73 and 6.86 ERAs put up by Seattle's four busiest starters, Bob Wells, Sterling Hitchcock, Bob Wolcott and Matt Wagner. A lesser culprit was the bullpen. Although Charlton, Mike Jackson and others pitched pretty well, 26-year-old Bobby Ayala lost his grip on the closer job, posting a 5.88 ERA and surrendering 10 homers in just 67 1/3 innings. That performance was just a rancid hors d'oeuvre ahead of the Ayala-induced ptomaine poisoning to come. Despite scoring 993 runs, Seattle won just 85 games, finishing second to the Rangers.
THE FAILED DYNASTIES
Jonah Keri examines five teams that looked like potential dynasties and what went wrong:
1980 Expos: Team of the '80s

Led by Gary Carter and Andre Dawson and four young starters, the Expos were dubbed "The team of the '80s."
1986 Mets: The ballad of Doc and Darryl

The Mets rolled to 108 wins and the World Series title, but a team filled with young stars won just one more division title.
1990 Reds: The Nasty Boys

They were World Series champs and every key player was younger than 30, but this group never won again.
1993 White Sox: The Big Hurt, the strike and the white flag

They had the game's best hitter and a dynamic young rotation. But it all fell apart after the strike.
1995 Mariners: Ringless in Seattle

Junior, A-Rod, Big Unit, Edgar, Buhner ... and not even a trip to the World Series.
The Mariners bounced back in '97, thanks to a vastly improved starting rotation. Given a full season in Seattle, Moyer shone, going 17-5 with an adjusted ERA 16 percent better than league average. Newly acquired Jeff Fassero, a top-10 Cy Young finisher with the Expos the year before, went 16-9 with an even better ERA+ of 124. But the catalyst was a now healthy Johnson. The Big Unit went 20-4 with a tiny 2.28 ERA and an amazing 291 strikeouts and just 147 hits allowed in 213 innings; only a historic season by Roger Clemens in his first year in Toronto prevented Johnson from winning the Cy Young. With three front-line lefties at the top of the staff and another great lineup, the Mariners won the AL West, raising expectations for a deep playoff run. This looked as if it could finally be Seattle's year.
It didn't happen. The Orioles reached Johnson for five runs in Game 1 of the ALDS en route to a 9-3 Baltimore win. Game 2 brought the same score, but with a different twist. This time, the Mariners entered the seventh inning trailing just 3-2. Given their murderer's row offense, a comeback seemed a strong possibility. A strong possibility, that is, in a world without Bobby Ayala. Seattle's ace arsonist surrendered a two-run homer to Brady Anderson, putting the M's down three. Seeking more evidence of his reliever's incompetence, Piniella sent Ayala back out for the eighth, resulting in the following sequence: single, strikeout, double, intentional walk, run-scoring walk, two-run single, hit the showers. The Mariners went on to win Game 3 before losing the deciding Game 4 to the lights-out combination of Mike Mussina, Armando Benitez and Randy Myers.
But the Game 2 loss stuck in the craw of Mariners fans that offseason. Ironically, Ayala wasn't even the team's worst reliever that season. Charlton imploded, watching his ERA skyrocket to 7.27; Wells was awful, as were Greg McCarthy and Scott Sanders. The bullpen situation grew so dire that the M's made two deadline deals to reload. In one trade, they sent promising outfielder Jose Cruz Jr. to the Blue Jays for Mike Timlin and Paul Spoljaric, a deal many questioned because of Cruz's talent. Still, that trade wound up being a paper cut compared with the other deal the team made: minor league catcher Jason Varitek and rising starter Derek Lowe to the Red Sox … for Heathcliff Slocumb. Yes, management was desperate to field a bullpen that could complement the team's big hitters and top starters, giving the team a chance to capitalize on its window of opportunity. But a decade later, it's easy to wonder what might've happened to the Mariners (and the Red Sox) if the M's had avoided that panic trade.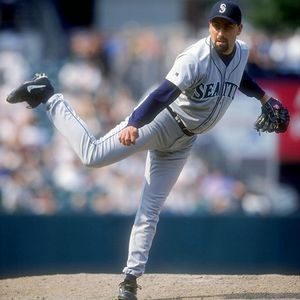 Doug Pensinger /Allsport
Bobby Ayala ... known among Mariners fans as He Who Must Not Be Named.
It only got worse from there. The Mariners won just 76 games in 1998. Seattle went an abysmal 10-20 in one-run games that year, the third time in four years the team had finished under .500 in one-run contests. Some of that probably was thanks to bad luck. But the horrific bullpen deserved most of the blame. Here were the ERAs posted by the pen's most active relievers other than Timlin:
Slocumb, 5.32
Wells, 6.10
Spoljaric, 6.48
Ayala, 7.29
Incredibly, Piniella actually installed Ayala as the team's closer for the first few weeks of the season. This did not go well. By June 10, Ayala was 0-7 with six blown saves. Things went so badly for the Mariners that GM Woody Woodward finally threw in the towel, trading a tanking Johnson (9-10, 4.33 ERA before the trade, 10-1, 1.28 ERA afterward) to Houston for what turned out to be a good haul of talent: Garcia, Carlos Guillen and John Halama. Still, Ayala became the fall guy for many Mariners fans in his final season in Seattle, and he remains persona non grata in the Pacific Northwest to this day.
With Johnson gone and an all-new bullpen, the Mariners fared modestly better the next season. But the end result was 79 wins, another sub-.500 season that told management it was time to change course. In the ensuing offseason, the M's dealt Griffey to the Reds. The Mariners actually would rebound to make the playoffs in 2000, then reel off 116 wins and a division title in 2001 despite losing A-Rod via free agency. But that was a new team, one led by new faces such as Bret Boone and Ichiro Suzuki, with no Unit, Griffey or A-Rod. Only Edgar Martinez, the unflappable hitting machine, remained.
Other than poor showings in short playoff series and a few poorly timed injuries, the Mariners' biggest downfall in the '90s was its toxic bullpen. Piniella had tried to re-create the Nasty Boys magic he had in Cincinnati, bringing Charlton back and pairing him with hard-throwing righty Ayala. Instead, he ended up with an Achilles' heel on an otherwise stacked team. What Sweet Lou really needed was a flying DeLorean. Transport late-'90s Griffey, A-Rod, Edgar and Unit to Cincinnati five years earlier and the Reds could've won a string of championships. Shuttle Dibble, Charlton and Myers back to Seattle and the rest of the decade would've been spoken for too.
Instead, both teams -- like so many other would-be dynasties -- could only wonder what if.
Jonah Keri is a regular contributor to Page 2 and the editor and co-author of "Baseball Between the Numbers." You can contact him here.