You could forgive the White Sox and their fans for getting excited. The team hadn't won a World Series in 76 years. It hadn't won a pennant since the Go-Go White Sox of 34 years earlier, with that team the only pennant winner since the Black Sox scandal of 1919. Only once in the 24 years since baseball's 1969 expansion had the franchise claimed a division title. So when the Pale Hose finally broke through with a 94-win season and an AL West crown in 1993, the South Side was pumped.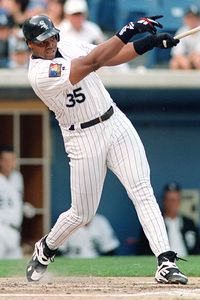 AP Photo/John Swart
Frank Thomas, the AL's MVP, led the White Sox to the 1993 playoffs.
The optimism seemed justified. When Jeff Torborg took over as manager after the 1988 season, he inherited a roster that was, well … weird. Chicago's best player was 40-year-old catcher Carlton Fisk -- still putting up amazing numbers, but not exactly a building block as he approached AARP eligibility. The rest of the infield was an abomination. Greg Walker and Fred Manrique formed a punchless right side, and Ozzie Guillen and Steve Lyons were out machines biding their time until building far more successful post-retirement careers. This was a team of placeholders, one in desperate need of new talent. Torborg's first year was more of the same. Fisk and Harold Baines did their best to prop up an otherwise anemic offense, and young starters Melido Perez, Eric King and Greg Hibbard were having varying degrees of early-career success before fizzling out.
In 1990, the Sox suddenly jumped from 68 to 94 wins, finishing second behind the mighty A's. Fisk was still the team's offensive star, supported by contributions from veterans Dan Pasqua, Ron Kittle and Ivan Calderon. Pitching was the team's biggest strength, with Hibbard and King managing one last solid season and Bobby Thigpen and Barry Jones teaming up to lead a solid bullpen. But the big difference for the Sox was the rise of several promising young players. Jack McDowell had a breakthrough season in the starting rotation as a 24-year-old, and Alex Fernandez showed flashes of greatness as a 20-year-old rookie. Even more intriguing was a trio of young hitters getting their feet wet in the big leagues: 22-year-olds Frank Thomas and Robin Ventura and a free-swinging 21-year-old import from the Rangers named Sammy Sosa.
1993 WHITE SOX AT A GLANCE
Record: 94-68, 1st in AL West
Runs scored: 776, 7th in AL
Runs allowed: 664, 1st in AL

Key hitters
Frank Thomas, 25 (.317/.426/.607); Robin Ventura, 25 (.262/.379/.433); Tim Raines, 33 (.306/.401/.480); Ellis Burks, 28 (.275/.352/.441)

Key pitchers
Jack McDowell, 27 (22-10, 3.37); Alex Fernandez, 23 (18-9, 3.13); Wilson Alvarez, 23 (15-8, 2.95); Jason Bere, 22 (12-5, 3.47); Roberto Hernandez, 28 (38 saves, 2.28)

Dynasty potential
Thomas was the MVP and the AL's most-feared hitter, but the big four starters had this team looking like a playoff team for a long time.

What went wrong
1. McDowell dumped after strike, getting traded to the Yankees for Lyle Mouton and Keith Heberling.

2. Bere implodes. An All-Star in 1994, Bere suddenly lost his control and went 8-15, 7.19 in 1995.

3. Goodbye, outfield. Burks left as a free agent after 1993 and Lance Johnson after '95, and Raines was traded to the Yankees after '95 for Blaise Kozeniewski.

4. Offense just wasn't good enough. Even with all those outfielders, Sox were just seventh in runs scored in '93.
"When I got called up in '89, the White Sox were 33 games out of first place in September," Ventura recalled. "We went from that situation to being in contention the next year, when we really brought everyone up. That really changed the face of where we were going. By the end of that year, we were a pretty solid team."
The Sox dropped back to 87-75 in 1991 and 86-76 in 1992, not quite ready for prime time yet. Fisk, now 43, was just about done. Theoretical second baseman Scott Fletcher was a disaster, "hitting" .206/.262/.266. Lance Johnson was one of the worst starting outfielders in the game, hitting zero homers and posting a .304 OBP while eating up 159 games. Sosa was the consummate hacker, hitting .203 and striking out seven times more often than he walked. Guillen was his usual good-glove, no-hit self. The team relied on Thomas, one of the best hitters in the game, and Ventura; an able pitching staff that added rookie Wilson Alvarez to the mix; and a few role players.
It all came together in 1993 under second-year skipper Gene Lamont. Jason Bere joined McDowell, Fernandez and Alvarez in forming one of the most dynamic young rotations of the decade, with none of the four older than 27. Collectively, they went 67-32 with ERAs all more than 20 percent better than league average. Roberto Hernandez supplanted fading Thigpen as the team's closer, reaping 38 saves and notching a 2.29 ERA. The team's defense complemented its pitching, as the White Sox were sixth-best in the majors at converting balls in play into outs.
But the biggest gains came from the offense. Acquired two years earlier in an otherwise-forgettable trade with the Padres, Joey Cora seized the second-base job and responded with a .351 OBP and 93 runs scored. The outfield went from a major weakness to an across-the-board strength, as newly acquired free agent Ellis Burks, prior trade acquisition Tim Raines and an improved Johnson gave the team a mix of speed, on-base ability and extra-base pop. Thomas was the straw that stirred the drink, hitting .317/.426/.607 with 41 homers, earning him AL MVP honors. The White Sox won 94 games and claimed their first division title in a decade. The team hoped to go further, but the loaded Blue Jays knocked the Sox out in six games, then went on to win their second straight World Series.
"We were good enough offensively, we had pretty good pitching and defense and a good bullpen," Ventura said. "But Toronto was just loaded. That year, seven of them went to the All-Star Game, and it probably could've been 9 or 10 -- they were a virtual All-Star team of the American League. Great starting pitching, great offense and defense, and no one ever came back against that incredible bullpen."
THE FAILED DYNASTIES
Jonah Keri examines five teams that looked like potential dynasties and what went wrong:
1980 Expos: Team of the '80s

Led by Gary Carter and Andre Dawson and four young starters, the Expos were dubbed "The team of the '80s."
1986 Mets: The ballad of Doc and Darryl

The Mets rolled to 108 wins and the World Series title, but a team filled with young stars won just one more division title.
1990 Reds: The Nasty Boys

They were World Series champs and every key player was younger than 30, but this group never won again.
1993 White Sox: The Big Hurt, the strike and the white flag

They had the game's best hitter and a dynamic young rotation. But it all fell apart after the strike.
1995 Mariners: Ringless in Seattle

Junior, A-Rod, Big Unit, Edgar, Buhner ... and not even a trip to the World Series.
As good as the Jays were that year, many of their key players were also on the wrong side of 30, but the White Sox figured to just keep getting better, given their young nucleus. They did just that in '94, improving from a .580 to a .593 winning percentage in the first season of the new three-division format. A week and a half into August, the White Sox sat in first place in the new AL Central, with only the Yankees owning a better AL record. Julio Franco was a monster as the team's new DH, Darrin Jackson hit over .300 in his first year in Chicago's outfield, and the top four starters were all very good again. Meanwhile, Thomas wound up having the best year of his career and one of the best seasons by a hitter in the history of the game: .353/.487/.729, with Nintendo-like totals of 38 homers, 101 RBIs and 106 runs scored in just 113 games, winning his second straight MVP award.
None of it mattered. On Aug. 12, the players went on strike. A month later, Bud Selig canceled the season and the playoffs, the first time the World Series had been canceled in 90 years. Several teams and players were in the midst of memorable performances, leaving a trail of what-ifs that still lingers 14 years later. The Expos owned the best record in baseball and looked like contenders for the World Series, an achievement that would have marked a first for the franchise and potentially prevented the series of events that led to the team's demise in Montreal a decade later. The Yankees might have started their dynasty a year earlier, potentially saving Buck Showalter's job and preventing Joe Torre from taking over in New York. Tony Gwynn and Matt Williams saw their respective runs at a .400 average and Roger Maris' single-season home run record end prematurely.
But the White Sox had plenty of reasons to feel bitter in their own right. Team owner Jerry Reinsdorf became the most outspoken of all hawks, vowing to curb the rise of player salaries, whatever the cost. His posturing was one of the biggest reasons White Sox fans never got to experience a pennant race that year and Thomas never got to see his historic season through to the final day. That offseason, Reinsdorf quickly announced he was ready to put his money where his mouth was -- and back into his own pockets. His biggest move came when he green-lit the trade of high-priced three-time All-Star McDowell to the Yankees for an impressive collection of dryer lint. He never got the chance to dump his veteran DH after an eighth-place finish in MVP voting; Franco bolted to Japan.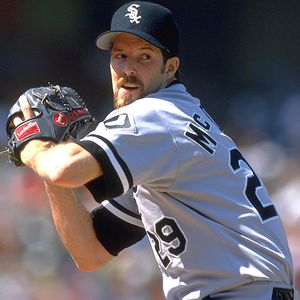 Getty Images
Chicago's downfall began when staff ace Jack McDowell was traded to the Yankees in 1995.
Those two losses robbed the White Sox of much of their depth. When the offense regressed, the bullpen tanked and Bere turned into a 7.19 ERA-wielding pumpkin, the team had no answers. The result was a 68-76 season, the team's worst record in six years. That year, the Indians started their run of five straight division titles, while the White Sox fell into a cycle of mediocrity.
Everything came to a head in 1997. In the offseason, Reinsdorf clinched his induction into the Hypocrite Hall of Fame, letting Fernandez depart to the Marlins as a free agent but inking Albert Belle to a five-year, $55 million contract, at the time the richest deal ever given to a player. Belle responded with a pedestrian season by his standards. Several other players disappointed, led by the implosion of three-fifths of the starting rotation. At the trade deadline that year, the Sox infamously pulled off a nine-player deal that would forever be known as the White Flag Trade, shipping Hernandez, Alvarez and Danny Darwin to the Giants for six prospects despite being just 3½ games out of first place at the time.
The White Sox would go on to win the AL Central three years later, thanks largely to contributions from two of the White Flag Trade prospects. But for White Sox fans hooked on the young teams of '93 and '94, it was the end of an era.
Jonah Keri is a regular contributor to Page 2 and the editor and co-author of "Baseball Between the Numbers." You can contact him here.