By Gregg Easterbrook
Special to Page 2
Pro football's all-time leader for touchdown passes is Andy Kelly of the Arena League's Utah Blaze, who has thrown 768 -- versus 420 for NFL leader Dan Marino. So far no reader has been able to meet TMQ's challenge of figuring out how many total touchdowns Kelly has thrown in high school, college and the pros. Hey Andy Kelly -- you yourself know the answer, let me know! Surely, Andy, you have Google News set for your own name and must know I am pretty much the only sports columnist who is lauding you, so e-mail me your full career total at TMQ_ESPN@yahoo.com. Meanwhile Ian Hutchinson supposes, "Since the Arena League field is only 50 yards long, Kelly's total should be divided by two. That gives him 384 touchdown passes, short of Marino's mark. Then compare career passing yards: 61,361 yards for Marino, 39,948 yards for Kelly."
Mark Sangin of Chicago notes that of the 25 Pro Bowl cheerleaders this past February, two -- Amy Day of Kansas City and Trina Mills of the Seattle Sea-Gals -- had also been Tuesday Morning Quarterback Cheerleaders of the Week. How did he determine this? By looking up every 2005 Cheerleader of the Week. Mark -- you were using your time wisely. Jeff Urban of Boston wonders why fans get to vote on the Pro Bowl players, but not on the Pro Bowl cheerleaders. Surely this would lend spice to fantasy leagues! Meanwhile Michael of Los Angeles notes, "Every time I read your column, it seems my wife walks by at the point with the photo of the cheerleader." Where, he asks, is the Tuesday Morning Quarterback boss button? Stephen Kinnell of Columbus, Ohio says he doesn't like the cheesecake pictures and requests "a Crème Brûlée instead perhaps?" Christine Karnisky of Rochester, N.Y. reports, "In an effort to increase productivity we can no longer view ESPN.com at the office. Each week my husband takes the time to cut and paste TMQ in its entirety into an e-mail so I don't miss a word. This is also helpful as reading TMQ from an e-mail isn't as obvious as reading it from the website." Tuesday Morning Quarterback converted into e-mails? No wonder the Internet has been slow lately.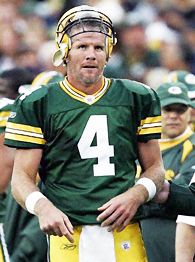 Mike Roemer/AP Photo
Everyone loves Brett Favre. Could that change this season?
Yesterday's column noted that when Brett Favre left the Packers-Bears game a moment before it ended, he was not slammed in the sports press, as Randy Moss was once slammed for leaving a loss a moment early. Rabbi Dan Plotkin of St. Louis writes, "Moss left the game when the Vikes still had a slight chance to win. Favre left when the score was 26-0 with no opportunity to get the ball back, a vast difference especially since there is no rule (that I know of) requiring players to stay out and shake hands."
I've been asking ESPN to create some sort of e-mail sign-up to alert readers when the column posts. Apparently I am weeks behind in understanding tech trends -- you can already do this using the ESPN RSS utility. A reader notes in haiku:
I know the minute
the TMQ column posts.
Thanks, RSS feed.
-- Jessica Gribble, Boulder, Colo.
The collegiate cupcake teams are angry, fear their wrath! Tuesday Morning Quarterback continues to predict there will be a monster upset this season in which a lesser team hired to come get clobbered instead defeats a football-factory host. Troy at Nebraska on Sept. 23, perhaps? Meanwhile Alysia Kravitz Loshbaugh of New Orleans notes that Air Force, paid $850,000 to travel to Knoxville and get clobbered by the University of Tennessee, instead came within a two-point try of victory. Tony Bender of Missouri City, Texas notes Illinois State came within a deuce of upsetting factory school Kansas State. Scot of Portland, Ore. notes that the I-AA Portland State Vikings upset I-A New Mexico. And Gbenga Ajilore of Toledo, Ohio notes that although Bowling Green has a better football tradition than everyone's favorite cupcake of the moment, the University of Buffalo, the reason these teams met last weekend is that they are in the same conference, the MAC East.
Many Irish faithful objected to my item suggesting Notre Dame running a fake punt when leading Penn State 27-3 was poor sportsmanship. Heidi Freni of San Jose, Calif. noted that during the opening weekend of college football, Texas and USC played cupcakes, while Notre Dame faced a strong team in Georgia Tech. This meant Charlie Weis needed a big margin of victory in his second outing to impress pollsters. Josh Zickefoose of Findlay, Ohio explains that Weis did not call the fake punt; it was called on the field: "Some coaches install 'automatics,' audibles that are automatic in response to a defensive formation. When Notre Dame lined up to punt, Penn State overloaded the outsides of the Irish formation, leaving the middle open. When a team lines up like this, a player on the punt team, probably the up-back, calls the automatic. The long snapper makes the adjustment, snapping to the up-back, who goes straight up the middle through the opening. Charlie Weis cannot be faulted for Penn State leaving a gaping hole in their D-line!"
Over the winter I got a lot of mail defending academics Cade Massey and Richard Thaler, whose National Bureau of Economic Research paper contends the NFL draft system actually penalizes losing teams by giving them high picks. High draft picks don't perform notably better than low ones, Massey and Thaler contend, but cost so much more to sign that high draft picks backfire in salary cap terms. My objection to this thesis is -- then how come no one in the NFL trades high draft picks even-up for low ones? Economics assumes most people and organizations are "rational actors." In this case, that means NFL general managers would trade high picks for low picks if they perceived this to be in their interests. It cannot be that low draft picks are actually worth more than high picks, yet not a single one of 32 NFL teams has realized this. Massey and Thaler don't address public relations, and any business executive will tell you public relations is a tangible good with monetary value. High draft picks make the fans of losing teams excited about the future and willing to buy tickets for the upcoming season; this public relations consideration is missing from the Massey-Thaler paper. Some readers compared the Massey-Thaler thesis to breakthrough statistical analyses like those described in the fun book "Moneyball." But it's not the same. Initially, only Oakland had the moneyball concept; but then everyone began to use it. (In business terms, moneyball was initially intellectual property, then was commoditized.) Massey-Thaler's thinking is the reverse -- everyone already knows the core ideas, and no one uses them!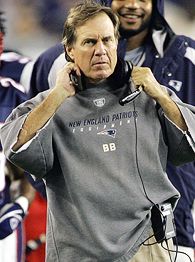 Michael Dwyer/AP Photo
Bill Belichick could even trade Tom Brady and people ... nah, they'd kill him.
Anyway here is Josh Zacharias of New York: "What Thaler/Massey have done is illuminate a possible reason why general managers of the NFL initially appear to be rational actors, but are not. Granted, you might be right about the value of the media/fan outrage counteracting some of this, but if a GM believes Thaler/Massey's implication to be correct, it is up to that GM to change fan perspective so that trading down in a round would not draw outrage. Or to educate fans that trading your high pick for several later picks might be the best way to build a winning team. I would argue that Bill Belichick is so well regarded in New England right now that if he had a top 10 pick and traded it straight up for a lower pick in the first round using Thaler/Massey as his explanation, he would probably not be lambasted. Certainly if he traded a top 10 pick for several lower picks, fans might approve. While economics does assume most people are rational, it also finds many instances of inefficient real-world behavior -- and this paper is a fine example of that."
Kevin Lehde of Raleigh, N.C., a high school football official, notes the new National Federation of High Schools rulebook bans the "fumblerooski," in which a team deliberately places the ball on the ground, hoping the defense will lose track of where the ball is. The reason? Because this trick play often tricks the officials, leading to an inadvertent whistle -- though coaches planning to call a trick play may describe the play to officials before the game. Lehde notes, "This means we now have a rule that was instituted as a direct result of the perceived incompetence of the officials calling the game! 'Our officials can't enforce the rules correctly, so let's alter the rules to reduce officiating mistakes,' says the rules committee. Who do they think we are, U.S.-Mexico border guards?"
Finally, yesterday TMQ asked why the Minnesota Vikings' Web site was selling a youth version of the Koren Robinson jersey -- in addition to no longer being with the Vikings, Robinson is hardly what you'd call a role model. Minna Hong of St. Paul, Minn. notes that as of Tuesday evening, the Robinson youth jersey link took you to a "product unavailable" message.
In addition to writing Tuesday Morning Quarterback, Gregg Easterbrook is the author of "The Progress Paradox: How Life Gets Better While People Feel Worse," and other books. He is also a contributing editor for The New Republic, The Atlantic Monthly and The Washington Monthly, and a visiting fellow at the Brookings Institution. Sound off to Page 2 here.