TMQ Nation fires back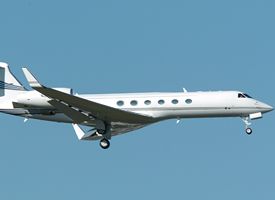 AP Photo/Greg Wahl-Stephens
Just plant 3,000 trees every time the CEO flies!
The NFL declared this year's Super Bowl was carbon-neutral, telling the Associated Press that the league financed the planting of 3,000 trees to offset carbon emissions directly associated with the game. Greenhouse gas accumulation is put into perspective by the unnerving fact that about 1,500 new trees are required to neutralize the carbon from just one typical American home. Because the direct greenhouse gases associated with the Super Bowl -- stadium lights, concession-stand power -- were over in one day, the 3,000 trees purchased offset the game's direct emissions. But greenhouse gases directly associated with stadium power are only a small part of the story. It turns out the big asterisk on the NFL's claim that the last Super Bowl was carbon-neutral is that the league does not count fossil fuels used getting to and from the contest.
Lloyd Crosby of Calgary, Alberta
points out
this trace of corporate jets
leaving the Miami area the morning after the Super Bowl. Each jet alone generated more greenhouse gases than could be offset by the NFL's 3,000 trees. Add in commercial flying -- not to mention all the cars, buses and trucks associated with the event -- and the NFL's carbon-mitigation effort likely neutralized less than 1 percent of the greenhouse gases associated with the Super Bowl. If artificial climate change is to be avoided, one of many needed reforms is that major corporations such as the NFL must not make exaggerated claims of carbon-reduction achievements.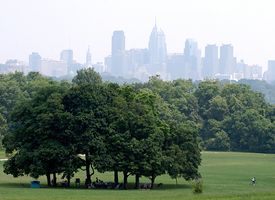 AP Photo/Sabina Louise Pierce
I think that I shall never see a carbon sequestration interface as lovely as a tree.
Tuesday, I noted the surprisingly high number of Ivy League and smart-school (Bucknell, Colgate) grads playing and coaching in the NFL. I also said that though many quality schools such as Boston College send alums on to the NFL, "Even the quality academic schools in Division I-A treat education as optional for football players," while in the Ivy League and in the smart-school Div. I-AA and Div. III colleges, "A football player who's not in class is a football player who's off the team." Numerous readers, including
Meredith Melhafy of Mountain View, Calif.,
protested that the reason Div. I-A big-deal schools Stanford, Vanderbilt, Duke and Rice usually lose at football, while Notre Dame is locked in a cycle of struggle, is that they actually enforce academic requirements, and must play other big-deal schools that do not enforce academic requirements for the football team.
Ryan Greeney
wrote, "Notre Dame football players are required to live in the same dorms as normal students, not granted special jocks-only housing. Notre Dame football players are required to stay on track to graduate in four years. Any time you see a fifth-year Notre Dame player you know that player is taking grad-level courses, because the school won't let him play unless he is attending classes. And the athletes at Notre Dame are not all majoring in 'general studies' or 'kinesiology.' Being honest about education puts schools like Notre Dame and Stanford at a competitive disadvantage."
Tucker Max of Lexington, Ky., writes, "I am a big believer in the TMQ anti-punting rules." Uh-oh, he believes Tuesday Morning Quarterback! Max continues, "One twist on this, for pro football, might be another factor to consider: If you are using the TMQ punting rules and thus reducing your punts per game substantially, perhaps it makes sense not to have a punter on the roster. If you can use your kicker as a punter also, that frees up another roster spot for a reserve/special teams player." Since college teams have in effect unlimited rosters, half a dozen kicking specialists may prowl the sideline at home games. But in the NFL every roster spot is precious. A team that only punted once or twice a contest might use the punter's spot for another special-teamer, or hire a kickoff specialist who also occasionally boomed a punt.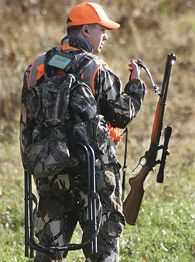 AP Photo/Keith Srakokic
Really, the deer have a fair chance.
I wrote that from the animal's perspective, it was hard to see the difference between Michael Vick illegally killing a dog that lost a fight and a hunter lawfully killing game.
Kathleen Whalen of Waterville, Maine,
countered, "While I understand your points on the similarities between lawful game hunting and Vick's illegal animal killing, I feel compelled to point out that the majority of hunters bring home carcasses to cook. I don't see Vick slugging home a pit bull for dinner over his shoulders.
Homo sapiens
is a part of the food chain, in which to kill and eat is a natural act. What differs between the killing of livestock or hunted game, and the killing of pit bull puppies and dogfight losers, is that the remains of those dogs lay rotting in Vick's backyard."
Kevin Brown of Mechanicsburg, Penn.,
countered, "Most hunters practice fair chase. The animals are [typically] not raised in a pen with no chance for escape before or during the hunt. It may seem like a small detail to some people, but it is not. Most hunters respect their game and have a much better appreciation for the sacrifice an animal makes for them than the average shopper at a supermarket feels for processed ground beef. Vick and his companions killed those dogs for no justifiable reason; it served no purpose other than for their own selfish gain. By contrast there is nothing selfish with consuming meat as food. I, for one, eat everything I kill and will not hunt any animal I will not eat. I take precautions to ensure a clean and quick kill, and when necessary, I make every effort to follow up a misplaced shot and recover my quarry as quickly as possible. I have no desire to let any animal suffer needlessly. You will find that the vast majority of hunters agree with the need to prevent animal suffering. Vick, on the other hand, had no problem letting animals suffer for his own personal enjoyment."
Josh Morton of Arlington, Va., lauded Tony Dungy, who's quite religious, for not thanking God for his Super Bowl win: "I just wanted to point out for the record that Dungy did say 'God doesn't care who wins football games' in his post-Super Bowl press conference. It was nice to hear an NFL leader say that rather than the standard 'God helped us win' theme."
Matthew Green of Richmond, Va., writes, "The last three champions won the big game one year after clinching the No. 1 seed in the AFC playoffs and then failing. The 2006 Colts, 2005 Steelers and 2004 Patriots all won the Super Bowl the season after they had gained home field advantage in the AFC playoffs but then failed to reach the Super Bowl. This bodes well for the Chargers this season."
Raimy Jonah Rubin of New York City notes that of the five running backs on Pittsburgh's opening day roster, four went undrafted. Jessica Goldstein of Niagara-on-the-Lake, Ontario, notes there were 13 undrafted players on Buffalo's opening-day roster.
Last year, I wrote that soon small colleges and high schools would circumvent the big networks by broadcasting their games directly over the Web. Brian Laiveling of Cincinnati reports, "Elder High School in Cincinnati already webcasts every home football and basketball game, along with other sports from time to time. It all started with the annual Catholic Invitational wrestling tournament that brings together the Catholic high schools from all over Ohio. The father of one of the Elder wrestlers was stationed in Iraq at the time of the tournament, and so for him to be able to watch his son compete, Elder set up a webcast. The school has always been on the cutting edge of technology, having its own digital HD studio."
Regarding the latest iteration of my now-annual item on how motorcycles are far more dangerous than cars, Michael Bohl of Ft. Worth, Texas, says I failed to note that while bikes are dangerous to their riders, they are much less dangerous to others on the road than are hulking SUVs. Motorcycles, he argues, consume far less gasoline than cars and generally cause harm only to their riders, not to bystanders: "Knowing your distaste for behemoth SUVs because of physical size, poor mileage and the feeling of invincibility they confer to their operators, I would have thought that you would have great appreciation for a form of transportation that has none of these defects."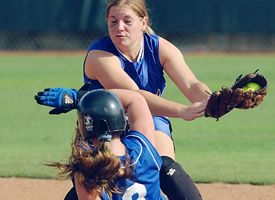 AP Photo/Harry Cabluck
Girls' high school sports are rising in popularity, but imitating the bad sportsmanship found in boys' sports.
Steve Costello of Louisville, Colo.,
notes
this story about the girls' softball team of Cabrini High School in Michigan
, which last spring won the state's championship by going 35-0 and outscoring opponents 366-1. Costello points out that despite 35 consecutive easy victories, the star of the team was such a poor sport that she bitterly complained the umpire botched the call on the sole run scored against Cabrini, preventing a season consisting entirely of shutouts. Costello writes that to score 366 times then complain that your opponents scored one single time is a mockery of sportsmanship. Girls' athletics in high school and women's sports in college are rising fast in importance and popularity, which is good. But girls' competition at the high-school level currently is troubled by mismatches between schools that emphasize girls' sports and schools that do not, or that even have trouble fielding a complete team. In 2006, when Epiphanny Price scored 113 points in a girls' high-school basketball game in New York City, the "feat" came against a school that was having trouble finding enough players to field a team, and was routinely losing games by margins of 50 to 100 points. Cabrini High achieved its 35-win streak in part by repeatedly playing schools that had difficulty fielding girls' teams -- for instance, beating the same overmatched opponent 16-0, 15-0, 15-0 and 9-0. Cabrini's average win was 10-0, with its star player pitching 12 no-hitters. To win 15-0 once in a while is thrilling; to throw a no-hitter once is thrilling; to win big shutouts all the time while throwing 12 no-hitters in a season means the games were bogus. Coaches and parents like big-margin wins, but they detract from sportsmanship. This week's TMQ documented numerous instances of college football teams running up the score. High school should not emulate this practice. High school should teach character, and part of character is knowing when enough is enough -- in the case of sports, once you have enough points that victory is assured, those of good character should stop trying to score and not begrudge the opponent a score that prevents humiliation.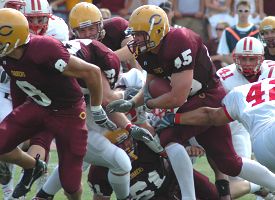 GoCobbers.com
Concordia and the Denver Broncos each notched last-second comebacks.
Every year Tuesday Morning Quarterback notes the multiple situations in which teams with late leads manage to lose by throwing incomplete passes and stopping the clock.
Joel Carlson of Missoula, Mont.,
reports of the recent small-college Concordia versus Minnesota State Moorhead game, the ninth edition of the Power Bowl. "MSUM had just picked up a first down at the Concordia 34-yard line with two minutes remaining in the game, leading 32-27. Concordia was out of timeouts. All MSUM had to do was rush into the line for no gain three times, then punt through the end zone giving Concordia the ball at its 20 with no timeouts, about 20 seconds left and needing to go the length of the field. Instead MSUM coach Damon Tomeo called a run followed by two passes that fell incomplete. Then on fourth-and-13, inexplicably Tomeo decided to go for it. The quarterback was sacked for a loss, giving Concordia possession at midfield with 1:32 remaining; Concordia won on a touchdown pass with three seconds to play. Best part: According to the Fargo (N.D.) Forum, when reporters on the field tried to ask MSUM quarterback Dustin Long about the final-drive play-calling, Tomeo stormed over, pulled Long away and said, 'Don't talk to these guys. They're just going to write something negative.'" I wonder why!
TMQ supposed that NBA ratings are locked in a cycle of decline for the simple reason that NBA play is locked in a cycle of decline, brought on by selfish players with poor fundamentals. Henrik Bramsnaes of Copenhagen, Denmark, writes, "The decline of American basketball performance quality is not speculation, it has been proved on the international basketball courts on a constant basis for the last decade. In the last 10 years no national American basketball team has done anything to prove they are No. 1 in the world -- from every World Championships or Olympics, the Stars-and-Stripes boys head home with no gold. Hence, when the American media boast of the NBA champions as 'world champions,' this sounds really phony to European ears. Meanwhile, the influence of more and more international stars such as Dirk Nowitzki or Yao Ming in the NBA is not some weird coincidence, it happens because NBA quality of play is declining while international quality is rising."
Aaron Metcalf of Jacksonville, Fla., notes the kind of simple insight so often missing from political debate. Stories like this one from a few weeks ago decried that a record number of Americans lack health care insurance. "But the same stats," he notes, "show that a record number of Americans have health care insurance." As the population continues rising, "records" are constantly set for practically everything concerning demographics.
Tuesday I wrote, "This year I will endorse the generic forecast advocated in the offseason by about 20 readers, pulling from a hat the name Catey Tarbell of Kirkland, Wash. Catey's Law: Best Record Wins -- Unless Records Equal, Then Home Team Wins." Professor Eric Isaacson of Indiana University notes that last year I attributed this idea to him. Hey Eric -- you don't think I can actually remember everything in Tuesday Morning Quarterback, do you?! At any rate, from now on I will call the generic prediction in question the Isaacson-Tarbell Postulate.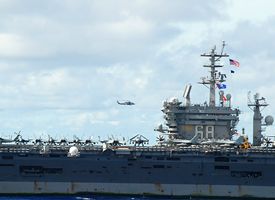 AP Photo/U.S. Navy, Davis Anderson
The Nimitz did not make port-of-call at the Super Bowl, nor did the Bears' air attack.
Rick Lamoreaux of Issaquah, Wash.,
says I was wrong to call the mega-luxo ocean liner Voyager of the Seas, which was parked on cruise ship row in Miami during the Super Bowl, "larger than a Nimitz-class aircraft carrier." He writes, "For some reason, likely because it sounds more impressive, cruise ships are listed not by displacement, which is the measure of volume below the water, but by gross tonnage, a measure of internal volume that includes the part of the ship above the waterline. Voyager of the Seas is 138,000 gross tons and displaces 64,000 tons. A Nimitz class carrier has a displacement of 102,000 tons, making it significantly bigger." Ah, but how much of the displacement of the Voyager of the Seas is champagne and disco balls?
I wrote that the Times Square Defense the Jets tried against the Patriots in the playoffs -- everyone milling around, seemingly at random, presnap -- was an innovation. Dennis Baker of Ashland, Mass. countered, "You're wrong about never having seen that defense before. The Patriots themselves used the same defense on a number of occasions to confuse Drew Bledsoe when he was with Buffalo." And it worked! But this may explain why it didn't work when employed against Tom Brady.
Joel Gilliland has an intriguing idea: "Given the discussion about whether drafting high actually penalizes bad teams by compelling them to invest huge amounts of salary cap space in players who may not perform, I think the NFL should scrap the current format and award teams draft points. Teams could then spend their points on whatever draft picks they chose. The worst team shops first, and so on. So if in the 2007 draft Oakland, having the most draft points to spend, really wanted JaMarcus Russell, it could spend points to choose first. If not, let other teams bid for the first selection. The draft would take on the properties of an auction, and nearly all economic theory says that auctions maximize outcomes for both seller and buyer. Plus with all the mock-draft obsession there is today, imagine the mania if the draft order itself was constantly changing based on bids for slots."
Finally Rashaan Alexander of Baldwin, N.Y., offers about the Giants this haiku, which rings true to me:
6 and 10 season:
Unless Tiki keeps talking,
then it's 10 and 6.
In addition to writing Tuesday Morning Quarterback, Gregg Easterbrook is the author of "The Progress Paradox: How Life Gets Better While People Feel Worse" and other books. He is also a contributing editor for The New Republic, The Atlantic Monthly and The Washington Monthly and is a visiting fellow at the Brookings Institution.

Also See
ESPN Top Headlines