TMQ Nation fires back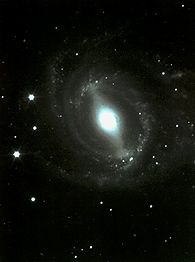 AP Photo
It's big, it's out there, and at last it has a name.
Last week I temporarily revived the TMQ Challenge and asked readers to name the universe. Stars, planets and galaxies have names. Why not the universe itself?
Chris Todd of Milwaukee suggests Ea, the elvish name for all creation in J.R.R. Tolkien's "Silmarillion." Kyle George of Cincinnati added that Ea is pronounced "ee-ah" and was sung into being by Iluvatar. Many readers, including Marney Morgan of Burlington, Vt., suggested naming the universe 42, because in "The Hitchhiker's Guide to the Galaxy" a supersophisticated computer, after thinking for an eon, declares that 42 is the ultimate answer. Robert Williams of Grumolo delle Abbadesse, Italy, proposed calling the universe Quarantadue, 42 in Italian, "since everything sounds cooler in another language."
Josh Spiegel of Philadelphia proposed Exnihilo, as Genesis theology holds that God called forth the firmament ex nihilo, "out of nothing." Mike Klemetson of Sydney, Australia, wrote, "At Exodus 3:14, Moses asks for God's name. God seems offended and answers, 'I am who I am.' As God is the supreme being and describes himself as I Am, perhaps we should call the universe It Is. Alternatively the universe could be called It Is Field at I Am Stadium."
Many readers suggested the universe should sell its naming rights -- though none made clear who would get the money. Rich Shipe of Purcellville, Va., proposed Your Trademark Here Universe. Paul Reeves of Boston proposed the TD Banknorth Universe Built by Home Depot. M.M. Manring of Columbia, Mo., suggested the Invesco Universe at Petco Space-Time Continuum. Tim Roberts of Waxahachie, Texas, proposed the Nike Universe, which sounds dangerously close to an actual place. Tom Borgen of Minneapolis proposed the AT&T Presents the Monster.com Observable Universe in the Capital One Cosmos at the Sprint/Nextel Plane of Existence in the Chick-Fil-A Space-Time Continuum brought to you by Tostitos.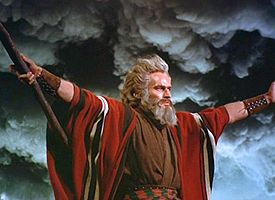 Paramount Pictures
Charlton Heston commands the universe to reveal its name.
Jenny Hooven of Fort Wayne, Ind.,
proposed Known -- "that way everything would be in the Known Universe."
Jim Wolff of Cincinnati
proposed Adsum, "I am here" in Latin.
Ameer Youssef of New York City
proposed Ortus -- "birth" in Latin, "and it sounds suitably space-like."
Melinda Sampson of Independence, Mo.,
proposes Alphaomega, combining beginning and end.
Bill Daugherty of Sioux Falls, S.D.,
had the same idea, shortening it to Almega.
Jennifer Osburn of Cincinnati
proposed calling the universe Omni, while
John Hobbs of Boston
proposed Omnia.
Many, including Jessica Castora of Plymouth, Minn., proposed that "the universe" is already all the name that's needed. Russell Hurt of Austin, Texas, wrote, "Doesn't capitalizing to the Universe qualify as a name?" Don Goldstein of Brooklyn, N.Y., wrote, "When you refer to 'the universe,' everyone knows which universe you mean." Rachel Corryn of Miami added, "Former Hurricane players could just call the universe The U."
But wait, if theorists such as Andre Linde of Stanford are right about the "multiverse," and there are hundreds or even an infinite number of universes, then everyone wouldn't know what you meant if you said "the universe." We'd need hundreds, if not an infinity, of names. For that Scott Putnicki of Seattle suggests using TMQ nomenclature and calling the discoveries Universe/A, Universe/B, and so on. And what if, as some theorists think, the universe endlessly recycles, and ours is far from the first? For that Joe Coli of Vernon Hills, Ill., proposes Reality (Version 24353.2). San Scolnic, an astronomy grad student at Johns Hopkins University, adds, "These days a popular idea is that we are living in a multiverse, with our universe one of many universes. It basically allows for the idea that in each universe there are different constants and laws, and ours works out so that there is life, and us. If this was right, I think our universe should be named Totmolu: 'The one that make objects like us.'"
Many readers suggested casual names. Josiah Coleman of Oxford, Miss., proposed Clara. Stephen Bryson of Prestwick, Scotland, was among dozens of readers proposing Bob. Rich Yampell of Bellevue, Wash., sampling Firesign Theatre, wrote, "I am not sure what the universe is really named, but everyone knows it as Nancy." Dave Fiegl of Lockport, N.Y., suggested a corporate naming consultant would call the universe Ted, while Carlos Goenaga of Houston thought the name consultant would pick Universe 1.
Samir Mehta of San Francisco proposed Tattva, a Sanskrit word for the philosophy of all things. Erik Fosshage of Albuquerque, N.M., proposed Anant, Sanskrit for "without end." Christopher Toms of Newport, N.C., proposed Ergon, noting, "It's a Greek word meaning action, an antonym of the Greek word 'logos' which in Greek philosophy stands for the idea of things separate from their physical aspects. Ergon would be a great name since it enfolds all physical things; anything greater could only exist spiritually, in the realm of logos." Eric Nelson of Chicago suggested Panton, Latin for "everything." Mike Blissett of Romeoville, Ill., proposed Idoneum, Latin for "a fitting place." Patricia Miller of Edgerton, Wis., proposed Quislibet, Latin for "anything whatever." As an alternative to the Greek and Latin which pervade astronomy, Eric Branchaud of Johnston, R.I., suggested naming the universe Mziwi, an Abenaki word for "all that exists."
Here are TMQ's own entries. If the universe was named in Britain: Ye Olde Heavens. If the universe was named in France: L'Enorme Croissant. If named in Germany: Das Aufgevastenüberhangenstarrenundrockenundschnellmachengehengammarayenhaffen. If named by a corporate naming consultant: KoZ-MoZ. If named by a housing developer: the Cresthaven Woods Forest Glade Ridge Inverness Meadow Stream Mill Run Woodhaven Universe. If named by the United States government: the Department of Curvature-Delineated Boson-Regulated Tax Increase Zones. If named on a cell phone: _. (A space, get it? Har har!) If named by Gene Roddenberry: the Final Frontier.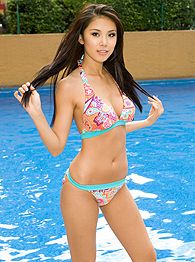 AP Photo/Darren Decker
The name-the-universe item provides a perfectly legitimate reason for a swimsuit photo of the current Miss Universe, Riyo Mori.
Now the winning entries:
Second runner-up: Ametropia, Greek for "without measure," proposed by John Elkin of Vancouver, Wash. The universe should have a really classy-sounding name, and Ametropia meets that standard.
First runner-up: The Poulan WeedEater Universe, proposed by John Schnurr of Palatine, Ill.
Winner: Miss Universe, proposed by Abigail McKay of Sausalito, Calif. It would be called Mister Universe in alternate years, and other gender titles would be added as appropriate if alien species with different reproductive physiologies are encountered.
Last year TMQ wrote about the Connecticut state high school sports association that imposed an unusual mercy rule -- football coaches whose teams win by more than 50 points are suspended for the following week's game, unless the referee attests that the winning coach was trying to hold down the final score. There were cries of socialized sports, of course, but the rule worked: only two high school games in Connecticut ended with 50-point victory margins last season, versus 29 the year before the rule went into effect. Regarding those two games, one coach was suspended for a week and the other was reprieved because the referee reported that in the fourth quarter the victorious coach tried to restrain the score. Tuesday Morning Quarterback lauded Connecticut for taking action against running up the score, but the state's standard seems needlessly punitive. Better is the mercy rule advocated by the National Federation of State High School Associations, the rule-making body for most high school athletics. (States are not required to use NFHS rules; generally they do.) The NFHS football mercy rule states that whenever a team attains a 35-point lead in the second half, officials switch to a running clock. Maryland, my state, uses the NFHS mercy rule. And in Maryland 50-point victory margins are rare, without any need for inquests into coaches' motives.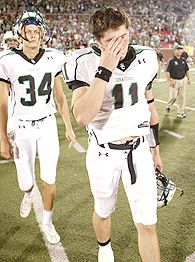 AP Photo/Mike Fuentes
Mercy rules would not have applied to Northwestern-Southlake Carroll, though the Dragons were saying "Lord have mercy" at the end.
Anyway,
Jeff Scheid of Lakewood, Ohio,
reports that during the winter there was a controversy when an Ohio girls' high school basketball team won a game 81-2. Yet the Ohio High School Athletic Association, which regulates Ohio public school sports, voted not to adopt NFHS mercy rules for football and basketball, allowing the rules only in baseball, softball and wrestling. (Because baseball and softball are untimed, mismatch games may be interminable; wrestling mismatches are dangerous.) Come on, Ohio, what is sportsmanlike about an 81-2 basketball game -- or the 77-8, 64-0, 61-0, 56-0, 56-0, 62-6, 55-0, 54-0, 54-0, 68-18 and 62-12 football games that have already occurred in Ohio high school play this year?
Dan Levin of Melbourne, Australia, writes, "Your piece on the shotgun spread couldn't have been more timely for me. I coach an American football team in Melbourne in my spare time. Recently, I went back home to the U.S. to visit family, and paid a trip to my old high school in St. Louis, which up until I graduated in 2000 used the T Full House formation on just about every play. Much to my chagrin, I discovered that the team was now using, you guessed it, the shotgun spread. The team they were facing that weekend, that back in 2000 ran only the I and Power-I formations, had also converted to the shotgun spread."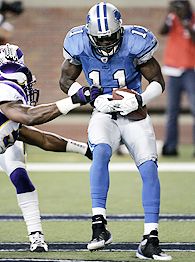 AP Photo/Duane Burleson
In a battle of white shoes versus black shoes, the white shoes always look faster.
Enrique Fernandez-Najera of Barcelona, Spain,
writes, "There's a trend in the last couple of years of NFL teams going back to black shoes. Here in Europe we are all about looks and first impressions. To me the black shoes make players look slow. The teams with the most beautiful uniforms -- Green Bay, Pittsburgh, Oakland, Denver, St. Louis and New England -- still use the classy and clean white shoes. What's up with the black shoes trend?" Note, for example, that West Virginia, wearing white shoes, pounded Maryland, wearing black -- and the Mountaineers looked seriously faster. Aircraft designers say "looks good, flies good." TMQ says of football apparel choices, "Looks good, plays good."
TMQ railed against local news helicopters, which almost never contribute to real news coverage while wasting resources that could be employed for serious journalism. Daniel Barsky of Coral Gables, Fla., cites this instance in which the "police chase" being filmed did not involve any police cars -- only the local news helicopter itself chasing a car. Meanwhile on the helicopter front, there's a tormented dispute going on in New York politics between the governor, Democrat Eliot Spitzer, and the state senate majority leader, Republican Joseph Bruno. Spitzer is accused of improperly ordering the New York State Police to investigate whether Bruno's trips from Albany to New York City in a state-paid helicopter were for personal fundraising rather than public business. This skips the question: What possible public reason would there be for a lawmaker to shuttle between Albany and New York City in a helicopter? That's a three-hour drive, and Amtrak provides excellent no-traffic-jam service along tracks that take a scenic route down a lovely Hudson River region that was a favorite of luminist painters. New York taxpayers would pay around $5,000 for a state lawmaker to fly from Albany to New York and back in a helicopter, versus under $200 on Amtrak. Yet according to the Albany Times Union Bruno has used state-paid helicopters to shuttle back and forth from Albany to New York City for 15 years. It's hard to believe there is any legitimate public purpose here. Government officials like helicopters because zooming around in them makes the officials feel important. Government should not be reaching into citizens' pockets in order to make officials feel important.
TMQ noted the proliferation of absurd television shows in which detectives possess paranormal powers. Michael Allen says I neglected to mention the 2002 USA series "John Doe," about a detective who is omniscient. Gill McCarthy of Templeton, Mass., adds I neglected to mention the new BBC series "Torchwood," in which detectives use alien technology discovered in a space-time rift running through a small English town. McCarthy reports that in the pilot, an immortal detective employs an alien device to resurrect the dead. He's immortal -- until he's canceled!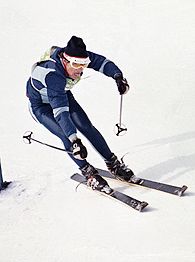 AP Photo
Will there be a recruiting scandal in Division 1 skiing?
TMQ also noted that high-quality academic colleges and universities, where the football and basketball players go to class, also win often in NCAA competition.
Christopher Ward of New York City
points out that this winter Dartmouth won a Division I championship in skiing. Wait -- are there recruiting scandals in skiing? Did Dartmouth sign some Norwegians who had actually used up their eligibility?
TMQ slammed Boise State for furiously trying to run up the score against hapless Murray State, still passing in the game's final moments though ahead 56-7. Jeff Peterson of Binghamton, N.Y., writes, "While I agree that running up the score is bad, keep in mind that Boise State only wiggled into the BCS last season by the hair of their chinny-chin-chins, and may be thinking that the only way they could get back is to make sure that the voters in the polls take note of them. The final scores don't flash across the screen with an asterisk that says 'Could have won by 50, but instead took some honorable kneel-downs.'" Dan Geisler of Columbus, Ohio, added, "When the rankings came out after the first weekend's play, somebody made an interesting jump. Following Ohio State's game in which they did not give up a touchdown, yet also did not surpass 40 points, the Buckeyes were rewarded by dropping one place. Louisville, who bombed the ball every play, scoring 70 points against a I-AA school, jumped from 12th to seventh in the country. That shows exactly why big schools run up scores and schedule cupcakes, because they know they will be rewarded in the polls."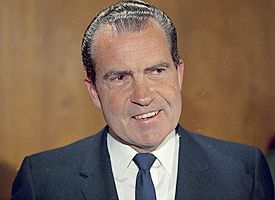 AP Photo
In other news, Bill Belichick names H.R. Haldeman and John Erlichman as assistant coaches.
Jeff Liggett of Eugene, Ore.,
, wrote, "Last year Boise State went undefeated and pulled off a huge upset in a major bowl, yet didn't get looked at seriously for the national title. I'm sure Boise State looked at this year's schedule and said, 'What do we have to do to be considered at the end of the year?' Since the teams that are at the top of the rankings year after year schedule weak nonconference opponents and run up the score, why not start there? An AP article that talked about the first week's rankings said, 'USC received 62 first-place votes in the preseason poll. A lackluster 38-10 victory over Idaho led to the Trojans dropping to 59 first-place votes.' A 'lackluster' 28-point victory! If a 28-point victory for USC is called lackluster what is going to be said if Boise State plays with sportsmanship and does not put up 40-point victories when they are heavily favored? College football is deeply flawed with no repair in sight." True, how true. If the crown were determined by a playoff rather than by polls, margin of victory would cease to matter.
John Wert Jr. of Woodstock, Ill.,
was among many readers to note that the week after Boise State frantically ran up the score against a hapless Division I-AA opponent, the football gods exacted punishment by causing the school to fall to Washington, ending the nation's longest big-college winning streak.
Finally a reader haiku from Wally Cronin of Bethesda, Md., on the Beli-Cheat scandal:
Belichick? Nixon?
The main difference -- no John Dean.
Enter Mangini.
In addition to writing Tuesday Morning Quarterback, Gregg Easterbrook is the author of "The Progress Paradox: How Life Gets Better While People Feel Worse" and other books. He is also a contributing editor for The New Republic, The Atlantic Monthly and The Washington Monthly and is a visiting fellow at the Brookings Institution.

Also See
ESPN Top Headlines