TMQ Nation fires back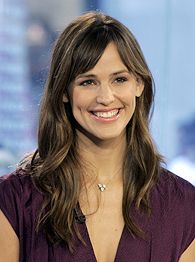 AP Photo/Richard Drew
If Page 2 ran An Agency Far, Far More Secret Than the CIA, she'd be our first choice for chief agent.
TMQ listed a multitude of recent movies and TV shows that have plots that revolve around An Agency Far, Far More Secret Than the CIA -- and, sure that I had missed some, I asked readers what others they could name. Dozens of readers, including
Erin Leesen of Chicago,
noted that in "Alias," there are at least three agencies far more secret than the CIA, plus 12 secret evil organizations, plus supernatural objects from the past, plus -- oh, never mind.
Graham Toth of Regina, Saskatchewan,
notes that events on "Prison Break" are (inexplicably) being manipulated by An Agency Far, Far More Secret Than the CIA.
Mike Piacenza of Derby, Conn.,
reminds us that last year's Fox show "Vanished" featured a super-ultra-secret agency secretly run by a Supreme Court justice. I am not sure I would trust any sitting Supreme Court justice to run a cafeteria!
David Valdivia of Alpharetta, Ga.,
says that on "Heroes," the super-secret Organization Without Initials is inexplicably totally above local and national law enforcement.
Michael Shawgo of Normal, Ill.,
notes that in the movie "Transformers," the secret agency Sector Seven -- headquartered inside the Hoover Dam! -- has been secretly manipulating the development of global technology for 70 years.
Donovan Gilletti of Reno, Nev.,
noted that the miniseries "The 4400" featured super-secret agents whose minds have been taken over by humans from the future.
Steven Bergren of Edmond, Okla.,
notes that the Bourne movies not only involve An Agency Far, Far More Secret Than the CIA but that during one flick its super-agent, Jason Bourne, is able to spy on the actual CIA by looking through a window -- because the actual CIA doesn't know to draw its blinds!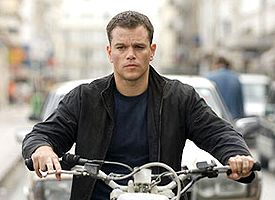 Universal Pictures
His secret agency is so super-secret, not even the producer, director or the writers can explain what it's doing.
And where do these super-secret agencies get the funding for their underground headquarters?
Andrew Cooper of Morristown, Tenn.,
supposes, "The super-secret agencies obviously are funded by the Harvard and Yale endowments. What else are they using a collective $57.4 billion on when their students are still paying approximately $40,000 a year to attend class?" Related to endowments,
Gates Grainger
writes, "Regarding your item about why anyone has to pay anything to attend Harvard considering its endowment, Davidson College, 'the Princeton of the South,' already announced it will allow all students to graduate with no student debt. That is not the same as going to college for free, but it is a huge help for students who will also be attending one of the top liberal arts schools in the entire country, and may encourage them toward public service after graduation. Plus you would love Davidson football -- played in a high-school-feel stadium where children can throw the ball next to the field while the game is in progress." Children throwing the ball next to the field during a game is a wonderful age-old ritual that my kids' high school just banned!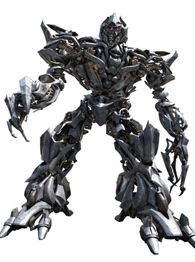 DreamWorks/Paramount Pictures
If you'd spent 70 years frozen inside the Hoover Dam, you'd be ornery too.
Noting that this is the 50th anniversary of Sputnik, the Edsel, "West Side Story" and Boris Pasternak's "Dr. Zhivago," TMQ supposed that half a century ago, technology was buckets of bolts while art was magnificent; now tech is magnificent and art is in poor repair. Why?
Vox Day of Milan, Italy,
author of "The Irrational Atheist," supposes, "Technical stuff depends on science, art depends on religion. The former is now ascendant, ergo our art leaves something to be desired. That's Camille Paglia's theory, anyhow, which is interesting in light of her atheism. Paglia has written, 'Great art can be made out of love for religion as well as rebellion against it. But a totally secularized society with contempt for religion sinks into materialism and self-absorption and gradually goes slack, without leaving an artistic legacy.' Richard Dawkins, a prominent atheist, argues in 'Unweaving the Rainbow' that science is capable of inspiring greater art than religion, though this hasn't happened yet."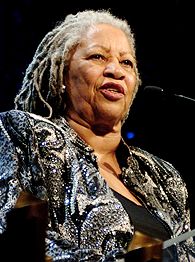 AP Photo/Henry Ray Abrams
Occasionally people actually do buy great literature. Must be some kind of mistake.
On the above point, TMQ asked how long it has been since great literature was the No. 1 best seller of the year.
Javier Espinosa of Rochester, N.Y.,
says the last time was 1998, when Toni Morrison's "Paradise" was the year's top-seller. Many proposed recently written books they thought met the test of greatness. I'll offer these from
Ben Lea of Los Angeles
: "Grab a copy of 'Amsterdam' by Ian McEwan. Absolutely amazing work, even if you don't encounter the word 'Amsterdam' for the first 100 pages. I also highly recommend a Spaniard named Arturo Perez-Reverte. He has eight or so novels translated into English; I'd recommend either 'The Seville Communion' or 'The Flanders Panel.' And while we're in the language if not in the hemisphere, Gabriel Garcia Marquez has turned out a lot of good stuff in the last 20 years, though none as good as 'One Hundred Years of Solitude.'" Many readers including
Amy Keith of Portland, Ore.,
proffered that Broadway musicals may be at an all-time low for quality, but new contemporary symphonic music is considered by those who follow it to be excellent.
Rick Collarini of Covington, La.,
rejected my premise that past art was superior to today's: "In comparing current artistic achievements to those of 1957, it is best to remember Sturgeon's Law, which holds: 90 Percent of Everything Is Junk. It is always tempting to compare the 10 percent we remember fondly to the 100 percent of today. There was a lot of junk produced in 1957, we just don't remember it."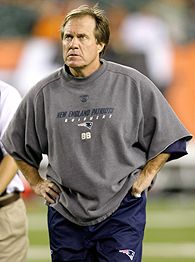 Scott Boehm/Getty Images
Next week he'll wear pajamas on the sideline.
On Beli-Cheat, TMQ suggested Bill Belichick should confess to Chuck Colson.
David Yowell of Houston,
notes that in his 1976 book about Watergate and the White House, "Born Again," Colson wrote, "In the summer of 1972, Watergate was no more than a nettlesome distraction. Campaign spying was, as one analyst put it, 'like trying to steal the other team's signals from its huddle.'"
John Dellaportas, an attorney in New York City,
writes, "You wrote, 'It's perfectly legal to destroy evidence until such time as a court or law enforcement office requests same, so if Beli-Cheat becomes a legal case, the NFL probably isn't on the hook for its little shredding party.' That is not correct. While laws vary, the general rule is that a party who has a reasonable basis to believe that documents or other materials will be subject to subpoena, court order, or law enforcement request has an affirmative obligation not to destroy it, even if that request has not yet been received. Just last week, The New York Times ran a sad story about a Connecticut lawyer who is facing jail time because he destroyed a computer at his church, which contained illicit images, even though no law enforcement agency had yet requested that computer."
Matthew Douthat of Plattsburgh, N.Y.,
notes
this photo
of Rose Mary Woods appearing to wear the Eagles' throwback uniform.
TMQ said that not only are the 49ers struggling, they have already traded away their 2008 No. 1 pick. David Fucillo of San Francisco countered that San Francisco is, however, holding the Colts' 2008 No. 1 pick. Matt Pettengill of Merced, Calif., proposes changing the name of the New England Patriots scandal from Beli-Cheat to Robbin' Hoodie. But wait -- on Monday night, Belichick was not wearing a hoodie, just a grungy sweatshirt. That's right, his standards of personal appearance have gone down.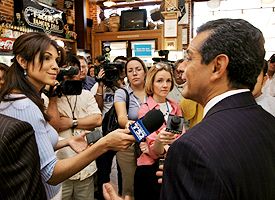 David Hume Kennerly/Getty Images
Mirthala Salinas of Telemundo interviews Antonio Villaraigosa. If only she knew he would someday call a press conference to announce his affair with her.
Mirthala Salinas, a newscaster for Telemundo in Los Angeles, resigned Tuesday. She had been having an affair with Los Angeles Mayor Antonio Villaraigosa while reporting on-air about the mayor's separation from his wife, which is a pretty postmodern life twist.
Martha Jenik of Los Angeles
notes these two TMQ-worthy aspects of the matter: "Villaraigosa called a news conference to announce he was having an affair. Salinas issued a statement about the affair to the Los Angeles Times, but she did so through a spokeswoman." That is, a professional communicator needs a spokeswoman. How postmodern!
Mike Schopp of WGR Radio in Buffalo, N.Y., writes, "I find it curious how frequently announcers refer to timeouts spent earlier in halves as being 'wasted.' Surely sometimes they're right, but do we really know when that happens? A QB calls a timeout because he has the wrong personnel for a play, then the new play turns into a success -- or at least not a big failure. When there are only a few seconds left and the team is out of timeouts, I wouldn't be sure that timeout had been 'wasted.'"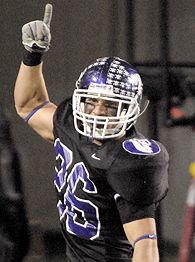 AP Photo/Don Petersen
Mount Union -- maybe TMQ needs to walk a mile in their cleats.
TMQ complained that Mount Union College, the 800-pound gorilla of Division III football, schedules schools that do not emphasize football, in order to win by 40 or 50 points.
Patrick Bohn
wrote, "Maybe the last Mount Union game got out of hand, but your tone makes it seem like they were throwing 80-yard bombs and running reverses and halfback options. In Division III, there's a greater disparity between the good teams and the poor teams than there is in Division I. But unlike Division I, D-III schools don't have the budgets to travel around to face other great teams. Almost all D-III games are regional, and most are in-state. If same-quality opponents are not available within the allowed travel distance, there is relatively little a school like Mount Union can do about that -- it has to wait for the playoffs, when travel will be funded."
Jeanne Kostelnik of Cleveland
added, "Mount Union plays in the Ohio Athletic Conference where most of its schedule is dictated by conference rules. Mount Union has trouble scheduling nonconference games due to the school's travel restrictions and also finding teams that want to play them. Please don't knock a program for which nonscholarship athletes work hard to be competitive, stay out of court and most importantly, earn their degrees."
And TMQ said Rutgers and Florida deserved to be upset because they had run up the score in earlier contests. Jennifer Vetere of Orlando, Fla., countered, "Face it, virtually every good football squad in Div. I-A will run up the score eventually. If they DON'T run up the score they're likely to drop in the polls. Look at LSU this weekend against Tulane -- talking heads bemoaned their play even though they shut Tulane out in the second half and won by 25 points. Even with USC struggling against a mediocre Washington team, LSU couldn't move up in two of the three major polls. Look at Boston College. The Eagles have yet to run up the score on anyone, but has won every game handily. Compare them to an Ohio State team that's played a similar opening schedule, yet has defeated its opponents by an average of 29 points, versus 15 points for BC. Where are the two schools ranked? Last time I checked, BC was ranked below OSU in every poll. The current bowl system reinforces the need to destroy inferior opponents by large margins."
In addition to writing Tuesday Morning Quarterback, Gregg Easterbrook is the author of "The Progress Paradox: How Life Gets Better While People Feel Worse" and other books. He is also a contributing editor for The New Republic, The Atlantic Monthly and The Washington Monthly.

Also See
ESPN Top Headlines