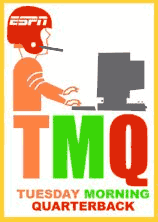 This year's BCS pairings are controversial, as usual. This year, it seems every single BCS choice has been denounced, which is quite an achievement. Once again, the core complaint is that the football-factory premier bowls might not produce a clear national champion and that they don't even necessarily include the best teams. Here is the key thing to consider about the BCS: the system is not designed to choose a final victor! The BCS is designed to maximize revenue and exposure for the major conferences. And the BCS does that very well, thank you.
It starts with the name. The organization is called the Bowl Championship Series, not the Football Championship Series. The winner of the Ohio State-LSU game will be the champion of the BCS, an artificial five-game theatrical event. Names matter, and based on its name, the BCS does not even pretend to be about choosing college football's best team. The BCS asserts that it is choosing the best possible set of five bowl games -- and usually achieves that goal.
Then think about the name the NCAA increasingly insists be used for Division I-A, the Football Bowl Subdivision. This name has been derided for Orwellian silliness; "Division I-A" is a perfectly fine label. But at least the name Football Bowl Subdivision is honest. It says, "At the football-factory level, we're not even attempting to determine a champion. What we're attempting to do is stage bowls that make money." Division I-AA is now officially the Football Championship Subdivision. At the Division I-AA level, there are playoffs and a champion is crowned; the new formal name reflects that. At the Division I-A level, the NCAA and BCS (technically separate, but in effect operating jointly) put it right on the table: selling bowls, not crowning a champion, is the goal.
Before we dive into BCS arcana, let's ask -- is it so bad that Division I-A is about bowls? Bowl games are a lot of fun and have pleasingly goofy traditions. The fact that sites and dates are determined years in advance makes it practical for people to schedule vacations around bowl trips. Some NFL playoff games don't sell out because the dates and sites are not determined until a week before kickoff, too little time for many potential spectators to make arrangements.
Suppose the top 16 bowls were abolished and replaced with a 16-team Division I-A postseason field building up to a true championship game around New Year's Day, with seedings done strictly by BCS ranking numbers. The first-round games would be this weekend. No. 16, Tennessee, would play No. 1, Ohio State, at -- where? No. 15, Clemson, would play No. 2, LSU, at -- where? The first-round games in such a postseason bracket might be letdowns -- especially in terms of crowds, if, say, LSU versus Clemson were played in Tempe, Ariz., to compensate organizers for the loss of the Insight Bowl. Stadium arrangements and hotel logistics aren't an issue for Division I-AA, where 20,000 people in attendance makes the gate a success. Sure, if a bracket-format Division I-A postseason were launched, we'd adjust. But there would be a lot of nostalgia for the bowls, with their years-in-advance scheduling that solves so many logistical problems.
The fact that the bowl format solves those logistical problems, which don't exist for any college sport other than big-deal football, might be why bowls evolved in the first place. Pundits constantly protest that all college sports except Division I-A football build up to a true championship. All college sports except Division I-A football have manageable logistics!
To keep the natural selection metaphor, bowls evolved to fill an environmental niche. They solve the late-season logistics problem. Since bowls are synthetic proceedings in which conference rules don't apply, you can stage as many as you want. Currently there are 32 Division I-A bowls, which means that annually 64 big-boy teams get to participate in a season-ending game that confers a title -- the Meineke Car Care Bowl 2007 champion! -- and is shrouded in hoopla. That means basically half of Division I-A advances to a season-ending hoopla event, with one-quarter of Division I-A seasons ending with a huge-hoopla victory. In the NFL, two-thirds of the teams do not advance to any postseason event and just one team ends its season with a huge victory. Thus the bowl system spreads the razzle-dazzle around to a large number of teams, and allows large numbers to say their seasons yielded a final triumph. That's the college spirit!
Along these lines, football-factory schools may not necessarily mind that no true champion is crowned. Under the BCS and the previous dueling-polls system, two or three colleges may assert a plausible claim to the crown. It's easy to imagine a scenario in which this season ends with four teams (the winners of the BCS, Orange, Rose and Fiesta bowls) all claiming to be the national champion. The more the merrier! With a playoff format, only one college team can end the year calling itself the best.
Still keeping with the natural-selection metaphor, remember that the BCS evolved to prevent destructive forms of competition. Before the BCS, which began in 1998, and the somewhat similar Bowl Alliance that existed a few years before, every bowl committee was in it for itself -- each trying to render all the others extinct, just like micro-organisms at the dawn of time. Bowl committees often jumped the gun by inviting teams in mid-November or even early November. If you think the BCS-generated matchups this year leave something to be desired, you've forgotten that before the Bowl Alliance and the BCS, college football fans hated bowl pairings. Many years, there was no bowl that paired two top-five teams, and lopsided walkover outcomes were the bowl norm. Are the best teams this season Ohio State and LSU? I don't have the foggiest notion. But certainly those are two elite teams and they're likely to play a monster game. Is Virginia Tech versus Kansas the second-best pairing? No one knows. But they are both fine teams and likely to play an exciting game. With the old system, Ohio State might be playing Arkansas and LSU might be playing Florida State. (I am picking disappointing pairings at random, which is pretty much how the old system worked.) The BCS system might not produce a clear champion -- it's not designed to! -- but its track record of producing attractive pairings is quite good. And attractive pairings maximize revenue and exposure.
Let's think about the money for a moment, then end by lamenting This Year's BCS Foul-Up: namely, Missouri finishing sixth yet getting shut out. The BCS system has proved highly attractive to the football-factory schools because it operates on a socialized premise, replicating the socialized revenue sharing that makes the NFL so strong financially. In the NFL, television revenue, the primary source of income, is simply divided 32 ways -- each year, the worst team receives exactly as much television money as the best team. In the BCS format, the bulk of the money is divided equally among conference teams, the worst team of the year receiving as much as the bowl-bound teams.
This year, every team in the six football-factory conferences (the ACC, Big East, Big Ten, Big 12, SEC and Pac-10) will receive about $1.5 million in BCS television-rights payments. North Carolina State and Syracuse had bad seasons and probably cleaned out their locker rooms by Thanksgiving, yet they'll receive a hefty check from the BCS nonetheless. Every team in any conference that sends a BCS-max two entrants to the prestige bowls gets a bonus payment, raising the revenue sharing to about $2 million per school. So Minnesota and Baylor laid eggs this season, but they'll get the same $2 million BCS revenue-sharing payment as Ohio State and Oklahoma. Notre Dame also gets an annual BCS revenue-sharing check, about $1.3 million this year -- essentially for agreeing not to use its leading-independent status to challenge the BCS structure. Basically as a goodwill gesture, teams from mid-major conferences such as the MAC will each get roughly $200,000 this year from the BCS, and Division I-AA football gets a goodwill payment of about $2 million.
This socialized system helps all big-college football participants normalize their athletic budgets; it means every football-factory school benefits from the BCS; and it ensures the lesser schools in the major conferences won't be shut out of bowl revenue. The financial structure of the BCS is progressive! The socialized revenue sharing makes it in the interest of most colleges to cooperate with the BCS. Previously, big universities jockeyed to stab each other in the back regarding who went to the best-paying bowls. Now, the big schools work together on postseason scheduling (Missouri is heartbroken, yet not whining) and the result is a stable system that benefits everyone -- or at least everyone in the big conferences. Big-college football has been really good in the past decade, and the TV ratings show it. The revenue-sharing aspect of the BCS is one reason why. The improved quality of postseason pairings that the BCS system mainly, though not always, provides also helps. Few schools are bucking the BCS because they realize cooperating is in most schools' best interest.
Now -- how did Missouri finish sixth in the BCS standings yet not get invited but Illinois finish 13th but get to be picking out shorts to wear to Rose Bowl media events? How did Missouri go into the final weekend of the regular season No. 1, lose to a very strong team in Oklahoma and get rejected by the BCS bowls, while West Virginia went into the final weekend No. 2, lost at home to 4-7 Pittsburgh, and the next day advanced to the Fiesta Bowl?
The explanation is that BCS rankings fix only the top two contenders; bowl committees still have some choice in the rest. The BCS standings formula changes pretty much annually -- this year, it averaged the USA Today poll of Division I-A football coaches, the Harris Interactive poll of these football worthies and a smorgasbord of computer polls. Ohio State and LSU finished first in that assessment and were assigned to the BCS finale. No committees or backroom arm-twisting were involved in the determination of the top two.
After that, bowl committees and arm-twisting came into play. This year, the Rose Bowl lost the Big Ten winner, Ohio State, to the top BCS game, but took USC automatically as the Pac-10 winner. The Sugar Bowl lost the SEC champ, LSU, to the top game and so had no commitments going into this year's bidding. A draft was arranged in which the Rose would go first, then the Sugar, then the Orange, then the Fiesta and then the Sugar again because it lost its automatic team. Before the draft, the bowl committees were told West Virginia and Hawaii had to be taken by someone. West Virginia is the Big East champion (which is why it lost to a weak team yet advanced and Missouri, 11-2 but not a conference champion, was shut out) and Hawaii was assured a berth as a mid-major that finished in the BCS top 12. The latter reflects the "Boise State rule," enacted to put at least one non-football-factory school into the prestige bowls. With these stipulations, bowl committees could choose anyone in the BCS top 25.
Here's how the draft went. First, the Rose Bowl picked Illinois, puzzling as the Illini are 9-3, but perhaps done to retain the bowl's traditional Pac-10/Big Ten smackdown. Next, the Sugar Bowl, with both its slots open, selected Georgia -- which made sense for the SEC-oriented Sugar because Georgia is the SEC's second-best team and is a nearby school with fans sure to descend in force and sell out the stadium. The Orange Bowl chose next, with Virginia Tech already in owing to its automatic bid as the ACC winner. Orange Bowl officials chose Kansas, seeming to feel -- I have no idea why -- that Virginia Tech-Kansas has more sex appeal than Virginia Tech-Missouri. Because the BCS rules say only two teams from the same conference can make the big bowls and because Oklahoma was an automatic entry in the Fiesta Bowl as the Big 12 champion, when the Orange Bowl committee tapped the Big 12's Kansas, the Big 12's Missouri was eliminated from the BCS. Then, the Fiesta Bowl chose, with Oklahoma already in the fold. At this point, only West Virginia (automatic as the Big East winner) and Hawaii (automatic under the "Boise State rule") were available to the Fiesta. Because these two teams had to make the BCS and only two bowl slots remained, the Fiesta could not consider Missouri, Arizona State, Boston College or Florida. The Fiesta chose West Virginia, which left Hawaii to fill the final opening, the second slot in the Sugar Bowl.
So Missouri finished sixth in the BCS rankings and was shut out, while USC, Kansas, West Virginia, Hawaii and Illinois, all ranked lower, got engraved invitations. But this happened in a perfectly straightforward manner according to published BCS rules with which all BCS schools voluntarily agreed. And the outcome is pretty decent for college football, even if you believe Missouri should have gone to the Orange rather than Kansas. (Mizzou beat Kansas head-to-head.) Had it not been for the two-from-a-conference limit and the "Boise State rule," Missouri would be in the BCS and Hawaii would be out. Then sports radio would be howling nonstop about the only undefeated Division I team not making the BCS. Plus, having Hawaii in the Sugar will be good for ratings and overall entertainment value. Complain about the BCS all you want, but the system is a lot more thoughtful and successful than critics let on -- unless you think it really would be practical to abolish the major bowls and have a 16-team postseason field.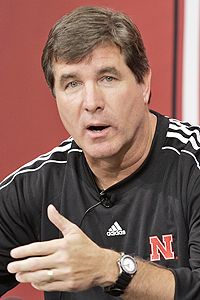 AP Photo/Nati Harnik
Suddenly there's a rash of football factories firing their coaches. Everybody can't win every game!
In other college football news, 13 of the 121 Division I-A football coaches have been fired, forced out or resigned under pressure since turkeys were carved. This only seems like a purge because departures of Division I-A coaches are so rare. Eleven percent of Division I-A head football coaches have been shown the door in 2007; last year, 19 percent of NFL head coaching jobs turned over. The average of the past two decades has been roughly 20 percent annual head coach turnover in the NFL, versus about 5 percent in Division I-A.
As TMQ often reminds everyone, the football-factory schools in Division I-A hold such incredible advantages in recruiting, in cupcake-opponent scheduling and in playing more games at home than on the road that an orangutan could coach a Division I-A school to bowl eligibility. Almost every football-factory season ends in a bowl bid, and thus the typical football season outcome at a big school is officially characterized as a success. Two-thirds of NFL teams do not qualify for the postseason, and thus the typical season outcome in the pros is failure. That's why there are far more long-term coaching dynasties in college than in the NFL. It is simply easier to win games at a football-factory college than in the pros, meaning more college coaches with career winning records and longtime tenures.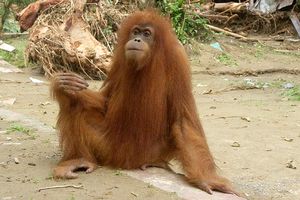 AP Photo/Suzanne Plunkett
He denies interest in the Michigan job, but Page 2 hears that his people are in touch with the Michigan people.
But is the coaching-carousel effect that dominates the NFL coming to big-college ball? Last year, the University of Miami fired Larry Coker, who was 60-15 career and had won a national championship, for the sin of having an off season. The football gods inflicted punishment, causing the Hurricanes to go 5-7 this year and lose their final three games by a combined 120-28. Last month, Southern Mississippi forced out Jeff Bower, who had produced 14 consecutive winning seasons, for the sin of winning only seven games in 2007. Expect the football gods to punish Southern Miss, too. Football-factory colleges increasingly seem impatient with anything other than constant victory by huge scoring margins -- perhaps because the big-bucks boosters complain when their schools don't cover the spread.
And in holiday news, Christmas lights in Starbucks in early November are bad enough. Now science finds proof of Christmas jumping-the-gun in other galaxies! See below.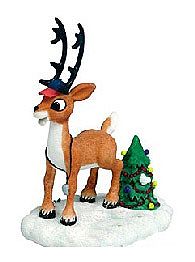 Rankin-Bass
Comet's people are talking to the UCLA people.
Stat of the Week No. 1:
Miami is 6-22 since Sports Illustrated predicted the Dolphins would win the Super Bowl.
Stat of the Week No. 2: Oakland has won two consecutive AFC West games, after not winning a game in its division since 2004.
Stat of the Week No. 3: Since taking the field to meet in last January's NFC Championship Game, the Bears and Saints are a combined 11-16.
Stat of the Week No. 4: Cleveland is 7-5 despite being outscored.
Stat of the Week No. 5: Minnesota outrushed Detroit by 150 yards -- in the first half.
Stat of the Week No. 6: Minnesota has won 11 of its last 12 against Detroit.
Stat of the Week No. 7: Brett Favre is 0-9 against the Cowboys in Dallas.
Stat of the Week No. 8: (Bonus college stat) West Virginia's defeat by Pittsburgh made the Mountaineers the 13th top-five Division I school to lose to an unranked team this fall.
Stat of the Week No. 9: Playing on offense, Devin Hester of Chicago got the ball twice for minus-3 yards.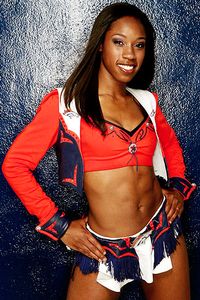 TBD
Perhaps her counseling skills could help the Broncos come to terms with their run-defense issues.
Cheerleader of the Week:
Jim Barainca of Mesa, Ariz., nominates
Terita Walker of the Denver Broncos
, who according to her team bio is studying for her doctorate in counseling. Hmmm -- are doctoral candidates now required to possess ripped abs? Also according to her bio, Walker was born in Chicago and returns there often. But she must cheer in Denver because the Bears have no cheer-babes! The Bears have not had a cheerleading squad since 1985, the last season they won the Super Bowl. Abolishing the cheerleading squad -- the football gods punish that sort of thing!
Monday Night -- You're Surrounded: What was Baltimore defensive coordinator Rex Ryan trying to do, ice the snapper? Baltimore led New England 24-20 with 1:48 remaining, and the Patriots were facing fourth-and-1; New England rushed up to the line to quick-snap, as the Patriots often do on fourth-and-1; the Ravens' defense expected a quick snap, was in position, and stopped the runner for a loss. Game over, Baltimore wins! But seemingly one second before the snap, Ryan called a timeout, so the play didn't count. Why did Ryan call a timeout? Beats me, the Ravens were in perfect position. New England ran another fourth-and-1 play and again lost yardage -- again it appeared as though Baltimore had won the game. But the zebras called a false start, a penalty that cannot be declined. (The whistle sounds on a false start, and the whistle ends the play.) New England converted on fourth-and-6. Then, four snaps later, Tom Brady threw incomplete on fourth down, and for the third time it appeared Baltimore had won! But the zebras called defensive holding, and you know what happened after that.
After the game, several Ravens complained that the officials -- who called 13 penalties against Baltimore, four against New England -- favored the Patriots. Losing teams often claim that the officials favored the winners; was there favoritism here? The defensive holding on fourth down with 55 seconds remaining was inarguable; the officials had to flag it. Ravens nickelback Jamaine Winborne theatrically removed his helmet after the call, and the officials could have flagged him for that, but they did not. But after Jabar Gaffney caught the touchdown pass that put the Flying Elvii in the lead with 44 seconds left, the zebras flagged Ravens linebacker Bart Scott twice for unsportsmanlike conduct -- once when he said something to an official and a second time when he picked up the flag and hurled it into the crowd. This was a stupid, stupid move. The very rare double-unsportsmanlike conduct penalty essentially awarded the game to New England; adding the encroachment penalty on the PAT, the Patriots kicked off from the Baltimore 35, drilling an easy touchback and preventing Baltimore's strong return game from creating good field position for the Ravens' final drive. The officials are not unaware of New England's record, and the widespread belief -- regardless whether this belief is grounded in fact -- is that the league wants the Patriots to finish undefeated. Excessively penalizing Baltimore in the final minute, in a manner that strongly aided New England, was at best a lapse by the officiating crew and at worst strange.
Ravens cornerback Samari Rolle said after the game that head linesman Phil McKinnely repeatedly called him "boy" in the game's closing minutes. From the sound of things, Rolle was jawing with McKinnely, which even a veteran player such as Rolle should not do. But officials should never jaw with or insult players, either. If McKinnely (who is African-American) did use an insult against Rolle, during the same game-deciding moments when the officials were favoring New England (so far, McKinnely has not commented on this), that would have been highly unprofessional and would call into question whether the officiating crew was neutral.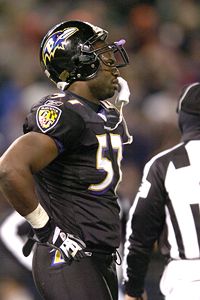 AP Photo/Gail Burton
Don't do it, Bart. Don't pick up that flag.
These things said, Baltimore has itself to blame for the loss -- or perhaps, New England has its superior line play to credit for the win. Leading 24-17, the Ravens took possession at the Patriots' 26 early in the fourth quarter. Two runs netted 1 yard, as the New England defensive line outplayed the Baltimore offensive line, then Kyle Boller threw a crazy interception. Jonathan Ogden is a perennial Pro Bowler based on his reputation alone; both of the runs in this series were behind him, and in both cases, he briefly brushed his man, then straightened up and watched the play. The Baltimore defense then held New England to a field goal -- now it's Ravens 24, Patriots 20 with 8:41 remaining and Baltimore took possession on its 28. Two runs gained 1 yard -- again Ogden brushed his man, then watched -- and a pass fell incomplete, leading to a punt. The Baltimore defense held, and with 5:21 remaining, the Ravens again took possession on their 28. Three plays gained 9 yards, and Brian Billick ordered a punt on fourth-and-1, handing the ball back to the league's best offense.
Yes, it would have taken moxie to go for it on fourth-and-1 from your own 37 with 3:41 remaining, but one single yard here would have won the game -- and the blame-shifting strategy Baltimore coaches chose instead lost the game. Baltimore did not make a first down in the fourth quarter till its last-gasp drive, when the Patriots' defense was retreating. Had the Ravens gained even one first down on their three fourth-quarter possessions when they had the lead, victory was likely. The key was that the New England front seven completely outplayed the Baltimore offensive line in the fourth quarter.
Plus, add in that Baltimore was outcoached in this game, which has happened a lot this season. In the high-pressure final two minutes, three Ravens (Scott, Rolle and Winborne) lost their cool, while no Patriot lost his cool; that's good coaching by New England and bad coaching by Baltimore. Not only did Baltimore defensive coordinator Ryan call the strange timeout that erased what would have been the game-winning down, but New England moved 73 yards in 15 plays on its final drive, and on 12 of those 15 plays, Baltimore rushed only three. Three-man rushes can work if they are a change-up tactic; if you rush three for down after down, a good quarterback like Brady will eat your defense for lunch. In effect, the Ravens went into the prevent defense at the 3:30 mark, and it's well-established that the only thing the prevent defense prevents is punts. This bad tactical decision by Ryan was doubly vexing because New England's touchdown to tie the score at 17 in the third quarter also came against a three-man rush, so it's not as though the look was working.
Sweet Play of the Week No. 1: With Carolina facing third-and-4, receiver Steve Smith took a direct snap and ran for the first down. On the play, aging quarterback Vinny Testaverde lined up as a wide receiver and drew attention from the San Francisco defense. Note: Carolina led 17-0, then the Niners came back to 17-14 and forced a Cats punt. Krumble on the play! San Francisco's Michael Lewis muffed the punt; Carolina recovered on the visitors' 11, scored a touchdown and never looked back.
Sweet Play of the Week No. 2: Jersey/B's first touchdown at Miami came when tailback Leon Washington lined up as the quarterback, with fellow tailback Thomas Jones lined up next to him. Washington took the snap, faked a handoff to Jones, then ran 18 yards for six.
Sweet Play of the Week No. 3: Cleveland might have honked out at Arizona, but it ran one of the sweetest actions in years. After scoring to make it Cards 21, Browns 16, Cleveland went for the deuce. Quarterback Derek Anderson split wide, undrafted kick returner Josh Cribbs lined up as the quarterback. At the snap, Cribbs ran forward, simulating a rush up the middle, then stopped on a dime and lofted a jump pass to Kellen Winslow, uncovered for two.
Sweet Play of the Week No. 4: With the game scoreless, St. Louis lined up heavy at the Atlanta goal line with three tight ends, including two together on the right, one as an end and the other as a slotback. Play fake, and the slotback tight end went across the middle, drawing the defense. Randy McMichael, the other tight end on that side, stayed back as if to block -- then ran into the right flat uncovered, touchdown catch.
Sour Play of the Week: Leading City of Tampa 23-20, the United States Saints had second-and-10 at midfield with 3½ minutes remaining, looking to grind the clock. Sean Payton called a reverse from Reggie Bush to Devery Henderson. The play looked shaggy from the start; out of position, Bush attempted a nutty flip lateral to Henderson instead of just keeping the ball. Tampa recovered at the Saints' 37 and scored the winning touchdown with 17 seconds showing. Sour double-or-nothing: After the kickoff, New Orleans had a final snap from the Bucs' 42, trying for a Hail Mary. Tampa rushed four against six blockers -- and sacked Drew Brees to end the contest.
Sour Sequence of the Week: With Indianapolis leading 21-14, Jacksonville moved to first-and-goal on the Colts' 7. But Jax's Reggie Williams was called for an idiotic dead-ball personal foul, then a sack followed. Jacksonville ended up on the Indianapolis 29, kicking a field goal. The Jaguars went on to lose by three points.
Sweet Defensive Play: Washington was leading Buffalo 16-8 when the Bills intercepted a tipped pass. The interception was by Larry Tripplett, and happened 15 yards downfield. Not too many defensive tackles have hustled 15 yards downfield to make an interception!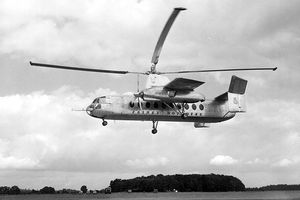 Keystone/Getty Images
If they'd built flying machines in the 16th century.
Sweet Defensive Series:
With Seattle leading 21-17 at Philadelphia, the Nesharim reached first-and-goal on the Blue Men Group 1 in the waning seconds of the first half. Philadelphia ran for no gain, then threw incomplete, then ran for no gain, then ran for no gain on fourth-and-goal from the 1. Seattle ultimately won by four points, this point-blank goal-line stand being the key to the contest.
Da Vinci Would Have Loved the Fairey Rotodyne: This is the 50th anniversary of Sputnik, which, as TMQ noted in October, looked not like high technology but like a bucket of bolts. It is also the 50th anniversary of one of the oddest buckets of bolts of all time: the Fairey Rotodyne. This machine, which looks like a flying machine from the sketches of da Vinci, took flight above England in 1957, and in 1958 showed it was possible for an aircraft to rise like a helicopter, then transition to forward flight using propellers. That's tricky stuff; only recently has the Marine Corps' Osprey tilt-rotor aircraft begun to do this on a reliable basis. The Fairey Rotodyne was flying as an airplane-helicopter hybrid half a century ago! Though it sure looks as if it was hammered together by the village smithy, and I am not sure how much trust I'd put in those rotors, which were driven not by a turbine but by tiny jets at the rotors' tips, at least the Rotodyne reminds us of the age when aircraft designers slapped something together and took to the sky -- rather than spending a decade in cost overruns before the initial flight, as is typical now.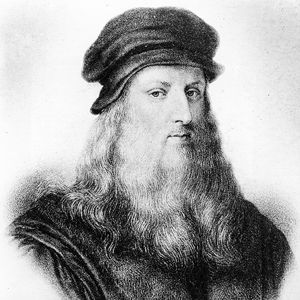 AP Photo
His sketches of flying machines included coach seats jammed together just 30 inches apart.
Sour Play of the Week:
"Hey, you can't call two consecutive timeouts to ice the kicker." So spoke my 12-year-old, Spenser, as venerable Joe Gibbs signaled a second consecutive timeout when Buffalo lined up to attempt a potential game-winning 51-yard field goal with eight seconds remaining. Gibbs was flagged for unsportsmanlike conduct, in keeping with Rule 12, 3, 1, u(i), which forbids consecutive defensive timeouts before a field goal attempt. (Looked it up under "freezing the kicker" in the NFL rulebook. The league seems to think "freezing" is more dignified than "icing.") This blunder by Gibbs made the final field goal attempt a 36-yarder, rather than a 51-yarder. Bills kicker Rian Lindell is reliable and might have hit from 51 anyway, so perhaps the Gibbs error did not impact the outcome. But it was, well, embarrassing to see the Hall of Fame coach, whose return to the Redskins' sideline has been troubled, make the kind of basic error immediately caught by a 12-year-old.
Zebra note: The above-cited rule also reads, "The Referee (or another official) will notify the Head Coach that two charged time-outs by the same team in the same dead ball period are not permitted." Gibbs said after the game that he asked the sideline official whether he could call a second timeout. Apparently, Gibbs was not warned that he could not, and the rule says he should have been warned. Gibbs did not know about the consecutive timeout rule to begin with, and from his postgame comments, didn't know the warning clause either. But it appears at least one of the zebras working Sunday's game also did not know the details of the consecutive timeout rule. Probably Buffalo would have won in any case, but officials are supposed to know the rulebook!
Sweet 'N' Sour Play: With Indianapolis leading Jacksonville 7-0, the Colts faced third-and-16 near midfield. Indianapolis lined up with double wides on each side; running back Joseph Addai checked to see if all Jags rushers were blocked, then ran a flare route; the near-perfect Colts offensive line checked all rushers; Peyton Manning stepped up and threw a touchdown pass to Reggie Wayne. That was sweet. It was third-and-16 and Wayne was singled deep, no Jax safety anywhere in the television tetragon. That was sour.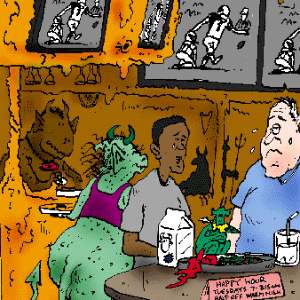 In Hell's Sports Bar, They Get NFL Network, But Deion Sanders Is Always Facing the Wrong Way:
Hell's sports bar has 28 wide-screen HD TVs. On Sunday, 14 were showing Jets-Dolphins, the other 14 were showing Falcons-Rams. Half the wide-screens endlessly showed patrons a highlight clip of 0-11 Miami punting on fourth-and-2 from its 49, while the other half endlessly showed 3-8 Atlanta kicking a field goal when down 21-0 in the second half. At no time were there views of the cheerleaders.
Cowboys, Patriots -- How Many Meaningless Games Will They Face? New England can lock up home-field advantage throughout the playoffs by reaching 14-0 Dec. 16 against the Jets; TMQ thinks it will be hard even for the mad-at-the-world Flying Elvii to get psyched up for two meaningless games if they've secured the first seed at 14-0. But note, Dallas now locks up home-field advantage in the NFC by winning any three of its remaining four regular-season games. Should the Packers lose once more, Dallas would lock up home-field by winning any two of its remaining four games. This raises the possibility the Cowboys will face one or two meaningless season-ending contests, too.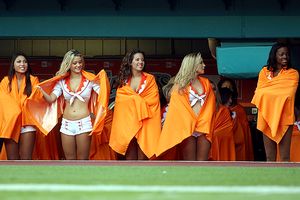 Marc Serota/Getty Images
Take off those wraps if you want your team to win a game!
Why Certain Teams are 0-12:
Sequence of possession results by Miami, playing at home: interception, interception, halftime, punt, fumble, fumble, interception, punt. That final punt came with Miami down 33-13 in the fourth quarter. Who cares if it was fourth-and-9. You're 0-11, you're down by 20 points in the fourth quarter,
Why are you punting??????
And now you are 0-12.
Fuel Efficiency Reform -- Smoke and Mirrors? Last week, House negotiators agreed on a bill to increase the fuel efficiency of new cars and light trucks, the first such increase since 1984. Better mileage performance by cars, SUVs and pickup trucks is the single most needed reform in United States energy policy for multiple reasons: to reduce dependence on Persian Gulf dictatorships, to hold down the price of oil (lower demand lowers price), to reduce greenhouse emissions (greenhouse gases are proportional to fuel burned) and to save Detroit (U.S. automakers don't stand a chance unless they offer more efficient vehicles). So let's hope that after a quarter century of stalling, Congress is finally about to do something regarding mpg improvement. The legislative language in the House -- similar to a bill already enacted by the Senate -- would require a roughly one-third improvement in average mpg of new vehicles by 2020. Such would be huge, huge progress.
But TMQ is hugely suspicious, and hopes the media will watch the specifics of the bill carefully. The mpg legislation the Senate already has approved requires a one-third improvement in fuel efficiency -- but nothing becomes mandatory until 2020, meaning Detroit could continue to do nothing for 13 years. Worse, the Senate version has a waiver provision that says that if the new standards prove too onerous, automakers can ask they be waived before 2020. That is a formula for what Washington specializes in: the appearance of dramatic action while nothing actually happens. (Automakers drag their feet, then demand a waiver.) In January, George W. Bush proposed, and Barack Obama endorsed, new mpg rules that would take effect right now, mandating a 4 percent annual improvement in fuel efficiency until a one-third overall betterment is achieved. How often do a sitting conservative president and one of his leading liberal opponents agree on something? The Bush-Obama mpg reform would have gone into effect immediately, with immediate positive results. I worry that what Congress ends up enacting on mpg will be a make-believe bill that sets lofty targets but has no teeth. And I worry that the mainstream media, excited by gaffes and scandals but endlessly bored by the details of public-policy proposals, will be too gullible to notice the difference between real mpg reform and make-believe.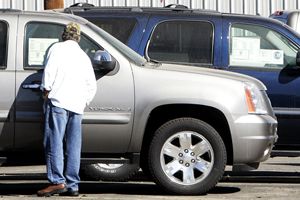 AP Photo/David Zalubowski
American cars are too heavy, have too much horsepower, and waste too much petroleum. The cup-holders are perfect, though.
As Congress tinkers with future mileage standards, bear in mind that the existing standards contain a large portion of hokum. On paper, federal law requires that new cars average 27.5 miles per gallon and that, by next year, new SUVs and pickups average 22.4 mpg. Annually, the Environmental Protection Agency certifies these targets are met; if they weren't, automakers would be required to stop selling. But do you know anyone except a hybrid owner whose new car actually gets 27.5 mpg in real-world use or whose new SUV actually records 22.4 mpg?
Here is the EPA's fuel economy guide to 2008 models. Search vehicle categories for "combined mpg," which equates to the 27.5 mpg legal standard. For the 2008 model year, there is not one single vehicle in the categories "large sedans," "luxury sedans," "minivans," "vans," "upscale sedans," "sporty cars," "convertibles" or "coupes" with an EPA combined mileage score of 27.5 or above. These categories are about half of the car market -- which the EPA certifies as averaging 27.5 mpg, though there is not any vehicle in the listed groups that actually meets that average! A dozen or so models in the "small cars," "family sedans" and "hatchbacks" categories do have a combined mileage score above 27.5 mpg, but little cars are a small segment of the auto market.
Then check the categories "pickup trucks" and "SUVs," where an average performance of 22.4 mpg is next year's theoretical legal minimum. Only two pickup trucks, the Ford Ranger two-wheel-drive model and the Mazda B2300, actually offer the combined mileage the government sets as the average for all new 2008 pickup trucks. In the SUVs category, several new hybrid models do better than 22.4 mpg, but hybrid SUVs are quite rare. Of regular-drive models, only the small "crossover" SUVs, led by the Jeep Compass and Jeep Patriot, actually offer the mpg performance the government says should be the average of all SUVs. No full-sized nonhybrid sport-utility vehicle -- the full-sized nonhybrids are the core of the SUV market -- actually records 22.4 mpg.
There appears to be substantial hocus-pocus in the legal fiction that cars average 27.5 mpg, or that SUVs average will average 22.4 mpg by next year. As TMQ has noted before, all that is required to bring about significant progress against petroleum waste is for the federal government to enforce the existing car, SUV and pickup truck mpg minimums on a real-world basis, rather than claiming these standards are met overall even though, ahem, we can't seem to find individual models in the core markets that meet them. Assuming Congress passes the new mandate of 35 mpg by 2020, will it be enforced on a real-world basis? Or will government simply claim 35 MPH is being achieved while real-world results are much lower?
Meanwhile, automakers are marching backward regarding fuel efficiency, and let's not put all the blame on Detroit. America's best-selling car is the Toyota Camry. Many think of the Camry as a fuel-saving car, yet the new V-6 Camry gets a combined 22 mpg, well below the supposed average of all new cars. The new V-6 model has a 268-horsepower engine and does zero to 60 in just 7 seconds. That kind of horsepower and acceleration was what muscle cars of the 1960s offered; now, such horsepower and speed are being marketed to the middle-American buyer. One of the Camry's leading competitors is the Honda Accord, marketed by a company that boasts, in advertising, of fuel efficiency. The 2008 V-6 Accord also has a 268-horsepower engine and also records just 22 mpg. Toyota and Honda are hardly the only companies to blame; every automaker that markets in the United States, even Volvo, now offers overpowered, terrible-mileage models protected by a federal-government fiction that mileage is much higher than it actually is. Volvo's new C30 coupe has a high-horsepower turbocharged engine and records just 22 mpg in actual use, according to EPA tests. This for a two-door compact that seats only two adults.
Proliferation of excessive horsepower makes driving unpleasant -- horsepower is the enabler of road rage -- and wastes fuel. In 1975, according to the EPA, the typical new American car had a 137-horsepower engine and did zero to 60 in 14 seconds. Today, the typical new car has a 225-horsepower engine and does zero to 60 in 9.5 seconds. Were it not for the high horsepower and sizzling acceleration, neither of which serves any purpose beyond stoplight drag racing, cutting people off and other forms of road rage, the mpg of new cars could be much higher. Across the board, automakers need to offer less horsepower and better fuel efficiency. It's the socially responsible thing to do. The question is: Will the new legislation cause this to happen, or will it be yet another exercise in phony reform?
'Tis Better to Have Rushed and Lost Than Never to Have Rushed At All: Leading 3-0, Washington had first-and-goal on the Buffalo 3. Did the Redskins power-rush? Incompletion, sack, sack, field goal; ultimately, Washington lost by one point. Leading 6-0, the Redskins faced third-and-11 on their own 7. Jason Campbell sprinted backward into his end zone, where he was dropped for a safety for Angelo Crowell. Since a third-and-11 conversion from your own end zone isn't terribly likely, why didn't the Redskins simply run, punt and play defense against the low-voltage Buffalo offense? (Even TMQ would punt on fourth-and-long near the goal line.) This play also serves as an example of the importance of the "line call," or which defenders the offensive linemen decide to block. Buffalo rushed six, and Washington kept seven in to block, yet Crowell ran untouched to the quarterback. Crowell lined up across from Redskins' guard Jason Fabini. Inexplicably, Fabini ignored Crowell and turned inside to help the center double-team a defensive tackle. No Redskins even attempted to impede the linebacker's path to the quarterback.
End the Force-Out Rule: Was Kellen Winslow forced out of bounds on the Browns' final play? Maybe, but the fact that the sports-nut world is debating this question shows you can't be sure. (Had force-out been called, Cleveland would have been awarded a touchdown and won.) The force-out rule requires officials to make a snap judgment about whether the receiver would have come down in bounds if he hadn't been shoved. Answering with anything but guesswork requires a time machine and an alternate universe. Guesswork shouldn't be part of football officiating. The force-out rule should be abolished. To make the catch, your feet must be in bounds, and if the defender knocks you out of bounds first, bully for him.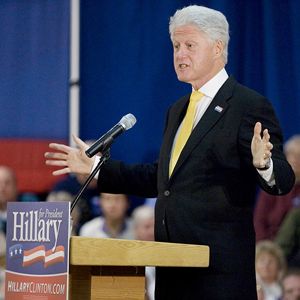 AP Photo/David Lienemann
He would pay more taxes. It just depends on what the meaning of "would" is.
Clinton Also Said, "I Opposed Hiring Monica Lewinsky From the Beginning":
Last week, Bill Clinton declared he opposed the invasion of Iraq "from the beginning." He just forgot to say so! Politicians of both parties, who initially either supported the attack on Iraq or said nothing, today want us to think they were opponents all along: They have the courage of their convictions in retrospect. Politicians of both parties might as well be saying, "My fellow Americans, back in 2003, I meant to take a bold, brave stand. But that slipped my mind. Instead, I did whatever was easiest, most convenient or had the least political cost. Now that opposing the Iraq war is the easy and convenient course, I want credit for the bold, brave stand I never actually took."
In addition to suddenly remembering he had always opposed the war, Clinton said something else. The context was: Should the Afghanistan and Iraq invasions have been paid for by adding to the federal deficit, or should there have been a war tax, as during the Vietnam War? Clinton's response: "Even though I approved of Afghanistan and opposed Iraq from the beginning, I still resent that I was not asked or given the opportunity to support those soldiers." That is, Clinton asserts that he takes exception to not being taxed to finance the wars.
The U.S. presence in Iraq and Afghanistan should be paid for by taxation, not by deficit spending, which cynically passes the bill along to future generations. But nothing stops a citizen from voluntarily taxing himself to support the wars! Estimates vary, but adding about 2 percent to the top income tax rate probably would have provided pay-as-you-go financing for the Iraq invasion and occupation. If Clinton feels he should have been taxed for that war, he can easily tax himself. Why doesn't he calculate 2 percent of his income since 2003 and write a check to the U.S. Treasury? Anyone is free to pay more tax than the legal minimum. For that matter, Clinton absurdly receives $191,000 annually in presidential retirement subsidies -- though Clinton is a multimillionaire who does not need the money and is not retired! If Clinton feels he is insufficiently taxed, he could simply tear the annual $191,000 check in half and cause that amount to remain in the Treasury.
Any wealthy person who claims to favor higher taxes on the rich should voluntarily donate to the Treasury whatever additional amount he or she believes the rich should pay. For Clinton, or any wealthy person, to proclaim a willingness to be taxed more but then not voluntarily tax himself, is self-promotional hypocrisy. Clinton and other rich people who make claims about favoring higher taxes on the wealthy, but then hoard their money, want to be admired for seeming to be willing to sacrifice -- without the annoying complication of actually making any sacrifice.
Best Purist Drive: With Oakland leading Denver 27-20, the Raiders took possession with 8:48 remaining and ran a game-icing five-minute touchdown drive, with eight of the snaps being rushes by Justin Fargas.
Second-Best Purist Drive: With Arizona leading Cleveland 24-21, the Cardinals took possession with 6:17 remaining and ran a clock-killing 12-play drive, nine of the snaps being rushes by Edgerrin James. Though the drive produced only a field goal, Arizona pulled ahead 27-21 with less than two minutes remaining.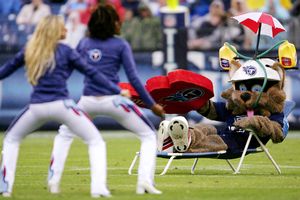 Chris McGrath/Getty Images
No, we don't understand this either, but it happened at Tennessee on Sunday.
Third-Best Purist Drive:
Leading Houston 14-10, Tennessee mounted an 87-yard, 12-play touchdown drive ideally balanced between rushes and passes, with six of each. To cap the drive, Vince Young actually threw a nice, on-target touchdown pass.
TMQ's Christmas List: Now that it is the holiday month, kids can play at supersizing -- if America is overweight now, what's it going to be like when the current youth generation grows up? -- using this toy McDonald's drive-through window, "with realistic cooking sounds." Or they can play at multitasking in this child's pretend coffee shop. Kids, here's a fun game -- use your pretend laptop to cut your workers' health care benefits while getting word of your CEO bonus on your pretend cell phone!
Single Worst Play of the Season So Far: Money time is upon us, and in money time, careless or no-account plays look even worse. So it's time to revive Single Worst Play of the Season So Far, building up to the year-ending Single Worst Play of the Season.
Before Thursday night's Dallas-Green Bay game, Packers cornerback Al Harris talked big. The last time he had guarded Terrell Owens, Harris had been torched. This time, he said, things would be different. Harris ended up allowing Owens seven receptions for 156 yards and a touchdown, and the total would have been higher except for two Owens drops. Worse, Harris managed to produce two worthy candidates for Single Worst Play of the Season So Far in the same game! With Dallas backed up on its own 5, Harris had single coverage on Owens deep. He was stride for stride and in good position for an interception. The ball was underthrown. Rather than come back toward the ball and intercept, Harris simply slammed to an all-stop and stood there, watching and doing nothing, as Owens made a 37-yard reception. Even after the catch, Harris continued to stand there, doing nothing at all; Owens was tackled by Aaron Kampman, a defensive end.
But there was worse. Dallas leading 20-10, the Cowboys faced second-and-10 on the Packers' 10. Owens lined up outside, then came back in motion toward the formation. Harris trotted along with Owens, then at the snap, came to a stop, turned and pointed at one of the Green Bay safeties, meaning, "You take him." At the snap, the Dallas tight end on that side ran a pick and Owens went under the pick; no one at all from Green Bay covered Owens, who caught a touchdown pass. Harris spent the play standing in the flat doing nothing at all, watching uncovered Owens score. That is the Single Worst Play of the Season So Far.
Researchers: The 5,000 Loaves and Fishes Were Delivered by FedEx: Last week, archeologists reported finding, in Jerusalem, evidence of an ancient wall mentioned in the book of Nehemiah. This does not, of course, prove that all the Bible is true, though it might prove one reference true. It is impossible to prove in rationalist terms whether the Bible is true, just as most of scripture cannot be disproved, either. Thus TMQ always is amused when Bible debunkers claim scientific evidence that scripture passages, especially miracle accounts, are false. The New York Times science section recently headlined "A Cold, Hard Explanation for a Biblical Feat." The story credulously reported a researcher's theory that Jesus appeared to walk on water because 2,000 years ago the Sea of Galilee had the ability to freeze suddenly, going from liquid to ice in an instant. We'll skip that no sea has ever been observed to freeze in minutes, let alone in a warm part of the world. If an entire sea going from liquid to solid in minutes is a natural phenomenon, let's see a videotape of this happening naturally, please. Anyway -- the disciples were out in a boat and they didn't notice the waves around them suddenly freezing?
And a few years ago, I chortled when researchers asserted that a cataract containing 200 times more water volume than Niagara Falls burst into the Black Sea about 8,400 years ago, causing legends that would later become the Flood account of Genesis. This contention was treated credulously in media accounts, though the idea of a waterfall 200 times more powerful than Niagara appearing out of nowhere, even toward the end of an ice age, seems as fantastic as any miracle account. Now the debunking has been debunked: the technical journal Quaternary International in its June issue offered a series of papers demonstrating that the mega-cataract hypothesis is almost certainly wrong. "The new papers agree that archeological records show no signs that people living around the Black Sea 8,400 years ago fled from rapidly advancing water," Science magazine reported, and gradual rather than sudden filling of the Black Sea is supported by geology. People are skeptical about biblical accounts, as they should be -- we might never know whether the Flood happened. When scientists propose extremely improbable natural alternative explanations to biblical accounts, people should be skeptical of that, too.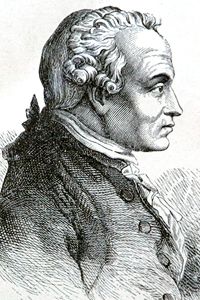 AP Photo
His football column claimed the analytic-synthetic distinction obviates a priori reasoning on the blitz.
Publishers Slam Religion; Hollywood Cozies Up:
Because we have a president who is ostentatiously religious -- as an active Christian, I really wish George W. Bush and other politicians would bear in mind that the First Amendment mandates separation of church and state -- there has been a fad for God-is-a-fraud books. But you can't prove God does not exist any more than you can prove God does! (See Kant's football column.) Recent anti-religion best-sellers by Richard Dawkins, Sam Harris and Christopher Hitchens read like Middle Ages papal bulls, pronouncing a new orthodoxy in which everything about faith is bad, none of religion's good points and virtues are permitted to be mentioned, and godlessness is the new God you must obey! TMQ pal Leon Wieseltier of The New Republic just had a wonderful line about this: "Religion may confer a preposterous cosmic significance upon the individual, but atheism is the true friend of egotism." It is one thing to suppose there is no divine power, the universe coming into being solely through natural forces; this might turn out to be correct. It's quite another to suppose God is
impossible
-- that nothing can possibly exist that is greater than a 21st-century pundit with a book to sell. Pretty egotistical, huh?
Meanwhile, TMQ asked in August whether the three Golden Compass books would carry their very strong anti-Christian view onto the silver screen -- the first big-budget installment opens this week. In the Golden Compass trilogy, God is both a fraud (a space alien pretending to be divine!) and the source of every evil in the universe; Christianity is "a very powerful and convincing mistake, that's all"; God has created not heaven but hell and sends all souls, even those of the righteous, to hell; Christian churches are run by corrupt power-mad conspirators whose goal is to abolish pleasure in life; the quest of the astonishingly competent English schoolgirl who is the trilogy's heroine is to locate ancient magical objects that will allow her to kill God and free the world from religion.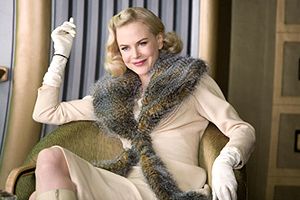 New Line Cinema
In "The Golden Compass," she's a cynical power-mad sex-obsessed manipulator. That's acting!
So TMQ wondered whether this anti-Christian worldview would make it into the movies. Hanna Rosin reports in the latest issue of The Atlantic Monthly that every trace of religion has been removed from the first Golden Compass flick. God is never mentioned, and the Bad Guys -- who in the books are priests of the Magisterium -- are just generic smirking guys in black robes whose organizational affiliation is never explained. This seems to me an outrageous cop-out. I thought Philip Pullman's Golden Compass books wildly overstated the case against religion, using the harebrained pretense that if faith disappeared, Earth would instantly become a paradise. But anti-religion views are perfectly valid and deserve to be aired; why shouldn't moviegoers get to see a big-budget attack on Christianity? This would be the honest way to film the Golden Compass books.
Should the film series make it to the end of the trilogy, producers will face a real challenge. In the third volume, "The Amber Spyglass," much of the action occurs in hell, where the innocent are being eternally tormented -- the astonishingly competent English schoolgirl leads a commando raid into hell, with the goal of releasing souls to oblivion. In the third book, there's also a phony cloud nine, run by the malevolent false God; a key character is an evil, sex-obsessed archangel whose mission, assigned by God, is to spread human misery; the action builds up to the good characters physically killing God. How is Hollywood going to pretend that has nothing to do with religion?
Buck-Buck-Brawckkkkkkk: Trailing Seattle 28-24 early in the fourth quarter, Philadelphia faced fourth-and-1 on its own 42. In came the punting unit, and TMQ wrote the words "game over" in his notebook.
Stats We Can Live Without: During the Cincinnati at Pittsburgh broadcast, NBC announcers made much of the stat that the Steelers are 156-0-2 all-time when leading at home by more than 14 points in the fourth quarter. Now, 157-0-2 all-time under those conditions. Well, of course when they're way ahead late in the game, they win!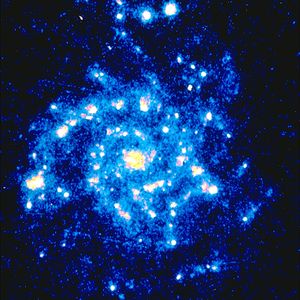 AP Photo
Have a holly, jolly galaxy.
Radio Telescopes Discovers That a Rock 'n' Roll Station in Galaxy M74 Converted to Christmas Music Format Million of Years Ago:
Last week, the Hubble Telescope consortium sent out a news release headlined "Holiday Wishes from the Hubble Space Telescope," featuring
this photo
of galaxy M74, which, the news release declared, "resembles festive lights on a holiday wreath." Galaxy M74 is 32 million light-years away, meaning the starlight we observe now shows the galaxy's festive appearance 32 million years ago. So in M74, they jumped the gun on putting up the Christmas lights by 32 million years!
Awesome Detroit Lions Roll Toward Playoffs: (Newish running item that might close even faster than "Hitman.") The Lions have lost four straight, and this might have something to do with rushing for a total of 164 yards in those four contests. Or maybe it's those 50 sacks allowed, worst in the league; the only other teams with 40 or more sacks allowed are San Francisco, St. Louis and Kansas City, all having terrible seasons. Detroit has sunk a boatload of money and draft choices into its offensive line, but doesn't seem to have much to show for it. Nor can the Detroit offense hang on to the ball. Detroit's defense leads the league in fumbles recovered and is second in interceptions, but that nets out to plus-5 in turnovers for the team because the Lions' offense has given the ball up 26 times. As for Minnesota, here are the results of its first six possessions against Detroit: touchdown, touchdown, touchdown, touchdown, touchdown, touchdown.
Maybe the Giants Should All Wear Citizen Watches: Immediately after Eli Manning fumbled against the Bears, Fox cut to a commercial that featured the Giants' quarterback. "Eli Manning is unstoppable, just like a Citizen watch," the voice-over intoned.
Fun Play in Victory: With Indy on the Jax goal line, undrafted Luke Lawton from McNeese State lined up as a blocking back, then took a shovel pass and made his first career reception, for a touchdown.
Fun Play in a Lost Cause: Against San Diego, Kansas City defensive end Jared Allen lined up as a tight end in a goal line set and caught his first career pass, for a touchdown. Allen, a defensive end, ran a fade pattern.
Best Block: Maurice Morris ran 45 yards for the touchdown for Seattle's go-ahead score in its win over Philadelphia. On the play, Seahawks center Chris Spencer hustled a full 30 yards downfield to make the final block that cleared Morris' path. Not too many centers have ever hustled 30 yards downfield. On Adrian Peterson's 13-yard touchdown run to cap scoring by the Vikings, when he juked, announcers shouted, "Look at that move!" TMQ shouted, "Look at the disappearance of the right side of the Detroit defense!" Minnesota left tackle Bryant McKinnie and left guard Steve Hutchinson had cleared out the defensive right so well that there was no Detroit defensive lineman anywhere in the picture.
Obscure College Score of the Week: California of Pennsylvania 58, Shepherd 38 (Division II playoffs). With TMQ's favorite obscure college, Indiana of Pennsylvania, dark until next fall, I shift my allegiance to its rival, California of Pennsylvania. Located in California, Pa., California of Pennsylvania has an Office of Student Success. Wait, what is the rest of the college doing?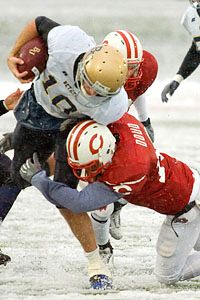 TBD
The NHL in pads? No, it's the Bethel-Central game.
Obscure College Score of the Week No. 2:
Bethel 27, Central 14 (Division III playoffs). Located in Pella, Iowa, Central College attempted 36 passes, for 15 completions and three interceptions, even though the field was thickly covered in ice owing to an ice storm. TMQ regularly notes that nearly all colleges attempt to give the impression they are featured in the influential U.S. News rankings.
Central declares
, "U.S. News and World Report includes Central in its 2008 edition of 'America's Best Colleges.'" Includes! Check the magazine: Central's ranking is, well, out of respect for Central, I will bleep it out.
Major College News: The New York Times' Pete Thamel had an article Saturday on college football stars who take few if any classes during the season. It contains this gem, regarding injured Oregon quarterback Dennis Dixon: "Dixon graduated over the summer, and his only class is in billiards." The University of Oregon has a class in billiards? Actually, the school offers three classes in billiards. Attention, Oregon taxpayers …
Ridiculous K2 Survival Gear = College Defeat: At the end of regulation, Oregon kicker Matt Evensen missed a 53-yard attempt for the win; a penalty against Oregon State allowed a second attempt, which Evensen missed from 40 yards. Oregon went on to lose in overtime. Why do I mention this? The Oregon kicker was wearing a balaclava, though game-time temperature was 43 degrees. Balaclavas are designed for Alpine skiers who face high-altitude below-zero winds. A player in a balaclava in jean-jacket weather -- no wonder the football gods pushed his field goal attempts aside! As Bud Grant memorably said, "If you're afraid of feeling cold, you are already defeated." Amani Toomer of the Giants wore a near-balaclava in Chicago -- it covered his neck and head, though not his face -- with a kickoff temperature of 46 degrees. The football gods let that slide, but I wouldn't advise tempting them again.
Reader Animadversion: Got a complaint or a deeply held grievance? Write me at TMQ_ESPN@yahoo.com. Include your real name and the name of your hometown, and I may quote you by name unless you instruct me otherwise. Note: giving your hometown improves your odds of being quoted.
Wednesday: Readers speculate on why driving turns decent people into inconsiderate oafs.
Next Week: Christmas: economically inefficient!
In addition to writing Tuesday Morning Quarterback, Gregg Easterbrook is the author of "The Progress Paradox: How Life Gets Better While People Feel Worse" and other books. He is also a contributing editor for The New Republic, The Atlantic Monthly and The Washington Monthly.