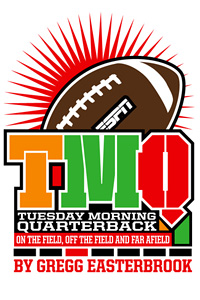 The defensive line of the New Jersey Giants is a prime reason the defending Super Bowl champions are 8-1, and on a 22-5 streak overall. Sports-yakkers obsess over stats, but what strikes me about the Giants' starting defensive line is its college bumper stickers. Justin Tuck went to Notre Dame; Barry Cofield went to Northwestern; Fred Robbins went to Wake Forest; Mathias Kiwanuka went to Boston College. The backups are Jay Alford of Penn State and Reynaldo Wynn of Notre Dame. These are all high-quality colleges where academics come first.
Let's not forget the rest of the Giants' roster. It includes Kevin Boothe of Cornell; James Butler of Georgia Tech; Jerome Collins of Notre Dame; Zak DeOssie of Brown; Jonathan Goff of Vanderbilt; Mario Manningham of Michigan; Michael Matthews of Georgia Tech; Kareem McKenzie of Penn State; Chris Snee of Boston College; Amani Toomer of Michigan; and Gerris Wilkinson of Georgia Tech. Seventeen guys on the Giants attended high-quality, academics-first colleges. This isn't some charity-event roster we are talking about. This is the defending Super Bowl champion.
Of course, I am not saying these players are scholars, nor do I have the slightest idea about which of them were good students. And of course, there are places, such as the University of Michigan, which are simultaneously top colleges and sports-crazed in a way that cannot be explained in rational terms. My point is that a high-quality, academics-first campus environment and great athletes are not mutually exclusive: they can go hand-in-hand. As college basketball, TMQ's second-favorite sport, tips off this week, let's consider the larger picture regarding smart schools and sports.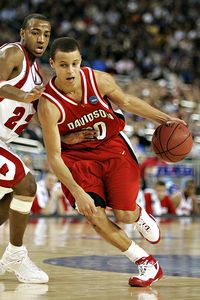 AP Photo/Michael Conroy
At Davidson they study hard -- and also play big-time athletics.
For the second consecutive academic year, smart schools did very well in the two most prestigious collegiate sports: football and men's basketball. Here, TMQ detailed the athletic success of smart schools in the 2006-07 academic cycle. For 2007-08, 11 high-quality, academics-oriented colleges made the NCAA men's basketball tournament: Cornell, Davidson, Duke, Georgetown, North Carolina, Notre Dame, Stanford, UCLA, Vanderbilt, Villanova and Wisconsin. These are schools where the athletes generally attend class, complete their readings and hand in assignments. In addition, Butler brought to the men's tourney a team with not one but two academic All-Americans: A.J. Graves, a math major, and Drew Streicher, a chemistry major who's now in med school. Last winter, superb academic schools Amherst, Bowdoin, Brandeis, the University of Chicago, Colby, Middlebury, Pomona, Washington University in St. Louis and Wesleyan made the men's Division III basketball tournament. At colleges like these, if you're looking for an athlete, try the library. In the Division I men's bracket there was a Cornell-Stanford game; in the Division III bracket there were Amherst-Brandeis and Bowdoin-Brandeis pairings, leading up to a final of Washington in St. Louis beating Amherst. Meanwhile smart schools Amherst, Bowdoin, Brandeis, Chicago, Cornell, Duke, North Carolina, Notre Dame, Stanford, Vanderbilt and Washington in St. Louis sent both their men's and women's teams to the basketball postseason.
After the 2007 football season, 10 quality academic schools reached a bowl game: Air Force, Boston College, Georgia Tech, Michigan, Navy, Penn State, UCLA, Virginia, Wake Forest and Wisconsin. Below the bowl level, elite academic school Case Western Reserve reached the playoffs, while Harvard, Middlebury and Yale would have done so if the Ivy League and the New England Small College Athletic Conference did not prohibit members from sending football teams to the postseason.
So it's not a fluke when a serious academic college with genuine student-athletes has a fantastic year in football or basketball -- this actually happened quite a lot in 2006-07, then happened quite a lot again in 2007-08. And it's not a fluke when serious schools like Wake Forest and Boston College send important players on to the NFL. If colleges that take academics seriously still can be winners at the level of big-boys sports, how come at most powerhouse schools academics is a joke and the athletes don't seem to study much? See more below on smart schools that win at sports.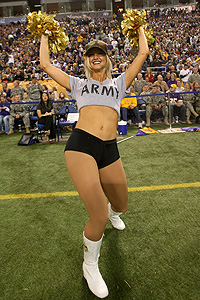 Stephen Dunn/Getty Images
Cheer-babe professionalism on the Minnesota sideline; surely not just the Vikings, but the Army as well, will win every battle.
In other football news, TMQ has long maintained that it can be better to go for it on fourth-and-short and fail than to launch a mincing fraidy-cat punt. When a coach decides to go for it on fourth-and-short, he is challenging his players to win the game; when he decides to punt, the message to players often is that they might as well give up. Trailing Green Bay 24-21 on Sunday, Minnesota faced a fourth-and-1 on its own 41-yard line with nine minutes remaining in the game. Vikings coach Brad Childress sent out the punt team. Adrian Peterson went ballistic on the sideline, begging Childress to reconsider. After a timeout, the Vikes went for it and failed; a moment later, the Packers led 27-21. But when Minnesota got the ball back, the Vikings seemed energized -- especially Peterson, who gained 64 of the 69 yards on Minnesota's game-winning touchdown drive. Going for the first on fourth-and-1 fired the Vikings up, even though the try failed, making the players feel their coach was committed to victory. Had Minnesota punted on that down, the players might have looked at each other and thought, "Coach figures we're going to lose again."
On Monday night, just before the clock struck midnight on the East Coast, new San Francisco coach Mike Singletary challenged his players to win the game. The 49ers were trailing the Cardinals 29-24, and they had the ball on the Arizona 2-yard line with four seconds remaining and no timeouts. San Francisco did the old-fashioned thing and ran straight up the middle; backup tailback Michael Robinson was stopped, and the Cardinals won. Sports yakkers are denouncing both aspects of the decision -- to hand the ball to a backup rather than star Frank Gore, and to run rather than pass. But handing the ball to a little-known player the defense does not fear in a critical situation is a time-honored trick. On Sunday, facing fourth-and-goal at the Chicago 1-yard line, Tennessee handed off to Ahmard Hall, who rarely touches the ball. It didn't work for Tennessee, either, because Hall fumbled, but the point is, the league's sole undefeated team tried exactly the same thing the day before the 49ers did, and sports pundits love the Tennessee Titans. As for running rather than passing, the play was essentially a two-point conversion attempt -- and about 45 percent of passing deuce attempts succeed, versus about 60 percent of rushing deuce attempts. So running the ball was playing the percentages. Plus, with Mike Martz calling the offensive plays for San Francisco, you'd anticipate a pass, right?
TMQ suspects Singletary trying to end the game the old-fashioned way will eventually yield positive results and help steer San Francisco back toward a winning culture. But note that Singletary himself is already drifting in the direction of a modern blame-shifting coach. In his postgame news conference Monday night, he made sure to point out that Martz had made the final call, not him. What happened to, "Win as a team, lose as a team"? And, attention Arizona fans, before Monday night, your team had not won on "Monday Night Football" since Grover Cleveland was president. You were hosting a national showcase game -- why were you booing loudly when your division-leading Cardinals trailed at the half?
In world news, now that CNN has done a "hologram," maybe CNN could do time travel -- film someone talking, superimpose fuzzy lines around her, then declare breathlessly that the interview is actually coming from the past. It's not the "holograms" but the other fake stuff in television news that ought to worry you. See more below.
In holiday news, Tuesday is Veterans Day -- two weeks before Thanksgiving, and thus two weeks before the traditional day when Santa Claus appears in the Macy's Thanksgiving Day Parade, and the red and green come out. Yet there's been so much Christmas Creep already this year, my annual running item ends this week. See the incredible season finale of Christmas Creep Watch below. And man of the worldly mind, do you believe in spirits? Then beware of the Ghost of Christmas Creep Past! He will visit you tonight when the clock strikes one. It's just that he's coming on Veterans Day.
Stat of the Week No. 1: The AFC East and NFC East are a collective 46-26.
Stat of the Week No. 2: The AFC West and NFC West are a collective 24-48.
Stat of the Week No. 3: The league's second- and third-highest scoring teams play in the same New Jersey stadium: the Giants (262 points) and Jets (255).
Stat of the Week No. 4: Buffalo has lost 15 of its past 16 games against New England.
Stat of the Week No. 5: Kansas City has lost 17 of its past 18 games.
Stat of the Week No. 6: Green Bay has eight touchdowns from its defense and special teams.
Stat of the Week No. 7: Oakland has nine total touchdowns this season.
Stat of the Week No. 8: Denver has beaten Cleveland eight consecutive times.
Start of the Week No. 9: Arizona, at 6-3, has a four-game lead in its division; Washington, at 6-3, trails by two games in its division.
Stat of the Week No.10: West Coast teams are 0-13 in games played in the Eastern Time Zone (or in Greenwich Mean Time).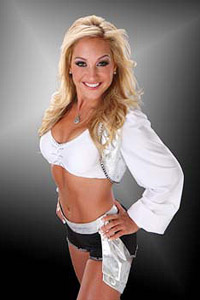 Oakland Raiders
If you're hoping to distract the judge, Emily might be your ideal attorney.
Cheerleader of the Week: Emily of the Oakland Raiderettes. Apparently, Al Davis has no influence over the pep part of the Raiders' operation, since the Raiders' cheerleaders, always high on aesthetic appeal, look as good as the Raiders' players look bad. According to her team bio, Emily went to law school at the University of San Francisco, and works as an attorney. Emily was also in the Air Force ROTC, was a varsity soccer player in high school, and has visited "roughly 24 countries." Isn't that an exact number?
Sweet Play-Calling of the Week: With the Falcons leading the Saints 20-6 on the second snap of the fourth quarter, the Falcons first faked a cross-buck rush by Michael Turner; they then set up a fake screen pass to Turner (one of Bill Belichick's favorite plays is to fake a handoff to a tailback and then an instant later throw a screen to the same guy); and they then threw a flare pass to Jerious Norwood in the opposite flat. Norwood was being covered by a linebacker, and was able to turn the corner and went 69 yards for the touchdown. His high-stepping run got the media attention, but a sweet play design is what made the touchdown happen.
Sour Play-Calling of the Week: New Orleans gained 521 yards Sunday, and lost. One reason was because the Saints' coaches called 61 passes (attempts plus sacks and scrambles) versus just 15 rushes. This kind of play-calling generates great stats, along with L's, in the standings. And please don't tell the New England Patriots that injuries at running back mean you should abandon the run! As for the outbursts on the New Orleans sideline, aren't you glad Jeremy Shockey is not on your team? That's certainly how 31 of 32 NFL franchises feel, and it is unclear why New Orleans does not feel the same way. Thrice-waived New Orleans tight end Billy Miller is a better player than Shockey, and a locker room positive rather than a negative. Eli Manning did not blossom as a quarterback until he was rid of the obligation to force the ball to Shockey in order to stroke Shockey's ego. Now Drew Brees is accumulating great numbers, but trying to force the ball to Shockey is holding back the Saints.
Sweet Play in a Lost Cause: Ben Roethlisberger pump-faked a screen right, then handed the ball to the tailback up the middle -- then the tailback pitched the ball back to Roethlisberger, who threw deep to Hines Ward, setting up a touchdown on the next snap. The basic action -- a handoff up the middle followed by a pitch back to the quarterback -- is the well-known flea-flicker, over time the trick play with the highest chance of success. Tossing in a fake screen was a sweet touch.
Sweet 'N' Sour Play: Scoring to pull within one point with 23 seconds remaining at San Diego, Kansas City did the manly man thing by going for the win. About 60 percent of deuce tries succeed, whereas taking the game to overtime is strictly a 50-50 proposition. Plus, deciding the game then and there meant fans would have to watch less of the woeful Chiefs. So the Herm Edwards decision to try for two was sweet -- though not exactly a profile in courage, considering Kansas City had botched a regular PAT kick attempt earlier in the contest. Here's the sour part: Kansas City's touchdown to pull within one with 23 ticks remaining came on a pass to Tony Gonzalez in the middle of a trips set. The deuce attempt was also a pass to Gonzalez in the middle of a trips set. This time three San Diego defenders were covering the Kansas City tight end. Not only was the Kansas City second play predictable, somebody else must have been open.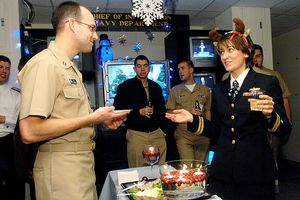 AP Photo/Kevin Wolf
"So then the radar accidentally locked onto Santa's sleigh, and -- hey, want to go out on Veterans Day?"
Christmas Creep Watch -- Season Finale: Ryan Moose of Chambersburg, Pa., writes, "On October 29th, my favorite local pub had gotten rid of all of the Oktoberfest beers on tap and replaced one with winter lagers -- almost two months before the first day of winter." Lolita Jackson of Manhattan writes, "I attended a community meeting on October 28th where a nice woman spoke to the crowd about preparing for Lunar [Chinese] New Year -- which does not take place until late January." Candace Moffett of Fairfield, Conn., reports she has already seen live Christmas trees for sale: "Since any live tree decorated indoors in early November would become a fire hazard well before Christmas, are you supposed to trim a tree now, then take it down in early December and replace it with a new tree?" Chris Bouey of Mount Vernon, Wash., writes, "My wife and I just got home from her company's Christmas party. Yes it's November 8; it was a real Christmas party with a decorated tree, gifts and secret Santas."
For years, a Creep indicator has been the date Christmas blend coffee appears in Starbucks; I like the chain's Christmas blend in its shiny foil bags, but cannot bring myself to purchase any before Thanksgiving. This year, Starbucks introduced a Thanksgiving blend. Judith Haverstein of Newton, Mass., noted the new blend and asks, "Next year, will Starbucks start selling Thanksgiving coffee in September?" Walter Hayes Jr., of Jamaica Plain, Mass., reports that two Boston-area radio stations went all-Christmas format Nov. 6, including this one. Beth Faria of Pawtucket, R.I., reports this packaged-format radio station also went all-Christmas on Nov. 6. Nick Lamoreaux of Racine, Wis., writes, "Not only are stores engaging in Christmas Creep, apparently churches aren't immune. I just passed a church advertising a Christmas bake sale on November 8th."
There's even a Ghost of Christmas Creep Past! Josh Aaron of New York reports, "Recently my dad sent me a link to this Web site, which allows you to look up the No. 1 song on dates in the past. He looked up his 1942 birthday and informed me 'White Christmas' by Bing Crosby was No. 1 the day he was born. The problem is that his birthday is November 6th. Thus Christmas Creep has been around at least since the 1940s."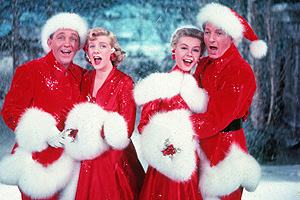 John Swope/Getty Images
"I'm dreaming of a colorized Christmas ..."
Here is the incredible Christmas Creep Watch season finale item which, one hopes, cannot be topped. Melissa Porter of Cincinnati writes: "I was in a big-box store on Election Day, November 4th, and they had a huge area marked, 'Christmas clearance, all items 40 percent off!' Perhaps they were getting ready to put the Christmas aisles away."
Cold Coach = Victory: Bad enough the Bears have no cheer-babes to display professionalism in the Chicago weather. Many readers, including Cathy Pryor of Winnetka, Ill., noted that for the Tennessee-Chicago contest, kickoff temperature 37 degrees, Jeff Fisher sported a varsity jacket, while Lovie Smith on the home sideline was dressed for North Sea oil-rig work in a heavy parka, ski cap and heavy gloves. You know who won! Reader Jen Anderson of West Des Moines, Iowa, proposes that Penn State was upset by Iowa because Joe Paterno was snuggly warm up in the press box while Kirk Ferentz was down on the sideline in the swirling snow. Owing to Paterno's age and frail health, I think the immutable law can be waived in his case.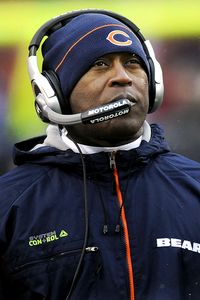 AP Photo/David Banks
Lovie Smith prepared for the West Buttress Ascent at Denali.
The hidden play of the Titans-Bears game came early in the fourth quarter. The Flaming Thumbtacks had just scored to make their lead 21-7. On the ensuing kickoff (note: sports columns are required by federal law to contain the word "ensuing"), Devin Hester broke into open space and seemed on his way to the house -- until kicker Rob Bironas of Tennessee drove him out of bounds. Bironas, the classic undrafted free-agent kicker, spent some time in the Arena Football League, where unlike the NFL, kickers are expected to make tackles.
Astronomers Reclassify Goofy a "Dogoid": In 2006, the International Astronomical Union spent weeks debating whether Pluto counts as a planet, eventually deciding it is instead a "pluton." Recently, the IAU returned to further contemplation of this weighty matter and decided Pluto should be called a "plutoid." This could be a Monty Python sketch if it weren't so feeble. Astronomers, Pluto will be the same regardless of what you call it! While devoting resources to debating the meaningless angels-on-a-pinhead nonissue of the difference between a pluton and a plutoid, the International Astronomical Union continues to do nothing to warn the public about the asteroid threat.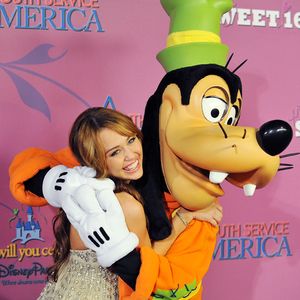 Jon Kopaloff/FilmMagic
Miley Cryus (left) and Goofy.
Think the asteroid threat would be so expensive to counter, the price could never be cost-effective? Actually it's the other way around. The article above notes the likely expense of asteroid-shield systems would be far less than the $300 billion to $500 billion of your money NASA plans to waste on the seemingly useless moon base project. Some people respond to that by saying, "Hurricanes, earthquakes, asteroids -- why worry about what cannot be controlled?" Nothing can be done about cyclones or tsunamis. Asteroid strikes, on the other can, almost certainly can be prevented.
This paper by Jay Matheny of Johns Hopkins University makes the point that billion of dollars spent stopping an asteroid strike might not only save more lives than any other action in world history, it could conceivably save all future human lives -- making the commitment cost-effective, indeed! Matheny calculates that applying the "traditional statistical life valuations" used in litigation and in regulatory rule-setting to the asteroid threat leads to the conclusion the United States should spend from $16 billion to $32 billion annually to protect the world against impacts from space -- versus the $4 million annually NASA currently spends. Including the value of future lives, Matheny estimates an asteroid defense could cost as little as $2 per life saved, and would be unlikely to cost more than $4,000 per life saved. This is a far lower expense per life saved than for air bags, railroad crossing gates, toxic-waste handling regulations and many other things no one opposes.
Buck-Buck-Brawckkkkkkk No. 1: One reason for Buffalo's pathetic string of losses to division rival New England is timid play. Six years ago, TMQ began its Preposterous Punt item after seeing the Bills, trailing the then-defending-champion Patriots by 10 points in the third quarter, punt on fourth-and-2 on the New England 32. Needless to say, Buffalo went on to lose. Last season, trailing New England 42-7, Buffalo launched a field-goal attempt; trailing 56-10, Buffalo punted from midfield. Three consecutive Buffalo coaches (the tastefully named Gregg Williams, the serious pun potential Mike Mularkey, and now Dick "Cheerio, Chaps" Jauron) have approached New England trembling, as if their goal was not to win but to contain the margin of defeat. On Sunday, trailing New England 10-3, Buffalo punted on fourth-and-3 from the Patriots' 39. Trailing 13-3 in the fourth quarter, Buffalo punted from the New England 42. Sure, it was fourth-and-11, but who cares? You're down by two scores in the fourth quarter. You're in opposition territory. You've lost to the opponent 14 of the past 15 times, why are you punting??????? And now you have lost to the opponent 15 of the past 16 times; after the fourth-quarter Preposterous Punt, Buffalo did not get the ball back until it was down 20-3 with the clock almost drilled. Timidity bonus: Bills, did you really need to be in the shotgun formation on third-and-inches?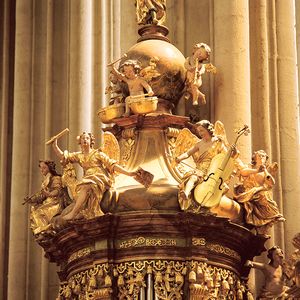 Imagno/Getty Images
TMQ himself commits Christmas Creep, as the chorus angelorum -- normally only seen in December -- appears to sing venite adoremus Gigantes.
Venite Adoremus Gigantes! The football gods continue to love the Giants, and reward them for their valor in dethroning the sinister Patriots. No surer proof that the football gods still smile on Jersey/A: Kickoff temperature was 52 degrees Sunday night in Philadelphia, yet the glamorous Eagles cheerleaders came out in scanty two-piece summer numbers. Normally such cheer-babe professionalism would be rewarded by the football gods; yet the Giants were allowed to win the game.
Buck-Buck-Brawckkkkkkk No. 2: Trailing 40-0 at Jersey/B, the St. Louis Rams kicked a field goal; I am not making this up. Then they kicked away, rather than onside kick. It was obvious Les Mouflons' semi-interim-temporary coach Jim Haslett, who wants the job full-time, was more concerned with keeping a shutout off his résumé than pursuing any chance, however slight, of victory. Note 1: Trailing 37-0 with 19 seconds remaining in the first half, deep in its territory, St. Louis did not either kneel or throw a Hail Mary, the two options that made football sense. Rather, the Rams ran a rush to try to improve their stats. Fumble, Jets' field goal and a 40-0 intermission deficit. Note 2: If the Jets score 14 points on Thursday at New England, they will surpass their 2007 points production after just 10 games. Note 3: Jersey/B did everything possible to avoid running up the score. The Jets attempted just two passes in the second half; starters began leaving the game early in the third quarter; in the fourth quarter, the Jets ran into the line on 13 consecutive snaps, reached the St. Louis 8-yard line, and then began kneeling. Note 4: Even after Jersey/B had run into the line on 12 consecutive snaps, the Rams still couldn't stop the 13th consecutive everyone-knows-what's-coming run, which gained 11 yards.
Brett Favre Brett Favre Brett Favre: NFL Network is advertising Thursday's Jets-Patriots pairing with a commercial that shows Hackensack Brett (see below) and the word HERO in big letters, then talks about Favre as a "hero." People who make millions of dollars for chasing a ball are not heroes. Athletes work hard and can be role models, but nothing they do is heroic. A hero is someone who takes a risk, or engages in sacrifice, to serve others. Soldiers, firemen and police officers can become heroes. Teachers, social workers and religious figures can become heroes. By no stretch of the imagination has any NFL player ever done anything heroic on the playing field. It's one thing to admire NFL players and enjoy watching them perform. To hero-worship someone earning $12 million this year? Please NFLN, show a little perspective.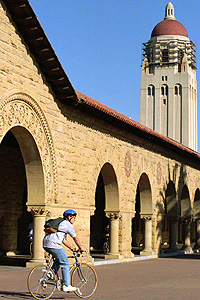 John Swope/Getty Images
The actual Hoover Tower at Stanford; the electronic counterfeit is more authentic.
At Least All Those People in the Background on "PTI" Are Actually There: A couple of years ago, while at Stanford to give a lecture, I was asked to appear on a network news show. I walked over to the Stanford TV studio and was seated in front of a blank "blue screen." The Hoover Tower was projected electronically onto the blue screen, making me seem to sit in front of the Tower; this was done so any viewer would know instantly that the boring talking head was someone speaking from Stanford University. Here's the corker: The actual Hoover Tower was visible outside the studio door. So television inserted an electronic fake of a landmark when the actual landmark was right there and could have been shown.
I thought of this last week when Wolf Blitzer and Anderson Cooper of CNN did that ridiculous Princess Leia stunt with reporter Jessica Yellin and rapper will.i.am. The entertainment value of the segment was high, but only because the images were so totally, obviously phony. They weren't even holograms; perhaps a variation on the blue screen was used, with blurring around the edges to create a Star Wars look. CNN, do you have any clue how obviously bogus those images were? The patter wasn't much better -- Blitzer was hopelessly inauthentic in pretending something important was happening, then gushed that the "hologram" meant he and Yellin "can have an intimate conversation." Talking to an electronic simulation while a million people watch -- Wolf, that's your definition of intimacy?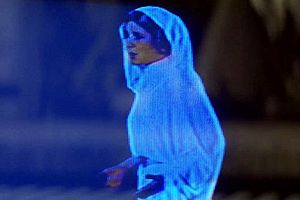 20th Century Fox
"Help me, Obi-Wan Blitzer! I am being held prisoner by television producers who think surrounding something with blurry lines makes it a hologram."
Watch television news with a critical eye, because much of what appears there is faked. For Blitzer's daily afternoon show on CNN, usually he sits in front of a window that offers a commanding a view of the Potomac River winding past the Kennedy Center. But wait, CNN's Washington studio is near Union Station, miles from the Potomac River; it would be impossible to see the Potomac from any window in the CNN facility. The view is an electronic forgery -- that's not even a window, it's a blue screen onto which a window is projected. A few months ago I was watching ABC News; fun couple Charlie Gibson and George Stephanopoulos were talking. Gibson was seated at the anchor desk, facing a flat-panel screen on which Stephanopoulos appeared. Behind Stephanopoulos was the White House: The viewer got the impression Stephanopoulos was outside the White House, and Gibson was interviewing him from there. If you looked closely, the White House was in a strange perspective, its cornice line below Stephanopoulos' shoulders -- that could be possible only if Stephanopoulos was hovering above the West Lawn in Iron Man's repulsor boots. Stephanopoulos was not in front of the White House -- rather, the White House was being projected onto a screen behind him, creating an illusion of his location. I'd bet dollars to donuts, as we say in Canada, that Stephanopoulos was sitting right in the same studio as Gibson.
Happy Hour in Hell's Sports Bar: Hell's sports bar has 28 wide-screen plasma TVs, and now gets DirecTV! But certain blackout rules may apply. For the highlight program, all 28 screens in Hell's Sports Bar showed nothing but, over and over, the Oakland Raiders facing fourth-and-11, fourth-and-12, fourth-and-13, fourth-and-14, fourth-and-16, fourth-and-17 and fourth-and-22 against Carolina. Patrons at hell's sports bar also saw an endless-loop replay of the 39 incomplete passes, six interceptions, five fumbles and 20 punts in that contest.
"In Futures Trading, Fifth-Round NFL Draft Choices Were Trading For … ": Little-known fullback Peyton Hillis, the last running back standing for the Denver Broncos in the fourth quarter at Cleveland, has an intriguing pedigree. Denver selected him with the seventh-round draft choice it obtained as a consequence of the strange 2006 trade that sent retired quarterback Jake Plummer to Tampa. In the winter of 2006, Plummer was asserting he had left football and the Broncos were asserting he was bluffing. Denver swapped his contract to the Bucs for a fourth-round choice if he continued to play, and a seventh-round choice if he really had taped his ankles the final time. The quirk was that if Plummer really did retire, his contract obligated him to return $3.5 million of his final bonus: That money ended up being owed to the Bucs, who held his contract, and Plummer kept his word, sending a check for $3.5 million to Tampa. Thus Tampa was repaid bonus money by a player who never once donned a Bucs' uniform, and the money counted as a positive for the Bucs' salary cap.
The significant part of the transaction is that it effectively set the market price of a seventh-round NFL draft choice. Had Denver done nothing, Plummer would have repaid $3.5 million to the Broncos; by trading his contract, Denver in effect purchased a seventh-round draft choice for $3.5 million. Buying of draft choices is rare in football but a common practice in basketball; however, prices differ dramatically. In the 2008 NBA draft, Portland gave New Orleans $3 million for the 27th selection of the first round. This means seventh-round NFL draft choices sell for more on the open market than first-round NBA draft choices. More proof that pro football is the king of sports!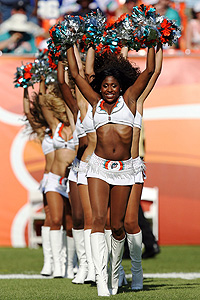 Doug Benc/Getty Images
Gimme an "H." Gimme an "I." Two minutes later, it spells, "High School!"
Sunday's High School-Inspired Plays: Baltimore put two quarterbacks on the field. Troy Smith took the snap and lateraled right to Joe Flacco; then Flacco threw back to Smith, who was behind pulling linemen for a screen left. (Smith dropped the pass.) And, oh, those high school-inspired Miami Dolphins! In their Wildcat, Ronnie Brown has taken snaps and run wide or up the middle, or thrown, or handed to Ricky Williams running wide. Sunday against Seattle, Brown handed to Williams up the middle while Brown and another Dolphins player faked the mainly-seen-in-high-school option run by rolling together left. Williams went 51 yards for an untouched touchdown. Miami also ran a standard flea-flicker, which originated in the pros, but has been viewed as a high school-like trick play. Sign of the times: I just put a shortcut for the name "Joe Flacco" into my AutoCorrect, because I assume I will be using this name a lot.
Best Blocks: As the AutoCorrect-worthy Flacco threw 43 yards to Yamon Figurs for a touchdown on the post, TMQ counted one thousand one, one thousand two, one thousand three, one thousand four, one thousand five. No Houston rusher came anywhere near Flacco. Maurice Jones-Drew gained sports-yak notice for running for three touchdowns in the same quarter against wretched Detroit, but his blockers deserved the attention. On two of the touchdown runs, Jones-Drew was untouched. On one, fullback Greg Jones provided the key block; on another, left tackle Khalif Barnes and left guard Uche Nwaneri pulled right and made perfect blocks.
Worst Blocks: Most safeties occur on snaps from the 1 or 2; the Packers surrendered safeties on downs that began on their own 10 and own 9. That's some mighty poor blocking. On one safety, highly paid Green Bay tackle Chad Clifton barely even slowed Minnesota rush end Jared Allen before Allen sacked Aaron Rodgers in the end zone. You tell me why Allen was one-on-one blocked while the quarterback was sprinting backwards toward the end zone, let alone why Green Bay coaches wanted Rodgers to sprint backwards into the end zone from the 10 and the 9 in the first place.
Adventures in Officiating: On one Vikings safety, the sprinting-backwards Rodgers was falling down in the end zone and underhand-flipped a pass in the general direction of a Packers' receiver. Referee Alberto Riveron called a safety, announcing to the crowd that the penalty was "illegal forward pass." But illegal forward pass is a 5-yard penalty, and only major penalties committed in the end zone are safeties. Plus, Rodgers' pass was not illegal, it's perfectly legal to throw underhanded. An illegal forward pass is called when someone throws forward after crossing the line of scrimmage, which obviously was not the case here. If the call had been intentional grounding from the end zone, that's a safety. What happened did not appear to be intentional grounding, considering the pass came near an eligible Green Bay receiver.
Now add this: The league's Game Book, the official account of the contest, describes the down thusly: "A. Rodgers, Intentional Grounding, 10 yards, enforced in End Zone, SAFETY." So even though the referee announced the penalty as illegal forward pass, the Game Book says the referee called intentional grounding. Was the record altered to avoid evidence of another NFL officiating blunder? All officials make occasional judgment errors; the judgment error cannot be eliminated. But Riveron seems to have made a knowledge-of-the-rules error, inexcusable for a highly paid pro official -- and not the first knowledge-of-the-rules blunder this season by an NFL zebra. Bonus zebra blunder: Officials failed to notice "Cheerio, Chaps" Jauron threw his challenge flag after a long completion credited to the Patriots, but on which receiver Wes Welker was clearly out of bounds. The judgment mistake of not seeing a foot out of bounds is human error; refusing to acknowledge a challenge flag is inexcusable.
"Friday Night Lights" Update: A true shocker! Dillon won a game that was not decided by an improbable long touchdown on the final snap. The Panthers are now 4-1, yet one character just said it is "three weeks till the playoffs." The "Friday Night Lights" gang has always been so obsessed with marital bickering and teen dating angst that they forget to play enough games. In Season 1, Dillon won the Texas 5A championship with a final record of 11-3, though a team must appear in 16 games to win 5A in Texas. The Panthers seem well on their way to forgetting to play enough games in the current season, too.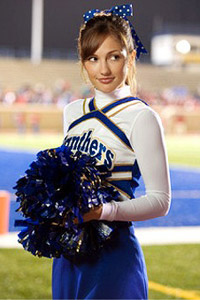 NBC
She's had a personality transplant -- but then again, it's very stressful to be a 28-year-old high school senior.
Spoiler alert: "FNL" has started yet another football-unrealistic subplot. In Season 2, Riggins went to Mexico to carouse for a couple of weeks during football season, then when he came back, simply rejoined the team, with no disqualification for extended truancy. This season, Riggins skipped school for a week to help the Jason Street character renovate a house. Then he shows up and plays in games! Not even in football-mad Texas could a high school student be failing to appear in school for extended stretches, yet remain eligible to play. Meanwhile, perpetual-senior Lyla Garrity has had another personality transplant, and six episodes into the final season, there's still no explanation. In Season 1, she was the cheerleader captain and conflicted about trying to become something more in life than the star quarterback's pretty girlfriend. In Season 2, she became a committed evangelical and gave herself to God. Now in Season 3, she's a sex-crazed vixen type. No explanation whatsoever.
Here's the "Devil Town" song the "Friday Night Lights" producers are obsessed with, over an Italian television dubbing of an episode -- the coach shouting at Texas boys in Italian is fairly amusing. About "Devil Town": This song played in full for the long ending sequence of Season 1, while an abbreviated version is the promo music for Season 3, which is on DirecTV now and jumps to NBC over the winter. Presumably millions of people will hear "Devil Town" when "FNL" jumps back to NBC. The lyrics include, "I was living in a devil town/all my friends were vampires." At the concluding sequence of Season 1, we saw the Panthers' state championship victory parade with the faces of all the small-town Dillon characters, as the lyrics crooned about living in a horrible, horrible place populated by horrible people. Pretty subtle, huh? Of course it's a jokey song, but use over a lengthy montage of the show's characters and locations seems to convey Dillon is a vile place whose residents deserve the contempt of self-superior PC types. The internal contradiction of "Friday Night Lights" is that the show is more about small-town life than football, and yet it seems to despise small-town life. Why so serious? It's a little town on the Texas plain. You were expecting maybe Copenhagen?
A defect of much American fiction and filmmaking, often produced by people who live in tenured pleasantness in academia or luxury in Los Angeles, is to depict the rustic town as a dreadful place. Small towns are -- what's the word I am looking for -- small! There will always be a lot less happening on the Texas plain than in San Francisco, Manhattan or Cambridge. If people were not willing to live in rural small towns to farm, mine and maintain rail and power lines, luxurious life in Hollywood would pretty quickly fall to pieces. Plus, if you hate small-town life, you can always -- what's the word I am looking for -- leave. Some people live in little or rustic towns because they like them, an idea that almost never appears in American fiction or filmmaking.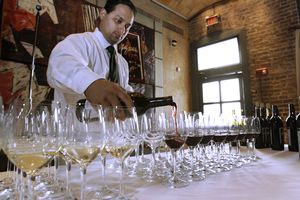 AP Photo/Alex Brandon
Careful, careful. Don't trip the detonator.
Wacky Wine of the Week: From the New York Times dining section: "The Domaine de Chevalier 2007, still in oak barrels, trumpets its presence with an explosive burst of pure sauvignon blanc fruit and a beautifully opaque texture that invites repeated sips in an effort to penetrate the wine's mystery. The 2006, not yet bottled, is rounder and less flamboyant, showing evidence of the wine's other key component, the sémillon grape, and the beginnings of a nutlike complexity that will emerge over a decade or so. These are serious, potentially profound dry whites." Trumpeting wine? Profound wine? Explosive wine? Sommelier, I'll have my wine defused, please.
Smart Schools Note No. 1: Here, Lindsey Luebchow of the New America Foundation charts her annual Sweet 16 based on NCAA graduation rates. In her bracket for last winter's tourney, Davidson (73 percent) wins the championship over either Stanford or Xavier (both 67 percent). Note the pathetic men's basketball graduation rates at Texas (23 percent), Tennessee (20 percent) and Washington State (14 percent).
Smart Schools Note No. 2: Three of the past six Division III men's basketball championships have been won by top academic colleges: Williams (2003), Amherst (2007) and Washington University in St. Louis (2008). In 2000, Calvin won, then the following season the champion was Catholic. If Calvin had played Catholic, the game would have been conducted in a torture chamber! Perennially TMQ worries the world will run out of obscure colleges. The men's Division III basketball tournament gave me new hope as Stockton and Fontbonne qualified. Stockton's formal name is The Richard Stockton College of New Jersey.
Smart Schools Note No. 3: When Washington University in St. Louis took the Division III men's basketball tourney, the New York Times referred to the victors as "Washington of Missouri." Hey, Multicolored Lady, Washington in St. Louis is the 12th-ranked university on the U.S. News leaderboard -- ahead of Brown, Georgetown, Johns Hopkins and Northwestern. We understand the New York Times thinks the Midwest is a place you fly over on the way to California. Still, it would be nice if the nation's leading newspaper had heard of this school!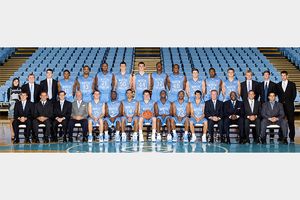 University of North Carolina
Not shown: Assistant associate senior director for lane violations.
Williams, Holladay, Robinson & McGrath LLC: Lately TMQ has been providing examples of excessive bureaucracy in sports. Reader Mike Lorenz of Seattle points out this photo of the Tar Heels' basketball bureaucracy: "If you look close enough, you can even see the players! Not only do the 17 players need eight coaches, six managers are thrown in to get the player:support ratio as close to 1:1 as possible. They have a head coach and also a director of basketball operations. There is even someone with the title head manager -- a manager for the managers."
This photo also nicely shows a trend, namely, basketball coaches dressing like lawyers. The Tar Heels' coaching staff might as well be the firm of Williams, Holladay, Robinson & McGrath LLC. Basketball coaches started adopting the lawyer-like pinstripe look a decade or so ago, hoping to gain respect from the officials by seeming to be serious authority figures. But since nearly all basketball coaches now look like lawyers -- the men in conservative dark Brooks Brothers styles, the women in boardroom-style power suits -- all these visuals cancel each other out, leaving the officials unswayed.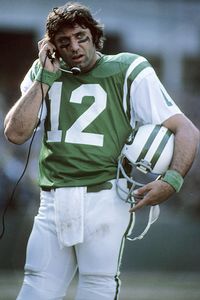 NFL/Getty Images
"What? I am not playing in Manhattan? Why wasn't I informed?"
Should Namath Have Been Kew Gardens Joe? TMQ noted that if Joe Namath was Broadway Joe, Brett Favre is now Hackensack Brett. Multiple readers including Marissa Caplan of Cornwall on Hudson, N.Y., pointed out the New Jersey stadium in which Favre now toils is actually closer to Broadway than is Shea Stadium, where Namath played. According to MapQuest, Shea Stadium -- in Queens, not Manhattan -- is 11.4 miles from Broadway and 42nd Street, the focal point of Times Square; the Meadowlands is 7.5 miles from the same intersection.
"TMQ's Tuesday Morning Quarterback Featuring TMQ" -- Hmmm, I Like the Sound of That: Last week Hearst shut down the struggling publication popularly known as "Oprah's Home Magazine" but technically titled "O at Home." Why the weird title? Its money-making sister publication, popularly known as "Oprah's Magazine," technically is "O, the Oprah Magazine." As in, "Hey Ralph, do we have the latest issue of O, the Oprah Magazine?" TMQ continues to believe this publication name should be changed to "Oprah Winfrey's Oprah Winfrey Magazine Featuring Oprah Winfrey."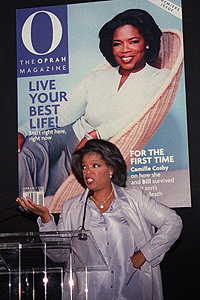 AP Photo/Ed Bailey
Oprah Winfrey presents "Oprah Winfrey's Oprah Winfrey Magazine Presented by Oprah Winfrey."
Hidden Play No. 1: Hidden plays are ones that never make highlight reels, but stop or sustain drives. With Indianapolis and Pittsburgh tied at 17, the Steelers had third-and-goal on the Colts' 1. Undrafted free-agent defensive tackle Eric Foster stopped Pittsburgh run for no gain; the Steelers kicked a field goal; the Colts went on to win by four points. The Colts' much-maligned rush defense held the Steelers to 55 yards rushing, in Pittsburgh.
Hidden Play No. 2: With Tennessee leading 21-14 with 3:07 remaining, Chicago had second-and-1 on the Titans' 32; a first down here and the pressure is on the NFL's sole undefeated team. Undrafted free-agent defensive tackle Tony Brown stopped Matt Forte for a loss of 3. Now facing third-and-4 instead of enjoying a first down, Chicago went incompletion, incompletion and TMQ wrote the words "game over" in his notebook.
Hidden Plays No. 3: Hidden plays can, of course, also be negative. Seattle scored with three minutes remaining to make it Miami 21, Seattle 19, and the sinking-fast Blue Men Group lined up to go for two. But guard Mike Wahle was called for a false start, pushing Seattle back to the 7-yard line, whence the try failed.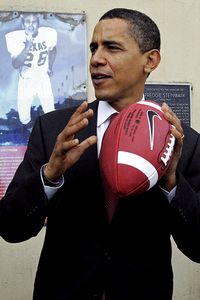 AP Photo/Rick Bowmer
"OK Putin, go to the lamppost, then cut in, I'll hit you."
She Wrote "Election Over" in Her Notebook: Reader Barbara Grunwald of Clovis, Calif., reports, "I watched the ESPN interviews with the presidential candidates during halftime on 'Monday Night Football' the night before the election and loved Barack Obama's answer to the question of what one thing he would change about sports if he could. Obama said he wanted a college football playoff; John McCain, asked the same question, gave a serious reply about steroids. Obama had it right -- and I'm a Republican who voted for McCain. He understood that sports is entertainment, not serious. The whole point of sports is to create an alternate universe in which we care, passionately and loudly, about things that don't matter at all. We hate having real life intrude on the sports page: we don't like hearing about steroids or real-life matters, those are for the news pages. Obama gets that sports is about relief from reality. As soon as I heard their answers, I knew Obama would win."
President-elect update: Media critic Howie Kurtz wrote in the Washington Post of Obama's "Monday Night Football" appearance, "Politics, in his view, is far more important than sports." Glad we cleared that up!
Obscure College Score of the Week: Husson 48, Becker 13. Located in Bangor, Maine, Husson University offers this "Is Husson For You" quiz. No matter how you answer, the quiz says Husson is for you. (There is no wrong answer to Question 2.)
Bonus Obscure College Score: Missouri S&T 63, Southwest Baptist 23. Located in Rolla, Mo., Missouri University of Science and Technology hosts such events as "The Role of Intelligent Systems within User-centered Computational Environments for Conceptual Design and Early-Stage Decision-making." That's not a course catalog entry, it's a public event, for tomorrow.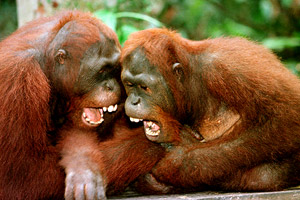 AP Photo/Richard Vogel
"You lost to Alabama, Texas and Florida by a combined 108 points? That's nothing! I lost at home to Toledo!"
Weasel Watch: Obviously, Alabama is happy about its hire of the Weasel Coach of 2006, Nick Saban. Warning sign: In the news conference before the LSU game, Saban repeatedly referred to himself as "we." For instance, he said of coaching at LSU, "We appreciated our time there. ... We had great memories." And your dukes and duchesses, Highness, did they enjoy your reign in Baton Rouge as well? The Weasel Coaches of 2007, Bobby Petrino and Rich Rodriguez, are a combined 7-13 at Michigan and Arkansas. Was it really worth it to these schools to spend many millions of dollars, and considerable amounts of prestige, in order to become 7-13? Considering the fantastic advantages in recruiting power and gimmick schedules possessed by football-factory colleges, a couple of orangutans could have coached Arkansas and Michigan to a combined 7-13.
Next Week: Finished your back-to-school shopping yet? For fall 2009, I mean.
In addition to writing Tuesday Morning Quarterback, Gregg Easterbrook is the author of "The Progress Paradox: How Life Gets Better While People Feel Worse" and other books. He also is a contributing editor for The New Republic, The Atlantic Monthly and The Washington Monthly.