Commentary
The Jets, monsters of the Meadowlands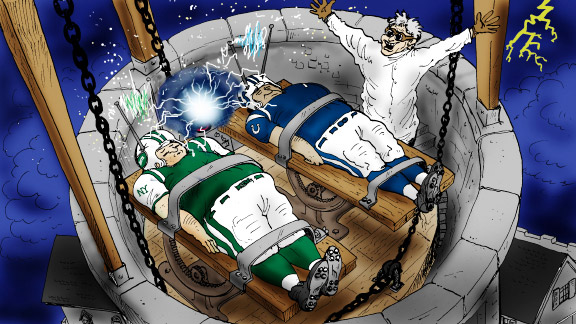 Kurt Snibbe/ESPN.com
Suddenly the Jersey/B Jets, who were "obviously out of the playoffs" according to their own coach three weeks ago, are in the divisional round. Is there a supernatural explanation? Is fringe science involved? It's as though, in the third quarter on Dec. 27 in Indianapolis, when the Colts' starters left the game and handed a free victory to the Jets, there was some mystic energy transfer: the Colts gave up their perfection and it was absorbed by the Jets. If you watch that game again with the frame speed wound down really slow, you might see weird energy bolts being exchanged between the Colts' and Jets' sidelines.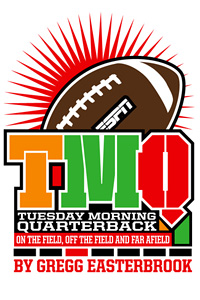 Did you happen to catch any of the 13 touchdowns in the Green Bay-Arizona game? Have you ever seen two quarterbacks in the same game perform as well as Aaron Rodgers and Kurt Warner? After the Vikings defeated the Packers in October, and the sports-yak world was saying Green Bay blundered by letting Brett Favre go in order to keep Rodgers, TMQ opined that ultimately the Green Bay decision would be correct, because Rodgers will play well for many years to come. Imagine how Rodgers would perform if he had the kind of pass-blocking Peyton Manning and Drew Brees enjoy.
A facemask penalty should have been called against Arizona on the fateful final play. The Cards' Michael Adams yanked hard on Rodgers' facemask an instant after the ball came loose. Earlier in the contest, Cullen Jenkins of the Packers was flagged for roughing the passer merely because his hand brushed the side of Warner's helmet; yet when Rodgers' facemask was grabbed and twisted, no call. Did the zebras simply bungle the play, or were they anxious to end the contest and leave? TMQ has long believed that officials subconsciously want the home team to win closely contested important games, so the officials won't be hassled as they depart. A facemask call against Arizona would have nullified the turnover ("the spot of enforcement is the spot of the foul and the ball reverts to the offensive team") and given Green Bay a first down. By current rule, replay cannot be used on flag/no flag questions -- the feeling has been that the booth shouldn't review judgment calls, such as whether pass interference occurred. But the purpose of the replay system is to get the call right, and on the deciding play of a fantastic postseason game, the call was wrong.
Here are Tuesday Morning Quarterback's divisional-round talking points:
• Baltimore at Indianapolis: Before November's Colts-Ravens game, yours truly forecast it would be one of the biggest of the season; when it wasn't, I looked like a chump. Now comes the sequel -- of the game, though perhaps also of me being a chump. Baltimore must show a lot more than the one-dimensional offense it used against New England. With Peyton Manning, Indianapolis is 0-3 in the playoffs when having a bye, and 7-5 in the playoffs when required to play in the wild-card round. So maybe Indianapolis didn't deliberately lose enough? If the Colts honk out this weekend after giving up their final two regular-season games, they will never, ever hear the end of it -- and that's pressure.
TMQ CHEAT SHEET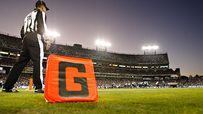 Gregg Easterbrook on …
• Dallas at Minnesota: The Cowboys are healthy -- the sole NFL team with no one on injured reserve. (Philadelphia, whom Dallas just beat, has eight players on IR.) Often the last team standing in the NFL is the one with the best luck regarding injuries, and this season Dallas has had the best luck. As for Minnesota, Brett Favre, like any skilled veteran quarterback, wants to be blitzed, because it ensures man-on-man coverage. Dallas blitzes less than any NFL team. DeMarcus Ware just left scorch marks on Philadelphia Pro Bowl offensive tackle Jason Peters, so what will Ware do to Minnesota Pro Bowl offensive tackle Bryant McKinnie?
• Jersey/B at San Diego: The Bolts have won 11 straight games, and are the sole team since the Permian era to have defeated the Colts when the Colts were playing to win. San Diego was the No. 4 scoring team in 2009, while Jersey/B was best in terms of points against. Something's got to give. The idea that the Jets, who just a month ago looked cover-your-eyes awful, could defeat the Chargers at home seems preposterous. But then again, everything about the Jets seems preposterous.
• Arizona at New Orleans: The Saints couldn't possibly open the season 13-0 and close the season 0-4, could they? You bet they could. Vince Vehrei of Football Outsiders notes why New Orleans' defensive performance declined in the second half of the season. Early in the year, the Saints were jumping out to early leads; opponents had to abandon the running game, allowing New Orleans to mask its weakness against the rush. Late in the season, the New Orleans offense slowed down; in close games, opponents exposed the New Orleans run defense. And now Saints defensive end Charles Grant has gone on injured reserve -- the teams left standing at the end are often the healthy ones, and New Orleans has injury problems. The Cardinals? Everyone's talking about the Cowboys, Vikings and Saints in the NFC. Last year at this time, everyone was talking about the Giants and the Panthers in the NFC. Below the radar is just where the Cardinals like to be.
In other football news, Peyton Manning was named the NFL's Most Valuable Player -- it's his fourth time winning the award. TMQ would have voted either for him or for Jamaal Jackson (see below). Who has been the best quarterback of the past decade: Manning (best stats, most regular-season wins) or Tom Brady (most Super Bowl wins)? This debate is impossible to resolve; the fact there is even a debate helps explain why Manning was so upset when Indianapolis raised the white flag three weeks ago. Obviously, the Colts would rather win the Super Bowl at 17-2 than lose it at 18-1. But had Indianapolis achieved a perfect 19-0 season, that would have swung sports wisdom to a consensus that Manning is better than Brady. Instead, Indianapolis coach Jim Caldwell decided to throw in the towel, denying Manning his chance to settle the debate. TMQ thanks his pal James Collins of Arlington, Va., a former high school head football coach, for pointing this out.
And in other football news, here's a gaming tip. TMQ readers know my compromise with my Baptist upbringing is to be pro-topless but anti-gambling. Serious wagering can bring loss and regret, and destroy lives. If you're making the harmless $5 workplace bet on the NFL playoffs, take the home teams this weekend. Home teams in the NFL divisional round are the surest thing in sports. Since the current playoff format was adopted in 1990, home teams in the divisional round are 56-20, a .737 winning percentage. The reason the home teams are at home in the first place is that they are the best teams. Equally important, in the divisional round the home teams have spent a bye week relaxing in hot tubs while their opponents were out being pounded on. Home teams dominate the NFL divisional round -- check-mark them in your office pool. You don't even need to know who's playing!
A week later in the championship round, the home-field advantage dissipates. Since 1990, home teams in conference championship games are 23-15, a .605 winning percentage. That's about the same rate at which home teams won games in the 2009 regular season (.582). For the championship round, nobody's had the previous week off and the Super Bowl is just one win away. Players leave everything on the field in championship contests. Thus, at the next step, the home team won't necessarily be the favorite. But this weekend, look homeward. Of course, if the visitors win, remember the Tuesday Morning Quarterback guarantee: All predictions wrong or your money back.
Stats of the Week No. 1: The Packers scored 45 points, gained 493 yards, and lost.
Stats of the Week No. 2: The Ravens won a game in which they passed for only 34 yards.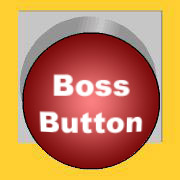 Stats of the Week No. 3: Losing twice to the Jets in a six-day period, the Bengals were outscored 61-14.
Stats of the Week No. 4: Losing twice to the Cowboys in a six-day period, the Eagles were outscored 58-14.
Stats of the Week No. 5: For the first time in 31 years, the Patriots lost a playoff game at home.
Stats of the Week No. 6: Quarterback ratings in the wild-card round varied from 154.1 for Kurt Warner (158.3 is the maximum) to 10.0 for Joe Flacco (if every pass a quarterback throws falls incomplete, his rating is 39.6).
Stats of the Week No. 7: The Eagles set a team record for points scored in a season, and finished fifth in the NFL in points scored -- yet closed with only 14 points in their final two games.
Stats of the Week No. 8: Warner had more touchdown passes (five) than incompletions (four).
Stats of the Week No. 9: The Bengals have not won a postseason game since 1991, the longest drought in the league.
Stats of the Week No. 10: Possession results in the Green Bay at Arizona game: The Packers went interception, fumble, punt, missed field goal, touchdown, field goal, touchdown, touchdown, touchdown, touchdown, touchdown, end of regulation, fumble. Arizona went touchdown, touchdown, field goal, fumble, touchdown, touchdown, touchdown, punt, touchdown, missed field goal, touchdown.
[+] Enlarge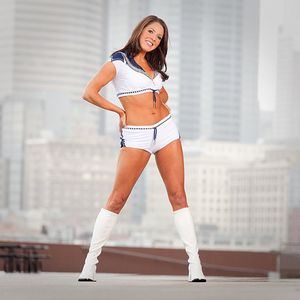 Seattle SeahawksKim of the Sea Gals blazed Pete Carroll's trail from USC to Seattle.
Cheerleader of the Week: Kim of the Seattle Sea Gals, who according to her team bio has an MBA from Seattle University, works as a financial planner, and is a former USC Song Girl. Let's hope there isn't a recruiting scandal involving the Song Girls, too!
Sweet Play of the Wild-Card Round: With Dallas leading 17-7, the Cowboys faced second-and-goal on the Eagles' 6-yard line at the two-minute warning of the first half. If the Philadelphia defense could force a field goal, the Eagles would stay alive; a touchdown would put the visitors on the ropes. For the past two years, the stock play of every high school and college passing offense has been the receiver hitch screen, especially popular in high school because it is the easiest pass for a novice quarterback to complete. This year the play has been showing up in the NFL, where defenses aren't accustomed to it. Dallas called a receiver hitch screen to Miles Austin -- touchdown, behind a pull block from tackle Marc Colombo.
Sour Play of the Wild-Card Round: Because their rushing game is so strong, the Jets execute the waggle -- fake toss one way, bootleg the other way -- better than any other NFL club. In the first half, tight end Dustin Keller caught a sweet 45-yard touchdown pass on a waggle. He went in motion left, then "dragged" right as Mark Sanchez waggled right, and no one covered him. Skip ahead to the fourth quarter. Cincinnati had just pulled to 21-14, the stadium was shaking with noise. Sanchez waggled, Keller dragged from the opposite direction; again he was uncovered, and his 43-yard catch set up the field goal that allowed the visitors to regain a two-score margin. The first time a play works, that's good offense; the second time it works, that's sour defense.
[+] Enlarge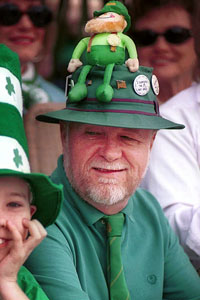 AP Photo/Stephen MortonWhen Irish eyes are smiling, sure, it must be January ...
Sweet 'N' Sour Play of the Wild-Card Round: Seemingly finished, with Arizona leading 31-10 at home, Green Bay scored to make it 31-17. Green Bay then executed an onside kicked and recovered the ball, which was sweet. Sour was that the Cardinals were not prepared for an onside kick. The entire Arizona front line was retreating as foot struck ball.
Unified Field Theory of Creep: Larry Kurtze of Minneapolis reports that on Dec. 31, 10 days into winter, he received an advertising flyer from Dick's Sporting Goods headlined "Spring Training Stats Today." John Ybarbo of Austin, Texas, reports, "Prior to the new year, a car dealer in Austin was advertising a St. Patrick's Day sale complete with leprechaun and a woman in a green dress." Robert Henderson of Hyattsville, Md., writes, "Today I walked out of the 30-degree cold and into Target where I was greeted with a new line of beachwear." Patrick Philbin of Naples, Fla., writes, "I've already received a 'hold the date' card from an astronomy friend for the next total solar eclipse to be seen in the U.S. -- on Aug. 21, 2017." Travis Miller of Indianapolis writes, "When I turned on my computer on Jan. 6, to the AOL browser, one of the news headlines was the following: Cadillac (Finally) Unveils Sleek 2011 CTS-V Coupe. 'Finally' unveils, nearly a full year before 2011."
Play That Made the Football Gods Chortle: Trailing by the new-economy score of 24-7, New England faced third-and-2 at midfield. Bill Belichick called a quick out to Kevin Faulk, the very play that failed on fourth-and-2 against Indianapolis earlier this season. It failed again. Then Belichick sent in the punting unit, though any statistical analysis would say to go for it on fourth-and-2 from midfield when trailing by 17 points. You got the feeling Belichick just couldn't face yet another round of second-guessing about the Indy decision, which he would have faced had he gone for it here. But he should have.
[+] Enlarge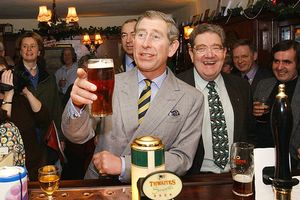 AP Photo/John Giles/WPACommand them to order 50 percent more!
Additional Proof of the Decline of Western Civilization: Punch Taverns and Enterprise Inns, which own the largest bloc of watering holes in the United Kingdom, reported beer pint consumption in pubs has fallen exactly 50 percent since its peak in 1983. Maybe there won't always be an England! Of course this may have something to do with the fact that a pint in a London pub now typically costs the equivalent of $5.
Baltimore at New England Analysis: They were booing loudly and lustily in the first quarter at Gillette Stadium, when early errors by the home team staked the Ravens to a quick lead. Way to support your team, New England fans! There was intense booing after Tom Brady's second first-quarter interception, more booing after Belichick ordered a draw on third-and-20, still more booing after Brady threw the ball away on a second-and-goal. Sure, you've won three Super Bowls in a decade, but what have you done for us lately? Either the New England home crowd is incredibly spoiled, or it's comprised of 68,765 fair-weather friends.
After allowing only 18 sacks in the regular season, the New England offensive line gave up three to Baltimore and, more importantly, allowed Brady to be pressured often in the first half, when New England's mistakes were made. New England's offensive tactics, which seemed fresh and original in 2007, looked tired and predictable on Sunday with endless curls and comebacks. The league has reacted to the every-down passing the Patriots once used to run up points; next year, it is essential the Flying Elvii be able to rush. And for all the draft choices and free-agency bonuses New England has invested in its defensive front seven, no Pat ever touched Ray Rice as he ran up the middle for 83 yards on the game's first snap.
When at Minnesota, Randy Moss had a habit of disappearing in playoff games, and the same is happening with Moss at New England. In his four postseason appearances for the Patriots, Moss has totaled 12 receptions for 142 yards and one touchdown, which are hardly star numbers. Sunday, Moss was openly dogging it on plays not meant for him, while making no attempt to block. Moss didn't block on a second-and-10 run his way, with eight minutes remaining and the Flying Elvii desperate. The runner lost yardage, and the Patriots ended the possession with a missed field goal. Midnight has struck, and Moss has turned back into a pumpkin.
[+] Enlarge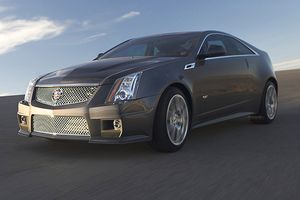 Cadillac/Getty ImagesA 2011 Cadillac. Sorry it took so long.
As for the Nevermores, rush for 234 yards, get four takeaways and maybe you'll win the game. The Baltimore side of the football looked like Oklahoma in the 1950s: rush, rush, rush, then for variety, throw incomplete. At the goal line and twice on third-and-short, the Ravens lined up with six offensive linemen plus defensive tackle Haloti Ngata as an extra tight end: the undersized, speed-based Colts defense may have trouble with this ultra-jumbo set. Though the Ravens won big, they didn't look particularly good, except when forcing turnovers. If I were the Ravens, I'd worry about going to Indianapolis.
Trailing 33-14 with 7:24 remaining, New England faced fourth-and-11 on the Baltimore 26. You're the coach -- what would you do here? The deficit is 19, meaning at least two touchdowns and a field goal are needed. Belichick ordered a field goal attempt, which shanked, effectively ending the game. But suppose the field goal succeeded. Then you need two touchdowns and two successful two-point tries. TMQ would argue that down by 19 points, in effect you need three touchdowns, because the odds of getting two touchdowns both with successful deuce plays, plus a field goal, are so small. In effect, you must score five times. That's just not going to happen in such a short span on the clock. Though it was fourth-and-11, New England should have gone for it: The effective deficit was three touchdowns, so a touchdown had to be scored at this point. Also, a touchdown here would have fired up that spoiled, fair-weather New England crowd; a field goal, even successful, would have started the crowd streaming for the exits. Belichick should have gone for it. Though success was not likely, the 7:24 mark was New England's last hope.
The counterargument is "sustain the game." Kick the field goal to make it 33-17 and New England remains in the game, however tentatively -- maybe the Ravens will commit a quick turnover. Try and fail on fourth-and-11, and the game is over. Consider the 1993 contest between the Cleveland Browns and Los Angeles Raiders. The Browns trailed 13-0 and faced fourth-and-short on the Raiders' 15 in the fourth quarter. Going for it and succeeding would be great; going for it and failing ends the game; taking the field goal sustains the game. Cleveland took the field goal and a 13-3 deficit; coming off the bench, Vinnie Testaverde rallied the Browns for a last-second 19-16 victory. The Cleveland coach in 1993? Bill Belichick. TMQ thanks Detroit Lions head coach Jim Schwartz for suggesting this example of "sustain the game" strategy.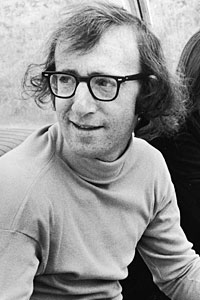 United Artists/Getty ImagesAllen's other cigarette joke: "I've been a little jumpy since I quit smoking." "When was that?" "Twenty years ago."
Verbiage note: Referee Gene Steratore announced a foul against the Ravens as "ineligible member of the offense downfield." Member of the offense? "Beat it, pal. This huddle is for members only."
Glorify Splatter Killings? Sure, So Long as the Murderer Doesn't Smoke: The Center for Tobacco Control Research and Education caused a stir last week by denouncing the fact that in "Avatar," when the Sigourney Weaver character awakens from her mind-projection chamber, she demands a cigarette. At that point in the movie, TMQ thought "Avatar" was setting up a joke about how in the future, tobacco would be considered beneficial. Recall that in the 1973 Woody Allen movie "Sleeper," a character awaking two centuries in the future hears a doctor advise him to consume plenty of hot fudge, but avoid carrot juice, which is bad for your health. "Setting up a joke" could have happened, however, only if "Avatar" had a writing budget in addition to a special effects budget.
TMQ doesn't smoke and wishes no one did. But hand-wringing over a few cigarettes on screen -- editorialists denounced the movie's smoking scene, Hollywood grandees were quoted as being discomfited -- exposes a larger underlying hypocrisy of modern filmmaking. It's bad to show cinema characters smoking if audiences are impressionable and imitate what they see in movies. Yet it's fine in modern movies to show murder and torture: Entire films, screened in suburban shopping malls, are premised on the notion that it's fun to watch helpless people being stalked, slashed or tortured to death. Hollywood's justification is that audiences know cinematic violence is phony. So we are supposed to believe that showing smoking in the movies is bad because viewers are impressionable, but glorifying violence on screen is fine because viewers are not impressionable.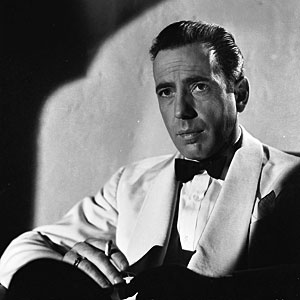 Getty ImagesCensor this inappropriate picture! If he were torturing someone to death with a power drill, that would have been perfectly fine.
Bear in mind that Hollywood now sells more tickets overseas than within the United States. What young audiences in developing-world nations are seeing from Hollywood are depictions of extreme violence and brutality being celebrated as really cool fun. That won't encourage actual violence, heavens to Betsy no!
'Tis Better to Have Rushed and Lost Than Never to Have Rushed At All: As noted by many readers, including Aaron Schulman of Wilmington, Del., TCU entered the Fiesta Bowl averaging 40 points per game using a rush-oriented offense that ran twice as often as it passed. Yet in the game, TCU coaches called 53 pass plays and 23 rushes, resulting in 10 points. It wasn't a big-comeback situation -- the Horned Frogs never trailed by more than a touchdown. Most telling was the fourth quarter, when TCU coaches called 17 passing plays and no runs, including no rushing plays on a possession that began at the Boise State 31. That possession went incompletion, sack, short completion, incompletion.
How can you not love Boise State? Blue turf, trick plays and now two BCS bowl victories in the past four years. Not many big-conference football-factory schools can make the latter claim, including current champion Alabama. Here are the colleges with two BCS bowl wins in the past four years: USC, Florida, LSU and Boise State. Other powerhouse football schools -- Florida State, Miami, Michigan, Nebraska, Ohio State, Oklahoma, Oregon, Penn State, Tennessee, Texas Tech and UCLA -- are staring at the taillights of the Broncos of Boise State.
[+] Enlarge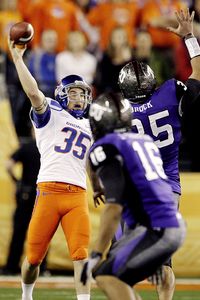 AP Photo/Ross D. FranklinBlue turf, trick plays, BCS wins -- how can you not love Boise State?
Rooney Rule a Sham? The Rooney Rule, that NFL teams cannot hire a new head coach or general manager without interviewing a minority candidate, in recent use smacks of snake oil. The Redskins hired Bruce Allen as general manager, then Mike Shanahan as coach, without any meaningful consideration of anyone else. Skins assistant coach Jerry Gray, who is African-American, appears to have been interviewed strictly to satisfy the letter of the rule; the spirit of the rule was ignored. Seattle appears to have hired Pete Carroll as coach without giving meaningful consideration to anyone else. The Seahawks interviewed Minnesota defensive coordinator Leslie Frazier, who is black, but reportedly not until they were already finalizing a deal with Carroll. The Rooney Rule was supposed to be about progress, not public relations tokenism.
Imagine how excruciating it must be to be one of those called in for a sham interview for a coach or general manager slot the team has already decided to give to someone else. You'd ask, "Why does anyone agree to participate in this charade?" Because the NFL is a fraternity, and if you want to continue as a member, you go along to get along. Gray, or anyone in similar shoes, knows that if he gains a reputation as willing to do favors for management, some team's management will do a favor for him. If he won't do favors for management, he will be frozen out. But the interview sham can have a downside. Ted Cottrell, who did a great job as defensive coordinator for the Bills, Jets and Vikings, got called in for so many head-coaching interviews that were shams to cover the Rooney Rule that it seemed to burn him out, reduce his effectiveness and make him bitter about the NFL. Cottrell may have actually believed he was being considered for the jobs! He's now exiled to the UFL, and that's not because he forgot how to coach.
Washington's and Seattle's sham compliances with the Rooney Rule received the blessing of the Fritz Pollard Alliance, named for the first black head coach in pro football. (Pollard also made the Hall of Fame as a single-wing quarterback.) The Alliance has become the NFL's go-to organization for diversity questions. You can't tell from Pollard Alliance statements about itself whether it is a philanthropy (in which case donors should be disclosed) or a private business. The Alliance was started by the late Johnnie Cochran, a businessman to the core, and it reveals nothing about its finances. Which raises the question: Is the Pollard Alliance operating under contract to the NFL or its member teams? That would not be improper, but if so should be disclosed to the public, considering the NFL refers reporters to the organization as an independent authority.
What's extra annoying about sham compliance with the Rooney Rule is that the NFL is doing pretty well by diversity measures. Six of 31 filled head-coaching slots are currently held by African-Americans, and there are several black general managers. That's a lot better than the Football Bowl Subdivision of the NCAA, in which fewer than 10 percent of football head-coaching jobs are held by African-Americans and precious few black athletic directors are to be found. Columnist William Rhoden of the New York Times noted last month, "Five of the last six Super Bowl teams have had either an African-American head coach or an African-American general manager." Did any of this happen owing to the Rooney Rule? Surely, Mike Tomlin benefited from the policy in his hiring, because the rule was the Steelers' idea, and then by his performance proved he deserved the job. The performance of African-Americans as head coaches and front-office executives dispels any previous prejudice: Is there an NFL owner who today would hesitate to hire Tony Dungy or Jerry Reese? Thus perhaps we no longer need a Rooney Rule. The rule did its job, and now can be retired.
Outlaw Leaves Town One Step Ahead of the Posse: Carroll said in the past that he would return to the NFL only if it was to a team on the West Coast, and only if he had total control. That West Coast stipulation rapidly narrows the field, and it is hard to think of a nicer place to live than Seattle. As for total control, is it a good idea? Mike Holmgren struggled when he was both president and head coach of the Seahawks; after he gave up the front-office job to concentrate on coaching, the Blue Men Group went to the Super Bowl. Ego-visible-from-orbit types want to be both the coach and the general manager, so no one sits above them and no decision is ever questioned. But these are two distinct jobs, and history shows that one person trying to do both does two jobs poorly. Seattle may appear to hire a general manager above Carroll, as another Rooney Rule sham. But Carroll shouldn't want all the decision-making power.
Is Carroll a weasel coach, joining Rich Rodriguez, Nick Saban, Bobby Petrino and Brian Kelly as weasels who walked the instant dollars were waved? I haven't seen any reporting on Carroll's USC contract -- whether it gave him the right to leave at any time, or whether he snuck out somehow. There is suspicion that substantial NCAA sanctions soon will be imposed on USC for recruiting or payola violations during Carroll's tenure. Like in a cowboy movie, he seems to have ridden out of town just before the posse arrived. That's pretty weasel-like. Will USC end up taking down Carroll's picture and removing his name from the school's record books?
Another Reason Old Media in Decline: Tuesday Morning Quarterback was a lifelong subscriber to Columbia Journalism Review until, a few years ago, the phone rang at 8 p.m. during a family Sunday dinner, and it was a CJR telemarketer calling to ask if I wanted to extend my subscription. Instead, I said with full righteous mettle, "Cancel my subscription!" Recently, e-mails from the magazine have been showing up in my mailbox. Most e-mail services offer a one-click unsubscribe option. Not Columbia Journalism Review, whose e-mails say, "To unsubscribe send a blank e-mail to leave-cjr-o-79934E@lists.jrn.columbia.edu." The absurd length of the e-mail address is to discourage you from typing it out, or if you do, to make an error likely. This is an Internet variant of what TMQ calls the Voice Prompt Blockade -- those voice mail prompts which are designed to be impossible to get through.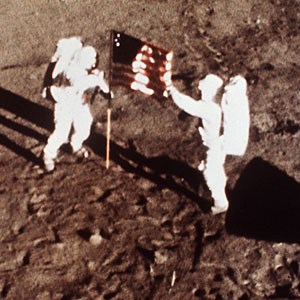 AP Photo/NASA"That's one small step for Homo sapiens, one giant leap for genus Homo."
Humans Believed to Run ESPN; Experts Not Certain: Commemorating Apollo 11, the New York Times headlined, "40 Years Ago, Humans Set Foot On The Moon." So it wasn't Wookies in those spacesuits! When the Navy shot down a malfunctioning military satellite, a Pentagon spokesman claimed this was necessary because if a reinforced tank from the satellite hit the ground, it could "kill humans." Luckily the Na'vi were in no danger! ATK Launch Systems, prime contractor for NASA's new Ares I rocket, recently declared, "Ares I can deliver humans to orbit." So Klingons won't be allowed aboard! After the disputed Tennessee-Rutgers women's basketball game last winter, the Times headlined, "Timing Error May Have Been Human's." So the timekeeper was not a Vulcan! A New Yorker story on the prospect of robotic weapons reassured that the attack drones flying above tribal Pakistan "are operated by humans." The Borg would subcontract to do that job cheaper!
TMQ continues to object to the affectation of saying "humans" when meaning "people." Since there are no known intelligent beings other than people, it's really not necessary to specify the family "Hominidae." In almost every case in which the word "human" is used, "people" or "person" is the better choice.
The Washington Post reported a system of selling smart cards to adults, so only adults can buy cigarettes from vending machines, has failed in Japan because "smokers come instead to convenience stores to buy cigarettes from a human being." Maybe in Japan, but the convenience store I go to definitely is clerked by space aliens!
I Hired Him, I Supervise Him, But He's the One to Blame: The three teams that fired offensive coordinators on the season's eve -- Buffalo, Jacksonville and Tampa -- finished a combined 16-32. Firing a coordinator sure helped! Firing coordinators is a long-standing tactic for the head coach to shift criticism away from himself. With the season ended, the Bears and Giants are among teams to fire coordinators.
Head coaches want fans, and team owners, to assume the coordinators are responsible for whatever goes wrong. But coordinators are hired by the head coaches -- and supervised by them. If the coordinators are screwing up, and a principal role of the head coach is to supervise the coordinators, then what, exactly, are the head coaches doing all day as the coordinators screw up?
[+] Enlarge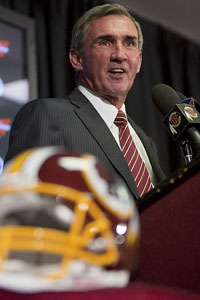 AP Photo/Evan VucciMaybe Chainsaw Dan Snyder's megabucks can finance the cloning of John Elway.
Ultimate Leader Rehabilitated! When Mike Shanahan coached the Broncos, this column called him The Ultimate Leader. Denver's official bio of Shanahan, almost surely approved by him, contained such sugar-frosted praise as, "Every successful team has one key leader, and those organizations that have achieved the greatest success have an ultimate leader -- an individual combining exceptional talent and organizational skills with the dynamic drive to lead others to success. One of the most brilliant minds in football, Executive Vice President of Football Operations and Head Coach Mike Shanahan is such a man." When Chainsaw Dan Snyder hired Bruce Allen to be the Redskins' top executive, then hired Shanahan as coach, my first thought was, "How can an Ultimate Leader report to someone else?" The answer is the Skins have declared that although Allen is general manager, Shanahan will have "ultimate authority." Maybe he told them what word to use!
The Ultimate Leader seems to be a decent coach, but how many playoff victories does he have in the past decade? One. When Shanahan was coaching John Elway, he compiled a 7-1 postseason record; since Elway hung up his cleats, Shanahan is 1-4 in the postseason. In his 16 seasons as an NFL boss man, Shanahan led his teams into the playoffs three of four years with Elway and three of 12 years without him. Just as great offensive lines make quarterbacks seem more talented, great quarterbacks make coaches seem more talented. Bill Walsh had Joe Montana and Steve Young; Chuck Noll had Terry Bradshaw; Tom Landry had Roger Staubach; Marv Levy had Jim Kelly; Jimmy Johnson had Troy Aikman; Bill Belichick has Tom Brady. Don Shula and Joe Gibbs are the coaches who come to mind as able to produce powerhouse playoff teams regardless of who was at quarterback. Few coaches have that ability, and Shanahan hasn't demonstrated it.
Jersey/B at Cincinnati Analysis: This game was over when the Cincinnati linemen did not come out with bare arms. Everyone knows about the famed 1982 San Diego at Cincinnati playoff contest, played in bitter cold, for which Cincinnati linemen came out with bare arms, intimidating the Chargers. Another home playoff game in bitter cold, how could Cincinnati not have repeated this psych tactic? The Cincinnati players, and coaches, seemed more concerned with staying warm. Now that they're out of the playoffs, they can take a nice vacation in a warm clime.
The Bengals looked sluggish from the start, as they had looked in their previous two outings. Cincinnati's offense is a low-voltage affair designed to hold leads created by defense. Once the Bengals were behind, they were beaten, because Cincinnati has no quick-strike potential. The Cincinnati offensive line had an awful day (see more below), and seemed unprepared for overload blitzing, though Jets defenders practically hand out cards that say, "Hi, we overload blitz, have a nice day." There were five downs on which a blitzer reached Carson Palmer without ever being blocked by anyone. When the Jets blitz, their corners press. To counter the Jets' blitz, throw deep and make them pay. Instead, Cincinnati constantly attempted rinky-dinky short passes against the Jersey/B blitz, not making the Jets pay a price for their tactics. Palmer threw deep only once in the first three quarters. This hyper-conservative approach resulted in 39 called passing plays for Cincinnati netting a meager 110 yards. Cincinnati averaged 2.8 yards per pass, Jersey/B averaged 12.1 yards per pass. That mattered more than the Bengals' two missed field goal attempts.
Was I totally wrong about the Jets? Two weeks ago, TMQ wrote that although Jersey/B's formula of first-ranked defense and first-ranked rushing attack "seems designed to win outdoor games in January," nevertheless "the Jets are just a terrible team." Suddenly they are not a terrible team. The Jersey/B offensive line is playing well: Blocking was perfect on Shonn Greene's long touchdown run, a sweet play during which he took a counter-step right then got the ball on a quick flip left. Sanchez is playing notably better than he did midseason. Keller has become a star. Defenses that crowd the line against the Jets' rush are begging Sanchez to throw deep. If he starts hitting a deep pass even once a game (or if Braylon Edwards starts catching deep passes), the Jets' offense could become dangerous.
The top-ranked Jersey/B defense is using the same blitz-wacky approach Rex Ryan employed to good effect in Baltimore. TMQ keeps thinking this won't work against a superior team such as San Diego or Indianapolis, which will block the wacky blitzes and then hammer the Jets deep. But so far so good from the Jersey/B perspective. Seriously, how many starters for the league's top-ranked defense can you name without peeking? Two Jets defensive starters, Jim Leonhard and Marques Douglas, were undrafted. Douglas has been waived by four NFL teams, Leonhard wasn't recruited out of high school and had to walk on at Wisconsin. Kids, never give up!
Do I Imply That TMQ Readers Are Classy? On Wednesday at 11 a.m. ET, I will be the guest on the "Diane Rehm Show," NPR's premiere talk show and the leading book-discourse venue in contemporary culture. (Check with your local station for air times.) I'll be talking about my new book "Sonic Boom," which just arrived in stores. The book is about the pluses and minuses of the evolving global economy. Quotes regarding the book, and links for online purchase, are here. "Sonic Boom" has been out only one week, and already Random House has ordered a second printing, which is a good sign. I have my fingers crossed. If you buy one now you will be buying the first edition, and it's always classier to have the first edition of a book.
Hidden Play of the Wild-Card Round: On the first offensive snap of overtime, Green Bay ball at its 20, Greg Jennings ran a Z-in deep, beat his defender by 10 yards -- and Aaron Rodgers overthrew him. Had the pass been on target, Jennings likely would have gone the length of the field for the winning score. Instead, two snaps later, Rodgers fumbled and Arizona won.
Green Bay at Arizona Analysis: Green Bay's defense, ranked second in the NFL, gave up 532 yards and 51 points -- ye gods. The Packers showed some courage in their comeback bid (an onside kick, going for it on fourth-and-5). Yet Green Bay's decision-making puzzled TMQ.
[+] Enlarge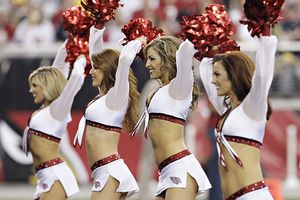 AP Photo/Ross D. FranklinIn Arizona, they chant, "We score more!"
In the second half, Green Bay played "voodoo" defense: no one down in a stance, the defensive front dancing around, often only one defensive lineman on the field. Obviously it didn't work -- Arizona averaged 9.3 yards per offensive play -- so why did Green Bay stick with an unorthodox defensive tactic that was backfiring?
Trailing by the new economy score of 24-7, Green Bay reached first-and-goal on the Arizona 9 with a minute remaining in the first half, holding two timeouts. The Pack let the clock run, apparently hoping to get a touchdown as time expired. Instead what they got was a personal foul on Arizona with four seconds remaining, which moved the ball to first-and-goal at the 2. From there, Green Bay kicked a field goal as the clock expired, with an unused timeout to donate to charity. Had the Packers conserved even a little time, they would have been in position for a likely touchdown just before intermission, and four more points in a game that ultimately went to overtime. Trailing 45-38, Green Bay had first-and-10 on the Arizona 11 at the two-minute warning, and rather than trying to run down clock, Packers coaches called an empty backfield play that produced a quick touchdown, leaving Arizona time to move into position for the short field goal attempt that sailed wide. When trailing big with a half to go, Green Bay should have conserved time to increase the odds of a touchdown. When trailing by seven with regulation nearly over, the Packers should have wound down the clock.
What really puzzled me about Green Bay tactics was why the Packers didn't go for two. Scoring to make it Arizona 45, Green Bay 44 with 1:51 left in regulation, Green Bay took the singleton. By going for one, the Packers handed the ball back to an offense that averaged 9.3 yards per play, punted only once on the day and had two timeouts. True, had Green Bay converted a deuce and then the Cardinals hit their last-second field goal, Arizona still would have won. But Arizona missed that field goal. Had Green Bay gone for the deuce and converted, after the field goal miss, the Packers would have won. The Packers needed 2 yards to take the lead for the first time in the game -- and on the day, Green Bay averaged 7.4 yards per offensive play.
That Kurt Warner is pretty good. So is his offensive line, which allowed only one sack, and gave Warner sufficient time to rather casually complete 29 of 33 passes. This season when Warner has been sacked fewer than two times, he has thrown no interceptions, a trend that held Sunday. The Cardinals quietly rushed for 156 yards, sometimes lining up two defensive tackles in the backfield as extra blockers. That Larry Fitzgerald is pretty good. Charles Woodson played him super-physical, at one point stripping the ball from Fitzgerald for a fumble. But Fitzgerald got the better of the pushing match -- on both his touchdown receptions, Woodson tried to jam Fitzgerald more than 5 yards downfield, and both times Fitzgerald shoved Woodson to the ground.
If Green Bay had won, TMQ would have featured a prominent "Stop Me Before I Blitz Again" item. Arizona blitzed a way-too-high 32 times on 50 Packers called passes (attempts, sacks and scrambles). Five sacks resulted, but so did numerous Green Bay big plays. Arizona was blitzing on both of Greg Jennings' long receptions in the third quarter, blitzing on all second-half Green Bay touchdowns (including a double safety blitz on the touchdown to Jordy Nelson) and blitzing on the fourth-and-5 converted by Green Bay. Perfect chance for TMQ to denounce the blitz! Then Arizona blitzed on the overtime sack-and-fumble down that won the game.
Excessive blitzing came one play short of undoing the home team in the NFL's highest-scoring postseason game ever. If Arizona blitzes so much against the Saints, doom awaits -- like all skilled veteran quarterbacks, Brees wants to be blitzed. For Arizona, constant blitzing equated to 493 yards allowed; for Green Bay, unorthodox defense equated to 531 yards allowed. This seems to support TMQ's position that nine times out of 10, conventional position-oriented defense is best.
[+] Enlarge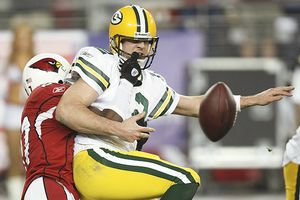 AP Photo/Matt YorkGrabbing the face mask? We see nothing -- nothing!
Regarding the winning play, because Aaron Rodgers was attempting to tuck the ball away when it came loose, many readers asked why the "tuck rule" -- recall the 2002 Snow Bowl game between Oakland and New England -- did not apply. The tuck rule reads, "When a Team A player is holding the ball to pass it forward, any intentional movement of his hand starts a forward pass, even if the player loses possession of the ball as he is attempting to tuck it back toward his body." In a tuck situation, a ball that flops free from the quarterback is an incompletion. (TMQ has long wondered why quarterbacks about to be sacked don't simply make a tuck gesture, converting a sack into an incompletion, but that's another matter.) The presumed explanation regarding the Rodgers play is that the ball never touched the ground. Rather, the ball caromed to a defender and thus was an interception -- so the tuck rule did not apply. Here's the rub. As pointed out by Matt Shrimpton of Boulder, Colo., the scorer ruled the play a fumble -- see the notation near the end of the league's Game Book. It can't be a fumble when the quarterback is trying to tuck the ball!
As for the no-call of grabbing the face mask, league spokesman Greg Aiello told The New York Times a no-call could be justified if Michael Adams of Arizona did not twist or pull Rodgers' face mask. It sure looked as though Adams did, but set that aside and check the rule example cited by the league -- one that applies to a "runner." Rodgers was a passer on the play, and NFL rules make a significant distinction between a runner and a passer. There are special rules that protect only the quarterback, because someone in a passing stance is defenseless. One -- Rule 12, Section 2, Article 12, Paragraph 3 -- makes any contact to the passer's "head, neck or face" a personal foul. It was this rule that officials used in the third quarter of the same game to assess a roughing-the-passer penalty against Green Bay after Cullen Jenkins smacked Kurt Warner's helmet with an open hand. Does anyone believe a special rule that protects a quarterback's "head, neck or face" nevertheless allows grabbing the quarterback's face mask? ("Head" means helmet, because you can't touch the head of a player wearing a helmet -- that justifies the penalty on Jenkins -- and the face mask is part of the helmet.) Everyone accepts that Arizona won the game, but the NFL should muster the courage to admit the zebras blew this call.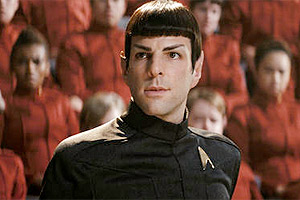 Paramount PicturesIf he were 10 feet tall, blue and obviously fake, ticket sales would increase.
Reader Comments: Numerous readers took issue with my complaints about "Avatar," and most of the messages originated in this solar system. I said it was implausible that a private company could build a military base on a distant world without any government involvement or supervision. Tucker Mitchell of Huntersville, N.C., countered, "Call tea and spice 'unobtainium' and that sounds much like the British East India Company (and its French rival) in the 17th and 18th centuries on the subcontinent. They operated under government license but without much guidance. They waged war, conducted diplomacy, deployed troops and settled territory on their own. Who's to say that 150 years from now, that there will [be] government regulation in space? By then moons could be available for exploitation by any company with the trillions needed to pay for a space fleet, purchase suspended animation machinery, hire doctors and mercs, buy and transport hovercopters, fighting suits, a bazillion rounds of ammunition, bulldozers, diesel fuel and so on. Implausible? Sure, but you were willing to believe the floating mountains."
I objected that it wasn't clear whether the fatigue-clad warriors who slaughter Pandorans were regular military or a private army, noting the noble helicopter pilot -- the sole sympathetic military character -- is addressed as "Marine." Many readers, including Sharon Gunzelmann of Tulsa, Okla., countered, "Once a Marine, always a Marine. It is an honorific that stays with you after you leave the service, the way a former judge is always addressed as 'Judge.'" Andrew Whitford of Darlington, Australia, felt it was clear the people in question were mercenaries, if ex-military: "It is explained in a Sam Worthington voice-over that the soldiers on Pandora are employees of a corporation. While not further elaborated, one might imagine this a Halliburton-esqe enterprise. From their standpoint, the soldiers did not slaughter innocents but initiated a fight against a people that were technologically outmatched, not that different from military treatment of Native Americans. From the perspective of the soldiers, the Na'vi are dangerous insurgents who place them, far from home, in a kill-or-be-killed dilemma. Which is why they are so enthusiastic about the colonel's attack plan -- get the bad stuff over with, obtain the reward, leave the planet. This may not be moral, but mercenaries in their situation might think that way." He adds, "The mine the movie shows is an open-pit mine. This implies that the precious ore they were seeking is low in ratio to the overburden, thus making it uneconomical to solve the diplomatic problem by leaving the Na'vi alone and obtaining the ore using horizontal extraction mining."
I was troubled that the movie builds up to a lengthy sequence in which the audience cheers as former U.S. military personnel are graphically slaughtered, including a scene in which the blue avatar of Jake Sully, the protagonist, machine-guns some soldiers in the back. Edward Boyce of Sydney, Australia, writes, "You asked, 'When did watching depictions of U.S. soldiers dying become a form of fun?' Part of the answer is that the U.S. military is unpopular outside its home country, and Hollywood blockbusters cater to an international market. Avatar's earnings in its first three weeks were $352 million in North America and $673 million in the rest of the world. I can't explain why American audiences pay to see their soldiers blown up. But in the international market, dead American soldiers are appealing, and Hollywood is only too happy to oblige."
Finally this from Trey Lindsey of Dallas: "I am a member of the U.S. military and I felt like I was taking crazy pills while watching that movie with my wife and son. I sat wide-eyed and appalled as the rest of the audience actually applauded as U.S. Marines -- whether they were mercenaries seems irrelevant, they were referred to as Marines, called themselves Marines and wore Marine-style uniforms -- were slaughtered on camera. I watched Avatar in Nashville, a historically conservative city located near a major Army base that is home to one of the legendary units that liberated Europe in World War II, the 101st Airborne. There is a graveyard in France full of men who once lived near Nashville and who died opposing fascist tyranny. But to Hollywood, U.S. soldiers are evil and deserved to be slaughtered as audiences cheer."
Philadelphia at Dallas Analysis: Was that really Wade Phillips dancing as the clock reached all-naughts of a playoff game? Could it be that after head-coaching 140 NFL contests, Phillips finally had a postseason win? At last the football gods showed mercy to him.
The win had more to do with Phillips than might meet the eye, as Wade is both the Cowboys' coach and runs the defense. The Dallas defense quietly finished second in points allowed in 2009, and has given up just 31 points in its past four outings, which is outstanding. Dallas rarely blitzes, relying on its front four for pressure while the secondary plays off to prevent long gains -- structurally, the Boys' defense looks like the 1970s Purple People Eaters defense which was the league's exemplar when Phillips was breaking into the NFL as an assistant with the old Houston Oilers. Against Philadelphia, the Cowboys surprised Andy Reid by blitzing, especially safety blitzing, which Dallas has rarely done this season. Because the Cowboys don't blitz much, this tactic was effective -- of course, future opponents are now on notice.
On offense, the Cowboys' line, which was overrated last season, is performing well this season. Guard Leonard Davis made a perfect pull block on the long Felix Jones touchdown run that iced the contest for Dallas; he and other offensive linemen played with an enthusiasm previously absent. Undrafted Miles Austin gives Tony Romo the "A" receiver he has long needed to complement the Dallas rushing attack. The undrafted Romo, who has wilted in previous late-season pushes, this year looks like a star quarterback. On Saturday night, the Cowboys seemed a completely different team from the one that honked out to the Giants a month earlier. Is Dallas for real, or did the Cowboys luck out with two straight dates against fading Philadelphia? In 2009, the Boys are 4-2 against teams that made the postseason: a win over New Orleans, and three victories versus Philadelphia. If nothing else, the football gods have allowed Dallas vengeance for the 44-6 drubbing by the Eagles that ended the Cowboys' 2008 season.
As for Philadelphia, could it be that Jamaal Jackson was the league's MVP? Since the Eagles center went out injured in Week 16, the Philadelphia offense declined from among the league's best to 14 points in its final two outings. Many snaps were bad, disrupting play timing, and backup center Nick Cole doesn't understand how to move laterally to help other blockers, which Jackson does well.
The very expensive Philadelphia offensive line played terribly at Dallas, with megabucks left tackle Jason Peters, the league's highest-paid offensive lineman, repeatedly scorched by DeMarcus Ware. Ware's two sacks were not as important as his steady pressure on Donovan McNabb. Once, Peters just brushed Ware, then turned around to watch as Ware slammed into McNabb; on another down, McNabb was called for grounding after Peters lightly brushed Ware and then stood doing nothing. The rap on Peters, who made the Pro Bowl, is that if the game is going poorly, he quits -- and Peters quit early at Dallas.
The Philadelphia defense is the opposite of the Dallas defense, blitzing constantly. If your offensive line stops the blitz, as the Dallas line did, then the Eagles' corners are exposed. Megabucks corner Asante Samuel, Philadelphia's highest-paid defender, had a terrible game. Austin drew a 41-yard pass interference penalty, setting up Dallas on the Philadelphia 1, on a play on which Samuels barely even bothered to jog after Austin, let alone cover him. Samuel also drew an extremely silly unsportsmanlike conduct penalty with 46 seconds remaining in the first half, helping Dallas into position for a last-second field goal. If I were Eagles management, I'd want my money back for Peters and Samuels. The ever-boasting DeSean Jackson -- was he in this game? Jackson has to learn to boast after he does something, not before.
Sportsmanship Would Offend the Boosters: TMQ was at the BCS championship, where half an hour before kickoff, the public-address announcer read a disclaimer that included this warning: "Game events may include pyrotechnics, loud sounds and use of aircraft." What was the latter supposed to inspire me to do -- scramble interceptors? I rode the Citi BCS National Championship Shuttle from a satellite parking lot. Citicorp, which has taken billions of dollars in taxpayer subsidies, was the sponsor of the game. Should your tax dollars be used to underwrite football hype? That question is elaborated on by this smart column.
Colt McCoy was injured early and freshman Garrett Gilbert entered, never having played in a pressure situation in college. Instantly it was obvious the game would turn on whether Gilbert could perform cold. My seat was low behind the Texas sideline, with a clear view of the Longhorns coaches and players. To my amazement, when the Texas offense wasn't on the field in the first half, Gilbert simply stood alone. He wasn't throwing to his receivers. Senior leaders were not coming by to urge him on. And no coaches were talking to him! Texas not only has $5 million-a-year coach Mack Brown, it has a bloated coaching staff, yet none of these gentlemen came over to help Gilbert prepare, calm down or adjust. Greg Davis, the Longhorns offensive coordinator and quarterbacks coach, was nowhere to be seen as Gilbert stood alone. Just what exactly was Davis doing that was more important, at that moment, than helping a freshman get ready to go back in at quarterback in the national championship? Only when McCoy returned from the trainer's room in the third quarter, donned headphones and started assisting Gilbert, did the Texas comeback begin. McCoy, a student, was the one "coaching up" Gilbert. Where was the Texas coaching staff?
[+] Enlarge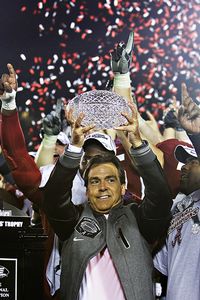 AP Photo/Marcio Jose SanchezA winning weasel, but still a weasel.
California note: Driving near Santa Monica before the game, I passed the Museum of Tolerance. I tried to go in but they told me, "We don't want your kind here."
The original Weasel Three -- Nick Saban, Rich Rodriguez and Bobby Petrino -- so far are 1-1-1. Alabama obviously is glad it hired Saban, Michigan obviously regrets hiring Rodriguez, and Petrino has had no clear impact on Arkansas. Saban recruits very well, that much is beyond question.
It was Alabama 31, Texas 21 with 1:38 remaining when the Crimson Tide reached first-and-goal on the Longhorns' 5, with Texas down to one timeout. Saban could have created a memorable moment in college football lore by ordering his team to kneel. It's unlikely Brown would have called his final timeout, but even if he did, four kneel-downs would have resulted in Texas ball near the Texas goal line with a few seconds remaining -- no possible Texas victory scenario. Had Alabama knelt on the ball, Saban would have made a statement about sportsmanship and been widely praised for doing so. Instead, Saban was a scown and ran up the score, the better to boast of his victory margin. (In "Avatar," the Na'vi word "scown" means buffoon.) Maybe Alabama can recruit some players from Yates High.
On the other side of the coin, one reason the Longhorns' backup quarterback was ill-prepared for his unexpected debut was that Brown kept McCoy in games well after Texas held a solid lead, in order to run up the score. With Texas leading UCF 28-3, McCoy was still on the field late in the fourth quarter, padding his stats and running up the score. With Texas leading Kansas 44-20 in the fourth quarter, McCoy was still on the field, running up the score to 51-20. Reader Charlie Letts of Charleston, S.C., asks, "Considering how rapidly Gilbert improved when he was finally playing, what might have happened had Texas used its backup more often in the regular season?" Texas boosters surely boasted, "We hung 50 on Kansas!" In the end, it would have been better to be able to boast, "Our backup quarterback was ready and he led us to a razor-close title win!"
[+] Enlarge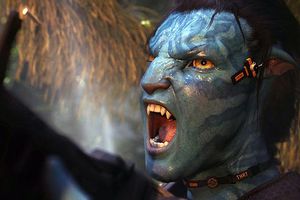 AvatarHe's no scown. He knows foreign audiences will pay to see former American soldiers slaughtered.
Single Worst Plays of the Season -- So Far: The Bengals' season was wheezing out at home, Cincinnati trailing by 10 points, facing third-and-14 on the Jersey/B 39 with 2:35 remaining. The Jets, who had been blitzing on most Cincinnati passing downs, rushed only three. Jets linebacker Bryan Thomas came through untouched to sack Carson Palmer. Center Kyle Cook and right guard Bobbie Williams were both near Thomas. Neither made any attempt to block him, or anyone; Williams practically stepped out of Thomas' way. Five to block three and one guy comes in untouched! Now it's fourth-and-22, what would turn out to be the final snap of the Cincinnati season. The Jets rushed four. Right tackle Dennis Roland blocked no one, and simply stood around watching. Left guard Nate Livings stood around watching, blocking no one. Shaun Ellis blew past Williams, who barely managed an olé -- sack, and the Cincinnati season was over. Bengals offensive line, you are guilty of the single worst plays of the season -- so far.
Next Week: Unable to think of a Person of the Year, TMQ names a Scown of the Year.
In addition to writing Tuesday Morning Quarterback for Page 2, Gregg Easterbrook is the author of the new book "Sonic Boom," and six other books. He is also a contributing editor for The New Republic, The Atlantic Monthly and The Washington Monthly. His Web site can be found here.