Commentary
Predictability plaguing the Colts
Booing -- the Indianapolis home crowd was booing the Colts early in the second half Sunday night, when the contest was far from over.
Four seasons ago, these Colts won the Super Bowl. Just nine months ago, they held the lead in the fourth quarter of the Super Bowl. For the past eight seasons, the Colts have won at least 12 games, one of the top achievements in NFL annals. Peyton Manning and Jeff Saturday are first-ballot Hall of Famers, and others on this team, including at least Dwight Freeney and Dallas Clark, will be considered to don the garish yellow jacket in Canton. Yet the home crowd was booing, and loudly.
This tells us the Indianapolis fans are spoiled. Yet the Colts have real problems, not just injuries -- all NFL teams must deal with injuries. San Diego has beaten Indianapolis in five of the past six meetings. Stretching back to kickoff of this past February's Super Bowl, Indianapolis is 6-6. In that span, Manning has thrown three interceptions that got returned for touchdowns. The Colts' rushing attack is ranked 30th. The Colts' defense is renowned for keeping games close, yet San Diego scored 36 points against Indianapolis the week after New England scored 31.
What's wrong with the Colts? Here is TMQ's take:
• Predictable play calling. This column has been warning since before the Colts-Saints title game that the Indianapolis offense is too predictable. Tracy Porter's game-icing pick-six in the Super Bowl came, Porter said, because he knew what the Colts would run for the down-and-distance they were in. Two interceptions were returned for touchdowns by the Chargers on Sunday. One might be a fluke; two means the defense was guessing plays and jumping routes. Manning has always been so efficient that it didn't seem to matter if the Colts endlessly ran the same looks from the same formation. Now it matters.
• Offensive line woes. For years, Manning has rarely been sacked or hurried; he's accustomed to a clean pocket. When he's hit, he becomes antsy, and in 2010, he's being hit. Philip Rivers, Drew Brees, Ben Roethlisberger, Michael Vick -- these quarterbacks seem to like chaos and excel when the pocket breaks down. Manning is a straitlaced guy who wants everything just so. This season, it's not.
• Ryan Lilja. After the Super Bowl loss, Colts general manager Bill Polian openly blamed the offensive line, which was a mean-spirited thing to do -- win as a team, lose as a team. He made guard Ryan Lilja the scapegoat, waiving him. Lilja was the Colts' best run-blocker, but Polian didn't care about that; rather, he blew his stack because there were two downs in the Super Bowl on which Lilja allowed Manning, the $100 million pretty boy, to get hit. This year, the Colts are having trouble running while Lilja is having a Pro Bowl season at Kansas City -- which leads the NFL in rushing. Oh, how the Colts now wish they still had Lilja.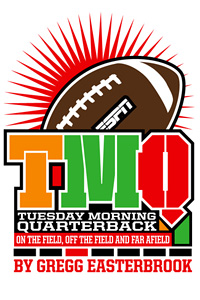 • Bill Polian. He blows his stack often. Polian is good at assembling NFL teams but wore out his welcome at Buffalo and Carolina, in playoff years in both places, because he's so hard to take. How much longer 'til he wears out his welcome in Indianapolis?
• Dallas Clark. Last season, he won the coveted "longest award in sports," the Tuesday Morning Quarterback Non-Quarterback Non-Running Back NFL MVP. Clark was chosen for "his disruptive impact on opposing secondaries." Now that disruption is missing, and safeties can choke up on Reggie Wayne and Pierre Garcon running the Colts' predictable routes.
Clark's backup, Jacob Tamme, is OK but nowhere near as effective and not a good blocker. Because the Indianapolis line has long been so good, the Colts' offense is based on five-man patterns, the hardest kind to defend. Against the Chargers, Indianapolis tried to run five-man patterns, and when this wasn't working, by the second half, Tamme was staying in the backfield to block. He did not do well. The Colts have a blocking tight end on the roster, Gijon Robinson, but they use him only at the goal line because they've always believed pinpoint Manning passes are the answer to all questions. Problems at tight end are spoiling this formula -- and, perhaps, proving Clark truly was last season's non-quarterback non-running back MVP.
• Gary Brackett. He was a finalist for the 2009 TMQ award. The little-known, undrafted Brackett numbers among the NFL's best defensive players. His absence is hurting the Colts much more than the absence of perennially injured Bob Sanders.
• Tony Dungy. He's in the broadcast booth rather than on the Colts' sideline. New coach Jim Caldwell looks lost much of the time. Caldwell compiled a poor Super Bowl game plan, and his 2010 game plans haven't been worth writing home about, either. Does Caldwell even understand this? That's the big worry.
With five weeks remaining, the Colts could still make a run -- I'd put a chip on them before I'd put it on several teams with better records. But the spoiled, booing Indianapolis spectators ought to cheer while they can because this franchise might be entering a cycle of decline.
In other NFL news, Forget the Titans! Three weeks ago, Tennessee was 5-3 with a 13-5 streak stretching back to last season. Now, the Flaming Thumbtacks have lost three straight; they're playing a befuddled third-string quarterback; coach Jeff Fisher and star Vince Young are openly arguing; corner Cortland Finnegan looks like a horse's behind; and, on Sunday, the Titans were shut out by the league's 31st-ranked defense.
This can't possibly have anything to do with the arrival of Randy Moss, can it?
Moss was sent packing in October by the Patriots, who are now 9-2 and are looking solid without him. He arrived at Minnesota, accomplished nothing but causing discord, and was waived. Since Moss arrived at Tennessee, the Titans have gone into an 0-3 nosedive. On Sunday, Moss didn't bother to chase a deep pass that might have been a touchdown. In the games in which Moss started for them, the Patriots, Vikings and Titans are a combined 4-7. Fisher said a month ago, when Tennessee was 5-3, "there is absolutely no risk" in bringing Moss aboard. Tennessee is now 5-6, and it's time to forget the Titans.
In college football news, the weekend could not have gone better for BCS proponents. Oregon and Auburn are now ideally positioned from the BCS perspective: If both win their finales, there will be no doubt they should be paired for the title. It's not often there is unanimity about who should meet to end the college football season. Here are the scenarios for the final regular-season weekend of big-college play: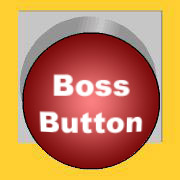 • Oregon and Auburn win. They are invited to the BCS title game, with zero controversy. TCU is the clear BCS third-ranked team and makes one of the major bowls, paired against an automatic-qualifier conference team. This is what the Horned Frogs have been striving toward for years.
• Either Oregon or Auburn loses, but not both. The one that doesn't lose would face Texas Christian, which would rise to second, for the BCS title. A case could be made that even with one loss, Oregon, Auburn, Wisconsin or Stanford belongs in the title game over an undefeated TCU, owing to tougher schedules. But regarding title pairing, the BCS formula is cut-and-dried -- the two top-ranked teams advance. A championship contest of TCU versus Oregon or Auburn would have David-versus-Goliath appeal. If TCU won, it would be one of the greatest-ever sports stories. If TCU lost, BCS proponents could say, "See, we told you."
• Oregon and Auburn both lose. Chaos. TCU would finish first in the BCS rankings and meet one of several possible schools, including Stanford. Your columnist would be on the first plane to attend a TCU-Stanford national title game, pitting an outsider small college against one of the few major football programs that actually requires players to attend class. Backers of Oregon, Auburn, Wisconsin and Ohio State would go nuts if the championship were TCU-Stanford. This scenario would provide the amusement value of football-factory types maintaining that it is somehow unfair that schools where the students study are playing for a football championship -- and this scenario would give ammunition to the argument that the top of Division I needs a playoff.
Last year, the BCS paired TCU and Boise State to deny both the chance to defeat one of the insider schools. Now with the Horned Frogs no lower than third in BCS rankings and Boise State at 11, this gimmick seemingly can't be repeated. The Broncos are long shots for a major game -- the BCS bowl committees, which choose participants below the title level, might enjoy passing on a school that openly criticizes their cartel.
But consider: The Big East winner, with at least four defeats (there's a chance the conference will produce a 7-5 champ) will attend the BCS party, while Michigan State at 11-1, LSU and Arkansas at 10-2, and at least one of Missouri, Nebraska and Oklahoma, all highly ranked -- aren't invited. Which means this year, the BCS format will harm some football-factory cartel members. The football gods will chortle.
Stats of the Week No. 1: Atlanta and Pittsburgh, which did not make the playoffs last season, are on a combined 23-5 streak.
Stats of the Week No. 2: Cincinnati, Dallas and Minnesota, which did make the playoffs last season, are on a combined 9-28 streak.
Stats of the Week No. 3: Matt Ryan is 19-1 as a starter at home.
Stats of the Week No. 4: The Broncos won their first six games under Josh McDaniels and are 5-16 since.
Stats of the Week No. 5: Playing in Seattle, Kansas City outrushed Seattle by 250 yards.
Stats of the Week No. 6: All NFC West teams have losing records.
Stats of the Week No. 7: Detroit has lost seven consecutive Thanksgiving Day home contests and been outscored 258-98 in the process.
Stats of the Week No. 8: David Garrard's passer rating game by game has either been above 122 (excellent) or below 65 (awful). Noted by reader Andy Iverson of Kansas City.
Stats of the Week No. 9: (College bonus.) Oregon has outscored its opponents 101-14 in the fourth quarter.
Stats of the Week No. 10: December is about to begin, and Philip Rivers is 19-0 as a starter in December.
Cheerleader of the Week: Marissa of the Chargers, who, according to her team bio, coaches high school cheer and works as a magazine editor. This is a great time to be a magazine editor -- magazines still exist!
Sweet Play of the Week: With Atlanta leading 10-3, the Packers had first-and-goal on the Falcons' 1. Green Bay came out shotgun spread five wide -- maybe it's just as well that Vince Lombardi did not live to see the Packers in an empty backfield on first-and-goal at the 1. Green Bay has gone five wide at the goal line often this season, so Atlanta, expecting the formation, put a dime on the field. Calling signals, Aaron Rodgers looked up and saw that the Falcons had no middle linebacker, meaning five blockers against four defensive linemen: He simply quick-snapped and ran straight up the middle for the touchdown.
This was the same read -- empty formation, no middle linebacker, five blockers against four defensive linemen -- that Mark Sanchez turned into a key touchdown two weeks ago in the Jets' comeback over the Browns. For Green Bay, the touchdown was sweet, though the methodical Falcons prevailed late -- see below.
Sweet Defensive Play of the Week: On Philadelphia's first goal-to-go situation at Chicago, Michael Vick sent Jeremy Maclin to the center of the end zone and hit him with an 8-yard touchdown pass that made it Bears 14, Eagles 10. At the two-minute warning of the first half, with the Bears up by 1, the Nesharim had second-and-goal at the Chicago 4. This time, Chicago put linebacker Brian Urlacher and safety Chris Harris in the center of the end zone. At the snap, both covered Maclin, who once again was headed to the center. Urlacher deflected the pass, and Harris intercepted it. Sweet. Chicago went on to win. As for the Eagles, see below.
Sour Play of the Week: With the score tied at 3 with three minutes remaining before intermission, Baltimore had second-and-10 on its 35. The Nevermores came out with two tight ends, suggesting a power rush, a common Ravens action. But the extra tight end was Dennis Pitta, a pass-catching tight end; the Ravens don't have a blocking tight end on their roster this season. That should have tipped defenders to expect a throw. Just before the snap, tight end Todd Heap shifted from a slot-back set onto the line while the wide receiver on his side stepped off the line into the backfield to make Heap eligible. In reaction to this common shift, all three City of Tampa linebackers changed positions. I watched the tape several times and have no idea what the Bucs' linebackers were thinking.
At the snap, Heap simply ran a seam, every tight end's favorite pattern, and was covered by no one for a 65-yard touchdown. The blown coverage was sour for the Tampa defense. And are the Bucs for real? They're 7-4, yet have been outscored on the season.
Sweet 'N' Sour Play: With first-and-goal against Tennessee, score tied at 0, the Texans came out in the three-TE power set, with a blocking fullback. The blocking back went in "slide" motion right, to the side with two tight ends, cueing the defense that the action would be a blast right. Instead, it was a play fake: One tight end went into the right flat, drawing the safety on that side, while tight end Joel Dreessen ran into the end zone uncovered. This sweet touchdown set the Texans' shutout win in motion and kept their postseason hopes alive. When the offense is at the 1, the defense has very little territory to defend -- yet no one covered Dreessen. That was sour for the going-down-in-flames Flaming Thumbtacks.
Christmas Creep Veers Into the Absurd: Since childhood, TMQ has loved the stop-motion animation special "Rudolph, the Red-Nosed Reindeer," which was first broadcast in 1964. One of the things that first brought my future wife and I together was the discovery that, though we had super-serious careers, we both loved this delightfully cheesy show. When our kids were little, they watched "Rudolph" on VCR over and over again in December, memorizing most of the lines. When my youngest was perhaps 8, as narrator Burl Ives said, "They had to get the women back to Christmastown," he noted, "Those aren't women, those are reindeer." It brought a tear to my eye to learn, two months ago, that Billie Mae Richards, the actress who voiced Rudolph, died at age 88 in Canada.
On Tuesday night, CBS takes Christmas Creep into absurdity by airing "Rudolph" in November! That's no misprint: The 2010 broadcast of the show happens on Nov. 30. Will "It's the Great Pumpkin, Charlie Brown" air next September? My family will not watch on Tuesday; we will DVR the show and watch it next week, fast-forwarding through the commercials. Rudolph lovers: Tape the show, save it 'til December and fast-forward through the commercials! Make CBS pay for this absurdity!
Canadian theatrical footnote: Leslie Nielsen, born in Saskatchewan, died Sunday at age 84. He was hilarious in the first "Airplane" movie and as the incoherent Lt. Frank Drebin in the "Naked Gun" series -- initially rejected by numerous studios, these movies became among the most profitable comedies ever. Here's a YouTube clip of an episode of "Police Squad," the network series -- quickly canceled, of course -- upon which the "Naked Gun" movies were based. The beginning is meant to seem like a typical treacle-style network show -- until the Japanese garden is reached. Then we see Drebin "bringing in the suspect from the recent wave of thefts at the city zoo." Nielsen made millions of people laugh: That's a life well lived.
Besides "Airplane," the "Naked Gun" movies -- Page 2 judged the first to contain one of the best Hollywood sports scenes ever -- and the "Spy Hard" flicks, Nielsen played the starship commander in the best sci-fi movie ever, "Forbidden Planet," released in 1956. Rent "Forbidden Planet" if you haven't seen it. Nielsen's acting wasn't great -- by "chewing the scenery," he paved the way for William Shatner to overact as starship commander James T. Kirk. But the movie is terrific.
News from the Land of BBQ: I don't wish to alarm you, but Matt Cassel is fourth in passer rating and has a spectacular 22 touchdown passes to four interceptions. Dwayne Bowe leads the league in touchdown receptions with 14. Not only is the undrafted-and-waived Ryan Lilja playing well for Kansas City but Ryan O'Callaghan, waived by New England, is having a fine year at offensive tackle. The Chiefs don't yet have a signature win, but they could be a factor down the stretch. On Sunday, they blew the Seahawks off their own field so emphatically that, in the final minute, Seattle simply knelt on the ball.
That $1 Trillion in Stimulus Funds -- Where Did It Go? A few weeks ago, TMQ noted that New York state's comptroller -- the person whose job is to guard the public purse -- had pleaded guilty to corruption. Last week, the Virginia secretary of finance, that state's equivalent of a comptroller, was sentenced to 10 years in prison for embezzling public funds.
Meanwhile, in Prince George's County, Md., a suburb of Washington, D.C., the former school superintendent is in prison for taking kickbacks and the county executive was just arrested for corruption. The accusation against the county executive has not yet been heard in court, but it is pretty hard to imagine what the innocent explanation is for his telling his wife to flush checks down the toilet and hide $80,000 in cash in her underwear as FBI agents approached the house.
All that "stimulus" funny money the federal government has been pumping out -- more than $1 trillion between the George W. Bush and Barack Obama administrations -- how come we don't see the promised road construction, public transit improvements and school upgrades the stimulus funds supposedly were going to finance? Maybe because the money's being stolen. Government suddenly puts $1 trillion into a pot, with no accountability. There's no chance it will be stolen, is there?
At the least, much of the TARP and stimulus spending -- for which a Republican and a Democratic White House share blame -- has become no more than handouts to special-interest groups. Over the summer, Obama approved a $10 billion special giveaway to prevent what he said would be layoffs of teachers in public schools. That sounds important. But how has the money actually been used? Loudoun County, Va., spent nearly $5 million of its share to give schoolteachers extra paid vacation days. Money is being added to the crushing national debt so members of politically connected interest groups can receive cash for doing nothing. Meanwhile, the new roads, repaired bridges and upgraded schools the $1 trillion in stimulus spending was supposed to underwrite -- where are they?
Wasteful Spending on Bodyguards Watch: Some of the stimulus money is being poured down the drain to provide state and local government officials with bodyguards whose role is to make the officials seem important while allowing them to double-park, cut in lines and speed through stoplights. Here, Michigan's independent Mackinac Center for Public Policy reports that although the city of Detroit has severe budget problems, it spent $1.35 million last year so the mayor and his wife could enjoy round-the-clock security details. Spouses of senators and Supreme Court justices don't have bodyguards. Why does a mayor's wife? The 2009 stimulus bill included $170 million, added to the federal deficit, for Detroit city government. Supposedly, this money was to revive the city of Detroit. How much has been spent to let political insiders act like pashas?
Rookie Quarterback Learning Fast: With St. Louis leading 33-20 in the fourth quarter at Backgammon Field, the Rams had third-and-goal against the Broncos. Rookie Sam Bradford rolled out, saw no one open and simply threw the ball away. Often simply throwing the ball away is the smartest move a quarterback can make. On the next snap, Les Mouflons kicked a field goal that would prove to be the game's winning points. Tim Layden notes in the fine new book "Blood, Sweat and Chalk" that Don Coryell taught quarterbacks, "I will never complain when you throw an incompletion." Interceptions are disasters. Sacks are problems. Incompletions? We'll just make it up later.
A Cosmic Thought: Astronomers continue to expect that the first truly Earth-like world beyond our solar system will be discovered soon. Take a moment to ponder what was discovered a few weeks ago -- a planet that originated beyond the galaxy.
Large galaxies such as ours, the Milky Way, sometimes capture "dwarf" galaxies -- if "dwarf" can be the correct word for objects thousands of light-years across -- and also can capture "stellar streams," rivulets of stars that have been pulled from one galaxy toward another. The recently found planet, designated HIP 13044b, orbits a star that came from the Helmi Stream -- a dwarf galaxy that was pulled toward the Milky Way about 6 to 9 billion years ago and now looks like a garland around this galaxy. All the stars in the Helmi Stream are extra-galactic in origin, having formed a long, long way from us.
HIP 13044b is about 2,000 light-years from Earth -- an unfathomable distance to today's technology (the fastest manmade object would require about 20 million years to reach it) but "close" in galactic terms, considering the Milky Way has a diameter about 50 times greater than the distance to HIP 13044b. If technology continues to advance, someday men and women might visit the star system of HIP 13044b, a planet from beyond our galaxy. Visits to other galaxies will always be hard to imagine even if future researchers invent some kind of warp drive. At 10 times the speed of light -- and even that isn't possible under known laws of physics -- Andromeda, the galaxy closest to ours, would still be 150,000 years away.
Obscure College Update: A reader noted that Indiana University Purdue University Indianapolis has a hopeless mouthful of a name. Doug Hass of Chicago writes, "The IU/Purdue partnership has produced not one but three bizarre names. There's Indiana University Purdue University Fort Wayne, whose sports teams are the Mastodons. Mastodons are extinct! This school calls itself IPFW rather than IUPUFW, though Indiana University Purdue University Indianapolis calls itself IUPUI. The best name is the third sister, Indiana University Purdue University Columbus, whose 'visit us' page is so unenthusiastic it practically yawns, in addition to referring to nonexistent 'links to the right.'"
Stop Me Before I Blitz Again! With Jacksonville leading 20-17 with three minutes remaining at The Stadium From Which You Can See New York, the Giants faced third-and-10 on the Jax 32. The Jaguars blitzed seven -- both an invitation to score an easy touchdown and puzzling, given that Jersey/A was already on the edge of field goal range. Easy 32-yard touchdown to Kevin Boss, who wasn't covered by anyone.
Now Jax, trailing 24-20, has first-and-10 on the home team 29 just inside the two-minute warning. The Giants run a choreographed blitz on which Osi Umenyiora, the right end, sprints straight up the field and allows the Jacksonville left tackle to drive him behind Jax quarterback David Garrard -- an action that opens a lane for safety Antrel Rolle to come through unblocked for the sack. Normally, a left tackle who drives the right end behind the quarterback has won the down; in this case, Umenyiora was cooperating to leave a lane for Rolle. Garrard was sacked on each of the next two snaps, closing out the contest. So blitzes themselves aren't bad -- but there's smart blitzing and dumb blitzing.
Stop Me Before I Blitz Again! No. 2: With Oakland leading 14-10 late in the first half, the South Florida Dolphins faced third-and-10, beyond field goal range. The Raiders blitzed seven, and an easy completion to the Oakland 20 set up a field goal, helping spark the visitors' comeback win. Why mega-blitz when the opponent isn't in field goal range? Just play coverages and get an incompletion.
Redskins Defense Is What the Doctor Ordered for Minnesota: Dallas fired its coach midseason and has since won two of three. Minnesota fired its coach midseason and, on Sunday, won the first game under Acting Temporary Interim Provisional Semi-Coach Leslie Frazier.
Although he's the defensive coordinator, Frazier seems to have laid down the law to Brett Favre and the Vikes' offensive staff -- Minnesota used a rush-first offense rather than the wide-open, stats-happy approach preferred by Favre and Brad Childress, the cashiered headmaster. Adjusting for sacks and scrambles, Minnesota coaches called 40 rushes and 28 passes; with the run established, many of the passes were play fakes. Favre threw deep just three times, looking more like a game manager than an impact quarterback. (Calling a quarterback a game manager is like saying a woman has nice hair.) The Minnesota win came against the NFL's worst defense. Still, the Vikings looked more like a team, and less like a jeans promotion organization, than so far this season.
Unified Field Theory of Creep: Justin Perry of Nagoya, Japan, writes, "Our local shopping center has been playing 'Auld Lang Syne' on a constant loop since Halloween. New Year's is a bigger event in Japan than in the United States. Even so -- the song began two full months early."
Angie Hernandez of Alexandria, Va., reports, "Every year I make my pilgrimage back to El Paso, Texas, my hometown, for Christmas. On November 24th, I got an email from Southwest Airlines headlined, 'A reminder about your upcoming trip to El Paso.' One month before the trip."
Comic-Book Characters, Having Ruined Hollywood, Are Now About to Ruin Broadway: The Spider-Man musical, complete with music by U2, began previews Sunday. Eight years and $65 million in the making, it sounds like the dumbest idea ever for a Broadway show -- click here for a drawing that would look silly even in a comic book. But then, the synopsis of "West Side Story" -- "the 'Romeo and Juliet' saga happens among youth gangs in present-day New York" -- didn't sound promising, either. TMQ continues to root for Nicole Kidman in an all-nude musical comedy version of "Hedda Gabler." If a singing Spider-Man can get funded, why not my idea?
TMQ conservatively estimates that for investors to earn back the $65 million plus opportunity cost, then realize a profit, the show will need to run for 970 years. Perhaps Max Bialystock arranged the financing. The New York Times reported of the first preview, "The show stopped five times, mostly to fix technical problems, and Act I ended prematurely, with Spider-Man stuck dangling 10 feet above audience members."
Why didn't Spidey just bench-press the theater? TMQ dislikes that the Spider-Man movies have given Peter Parker far more powers than he had in the comics. Spidey in the movies can fly and can shoot unlimited amounts of web (we never find out where the web material originates), whereas the comic-book Spider-Man could swing short distances and use his web shooter only occasionally (two or three shots used up the fluid in tiny tanks strapped to his wrists). I also hope the MJ of the musical is the Mary Jane of the comics -- a brassy fast girl -- rather than the weepy, compliant MJ of the Spider-Man movies. The movie version of Mary Jane is only good for screaming as she falls off tall objects. The comic-book MJ is a pistol.
Superheroes acquiring more power in the movies than they had in the comics is a recurring theme. The movie Superman is so powerful that the only way to make plots interesting is for him to lose his powers, which has happened in every Supe flick and rapidly became monotonous. The original comic-book Superman was strong and could fly but couldn't fly faster than the speed of light, travel through time, move entire planets or hold his breath for three years, as he does in the movies.
In the latest X-Men movie, about Wolverine, Logan became immortal -- If he's immortal, why is he scared of flying? -- and acquired Superman-class strength, plus the ability to jump tremendous distances. In that movie, Wade Wilson and Agent Zero, who were normal people in the comics, become superpowered mutants. Dozens of men fire machine guns at Wilson at close range, and he uses his mutant super senses to locate the bullets and deflect them away with his fancy swords. Bullets move at 1,500 to 2,000 mph, so Wilson's arms would need to move at several thousand mph to reposition the swords fast enough to deflect every shot. That's flexing your biceps pretty fast. You'd think his skin would melt, and there should be constant sonic booms caused by his arms and the swords.
Smart Play Almost Backfires: With Cleveland leading Carolina 24-23, Tootsie Rolls corner Joe Haden intercepted Jimmy Clausen at midfield with 1:36 remaining, ran briefly, then "got on the ground." Any coach would cheer this move -- don't take a chance of fumbling. But it turned out Carolina had all its timeouts remaining. The Panthers forced a three-and-out; Clausen hit a long pass; and Cleveland was fortunate to win when Carolina's field goal attempt hit the uprights as the clock reached all-naughts. In retrospect, Haden should have kept trying to advance the ball.
Weasel Coaches Face Off: Since Nick Saban joined the ranks of weasel coaches, TMQ hadn't rooted for Alabama. I did on Friday because I am suspicious about Auburn, a school that has shown favoritism to football players in the recent past. No accusation regarding Cam Newton has been proved, and it may well be that he has done nothing wrong. But if he and Auburn have nothing to hide, why has coach Gene Chizik taken a "how dare you criticize us" stance, lashing out at the media? If he calmly presented the reasons Newton should be believed, he'd be credible. Instead, Chizik gets angry and denounces the media. Funny -- he doesn't denounce the media when they laud Newton or hype Auburn football.
Chizik knows many media outlets that cover college sports, especially local and regional ones, are easily intimidated because big-college football coaches are little gods in their worlds. Lashing out is an easy way to silence the local media. But this behavior makes me think that where there's smoke, there might be fire.
Back to Saban, who screamed at players repeatedly on the sideline as the Crimson Tide lost their 24-0 lead, and the game, to Auburn. Screaming is a sure sign of poor coaching. Saban screamed at the punter after a shanked punt. Did he think the punter intended to shank the ball?
Win as a team, lose as a team. Alabama coaches had a terrible game, so if screaming is good, shouldn't someone scream at Saban? Twice before the fourth quarter, Alabama coaches called a middle screen on third-and-long. Just before the fateful shanked punt, Alabama had third-and-12 on the Auburn 36 with six minutes remaining. "This better not be another middle screen," yours truly said. It was. Auburn was expecting this action and had the middle screen defended, sack. If screaming is good, why didn't someone grab Saban and scream at him in front of the cameras about that call? With Auburn punting with 51 seconds remaining and Alabama out of timeouts and missing its injured starting quarterback, the Crimson Tide made no attempt to rush the punter, sending just one man. The result was Alabama ball on its 19. If screaming is good, someone should have grabbed Saban and screamed at him about that call.
In the third quarter, Alabama had only 10 men out on defense. One second before the Auburn snap, Saban pushed an 11th player onto the field. Though the 10 men stopped the Auburn play, Saban's action drew a flag for substitution infraction. This Saban blunder helped Auburn get a first down on what became a touchdown drive. All players who participate in a down must be "inside the numbers" at some point before the snap. This rule prevents the offense from sneaking a wide receiver onto the edge of the field unnoticed just before the play begins, but it also prevents coaches from sending an 11th man in on defense one second before the play begins. Saban either didn't know the rule or wasn't paying attention. Why didn't someone grab Saban and scream at him?
Readers including Brenda Izzo of New York City noted this article in last week's Wall Street Journal: Hannah Karp details a case in which Saban is accused of denigrating former players to cover his own rear end. Besides general weasel behavior, what disturbed me about the report was this passage: "Mr. Saban … declined to comment. A university spokeswoman said in a statement that it is 'very difficult for the University of Alabama as an institution to deal with inquiries that are so blatantly pointed toward discrediting one individual,'" meaning Saban. Wait -- if an accusation concerns only one person, then it doesn't have to be answered? This obvious nonsense is intended to shout down criticism. Maybe where there's smoke there is fire here, too.
The Falcons' Cheer-Babes' New Short-Shorts Must Be the Explanation: Atlanta has won 12 of its past 14 games and occupies the inside track in its division. Just as Matt Ryan moved his team methodically down the field for victory in the final minute against Baltimore, taking over with 49 seconds remaining, he moved the Falcons methodically for victory against Green Bay. Atlanta does everything methodically. The Falcons are not flashy, they don't employ any distinctive tactics -- and they are winning close games against good teams. They finish plays and finish games, giving them a legit chance to take the NFC.
Stella Artois Pour Tout le Monde Après Montréal Répète Comme les Champs CFL: At Edmonton, the Alouettes won their second straight CFL championship -- there was even a pregame flyover by the Snowbirds, Canada's answer to the Blue Angels. Here are the Alouettes' cheerleaders, including Eve-Lyne, whose bio says she specializes in solving "behavior problems." Maybe she could work for the Tennessee Titans.
Ferrets Object to Being Compared to Bills: With Buffalo trailing Pittsburgh 16-13 with three minutes remaining in regulation, the Bills reached second-and-7 at the Steelers' 12. Harvard graduate Ryan Fitzpatrick put the ball on the hands of wide receiver Stevie Johnson at the goal line -- and the ball bounced off Johnson's hands to Troy Polamalu for an interception. The Bills later launched a last-snap field goal to force overtime. Leodis McKelvin of Buffalo took the opening fifth-period kickoff, broke into the clear and reached midfield, where he seemed to have a path to a touchdown and the win -- then tripped over the foot of a teammate. Later, Buffalo reached the Steelers' 40. Off a play fake, Fitzpatrick laid a flawless pass on the hands of Johnson in the end zone, and he dropped the ball as if it were a live ferret. Pittsburgh came back the other way for victory.
The NFL's last winless team this season, the Bills in their most recent six outings have two wins and four three-point losses, all to clubs that would make the playoffs if the season ended today (Baltimore, Kansas City, Chicago and Pittsburgh). In those six games, the previously hapless Bills have played well, especially nose tackle Kyle Williams, who's having a Pro Bowl season. Williams drew three holding penalties on Steelers guard Chris Kemoeatu, who should have been flagged for holding Williams at least two other times, including on the down that positioned Pittsburgh for the winning kick.
Although improving, the Bills must learn to finish. In NFL competition, often there isn't much talent difference between winning and losing teams, but winners, like Atlanta, finish, and losers, like Buffalo, don't. Good football coaches preach: Every play is the most important play of your life. Winners never let their focus wander. This is Johnson's first season as a starter, so he might learn to play with focus. Good coaches also preach: It's OK to make a mistake, as long as you never make the same mistake again.
Wisconsin Held to 70 Points: The Badgers posted 70 points against Northwestern without trying to run up the score -- Wisconsin attempted only one pass in the second half and used the blandest rushing calls that can be imagined. At this juncture, the great pairing the college football season will end without anyone seeing is Oregon versus Wisconsin -- the 22nd-century max-tech blur offense facing an offense Bud Wilkinson would feel at home with.
Buck-Buck-Brawckkkkkkk Trailing San Francisco 14-3 in the second quarter, the Arizona Cardinals faced fourth-and-inches on their 40. The Cardinals, at 3-7, would run up the white flag on the season if they lost this game. They're playing at home on "Monday Night Football." Their opponent, also 3-7, is one of the league's worst teams, and its star, Frank Gore, has left the game injured. If the Cardinals are going to change their 2010 fortunes, it's got to be now.
In comes the punt unit.
After the game, there was a dustup because Cards Derek Anderson and Deuce Lutui were observed yukking it up on the sideline as if they didn't care about Arizona producing what ESPN analyst Steve Young called "some of the worst football we've seen in a long, long time." Arizona coach Ken Whisenhunt quit on the game in the second quarter. Why shouldn't the players quit?
The punt on fourth-and-inches when trailing big at home meant Whisenhunt decided the Cardinals would not even attempt to win but rather would try to hold down the margin of defeat so the outcome would look less bad on his résumé. That's what the Cardinals offered their home fans on national television. That's pretty funny. I'd laugh, too.
Buck-Buck-Brawckkkkkkk (College Edition): Trailing 28-20 in the fourth quarter, fifth-ranked LSU faced fourth-and-3 on its 39. As the punt boomed, TMQ wrote the words "game over" in his notebook. When LSU next saw the ball, the Tigers were down by 11 late in the fourth quarter and it was panic time.
Wacky Drink of the Week: Fred Bartlett of Hamilton, N.J., reports that this pricey restaurant in Princeton, N.J., specializes in obscure cocktails: "I recently had a Last Word, something TMQ hardly ever gets to, a Prohibition-era concoction of chartreuse, maraschino liqueur, gin, and lime juice. Surely that's as wacky as a blueberry-almond martini! I liked it. My wife couldn't stand it."
TMQ's Christmas List: This year, I'm hoping Santa puts into my stocking a ladder that claims to save energy.
Unwanted Players of the Week: Defensive tackle Antonio Garay, waived by the Browns, Bears and Jets, had a tremendous game for San Diego, as did Bolts defensive end Jacques Cesaire, undrafted out of Division II Southern Connecticut State.
Where Is Keith Lincoln When You Really Need Him? The Chargers have fabulous stats and only a 6-5 record. TMQ keeps asking what they've done to incur the wrath of the football gods -- considering San Diego has gorgeous, scantily clad cheer-babes, normally the best way to propitiate the football gods. Reader Steve Barry of Newton, N.J., writes, "The reason the Chargers have earned the wrath of the football gods is that they possess the best uniforms in sports, and only wear them occasionally. If the Chargers wore their powder blues for every game they'd win 14 a season. Go completely old-school and add the numbers to the side of the helmets, like in the days of Keith Lincoln, and they'd be Super Bowl champions."
Obscure College Score of the Week: Sioux Falls 27, McKendree 7 (NAIA playoffs). McKendree had gained 429 yards rushing the previous week, then was held to 36 yards rushing at Bob Young Field. Located in Lebanon, Ill., McKendree University says its location offers students "world-class shopping, dining and entertainment."
Bonus Obscure College Score of the Week: Western Illinois 17, Coastal Carolina 10 (erstwhile Division I-AA playoffs). The Leathernecks advance to the postseason second round just one year after finishing 1-10. Located in Macomb, Ill., Western Illinois University has a 44-point agreement with its faculty union, including extensive language on that most important of faculty topics, grievances.
News from Academia: Maybe I should work at Boston University's Pardee Center for the Study of the Longer-Range Future -- only modern academia could claim to be "studying" something that does not yet exist. Recently, the Pardee Center hosted a conference on art and climate change. Do rising sea levels threaten watercolor painting?
Reader Comments: I wrote that flipping off a light switch cuts your power bill but does not in itself save energy because "big central power plants continue to run at their baseload level, and can't possibly dial up or down to reflect individual choices about light switches or A/C settings." Attila Nohl of Budapest, Hungary, responds, "But this is true in the other direction too: when you turn on a light, the power plants don't increase their output." Joe Rezutko of West Palm Beach, Fla., a power-company engineer, writes, "The electricity being consumed by everyone on the grid must roughly equal the power output of all plants connected to the grid or the voltage will rise too high or too low -- depending on whether too much power is being generated or not enough -- and the grid will collapse. The balance does not have to be perfect, but pretty close. As the demand changes we alter how many plants are running and what percentage of full output they are producing. One person turning off one light has no impact, that's true. But if lots of people in the same area conserve, that does save energy -- any trend in reduced demand leads in a short time to reduced power production, and less use of fossil fuel."
Justin Gibides of Philadelphia writes, "I work in the energy business, for Siemens, as an engineer, helping design on-site energy projects just like you advocate. I can tell you from experience that it is still much cheaper to buy electricity from a central utility than make it yourself on-site. Despite losses from transmission and distribution of central power, the efficiency of central power plants themselves is significantly greater than an on-site generator." Surely true today -- my point was that as small on-site generators improve in cost-effectiveness, this calculus will change.
TMQ thinks taxes on the wealthy should rise. So does Barack Obama. I wrote that because Obama advocates this, he should already be taxing himself -- voluntarily paying the additional amount he wants others to pay. Robert Hahn of Millburn, N.J., replies, "The president's taxes show he made $551,000 from his book-writing business in 2006 and $5.7 million from book sales in 2009, after being elected president. Given that Obama, like other politicians, supports windfall taxes on oil and gas companies when they make outsized profits due to market conditions, shouldn't he support a windfall tax on any sudden increase in business income by politicians who use their public positions to hawk memoirs?"
Under the rubric Unified Field Theory of Creep, TMQ noted that the Mercedes "Winter Event" sale began in mid-November, six weeks before the solstice marks the arrival of winter in North America, and ends on Jan. 4, just after winter starts. Brian Holland of Dublin retorts: "Mercedes is a German company, and for Germany, winter is considered as beginning on Martinmas or St. Martin's Day, 11 November. In past centuries, this was the day by which farmers were to have completed their preparations for winter: women would work only indoors beginning on this day, while men would work only in the forest because the fieldwork was finished and the meat animals had been slaughtered for preservation. The United States is rare in thinking that winter begins around Christmas. In most of Europe, winter is thought to happen from mid November to mid February."
A reader noted that California has adopted a BCS-like system -- one that favors style points over sportsmanship -- to choose its high school football playoff field. Jim Rudloff of Zanesville, Ohio, writes, "Though hardly foolproof, Ohio's mathematical system rewards teams on two levels -- for wins, and for wins against teams that also win. It rewards smaller schools for taking on and beating larger schools, and penalizes big schools who play too many small schools. Here the system is explained." Maryland, where TMQ lurks, uses a similar system, awarding bonus points in the playoff standing for each win recorded by a school your school defeated, and penalizing those who try to game the system by scheduling smaller high schools.
I said Calvin Hill and Marcellus Wiley were the top Ivy League-educated NFL players of recent decades. Many readers, including Sylvia Kendall of Ellicott City, Md., noted Matt Birk of the Ravens, a Harvard grad, has appeared in six Pro Bowls, versus four for Yale's Hill. Matthew Schroeder, of Hoboken, N.J., wrote, "While Jay Fiedler of Dartmouth may not have been blue-chip, you definitely overlooked Reggie Williams of Dartmouth. Williams was the Sports Illustrated co-Sportsman of the Year in 1987 and is Cincinnati's second all-time in sacks." William Gannett of New York City noted that Bears safety Gary Fencik (Yale) made two Pro Bowls and recorded 38 career interceptions, then earned an MBA from Northwestern. And Matthew Merzbacher of Newark, Calif., writes, "You must not overlook Steve Jordan of Brown, who went to six Pro Bowls for the Vikings."
I noted that Brett Favre blew up the Jets in 2008 and got the coach fired, then blew up the Vikings in 2010 and got the coach fired. Mark Marriott of Brookfield, Wis., adds, "When Favre threw 29 interceptions in 2005, he blew up the Packers and got the head coach, Mike Sherman, fired. In 42 games of 2005, 2008 and 2010, Favre threw 68 interceptions and got three head coaches fired. Not to mention 1999, when he threw 23 interceptions and got head coach Ray Rhodes fired." Obviously, if Favre throws picks, the only possible explanation is that the team's coach has failed to kiss Favre's feet!
I pound the table against police escorts that waste taxpayer money, and inconvenience average people by stopping traffic, so football teams can move about like visiting royalty. Kendall Kaut of Olathe, Kan., writes, "Recently I was in Winston-Salem, N.C., for a debate tournament. As we arrived at our hotel we saw the Clemson football team buses being escorted to dinner: four police cars were escorting so they could avoid stoplights on their way to dinner." Michael Tomlin writes, "I am a student at Texas Tech. Recently some friends and I were enjoying drinks at a bar across from the football stadium. We heard sirens; there were seven police cruisers blocking traffic for the buses of Weber State, the Division I-AA cupcake team we were padding stats against that week. And I don't know if you have ever been to Lubbock, Texas, but traffic is not exactly a huge problem in our town. Yet seven police cars were needed to ensure a football team wasn't inconvenienced for even an instant."
Single Worst Play of the Season -- So Far: The Eagles are talking return to the Super Bowl. On their opening possession at Chicago, facing third-and-8, Michael Vick danced in the pocket trying to buy time for a receiver to get open and was sacked, setting the tone for what would become a loss. On the play, after their initial blocks, all five Philadelphia offensive linemen stood around doing nothing, not even attempting to help Vick, just watching him try to evade defensive linemen -- all four of them unblocked at that point.
TMQ notes that it's surprisingly common, during an NFL down, to find a player who is doing nothing at all, just standing there watching. On this down, all five offensive linemen did nothing. Philadelphia offensive line -- you are guilty of the single worst play of the 2010 season. So far.
Next Week: Seven police cars escort Tuesday Morning Quarterback to the deli for a Reuben.
In addition to writing Tuesday Morning Quarterback for Page 2, Gregg Easterbrook is the author of the new book "Sonic Boom" and six other books. He is also a contributing editor for The New Republic, The Atlantic Monthly and The Washington Monthly. His website can be found here.