Two-footed tackle: Weekend review and the group of death
Considering what a rough weekend it was for Switzerland -- the Swiss lost their opening game to the Czech Republic, and Roger Federer was given the tennis equivalent of an atomic wedgie by Rafael Nadal -- the country still put on quite the spectacle in Euro 2008's opening ceremony. Who doesn't appreciate cows on stilts, grown men in lederhosen honking Alpine horns and Miss Switzerland in a tight, red dress, swelling with national pride?
EURO 2008 COVERAGE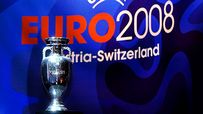 Check Page 2 each weekday during Euro 2008 for a tournament diary by David Hirshey and Roger Bennett
. •
Soccernet Euro 2008 index
•
ESPN broadcast schedule
•
Tactics board
•
Future stars of tournament
•
ESPN travel guide
Tuesday's live coverage
on ESPN.360.com:
•
Spain vs. Russia
,
11:50 a.m. ET
•
Greece vs. Sweden
,
2:30 p.m. ET
Yet none of that was as entertaining as the sideline show that Portugal coach Phil Scolari put on. There's a lot to admire about a man who is big enough to admit
he listens to the Bee Gees
to relax before games, and he confessed to the media that after coaching Brazil to the World Cup title in 2002, he celebrated back at his hotel by going one-on-one with his wife.
On Saturday, though, in Portugal's opening match against Turkey, Big Phil looked like he was barely stayin' alive. He raged over real and imagined grievances (Portugal had a goal correctly disallowed for offside) and contorted his body with every missed chance (Portugal hit the bar three times). Luckily for Mrs. Scolari, Portugal rallied to beat the Turks 2-0 and served notice that they're the dominant team in a weak Group A.
Perhaps the only surprise of the opening weekend is that Cristiano Ronaldo was held both scoreless and quoteless (at least regarding his bank-breaking transfer to Real Madrid.) His vow of silence on his future even extended to ignoring his Manchester United boss, the fearsome Alex Ferguson, whose calls he has ominously decided to screen. Still, The World's Greatest Player had his moments of genius. He launched one of his trademark free-kick missiles that the Turkish goalkeeper at full stretch tipped onto the post. He bamboozled the Turkish defense time and again with his dribbling wizardry and he was involved in the build-up to both Portugal goals. Most significantly, if you bet the under as to whether Ronaldo would fall down in the first minute of play, congratulations, because he got a face full of grass after only 30 seconds.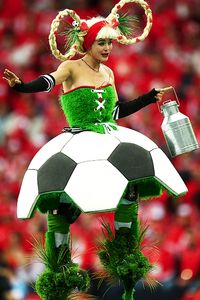 Ian Walton/Getty Images
Switzerland really outdid itself at the Euro 2008 opening ceremony.
But for the most part, TWGP functioned more as a decoy and playmaker than scoring machine, creating space for his teammates to exploit. He also helped Portugal maintain its focus with his on-field leadership, wearing the captain's armband for the final 20 minutes. No word on whether he utilized some of
his unorthodox but highly effective team-building skills
.
At least the Portuguese and the Turks played with some flair and verve. The narcolepsy-inducing opener between host Switzerland and the Czech Republic was as much fun as watching chocolate dry. No one expected much from the Swiss, other than their boisterous red-and-white face-painted fans.
But the Czechs, who traditionally grace Euro with their elegant and skillful play, were strangely out of sync against the hard-working Swiss. Could it have had something to do with Czech coach Karel Bruckner's paranoid decision to have his team run through their formations in a hotel room rather than on the training ground because he feared opponents are "using satellites and observation systems" to spy on them? Oooh, satellites. Why hasn't Bill Belichick thought of that?
Without the mini bar or the pillow mints as opponents, the Czechs looked lost until they removed lumbering, sclerotic, 35-year-old striker Jan Koller, who even Big Brown could have taken in a foot race. And how unlucky were the Swiss, who were denied a blatant hand ball penalty on the Czechs late in the game that would have earned them the point they deserved? Displaying their legendary neutrality, the team didn't surround the referee and threaten to impale him on the Matterhorn with a ski pole.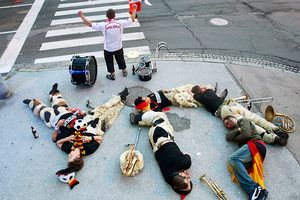 Alexander Hassenstein/Bongarts/Getty Images
Polish fans pose in front of sleeping German supporters on a street in Klagenfurt, Austria,
the morning after Germany beat Poland 2-0.
Austria also took its duties as generous hosts a little too literally, outplaying a surprisingly lackluster Croatian side but allowing them to leave the field with all three points. How envious must England's fans be after viewing this game on the telly from the comfort of their own homes? First they saw German and Polish fans running amok in Austria, committing the random acts of hooligan violence they consider to be their divine right. Then they had to watch the leaden-legged Croatian performance and wonder how their beloved England had managed to lose to this team -- not once but twice -- in qualifying. Favored by many to be the dark horse of the tournament, Croatia still might be it if coach Slaven Bilic tweaks
his policy on conjugal visits
before they hook up with the Germans on Thursday.
The Germany-Poland game saw the finest Polish striker of his generation score two clinical goals. Unfortunately for Poland, Lukas Podolski, favorite son of Gliwice in Upper Silesia, is now a naturalized German, and Die Mannschaft barely broke a sweat in defeating the Poles. After the feisty buildup to the game, with its tabloid hysteria, diplomatic broadsides and brawling fans, the match itself was surprisingly incident free. Podolski's mournful celebration after sliding home the first goal (scorers of own goals have celebrated with more joy) was a fascinating counterpoint to all the pregame Sturm und Drang, as was his decision to remain silent during his adopted nation's anthem, aptly titled "Song of the Germans," because in his words, "I have not quite lost my Polish heart." For future reference, Lukas, here's what goal celebrations are supposed to look like.
The tournament figures to spring to life today with the opening games in the murderous Group of Death. Here's what to look for: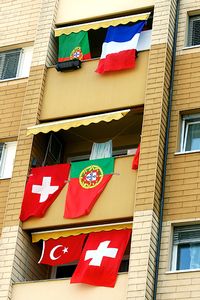 Johannes Simon/Getty Images
Fans make their allegiances known off Swiss balconies in Payerne.
Romania vs. France (11:50 a.m. ET) --
The Romanians have always been one of the most technically deft teams in Europe -- led by
the great Gheorghe Hagi
, they were known as the Brazilians of the Balkans in the '80s and '90s -- but now they also have a defense to go along with their attacking panache. Much will depend on the state of mind of star striker Adrian Mutu, who only four years ago snorted up half of London playing for Chelsea and with prostitutes.
Now married with two children, he seems to have settled down while lighting up Serie A for his club, Fiorentina. The French will have to find a way to cope with him while at the same time hoping that astrology-besotted coach Raymond Domenech's stars are aligned. If he fails to find a team that blends the right mix of experience and youth, this might be the tournament's first surprise. French fans might think this game will be a pushover, but we will pick the stylish Romanians to win 2-1.
Netherlands v. Italy (2:30 p.m. ET) -- Imagine if Kansas met Memphis in the opening game of the NCAA tournament. The Euros effectively start at the Round of 16, so there is always an early matchup worthy of a final. This epic battle will be staged at Stade de Wankdorf, by far the world's best named sports arena (Dick's Sporting Goods Park has nothing on this place). The Italians, of course, are the defending world champions, and aside from the critical loss to defensive star and captain Fabio Cannavaro, the spine of the team is basically the same as it was when the Azzurri beat France on penalties in the 2006 final. Holland's pedigree isn't too shabby either. In the 1970s, their Clockwork Orange sides pioneered Total Football, led by Johan Cruyff, a player so transcendent that the team allowed him to wear a customized national shirt with just two stripes instead of three because he was sponsored by Puma and the team's kit was made by adidas. Cryuff led the Dutch to the World Cup final and is generally considered to be in soccer's pantheon alongside Pele and Maradona. The current Netherlands side lacks the creative flair of the Cruyff-led teams of yore but they're still loaded and confident. "We can have them (Italy)," Wesley Sneijder said. "We must not make the opponents too big. That is a Dutch thing. Look at the Italians. They are also afraid of us; be sure of that. They are terrified." No sooner had these words left Snjeiders lips than the Dutch side suffered injuries to creative forces Arjen Robben and Robin Van Persie, so it is doubtful the Azzurri are quaking in their Gucci loafers. They could, however, be in for a Ruud awakening should Dutch scoring machine Ruud Van Nistelrooy bring his A-game. He scored boatloads of goals for Manchester United before falling out with coach Sir Alex Ferguson, which is the same drama he replayed with national coach Marco Van Basten a few years later when Van Basten famously benched him during Holland's disastrous World Cup run. The two have since made nice, but it remains to be seen whether the big Dutchman can rise to the big occasion.
Italy 2, Holland 1.
David Hirshey is the Executive Editor of HarperCollins Publishers. He has been covering soccer for thirty years, most recently for Deadspin.com, and played himself (almost convincingly) in the soccer documentary "Once In A Lifetime." Roger Bennett is co-author of the recently published "Camp Camp." He lives in New York, but is still scarred by this. Hirshey and Bennett are at work on the forthcoming "ESPN's Ultimate World Cup Guide." The two will be writing about Euro 2008 Monday through Friday on Page 2, unless their astrologer tells them not to.
Also See
ESPN Top Headlines