Italy stumbles in Group of Death
EURO 2008 COVERAGE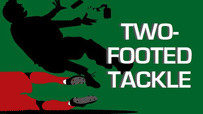 Check Page 2 each weekday during Euro 2008 for a tournament diary by David Hirshey and Roger Bennett
.
Previous entries
June 6:
Tourney preview
June 9:
Rough weekend for Switzerland
•
Soccernet Euro 2008 index
Wednesday's live coverage
on ESPN360.com:
• Czech Republic vs. Portugal,
11:50 a.m. ET
• Austria vs. Poland,
2:30 p.m. ET
Holland fans entered Euro thinking their team was tilting at windmills. After all, the last time we saw the Dutch on a big soccer stage they had just lost to Portugal in their 2006 World Cup quarterfinal, a 16-yellow-card, four-red-card burlesque show that was a black eye for the sport. How ironic then that the Oranje may have just saved Euro 2008 from the borefest of negativity it was quickly becoming. By opening a can of whup-ass on Italy in their Group of Death showdown, the Dutch jolted the tournament with high-voltage soccer and may have just pulled the plug on the world champions.
After warning the world that "The Italians fear us," Wesley Sneijder backed up his trash talk with the first truly great performance of 2008. His goal, the second of the game, was the result of a sweeping box-to-box move that saw the ball travel the length of the field with three lightning-quick touches. Sneijder finished it off with a volley that echoed the one his coach, Marco Van Basten, scored 20 years ago in the Euro final against Russia. (At 55 seconds in, here).
If the second Dutch goal was a thing of beauty, their first was mired in controversy. Even the goal scorer, Ruud van Nistelrooy, looked shocked that the linesman didn't raise his flag for offside as he stabbed home the ball with only one defender -- Italy goalkeeper Gianluigi Buffon -- between him and the goal. No one except for the referee noticed that an Italian player was laying on the ground behind the goal after being poleaxed by his own goalkeeper.
Ladies and gentlemen of the jury, we present the second defender, Christian Panucci. According to the most famous obscure rule in FIFA's rule book, No. 11.11, a player must ask the referee for permission to leave the field or he's deemed eligible. Signor Panucci had the temerity to fail to do so. And the Italians were punished for his poor manners. That, or the referee didn't say "Simon says."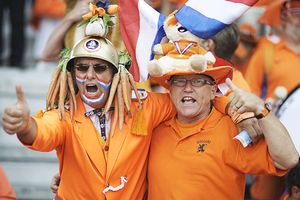 AP Photo/Dusan Vranic
The Dutch fans in attendance were overjoyed at their team's win over Italy.
After being crushed 3-0, the Italians, a team so old that some of the players were John McCain's heroes when he was a boy, must win their match against Romania on Wednesday or say
arrivederci
.
And the Romanians, as the French found out in the first match of the day, will be out for blood. With a well-marshaled defense and physical play worthy of the Octagon, Romania stifled an attacking French lineup. Crazy Ray Domenech chose to open with a tactical combination of Pisces (the ineffective Nicolas Anelka), Sagittarius (the too-keen-to-impress Karim Benzema) and Aries (our hero, Franck Ribery), augmenting them with youthful Gemini and Cancer reinforcements in Bafetimbi Gomis and Samir Nasri. The Romanians, however, turned out to be Zodiac killers, and their 0-0 draw might as well have been a win. Perhaps their masterstroke was to field a player in Nicolita who had the audacity to out-ugly Ribery.
And based on the way the Dutch are playing, it could be an ugly end for Les Bleus, as well. Which means that by the end of the week both of the 2006 World Cup finalists could be in the Euro trash heap.
Coming Attractions

Spain versus Russia (11:50 ET, ESPN2) -- When it comes to talent, few teams are in Spain's class. Of course, the same was said of the highly fancied Spanish Armada -- the Armada Invencible as it left port in 1588, only to have its naval butt kicked by the English, ending up with the ignominy of being shipwrecked off the coast of Scotland. Spanish fans are well aware of their team's history and, knowing how Spain has choked over the years, are now careful not to bite off more than they can chew.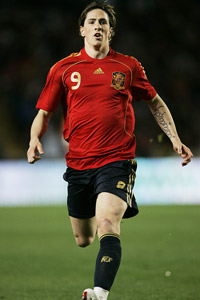 AP Photo/Bernat Armangue
Don't be surprised if Spain's Fernando Torres gets one past the Russian keeper.
But there is so much to admire about this team. In addition to power and pace up front with Fernando Torres and David Villa and the balance of guile and skill in the midfield with Cesc Fabregas, Xavi Hernandez and Andres Iniesta, the Spanish seem to finally have melded fluency with grit. Defensively, they are anchored by goalkeeper Iker Casillas, who has insured his hands for $15 million (by way of comparison, Dolly Parton insured her breasts for a mere $600,000.) In defense, Barcelona captain Carlos Puyol is a tough guy with a sensitive side who pumps himself up by listening to Napalm Death before games yet is a vocal spokesperson on behalf of abandoned pets. His lack of pace may turn out to be a weakness.
Russia is an emerging soccer superpower underwritten by Chelsea owner Roman Abramovich, who has invested heavily in the team's infrastructure. Their talismanic captain, Andrei Arshavin, is suspended for the first two matches despite frantic public relations attempts to soften his image and re-brand himself as a choir boy. The team's best hopes lie in the tactical acumen of its Dutch coach, Guus Hiddink, who has succeeded with every World Cup side he has managed -- Holland in 1998, South Korea in 2002 and Australia in 2006. Russia will need his inspirational abilities. The Russians' key motivational strategy during Euro 2004 consisted of having their wives and girlfriends pose naked in the Russian daily newspaper Komsomolskaya Pravda, the idea being the deeper into the tournament the team went, the more flesh would be put on display. They promptly finished at the bottom of their group and exited in the first round. Look for Spain to undress Russia 2-0, with Fernando Torres scoring.
Greece versus Sweden (2:30 ET, ESPN2) -- Unlike four years ago, the Greeks won't be arriving at Euro in a Trojan Horse. German coach "King" Otto Rehhagel may have instilled a Teutonic efficiency and impressive work ethic in Greece, but everyone's ready for them this time around, and their main role in the group games will be to make sure the tournament record of no team repeating as champion remains intact. The Greeks are tall and physical in the back and will need all their length to cope with Sweden's powerful target man, Zlatan Ibrahimovic, as well as master poacher Henrik Larsson. Larsson, who starred for Celtic and Barcelona over the past decade, was lured out of international retirement at 36, which happens to be the same number of goals he has scored for his country. The kindest thing one can say about the Swedes is that they are consistent. Consistently mediocre. Omnipresent in the big tournaments, they are the equivalent of a Bjursta dining room table, which looks good in the store but falls apart under the slightest pressure once you assemble it at home. Their defense can be ponderous when matched against a team that moves the ball quickly on the ground. Since the Greeks favor more of a long-ball game, this one has a 1-1 draw written all over it.
David Hirshey is the executive editor of HarperCollins Publishers. He has been covering soccer for 30 years and played himself (almost convincingly) in the soccer documentary "Once In A Lifetime." Roger Bennett lives in New York, but is still scarred by this. Hirshey and Bennett are at work on the forthcoming "ESPN's Ultimate World Cup Guide." The two will be writing about Euro 2008 Monday through Friday on Page 2, unless their astrologer tells them not to.