Two-Footed Tackle: Villa, Spain flying high
EURO 2008 COVERAGE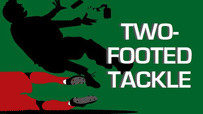 Check Page 2 each weekday during Euro 2008 for a tournament diary by David Hirshey and Roger Bennett
.
Previous entries
June 6:
Tourney preview
June 9:
Rough weekend for Switzerland
June 10:
Down goes Italy
•
Soccernet Euro 2008 index
Thursday's live coverage
on ESPN360.com:
•
Croatia vs. Germany
,
11:50 a.m. ET
•
Austria vs. Poland
,
2:30 p.m. ET
Forget the Euro for a moment. Let's talk euros. As in about 65 million of them. As in 100 million dollars. Because that's probably the starting price for David Villa's services next year after his stunning hat trick against a spirited but overmatched Russian team on Tuesday.
Before the tournament began, Villa was best known as the Spanish striker who wasn't Fernando Torres. He scored 18 goals for his club, Valencia, in an injury-ravaged season, causing the team to hang a $32 million transfer fee around his neck. After Tuesday's dynamic performance, it's safe to say that all the major European clubs, especially those in England, will now be checking under the couch cushions for loose change.
Villa certainly got Roman Abramovich's attention. The Russian billionaire, national team patron and Chelsea owner didn't have to endure Russia's 4-1 humiliation next to his BFF Vladimir Putin (as was originally rumored), but he may have gotten Villa's cell phone number. Can't you just see him texting Villa after the game? "DV -- U rock! U want 2 b on Chel-c? :-D TTYL-RA."
After completing his hat trick, Villa could not contain himself. He ran straight to the bench, embracing his strike partner Fernando Torres and seeking his immediate counsel as to whether Chelsea, Arsenal or Liverpool would be the best fit for his speed and guile in the English Premier League.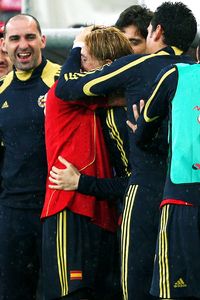 Clive Brunskill/Getty Images
Awww, Torres and Villa's embrace makes you shed a tear, doesn't it?
For now, the Spanish fans are delirious, but they know that it's too early to hire an engraver. They're all too aware of Spain's history of starting strong in tournaments and then self-destructing by the quarterfinals. In the previous World Cup, the team known as La Seleccion raised expectations by crushing Ukraine 4-0 in the opening game and cruising into the elimination round, where they promptly disappeared against an aging French side. Even yesterday, there were moments to remind you of Spain's tendency to take defensive siestas that would be punished by more formidable opponents. Not that the Russians didn't have their chances: They enjoyed long spells of possession and were unlucky not to score when the game was still competitive. Zyryanov hit the post, and then Pavlyuchenko thundered a volley off the crossbar.
Still, this was a day to marvel at Spain's free-flowing attack, orchestrated by the midfield troika of Xavi, Iniesta and Silva. Iniesta made the pass of the tournament so far, bisecting the Russian defense with a seeing-eye ball that Villa buried for his second goal.
Just when it looked like nothing could eclipse the Spaniard's masterful class in finishing, along came Swedish bad boy Zlatan Ibrahimovic later in the day. He produced a strike of such power and precision that it almost made up for the 67 minutes of coma-inducing "action" that preceded it. Greece, to no one's surprise, came in with the same soccer-phobic philosophy that saw them ambush the field at Euro 2004. It took a moment of inspiration from Ibrahimovic to even make the Greeks aware that the field extended beyond their own penalty area.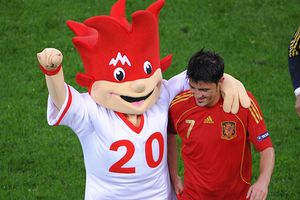 Vincenzo Pinto/AFP/Getty Images
David Villa is consulting absolutely everyone about his transfer opportunities.
If Ibrahimovic's surface-to-air missile came out of nowhere, it is in keeping with the mercurial nature of the big striker who is known as Ibracadabra for his bag of tricks. A master of the subtle flick and back-heel, he can spit out a wad of gum, control it with his feet and pop it back in his mouth (oooh gross!) -- if the Nike commercial is to be believed. Yet much to the dismay of Swedish fans, he had not scored an international goal in more than two-and-a-half years,
causing some to call him overrated
.
But befitting someone who has compared himself to Muhammad Ali and boasted that only injury -- which caused him to miss almost a month of Inter Milan's season -- could stop him, Ibrahimovic struck when least expected, all but guaranteeing that he, too, will be juggling post-Euro offers along with his gum.
Coming Attractions
Czech Republic versus Portugal (11:50 ET, ESPN2) -- Peter Cech, the imposing 6'5" Czech and Chelsea goalkeeper, wears a water polo-like helmet to cushion his tender cranium, which was mistaken for a soccer ball by an opponent early in the EPL season. But what will protect him from Cristiano Ronaldo and his quicksilver teammates, who are sure to lay siege to his goal? Certainly not his rickety defense, which had trouble coping with the Swiss in the Czechs' fortunate 1-0 win over the lightly regarded co-hosts.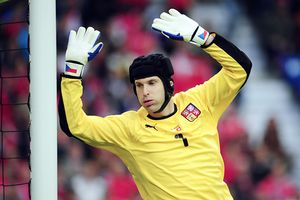 Torsten Silz/AFP/Getty Images
Scary headgear, scary!
It might help if the Czechs had some firepower of their own, but unless craggy-faced coach Karel Bruckner makes the bold move of starting 21-year-old speed merchant Martin Fenin in place of the ancient and ponderous Jan Koller, Cech is likely to suffer a massive headache and the Portuguese will be the first team to qualify for the elimination phase. Prediction: Portugal 2, Czech Republic 0
Switzerland versus Turkey (2:30 ET, ESPN2) -- Based on their Euro track records -- the Swiss have won zero of their past seven games, while the Turks have won just one of eight -- this matchup has all the sex appeal of an Amy Winehouse centerfold. But international soccer is a game of history, and these teams have an ugly one.
The previous time these two met -- a game that is now known as the "Battle of Istanbul" -- the Turks went mental after the Swiss eliminated them from the 2006 World Cup qualifiers in front of their home crowd. As sports brawls go, it was a classic, with players, coaches, fans and even officials laying the smack down at the end of the game.
It made the Pistons-Pacers Malice at the Palace look like a Gorgeous Ladies of Wrestling event.
Turkish midfielder Emre was fined heavily for his role in the melee, and he will certainly be a marked man today. At least he'll be on the field -- unlike Switzerland's all-time leading scorer, Alexander Frei, who hobbled out of the tournament after being injured in the opener against Croatia. The Swiss and Turks will be fighting for their Group A lives today. Let's just hope not literally.
Prediction: Turkey 1, Switzerland 0
David Hirshey is the executive editor of HarperCollins Publishers. He has been covering soccer for 30 years and played himself (almost convincingly) in the soccer documentary "Once In A Lifetime." Roger Bennett lives in New York, but is still scarred by this. Hirshey and Bennett are at work on the forthcoming "ESPN's Ultimate World Cup Guide." The two will be writing about Euro 2008 Monday through Friday on Page 2, unless their astrologer tells them not to.