Turkey stuffs Czech Republic
EURO 2008 COVERAGE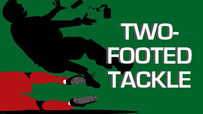 Check Page 2 each weekday during Euro 2008 for a tournament diary by David Hirshey and Roger Bennett
.
Previous entries
June 6:
Tourney preview
June 9:
Rough weekend for Switzerland
June 10:
Down goes Italy
June 11:
Villa, Spain flying high
June 12:
Big Portugal news
June 13:
Croatia shocker
•
Soccernet Euro 2008 index
Tuesday's live coverage
on ESPN360.com:
•
France vs. Italy
, 2:30 ET
•
Netherlands vs. Romania
,
2:30 ET
(Both matches available in both English and Spanish)
You know how you're always hearing those soccerphobes going on about how
the sport doesn't have enough scoring or drama or violence
to appeal to the American fan's taste? At times they may even have a point. Who can argue that much of the recent Champions League competition wasn't a yawnapolooza of nil-nil caution in which coaches drew up their game plans based solely on how not to lose rather than how best to win?
That's what makes the first round of Euro 2008 such a thrilling aberration. We have been treated to a boldness of spirit rarely seen in international tournaments. From the blinding swagger of the 4-1 Dutch demolition of World Cup runner-up France on Friday to the soul-stirring 3-2 comeback of Turkey against the Czech Republic, Euro 2008 has been a jamboree of passion and entertainment. Even the reigning world champion Italians, destroyed 3-0 by the Netherlands in their opening game, came out of their defensive bunker against Romania, only to be denied a perfectly legitimate winning goal by a myopic referee doing his best imitation of Dick Bavetta. No wonder the Italians are so paranoid.
Of course, it's not simply the attacking mentality of coaches like Holland's Marco van Basten, Croatia's Slaven Bilic, Portugal's Phil Scolari and even Spain's Luis Aragones (whose team pulled off their own last-minute victory, 2-1 over a stubborn Swedish side) that accounts for the open, free-flowing nature of Euro 2008. It's also due to the fact that the defensive fortresses of many of the top teams aren't what they used to be. There are no better examples of this than the once impregnable Italians and the once Velcro hands of the Czech keeper, Chelsea's Petr Cech. Italy can whine all they want about the egregious offside call that cancelled Luca Toni's goal, but they have only themselves to blame for Romania's score. In the 55th minute of their 1-1 draw, Gianluca Zambrotta, normally the most reliable member of Italy's rearguard, lost his bearings and headed the ball directly into the path of a surging Adrian Mutu who made no mistake with his finish. But that was a mere footnote compared with Cech's howler for the ages.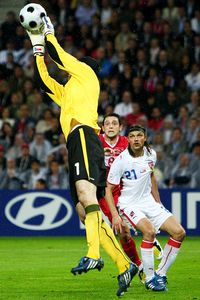 Alex Livesey/Getty Images
Cech and his mates forgot that the match is actually 90 minutes.
Trailing 2-0 after 62 minutes Sunday, the Turks looked to be halfway back to Istanbul but they refused to go gently into the wet night at Stade de Geneve. With the lashing rain making for both a slick field and a greasy ball, Turkey hurled everything it had at the Czech defense, turning it inside and out like a Rubik's cube. When Cech got a palm to Arda Turan's shot but couldn't keep it out of the net, it was the first sign that the 6-foot-5 Chelsea goalkeeper, widely regarded as one of the two or three
best in the world at his position
, was off his usual sure-handed game. But no one could have envisioned what came next. In the 87th minute, Turkey's Hamit Altintop sent a high speculative cross into the Czech box. As he has done jillions of times in his illustrious career, Cech came off his line to claim it. Perhaps he was surprised that no Turkish player challenged him or maybe he was looking forward to the
Czech's wild and crazy postgame party
, but the ball squirted out of his hands and fell to the feet of the onrushing Turkish captain Nihat Kahveci, who bundled it into the net to tie the game, 2-2.
Now the Czechs were staring grimly at the historic prospect of penalty kicks to decide a first-round game. How odd then that the Czech defense would decide to go on their summer vacation three minutes early. But as they stood around and watched, Nihat put them on the beach with a wickedly bending shot that swerved past Cech's outstretched hand and caromed in off the underside of the crossbar to go up 3-2. Holy Baklava! For the second time in the tournament, the Turks had risen from a watery grave to drive a stake into the heart of their opponent. The last time they had inflicted this kind of damage was in 1683 when the Ottoman Empire laid siege to Vienna for two months. All things considered, Sunday's Battle of Geneva was a better match -- and a better end result for Turkey (the Ottomans lost that battle in 1683).
COMING ATTRACTIONS
Croatia v. Poland (2:30 p.m. ET, ESPN)
Finally, Slaven Bilic, the John Mayer of world soccer, gets a well-deserved rest on the sidelines. No need to kiss his St. Jerome medal, sweat through his suit and generally act like he's jonesing for his 11th Red Bull. Croatia has already clinched first place in Group B with its stunning 2-1 pantsing of Germany so Bilic can save his energy -- as well as many of his starters -- for the quarterfinals. After all, they've got to be exhausted not just from the Germany game but from Bilic's victory gift -- their wives and girlfriends were allowed to spend the night at the team's headquarters as long as they cleared out by 11 a.m. the next day. Then again, maybe he was just teaching them the importance of scoring early. Bilic will be sure to rest his stars since the game is meaningless to Croatia, which faces Turkey in the quarterfinals.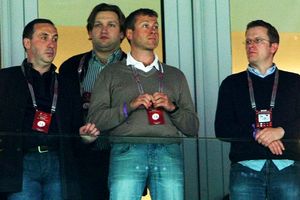 Ryan Pierse/Getty Images
Dont listen to anyone who tells you money cant buy you happiness ... Roman Abramovich and his chums always know how to have a good time.
Poland, on the other hand, desperately needs to win to have any chance to advancing to the next round, something they may find hard to do. Not only have they looked like a limp pierogi on the field, but the players and manager, Leo Beenhakker, have argued off it. The chaos of the Polish campaign so far was summed up perfectly when far right politicians raised a parliamentary motion to withdraw the passport of Polish-born German international striker Lukas Podolski only to be scuppered when the player revealed he does not have one. Nothing short of a two-goal margin against Croatia and a draw between Austria and Germany will prevent them from boogie boarding on the beaches of Gdansk next week.
Prediction: Croatia 2, Poland 1
Austria v. Germany (2:30 p.m. ET, ESPN Classic)

Say this about the Austrians, they haven't lived up to the expectation as the tournament's worst team.
Imagine the odds you could gotten if a week ago you had bet that Austria, ranked 92nd in the world, would play Germany, ranked fifth, in a game that would decide which team would qualify for the quarterfinals. And yet, that is exactly the scenario when these two countries (which have a bit of history between them on, and especially off the field) meet in the final game of Group C. Thirty years ago, Austria shocked West Germany 3-2 at the 1978 World Cup in Cordoba, with striker Hans Krankl slicing open the German defense in the 88th minute. Chances are pretty good that Austrian coach Josef Hickersberger, who played in that epic battle, may mention it in passing during his pregame talk. Of course, Hickersberger knows that his current team is a shadow of that fabled Austrian side.
He also knows that he owes English referee Howard Webb The Complete Arnold Schwarzenegger DVD box set after awarding the last-gasp penalty that kept Austria alive. But probably the most depressing fact Hickersberger must consider is that Germany, under coach Joachim Low, has never lost back-to-back matches. After Germany's humbling by Croatia, Low ripped into his players for their comatose performance, sparing no one, not even his sainted captain Michael Ballack, who resembled a traffic cone at midfield. With leading scorer Lukas Podolski struggling with injury, his Bayern Munich teammate Miroslav Klose largely anonymous and midfielder Bastian Schweinsteiger suspended, Low will shuffle his lineup, likely relegating a disappointing Mario Gomez and a vulnerable Marcell Jansen to the bench. The Germans had imagined winning this group would be like a stroll in the park when, in fact, it has bordered on a national embarrassment, Still, it's hard to envision the Austrians pulling off a second straight miracle even if Hickersberger remains upbeat. "We are not wetting our pants," he said bravely.
Prediction: Germany 3, Austria 0
David Hirshey is the executive editor of HarperCollins Publishers. He has been covering soccer for 30 years and played himself (almost convincingly) in the soccer documentary "Once In A Lifetime." Roger Bennett lives in New York but still is scarred by this. Hirshey and Bennett are at work on the forthcoming "ESPN's Ultimate World Cup Guide." The two will be writing about Euro 2008 Monday through Friday on Page 2, unless their astrologer tells them not to.