Ballack bollixes up Austria
EURO 2008 COVERAGE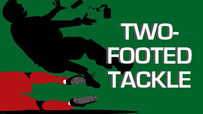 Check Page 2 each weekday during Euro 2008 for a tournament diary by David Hirshey and Roger Bennett
.
Previous entries
June 6:
Tourney preview
June 9:
Rough weekend for Switzerland
June 10:
Down goes Italy
June 11:
Villa, Spain flying high
June 12:
Big Portugal news
June 13:
Croatia shocker
June 16:
Turkey stuffs Czechs
•
Soccernet Euro 2008 index
Wednesday's live coverage
on ESPN360.com:
• Greece vs. Spain, 2:30 ET
• Russia vs. Sweden,
2:30 ET
(Both matches available in both English and Spanish)
Who's afraid of the big, bad Germans now? Only a week ago, the pre-tournament favorites came marauding over the Alps to lay waste to Euro 2008. But two games in, the confidence and resolve that have long been hallmarks of German soccer took an unexpected battering at the feet of a faster, slicker Croatia team. And on Monday even Austria,
the Barbados of Euro
, got in the face of their bitter border rivals before finally succumbing, 1-0, thanks to a Michael Ballack V-2 rocket.
All of this does not bode well for Germany, which now faces a knockout contest against Cristiano Ronaldo and Co. The Portuguese, with their speed and trickery, will certainly pose a more daunting test for the Germans, and much depends on how Ballack handles the pressure of once again being Der Mann.
With the Austrians throwing themselves into every tackle and refusing to be intimidated by an opponent 87 places above them in the world rankings, it took a moment of brilliance from the German captain to lift his team into the quarterfinals.
It was the least the pugnacious midfielder could do after calling a players-only meeting before the game to exhort his teammates to go all out in the wake of their limp 2-1 defeat to Croatia. So forceful was the message, even Germany coach Joachim Low took it to heart. Just before halftime, Low started jawing with his Austrian counterpart, Josef Hickersberger, apparently ruining the stadium's chillaxed vibe that Spanish referee Manuel Mejuto Gonzalez was after. Looking to ensure peace in this potentially volatile match, Gonzalez marched over to the sidelines and summarily ejected both coaches.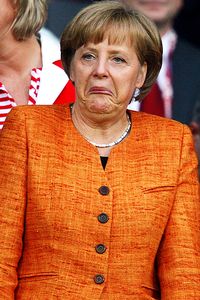 Alexander Hassenstein/Bongarts/Getty Images
Angela Merkel looks on in horror as Joachim Low heads toward her seat.
Ladies and gentlemen, now
that's
comedy.
Luckily for Low, Germany's chancellor, Angela Merkel, was waiting in the stands to console him and hopefully recommend a new barber. Merkel was joined by another famous German cheerleader, tennis legend Boris Becker, who was seen high-fiving Low after Ballack tore a hole in the net with his free kick in the 49th minute.
The Austrians -- or rather, their tabloids -- must rue that they taunted Ballack in the buildup to the match, mocking him as "a loser" and superimposing his head on a naked model under the headline "Rip the Germans' trousers off." But Ballack didn't get his knickers in a twist. After all, he was such a commanding force for his club team, Chelsea, in its run to the Champions League final this year. He believed he could carry his team to victory again -- and he did. So write off Germany at your own peril.
If Euro has taught us anything thus far, it's that no team is untouchable. (OK, maybe the Dutch are.) Yes, Germany's strikers, particularly the much-ballyhooed tandem of Miroslav Klose and Mario Gomez, have looked dazed and confused, and the German defense is not the unbreachable bulwark it once was. But history tells us that after Germany has been humiliated, it often performs at its best.
Are the Germans now true underdogs going forward?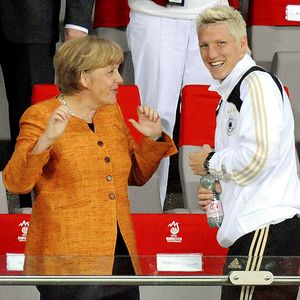 Torsten Silz/AFP/Getty Images
Two natural blondes can barely contain themselves as Germany takes the lead against Austria.
Sure. And Tiger was playing with a bum knee.
COMING ATTRACTIONS
Netherlands versus Romania (2:30 p.m. ET, ESPN Classic) -- With Holland already through to the next round, the big question is, will they just roll over and play dead? Will they simply rest all their stars and hand the Romanians a free pass to the quarterfinals, eliminating traditional rivals France and Italy in the process? Based on the audacious soccer the Dutch have played so far at Euro, their coach, Marco Van Basten, could no more stop his team from scoring than a starlet could stop George Clooney.
It has been one of the great joys of this tournament to watch the Dutch side continue to pour forward in games they are leading, when other teams would have put in defensive midfielders to shut down the game. Romania can draw strength from the fact that they beat the Dutch twice in Euro qualifying. But they know this is a very different Dutch side they will be facing at every man's favorite stadium, The Wankdorf.
For one thing, the Dutch are no longer acting like the girls from "The Hills" off the field, warring among themselves over which players are getting preferential treatment from Van Basten. For another, they are united in the belief that if they continue to play such devastating attacking soccer, no one can compete with them. After all, who would have believed they'd see Ruud Van Nistelrooy, the embodiment of the traditional target man, executing an ninja-like pirouette on the left sideline to avoid three French defenders and threading the ball into the path of a blazing Arjen Robben to set up Robin Van Persie for the second Dutch goal against France? Before the invention of the Xbox, this was the kind of breathtaking move that
only the imperious Johann Cruyff could orchestrate
with the Brilliant Oranje juggernaut of the 1970s.
Watching the France game from the stands, the Dutch master was caught on camera enthusiastically applauding Van Persie's goal and saying simply, "That's football." For all the slick passing of midfield general Christian Chivu and the dangerous runs of Adrian Mutu, Romania's defense was fortunate to contain the Italians to a 1-1 draw. Even a team of Oranje reserves should leave the Romanians feeling blue.
Prediction: Netherlands 2, Romania 1
France versus Italy (2:30 p.m. ET, ESPN) -- Well , here we go again. Once more Italy and France, those two perennial soccer superpowers, are left to slug it out like Jack Lemmon and Walter Matthau in "Grumpy Old Men" in what could be the last game of the tournament for one or both. First they have to pray that Romania will lose to a second-string Dutch team. Few predicted that the Group of Death would end like this -- with the World Cup finalists left to contemplate their own mortality.
Two years ago Italy and France were the dual kingpins of world soccer, and now the players may have to go into the witness protection programs in their respective countries. Mind-boggling, n'est-ce pas?
One thing is certain. This match will add a new chapter to the tumultuous history between these two teams. Eight years ago David Trezeguet (yes, remember him? We are sure French coach Raymond Domenech has given his striking ability a thought or two during the past week) scored a sudden-death golden goal to eliminate Italy from Euro 2000. We all watched France and Zinedine Zidane (the thinking man's Jan Koller) come undone in the 2006 World Cup final in Berlin, after which Lilian Thuram called Marco Materazzi "an illness." And the teams played twice in Euro qualifying, which gave Domenech the opportunity to accuse the Italians of bribing match officials. Some would say that Domenech, the Marcel Marceau of soccer, would have been better off focusing on his own team and its tres ancien regime.
Despite the plethora of precocious young stars at his disposal, Domenech has stubbornly stuck with his AARP All-Stars and paid heavily for it. At 36, the once-majestic Thuram looked rickety against the blistering Dutch attack, and fellow aging defenders William Gallas and Willy Sagnol didn't fare much better.
Perhaps Domenech's most baffling decision, though, was to limit the playing time of his 20-year-old phenom Karim Benzema, who along with Franck Ribery has the explosiveness to get behind a well-marshalled defense like Holland's.
Italy, of course, is the only team in the tournament with a starting XI
older
than France. But at least they have the incomparable Gianluigi Buffon, whose penalty-kick save against Romania defied several laws of physics. Guessing left, the 30-year-old keeper slid into a B-boy move right out of "So You Think You Can Dance." He was somehow able to get his
right
hand up quick enough to block the ball off his trailing leg.
With his ubiquitous bandana tied around his neck, this urbane cowboy is all that's keeping Italy from a shower of rotten tomatoes and ugly invective upon returning home. But the Italians will need more than Buffon's heroics against the French. They will have to finally close the deal in the box. Striker Luca Toni may have been desperately unlucky to have his goal against Romania ruled offside, but he has been far too wasteful with his other chances.
The Italians believe in more conspiracy theories than Oliver Stone -- the refs are crooked, the Dutch will tank it, French president Nicolas Sarkozy married Carla Bruni for her cooking -- but the only thing actually conspiring against Italy in this tournament is Italy. Still, in this battle for the aged, we're going with the even older guys.
Prediction: Italy 2, France 1
David Hirshey is the executive editor of HarperCollins Publishers. He has been covering soccer for 30 years and played himself (almost convincingly) in the soccer documentary "Once In A Lifetime." Roger Bennett lives in New York but still is scarred by this. Hirshey and Bennett are at work on the forthcoming "ESPN's Ultimate World Cup Guide." The two will be writing about Euro 2008 Monday through Friday on Page 2, unless their astrologer tells them not to.