You've got Euro questions? We've got answers
EURO 2008 COVERAGE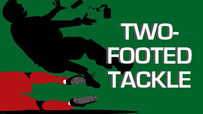 Check Page 2 each weekday during Euro 2008 for a tournament diary by David Hirshey and Roger Bennett
.
Previous entries
June 6:
Tourney preview
June 9:
Rough weekend for Switzerland
June 10:
Down goes Italy
June 11:
Villa, Spain flying high
June 12:
Big Portugal news
June 13:
Croatia shocker
June 16:
Turkey stuffs Czechs
June 17:
Germans march on
June 18:
French fried
•
Soccernet Euro 2008 index
Friday's live coverage
on ESPN and ESPN360.com:
•
Croatia vs. Turkey
, 2:30 ET
(Available in both English and Spanish on ESPN360.com)
Euro 2008 is like an episode of "Lost." Just when you think you have it figured out, one of the main characters is killed off (France). Or another dies and is brought back to life (Turkey). And, of course, there's a smoke monster.
To be sure, many of the most vexing questions have already been answered in the first round.
Is Germany the world-beater we thought it was going into the tournament? Nein. Was Greece's Euro title in 2004 a gift from the soccer gods, or can the Greeks defend their way to another championship? Please. Can Cristiano Ronaldo ignore the media circus and put on the greatest show on earth? So far, so good. And just like in "Lost," when old questions are answered, new ones arise. Here are 11 we're still puzzled about.
1. Do the Oranje have the juice to go all the way?
The high-flying Dutchmen have soared through this tournament with their ebullient attacking soccer, scoring seven goals in dismantling 2006 World Cup finalists Italy and France, and doing it with pace and verve. Like the Phoenix Suns, they seem to have embraced the philosophy of "Let's score as much as we can because we sure as hell can't play defense." This is quite a contrast to the grim, cautious way Holland qualified for Euro 2008, scoring only 15 goals in 12 games. But once the tournament began, coach Marco van Basten loosened the reins, unleashing the creativity and power of young players such as Wesley Sneijder, Rafael van der Vaart and Arjen Robben. At times, the Dutch have conjured up the glory days of Total Football, when van Basten himself was running rampant through Euro. Still, any team with slow-footed hit man Khalid Boulahrouz anchoring its defense is vulnerable on the counter. So are the Oranje brilliant enough to light up the tournament for another 10 days? We won't know until they're forced to do something radical -- like coming back from a goal down.
2. When will Spain break our hearts this time?
The Spanish began the tournament dazzling everyone with their ball wizardry, as they passed their way through Russia with insolent ease. Then again, they begin every tournament this way -- endearing themselves to fans of Joga Bonito. Trouble is, they go Choke-o Bonito a round or two later. Have they finally acquired the mental toughness to keep from imploding? Certainly their gritty performance against Sweden, against whom they pulled out a last-minute victory, bodes well. Yet doubts persist. For all their attacking firepower -- Fernando Torres and David Villa are the most lethal partnership in this tournament -- the Spanish lack steel in midfield and composure at the back (see Sergio Ramos tackling nothing but air when Sweden's Zlatan Ibrahimovic turned him in the box and scored). Luckily, they have a world-class goalkeeper in Iker Casillas to clean up most everything that gets through their defense. The Spanish should get past Italy in the quarters, but after that Kelly Clarkson will probably have to write an angry song about them.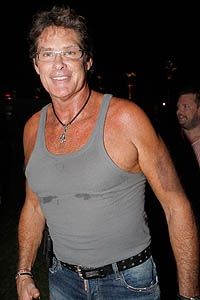 Frazer Harrison/Getty Images
Germany needs this man to come to the rescue!
3. Where is David Hasselhoff when Germany needs him most?
Sure, the Germans had Boris Becker and Chancellor Angela Merkel raising the roof in the stands, but they're just not getting the job done. And that includes Germany's big players -- Michael Ballack and his blast against Austria notwithstanding. Once the gold standard of ruthless efficiency all over the field, the Germans were tested by Poland, humbled by Croatia and stretched by Austria (Austria!). Even though they made it out of their group, confidence in the team is so low that even Franz Beckenbauer, Der Kaiser himself, is betting against them. "Do we have a chance against Ronaldo & Co.?" the legendary German defender wrote in his newspaper column. "Certainly not."
Facing Portugal will be an even more daunting task without their coach, Joachim Low, who has been suspended for Thursday's quarterfinal match for hurting the referee's feelings during Germany's victory over Austria. We don't know if The Hoff is ready to step in for Low, but Americans seem to think he's a pretty good judge of talent. And there is no greater performer at Euro than Cristiano Ronaldo.
4. Come to think of it, why doesn't Portugal have its own series on the CW?
Imagine the plot lines! The two big heartthrobs have been shamelessly flirting with other teams, and that can only lead to no good. Ronaldo has been leading Sir Alex Ferguson in the dance of his life, tormenting the famously autocratic Manchester United coach with his come-hither glances toward Real Madrid. And what about that dreamy midfield artist Deco? The team's playmaking orchestrator is also rumored to be the subject of a gaudy transfer deal -- possibly to English powerhouse Chelsea, which just emptied another piggy bank to sign his national team coach, Phil Scolari, in the middle of the tournament. And Big Phil's decision to take the rubles for the privilege of becoming the next manager to be fired by Chelsea owner Roman Abramovich makes you wonder whether he's more concerned with winning this tournament or the Premiership next season.
So can Portugal overcome this gossip-girl frenzy and retain its focus? The Portuguese's cutting-edge attack and defensive reliability should be enough to carry them to the semis, in which they would meet Turkey or Croatia -- either of whom will use whatever means necessary to stop Ronaldo, just like the Greeks did four years ago in the Euro 2004 final. Stay tuned.
5. Is Euro a tougher tournament than the World Cup?
Think about it. Unlike in the World Cup, there are no Saudi Arabias or Togos to beat up on in the early rounds to get your mojo going. The worst team in this tournament was Austria, and Austria almost knocked once-mighty Germany out. Meanwhile, the defending champions, Greece, couldn't win a single game this time around. The defending world champions, Italy, are lucky to be in the quarters. And what can we say about World Cup finalist France, which amassed a whopping total of one goal in its three matches? Mon Dieu!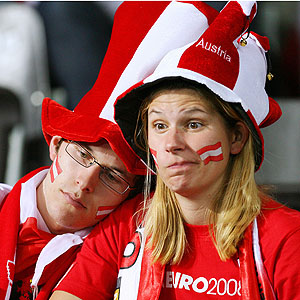 YURI KADOBNOV/Getty Images
Wear this hat at your own risk.
6. Why does anyone still buy these hats, and who actually looks good in them?
Unless you were actually drawn by Dr. Seuss, this goofy lid is just a bad fashion choice. Let's put it this way: Even fans who wear cheeseheads look down on these people.
7. Who will be the breakout star of the tournament?
If you're measuring by goals -- and what soccer weenie doesn't? -- it's an easy answer. Spain's David Villa scored a hat trick in his first game and a dramatic extra-time winner in his second. But you can also make a case for Holland's Wesley Sneijder, whose touch, technique and precision in scoring the Dutch's final goal against France was worthy of the great Dennis Bergkamp. If there's a defender who has stood out -- and we hate to celebrate soccer's negative side -- it would have to be Holland's Giovanni van Bronckhorst, who has been a quietly reliable player for years with Arsenal and Barcelona but has become a revelation at Euro with his lung-busting box-to-box runs that ignite the Dutch attack. And while Italian goalkeeper Gianluigi Buffon has been a brilliant shot-stopper for many years, he may never have made a better save than the break-dance move he performed against Romania, when he denied Adrian Mutu's powerful penalty kick with his trailing leg. As for the much-vaunted pre-tournament stars, they have largely failed their auditions: Germany's Mario Gomez has played like an empty bratwurst casing, and France's Karim Benzema never looked comfortable in his role as France's new savior.
8. Is Croatia the new Greece?
As unpredictable as Euro can be, you can't expect a Cinderella to win every year. Croatia, led by The Sexiest Soccer Coach Alive, Slaven Bilic, has demonstrated the most balanced play so far and has been gifted the easiest match of the quarterfinals against those comeback kids from Turkey. But looking ahead, Croatia faces a possible semifinal showdown against Portugal or Germany, and the clock will likely toll midnight for Croatia then.
9. Will we ever get tired of listening to Andy Gray?
The wise, jocular Scot might be the best thing that has happened to soccer in America since Pele -- and that includes You Know Who. David Beckham may have better abs and tats than Gray, but who would you rather spend an afternoon in a pub with? Gray is smart, knows what he's talking about -- he was a tough, predatory striker for Everton and Scotland back in the day -- and most importantly, he never uses the two words "onion" and "bag." Not only should Gray be a permanent voice of soccer on ESPN, he should be seriously considered for other sports. "Ohhhhhh, Phil Mickelson! What a missed opportunity that was! You were a bit unlucky there, lad!"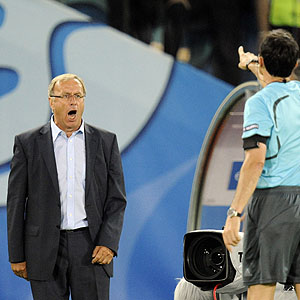 TORSTEN SILZ/Getty Images
Austria coach Josef Hickersberger gets the heave-ho from the referee.
10. Are the refs the worst team in Euro … and is Brazil the best?
Whether they were gifting home-team Austria a dubious penalty, denying Italy's Luca Toni from scoring a perfectly good goal against Romania on the one shot of 276 he has gotten on target, or comically sending off both coaches in the Germany-Austria game, the tournament referees have demonstrated a Lohan-esque quality of stealing the headlines for all the wrong reasons. About the only good thing we can say about their policing is that the tournament has been devoid of the distinctly European skill of diving to gain a free kick -- "simulation" in official language. This burlesque practice has been a blight on previous tournaments, both for slowing down the game and for the D-list acting it encourages.
As for Brazil, no, they can't technically win Euro (you figure out the geographical reasons why). But yes, their national team may have just been
pantsed by Paraguay
, but the Brazilians have still managed to be some of the most influential players in this tournament. Portugal's defensive star Pepe and its creative lynchpin Deco, Spain's holding midfielder Marcos Senna, German super-sub Kevin Kuranyi and Polish speedster Roger Guerreiro were all born in Brazil. And that tough-tackling Turk Mehmet Aurelio began life in Rio as Marco Aurelio Brito dos Prazeres. If you listen closely, you can almost hear the samba beat in the stands.
11. Where is England?
Take a right at Greenland.
But seriously, folks, with France humbled, and Italy and Germany barely scraping by, England might be the first team in soccer history to have its world status actually improve after failing to qualify for a tournament. Beyond that, with all the scouts from rich Premier clubs sniffing around for talent, the country will no doubt raise the level of play at home next year. But the real answer to the pre-Euro question -- where is England? -- can now be told: In Miami, the Italian Riviera and St. Barts.
Nice work if you can get it.
David Hirshey is the executive editor of HarperCollins Publishers. He has been covering soccer for 30 years and played himself (almost convincingly) in the soccer documentary "Once In A Lifetime." Roger Bennett lives in New York but still is scarred by this. Hirshey and Bennett are at work on the forthcoming "ESPN's Ultimate World Cup Guide." The two will be writing about Euro 2008 Monday through Friday on Page 2, unless their astrologer tells them not to.