Turkey with Russian, anyone?
EURO 2008 COVERAGE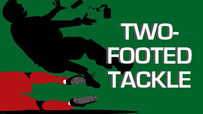 Check Page 2 each weekday during Euro 2008 for a tournament diary by David Hirshey and Roger Bennett
.
Previous entries
June 6:
Tourney preview
June 9:
Rough weekend for Switzerland
June 10:
Down goes Italy
June 11:
Villa, Spain flying high
June 12:
Big Portugal news
June 13:
Croatia shocker
June 16:
Turkey stuffs Czechs
June 17:
Germans march on
June 18:
French fried
June 19:
Playing quarters
June 20:
Spoiler alert!
•
Soccernet Euro 2008 index
Wednesday's semifinal
on ESPN and ESPN360.com:
Germany vs. Turkey, 2:30 ET
(Available in both English and Spanish on ESPN360.com)
So, two weeks ago you're watching the opening ceremonies of Euro 2008, and you turn to the guy next to you and ask with a straight face, "What kind of odds will you give me on a Turkey-Russia final?"
Assuming the guy wasn't actually visiting from Istanbul or Moscow, he probably would have replied, "Are you talking about the same Russian team that lost 3-0 to England in qualifying, and the same Turks who tied those powerhouses Moldova and Malta in the run-up to Euro? Because if so, I'll give you the same odds I offered people on Rocco Mediate in the U.S. Open."
As surreal as it might sound, Turkey and Russia -- who came into Euro at 40-1 and 28-1 odds, respectively -- are now just one more seismic upset apiece away from playing each other for the right to hoist the trophy. Of course, the teams that stand in their way, Germany and Spain, don't exactly have glass shins, as they both proved in their quarterfinal victories. The Germans had too much brawn and will for Portugal's Lords of the Dance, and the Spanish overcame their long tradition of underachieving to outlast Italy on penalty kicks.
Of the two semifinal matchups, Germany appears to have the more direct route to the final. After more last-minute heroics against Croatia, it seems the Turks might never run out of miracles, but they are running perilously short on bodies, since a trio of their most influential players (Tuncay Sanli, Emre Asik and Arda Turan) are suspended for Wednesday's game while leading scorer Nihat Kahveci is out due to injury. Coach Fatih Terim's squad is so thin -- he has just 15 players to choose from -- that it could be mistaken for an Olsen twin. Still, would anyone who has seen the Turks and Russians
defy all expectations
during this tournament be foolish enough to bet against them now? Both countries have put on a display of soccer skills and determination that has been as thrilling as it has been surprising.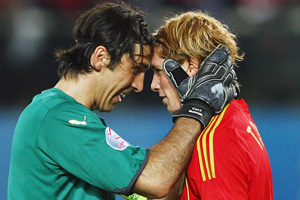 Clive Mason/Getty Images
Italian goalkeeper Gianluigi Buffon gave Fernando Torres the Zidane treatment.
Who would have thought that going into Wednesday and Thursday's semis the names on everyone's lips would be Rustu Recbar and Andrei Arshavin instead of Wesley Sneijder and Cristiano Ronaldo? (Memo to Sir Alex Ferguson: Let that winking, diving, showboating A-Rod in soccer shorts go to Real Madrid. And use a quarter of the cash you'll save to buy Arshavin. Think of all the money you won't be spending on hair gel alone.) Recbar wasn't even supposed to play at Euro, having been chosen by Terim as insurance for his first-string goalkeeper Volkan Demirel. But when Demirel got a two-match ban for his boneheaded foul in the frantic final seconds of the Turks' now-legendary comeback against the Czech Republic, Recbar found himself between the posts for the quarterfinal with Croatia, a team he actually faced once before -- in the 1996 Euros! That's how long the 35-year-old keeper has been around, and why so many of his countrymen feared the worst Friday. They had witnessed his erratic performances before, most famously against England when
he almost decapitated Kieran Dyer
with a karate chop to the neck. Recbar also has been on the receiving end during his career, beaten up by his own fans in 1999 after his side, the fabled Turkish club Fenerbahce, suffered a humiliating loss to a second-division team. Now, of course, he's a national hero after making two flying, acrobatic saves to put Turkey into the semis.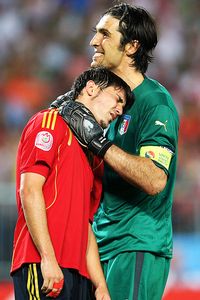 Jasper Juinen/Getty Images
And Buffon put David Villa in a sleeper hold.
It should be noted, though, that Recbar -- who no longer sports his signature black war paint under his eyes -- has a heightened sense of drama. With the clock ticking down to one minute remaining in extra time and the score 0-0, he made a mess of a routine clearance in front of his net and allowed Croatia to seemingly win the game on a goal by Ivan Klasnic. "Seemingly," because there was still time for the 387th Turkish miracle of this tournament, as Semih Senturk hammered home the equalizer on the last kick of the game. It seems the Turkish strategy is to go a goal down in every match, and then bring it like their lives depend on it. And perhaps they do: At least 23 people across Turkey were wounded Saturday night by stray bullets fired from balconies in joy.
But if Turkey's upset of Croatia was epic, it was no more jaw-dropping than Russia's 3-1 dismantling of Holland, which was everyone's favorite to dazzle its way to the Euro title. Even if you suspected that the heretofore untested Dutch defense was a little dodgy, you still expected the speed and flair of their vaunted counterattack to leave scorch marks on the physical but less nimble Russians.
Or not.
Playing with a creativity and technical fluidity that must have made the Dutch think they were looking at a reflection of themselves in the mirror, Russia attacked, attacked again and attacked some more. The two architects of this rebranded Russian juggernaut were their Dutch-born coach Guus Hiddink, who guided Holland to the semifinals of the 1998 World Cup, and the 27-year-old Arshavin, who is a member in good standing of Vladimir Putin's party, has authored two books and
released a song on the eve of the tournament
.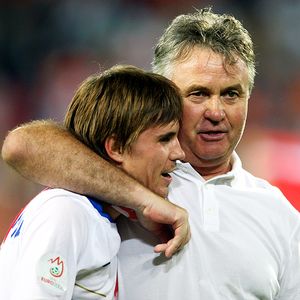 Laurence Griffiths/Getty Images
But Spain survived to play Russia, led by Guus Hiddink, a man not afraid to give his own players the death grip.
Arshavin, who missed the first two games of Euro due to suspension, offered one of the most singular performances we've seen in this tournament, showcasing his intelligence and Steve Nash-like field vision. Unlike Ronaldo, whose photo should be on a milk carton after he disappeared toward the end of Portugal's quarterfinal with Germany, Arshavin demanded the ball, especially after Ruud Van Nistelrooy had equalized for Holland in the 86th minute and forced extra time. So electric was Russia's pace throughout the game that you figured they might wilt in the two 15-minute overtimes, but it turned out to be the Dutch who looked like they were wearing leaden clogs.
Whether Russia can continue its smooth ground assault against a Spanish defense that got the job done whenever it had to against Italy -- which was not very often, since the Azzurri basically played for penalty kicks from the first minute -- remains to be seen. After all, Spain handled the Russians with ease in their opening round matchup, coasting to a 4-1 victory -- but Russia was without Andrei The Great, who was serving a two-game ban, and Russia is a different team with Arshavin at the controls. One word of advice for watching this game: Keep a defibrillator handy.
David Hirshey is the executive editor of HarperCollins Publishers. He has been covering soccer for 30 years and played himself (almost convincingly) in the soccer documentary "Once In A Lifetime." Roger Bennett lives in New York but still is scarred by this. Hirshey and Bennett are at work on the forthcoming "ESPN's Ultimate World Cup Guide." The two will be writing about Euro 2008 Monday through Friday on Page 2, unless their astrologer tells them not to.