Can Germany stop the reign of Spain?
EURO 2008 COVERAGE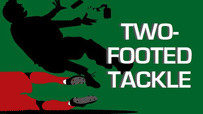 Check Page 2 each weekday during Euro 2008 for a tournament diary by David Hirshey and Roger Bennett
.
Previous entries
June 6:
Tourney preview
June 9:
Rough weekend for Switzerland
June 10:
Down goes Italy
June 11:
Villa, Spain flying high
June 12:
Big Portugal news
June 13:
Croatia shocker
June 16:
Turkey stuffs Czechs
June 17:
Germans march on
June 18:
French fried
June 19:
Playing quarters
June 20:
Spoiler alert!
June 23:
Semi-tough
June 25:
Miracle on grass?
June 26:
Turkey out of picture
•
Soccernet Euro 2008 index
Sunday's final on ABC:
Germany vs. Spain, 2:30 ET
(Replay available afterward on
ESPN360.com
in both English
and Spanish.)
The rain that pelted down on Vienna during Spain's semifinal with Russia must have been hell on Germany coach Joachim Low's dreamy Chace Crawford hairdo. But let's hope Low braved the elements and stuck around for the second half of the game.
Otherwise, he'll have no idea about the Spanish storm his team will have to weather in Sunday's final.
If Low is honest with himself, he knows that Germany -- which overcame the heroic Turks thanks to a combination of sheer force of will and comical Turkish goalkeeping -- has to rachet up its game or spend Sunday listening to a mocking chorus of
Olés
ringing around the stadium. Just like the Russians heard on Thursday.
During their surprising and exhilarating Euro 2008 campaign, culminating in their quarterfinal vivisection of the Dutch, the Russians conceded eight goals. Seven of those came against the Spanish.
Thursday's game was supposed to be different. When these teams met in their opening-round match, Russia was still coming to grips with the quick counters and flank play their Dutch coach, Guus Hiddink, had drawn up for his young team. The Russians were also without their star playmaker, Andrei Arshavin, who was serving a two-match suspension. With Arshavin back galvanizing his side, surely there was no way Spain could once again slide through the Russians like a spoon through caviar. After all, wasn't the elfin 27-year-old captain of UEFA Cup champion Zenit St. Petersburg the revelation of the tournament, evoking comparisons to the Euro 1984 performance of the great French maestro Michel Platini and triggering a droolfest among Europe's big clubs for the honor of overpaying for his services?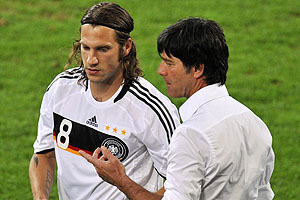 JOHN MACDOUGALL/Getty Images
Joachim Low and Torsten Frings discuss the critical issue. Which hair spray looks more natural, Pantene or Alberto?
What's more, Arshavin is not your typical soccer mercenary. He attended a fashion institute in St. Petersburg (Thesis: "Development of the sportswear production process"), where he took a sewing course that has held him in good stead in his other career as a designer. (If soccer doesn't work out, perhaps he can become
the next Sean Avery
.)
But, like the rest of the talented Russians, Arshavin came unraveled in the face of Spain's intricate passing and clever interplay. Just as Germany's supposed powerhouse Michael Ballack disappeared in Wednesday's semifinal against Turkey, you had to check your lineup sheet to remind yourself that Arshavin was even on the field. Sergio Ramos and Marcos Senna, the two players who rendered him mute, might not regularly end up on the scoresheet for this Spanish side, but they both had monster games against Russia. Ramos, the Real Madrid fullback who plays like a winger (and, by the looks of things, could benefit from some time spent in a fashion institute), gave Arshavin a taste of what he should expect if he, as has been rumored, fulfills his childhood dream by going to Barcelona. (But that crashing sound you just heard might have been Arshavin's transfer value plummeting.)
Time and time again on the left flank, Ramos picked Arshavin's pocket when the Russian tried to trick him with his ball wizardry. Meanwhile, the Brazilian-born Senna was holding down the middle of the park should Arshavin decide to attack via a more direct route. And yet somehow the Russians found themselves tied 0-0 after 45 minutes. (And if winning wasn't enough incentive, Russia's answer to Joe Francis gave the team some added inspiration to rack up some goals in the second half.)
That proved an illusory score however, because the Spanish were growing in confidence, and had Fernando Torres not squandered a tapas-plate worth of chances, they would have been a couple of goals in front before halftime. Befitting this unpredictable tournament, it was the loss of Euro 2008's leading scorer, David Villa, to a thigh injury late in the first half that turned the game around. To replace his lethal marksman, Spain coach Luis Aragones gambled by bringing on an attacking midfielder, Cesc Fabregas, and stationing him just behind Torres. The 21-year-old Arsenal linchpin unlocked the Russian defense, threading balls to his rampaging teammates through the tiniest of gaps.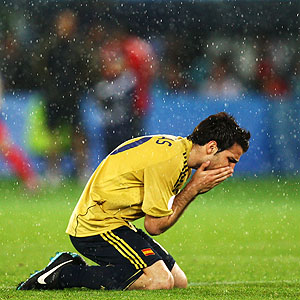 Andreas Rentz/Getty Images
No choking here. Cesc Fabergas was just clearing his throat.
After a surging run and a brilliant finish by Xavi made it 1-0 in the 50th minute, Fabregas hit the equivalent of a sand wedge over the top of Russia's central defenders, the ball falling to substitute Dani Guiza, who deftly flicked it past the stranded keeper. Then, in the 82nd minute, Fabregas bid
dasvidanya
to the Russians with a short pass that bisected their defense and was hammered home by David Silva.
So will the verve and artistry of Spain flummox Germany the way they did Russia? Hardly. Two words: set pieces. Anyone recall how Portugal dealt with the surface-to-air missiles that the Germans launched onto the heads of Ballack and Miroslav Klose? Both free kicks ended up in the back of the Portuguese net, and Klose didn't even have to shove a defender out of the way in order to score his goal. The powerful Germans will also muscle Spain's delicate midfielders, pushing them further back and attacking them from the flanks with Bastian Schweinsteiger, Lukas Podolski and Philip Lahm.
With a choice between brawn and brain, physicality and fluidity, self-confidence and a history of failure, we stand by the prediction we made before a ball was kicked. Spain simply has too much talent, and now that the Spanish have apparently learned not to choke in front of the world, they will hoist their first major trophy in 44 years. Adios, Germany.
David Hirshey is the executive editor of HarperCollins Publishers. He has been covering soccer for 30 years and played himself (almost convincingly) in the soccer documentary "Once In A Lifetime." Roger Bennett lives in New York but still is scarred by this. Hirshey and Bennett are at work on the forthcoming "ESPN's Ultimate World Cup Guide." The two will be writing about Euro 2008 Monday through Friday on Page 2, unless their astrologer tells them not to.