After 44 years, Spain lays its Euro ghosts to rest
EURO 2008 COVERAGE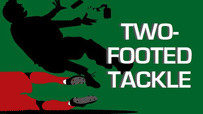 Each weekday during Euro 2008, Page 2 posted a tournament diary by David Hirshey and Roger Bennett
.
Previous entries
June 6:
Tourney preview
June 9:
Rough weekend for Switzerland
June 10:
Down goes Italy
June 11:
Villa, Spain flying high
June 12:
Big Portugal news
June 13:
Croatia shocker
June 16:
Turkey stuffs Czechs
June 17:
Germans march on
June 18:
French fried
June 19:
Playing quarters
June 20:
Spoiler alert!
June 23:
Semi-tough
June 25:
Miracle on grass?
June 26:
Turkey out of picture
June 27:
Spanish fly high
•
Soccernet Euro 2008 index
(Replay of Sunday's Germany-Spain final available on
ESPN360.com
in both English
and Spanish.)
Although the amount of dry ice accompanying the presentation of the Euro 2008 trophy was more fitting for a 1982 bar mitzvah than an international medal ceremony, it brought to an end what was a thrilling festival of sports -- one that's had as many story lines as a Robert Altman movie, and almost as many topless scenes. The pulsating soccer on display across Austria and Switzerland trumped even the free reign of Nike's creative imagination in its omnipresent ad campaign. After three weeks of competition, it was Euro 2008 itself that "took it to the next level." The best team won. Spain capped a dazzling tournament of attacking soccer played with passion, verve and invention. And despite remarkable displays by at least half a dozen countries at varying stages --
making it damn near impossible to pick the winner
-- the feel-good ending also shattered two national narratives that had, up to this point, been well-honed by history. The resistance-is-futile inevitability of German victory was best summed up once by English television pundit Gary Lineker's comment that "Football is a simple game: 22 men chase a ball for 90 minutes and at the end, the Germans win." This year, however, that was replaced by a new story line of Michael Ballack as soccer's Job, doomed to suffer a career of mishap, tragedy and punishment. And with its first championship in 44 years, Spain proved that it has the most effective team of half-pints the world has seen since the Bad News Bears went to Japan, overcoming their crippling lack of self-confidence and officially handing over the title of big-time tournament chokers to England. So dominant were the Spaniards on Sunday, picking up the trophy was pretty much goalkeeper Iker Casillas' one and only task of the day. The Germans' performance was physical yet ineffective, the communication between their midfield and forward line was akin to that of Mr. and Mrs. Guy Ritchie, and their frustration was symbolized by Ballack, who was neutralized throughout by the impressive Marcos Senna and spent much of the second half on the verge of
a Danica Patrick meltdown
.
Spain's goal was a beauty. Fernando Torres, with cheeks so fresh that a razor has barely touched his skin, used his pace and power to stretch for a ball he had no right reaching, humiliating defender Philip Lahm and scooping the ball past the onrushing Jens Lehmann -- ensuring Torres is now as beloved in is own country as he is in his adopted home of Liverpool.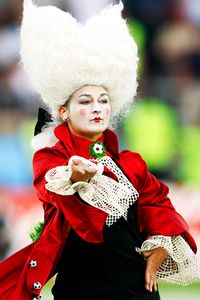 John Sibley/Icon SMI
Carlos Puyol had a fabulous game, and was stoic at the heart of the Spanish defense.
Torres' goal was a fitting end to a tournament in which there was so much quality soccer, and so many twists in the tale. Aside from the fact that Euro 2008 has barely provided a morsel for soccer cynics to feed off of in this country, here is what we will remember from the past 23 days in Austria and Switzerland:
"There is no D in Team"
The Euro tournament is akin to a compressed season, one in which most squads begin tentatively, with their lineups still gelling -- a lesson learned the hard way by teams that rested their stars at the end of the group stage only to earn a permanent vacation as soon as the elimination rounds began. This was a tournament dominated by the flowing, open soccer typified by Spain, Turkey, Russia, Holland and Croatia, which displayed more forward flair than the Kentucky Colonels in their prime. Teams that came to shut the game down defensively were quickly dispatched. Greece's title defense was as impressive
as boxer Mike Foley's
.
But no doubt about it, the French were the joke of Euro. Can anyone remember a single moment when France played like the stylish team that only two years ago came within a head-butt of being crowned world champions? OK, perhaps the vintage one-touch goal scored by the otherwise invisible Thierry Henry with the outside of his left foot to cap off a lightning French counter -- but that came in France's 4-1 surrender to Holland. Other than that, rien. As the semifinals approached at Euro 2008, the best game Henry could get was in New York -- at Steve Nash and Claudio Reyna's charity match.
France and Italy's lackluster performances combined to suggest that England's failure to qualify for this tournament was not an aberration, but rather a precursor to something far more significant. Europe's traditional old guard, though rich in soccer history, can no longer just turn up and expect to win on reputation alone.
The stars, they did not shine
The fact that the soccer was often skillful and electrifying belied the fact that many of the major stars failed to deliver, a motif established early on by the unlucky Alexander Frei, who limped out of co-host Switzerland's opening game before halftime. France's Franck Ribery, Italy's Luca Toni and Romania's Adrian Mutu were among the big names whose dazzling club form deserted them in international competition. Toni in particular looked about as coordinated as a newborn foal. In goal, Petr Cech's epic bobble against Turkey was the howler of the tournament and sent the Czech Republic home instead of to the quarterfinals. But perhaps the biggest flop by an individual was that of Cristiano Ronaldo. After the record-breaking season that he had for Manchester United, perhaps it was inevitable he would sink (or, in his case, dive) to the occasion. Apart from his stylish goal/assist/wink against the Czech Republic, he will be remembered for proving that multitasking has its limits, and that anyone attempting to win the tournament while orchestrating a dream move to Real Madrid and dedicating vast chunks of the day to admiring his own reflection in the mirror will earn the right to watch the final
from the comfort of the beach in Sardinia
.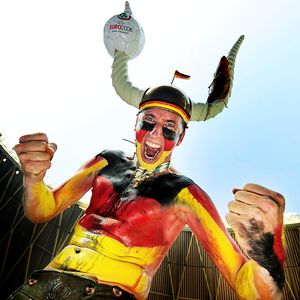 Michael Regan/Icon SMI
At a tournament populated by Brazilian Poles, English Turks, and Italians from Argentina, the world's only German Viking barely merited a second glance.
But as well as being a soccer beauty pageant, the tournament fulfilled its secondary role as one large showcase for talent. And now that it is over, let the bidding begin for some of those whose performances were electric. Polish goalkeeper Artur Boruc, Dutch maestro Wesley Sneijder, German high-flyers Bastian Schweinsteiger and Lukas Podolski, and winner of the Golden Boot David Villa (who will no longer be known as The Spanish Striker Who Is Not Fernando Torres) prove that Euro triggers enough gossip to make even Perez Hilton's head hurt.
Names to forget that we told you about a mere three weeks ago
They may have been more hyped than a Mike Myers movie, but few of the young players ballyhooed in the run-up to Euro 2008 had tournaments to remember. The unstoppable force of Germany's Mario Gomez made little impression, other than to be ridiculed for perhaps the worst miss in Euro history. French wunderkind Karim Benzema used his speed to enter one blind alley after another. And even Croatia's creative yet fragile Luka Modric looked too lightweight to survive the battering that awaits him in the English Premier League. The breakout stars of Euro 2008 turned out to be Arda Turan, who literally kick-started Turkey's campaign with his goal against the Swiss; Dutch midfield giant Orlando Engelaar, who fused the stopping power of a big man with a surprisingly deft touch; Turkey's Kazim Kazim (the artist formerly known as Colin Kazim-Richards), a Premiership washout who was reborn at Euro, putting on a display of speed and guile that tormented Germany in the semis; and most of all Russia's Andrei Arshavin, using his low center of gravity to provide two of the most dominant individual performances since Diego Maradona in 1986. With his surname tailor-made for English tabloid writers ("He's Arshavin a Laugh"), watch for him to end up at Chelsea.
He shoots, he scores
In his poetic book "Football in Sun and Shadow" Uruguayan writer Eduardo Galeano calls a goal "football's orgasm" -- which may be why we'd like to experience these beauties over and over again:
• Giovanni van Bronckhorst's end-to-end run for Holland against Italy
• Philip Lahm in happier days, foreshadowing the fact the he may be a better striker than defender in finishing off Turkey
• Turkey's Semih Senturk, the tournament's super sub, stunning Croatia with his vicious strike
• And perhaps our favorite, because of its impact -- Austria's Ivica Vastic toed in a penalty kick to secure a lifelong supply of free beer
Eat your heart out, Bill Belichick
When the final whistle blew, the Spanish players circled their 69-year-old coach, Luis Aragones, and flung him into the air -- no doubt condemning him in his advanced age to a week at the chiropractor's office, but underlining this as a tournament at which the managers, not the players, were the stars. When times were bad, the media pummeled the men on the sideline (Italy's Roberto Donadoni and France's Raymond Domenech received more cheap shots than Curly and Larry). But when a team excelled, its manager's demeanor, charisma and style were the dominant feature throughout. Russia was most definitely Guus Hiddink's team, as he cemented his reputation as a semifinal specialist in international competition. Similarly, Croatia's Slaven Bilic, Euro's McDreamy, guided his squad to within one kick of the semis,
using his post-punk cool alone
.
We had heard so much about German coach Joachim Low's good looks that when Enrique Iglesias serenaded the world before the final, we had to look twice to make sure it wasn't Jogi himself up there belting out the official Euro anthem.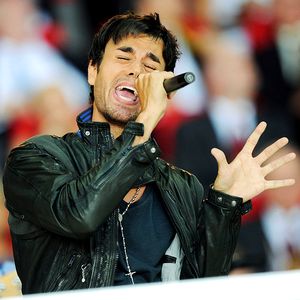 Michael Regan/Icon SMI
Did the multitalented Joachim Low find time to both coach Germany and sing the official song of Euro 2008 before the kickoff? You be the judge.
But perhaps the hero of the tournament was Turkey's Fatih Terim, a man who aped Low's simple white-shirt style but took it to a radically different place, urging his team on through singular force of will
while sweating through an average of three Oxfords per game
.
And the winner is …
So who really won Euro 2008? It all depends on how you do the math. The Financial Times estimated that while Spain won 23 million euros in prize money, the real winners were the organizers, UEFA, who made a stunning 1.3 billion euros in sponsorship deals -- the kind of money that is sufficient to make most Americans develop a sudden interest in soccer.
One last, lingering memory
Our most lasting memory of Euro 2008 is this --
the grating tune pumped out of the stadium whenever a goal was scored
. The choice of an annoying yet contagious Brazilian samba was perhaps particularly apt, as that nation's soccer players had an unprecedented impact on this tournament. By the time that song is out of your head, World Cup 2010 should be nearly with us, and we will know whether the English have been able to redeem themselves by circumnavigating Croatia once more, if Brazil can overcome an uncharacteristic dip in form -- perhaps caused by its generous gifting of skilled players to the rest of the world -- and whether Team USA can sustain its progress and become the Turkey of World Cup 2010.
We can but dream.
David Hirshey is the executive editor of HarperCollins Publishers. He has been covering soccer for 30 years and played himself (almost convincingly) in the soccer documentary "Once In A Lifetime." Roger Bennett lives in New York but still is scarred by this. Hirshey and Bennett are at work on the forthcoming "ESPN's Ultimate World Cup Guide."