Commentary
What it means to be a New York Jets fan
Originally Published:
January 21, 2010
By
Chris Fallica
| Special to Page 2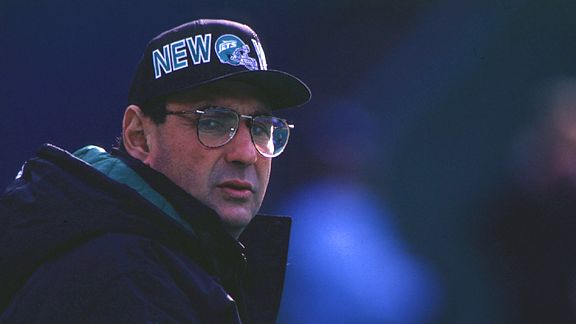 Rick Stewart / Getty ImagesThe 4-28 record of the Rich Kotite era is one of many ignominies New York Jets fans have endured.
For the past 30 years or so, I have been devoted to the New York Jets. Went to every home game from 1981 until the time I left the comforts of home in 1990. We still have season tickets. I've seen my share of ups and downs in those 30 years -- OK, mostly downs, which makes the bond between Jets fans and the team to which they devote themselves more passionate. What is being a Jets fan all about? Here's your answer:
It's about the "Mud Bowl" and an uncovered Orange Bowl field during the south Florida rains leading up to the 1982 AFC Championship Game. The NFL's leading rusher, Freeman McNeil, never had a chance.
It's about the fake spike in 1994. And how 6-5 became 6-10.
And how 6-2 became 7-9 in 1984.
And how 7-4 turned into 8-8 in 1993.
It's about Kyle Brady, Blair Thomas, Johnny Mitchell, Jeff Lageman and Vernon Gholston.
And Dewayne Robertson, Browning Nagle and Roger Vick.
And A.J. Duhe.
It's about sharing a stadium and being "the other team."
It's about "comparing a flashlight to a star."
It's about the hope of an 8-3 start with Brett Favre in 2008. And the reality of a 1-4 finish. And "Mangenius" losing the genius part.
It's about Charley Steiner proclaiming "the Jets are going to the AFC Championship Game" after Freeman McNeil put the Jets up 20-10 on the Browns with 4:14 to play in the 1986 AFC playoffs. Mark Gastineau had other ideas.
It's about the "Monday Night Miracle" against the Dolphins in 2000 and a 6-1 start for Al Groh … and an 0-3 finish and losing 10-7 at home to the Lions.
It's about saying, "You play to win the game."
And Leon Hess anointing a "head of the Jets family" and "being 80 and wanting results now."
It's about Bubby Brister and a shovel pass interception against the Panthers, giving Carolina its first win in franchise history in 1995.
And Rick Mirer, Brooks Bollinger, Kellen Clemens and Quincy Carter starting games at quarterback.
It's about the draw play Joe Walton seemingly ran on every third-and-8. Can I hear one more "Joe Must Go" for old times' sake?
It's about Blair Thomas fumbling away a "Monday Night Football" win in Chicago while running out the clock in 1991.
It's about an intercepted Leon Johnson halfback pass at Detroit in 1997.
It's about Vinny Testaverde's ruptured Achilles tendon in the first half of the first game in 1999. That was supposed to be "our year."
And about Neil O'Donnell injuring himself during pregame warm-ups in 1996.
It's about the Arizona Cardinals "denying" the Jets an 0-16 season in 1996. Payback, I'm sure, for "denying" the Saints an 0-16 mark in 1980.
It's about going to Oakland. And going to Oakland again and again and again.
It's about leading the Broncos 10-0 in the third quarter of the 1998 AFC Championship Game. Just 26:56 away from the Super Bowl. It's about Victor Green blowing coverage on the next drive. And a gust of wind on a kickoff. And six turnovers.
It's about Doug Brien at Pittsburgh in the 2004 playoffs.
It's about Rich Kotite. It's definitely about Rich Kotite.
And the HC of the NYJ.
And about a resignation on a napkin.
It's about a guarantee.
And most importantly, it's about Sunday.
Chris Fallica is a researcher for ESPN Stats & Information.