By David Fleming
Page 2
The yellow truck looked like the thing Uma Thurman drove in "Kill Bill Vol. 1." When I pulled up to The Link a few hours before the start of the 2004 season, all I saw was one limp limb hanging over the back end of the cab. It was attached to the lifeless body of an overzealous Eagles fan who'd apparently partied a wee bit too much in anticipation of the 2004 season. (That, or he was left over from the last NFC title game.)
On closer inspection, I saw that his red face had a creepy, but calm, formaldehyde smile burned on by the afternoon sun. And like his new hero, T.O. (who was caught in traffic), this dude (let's call him Ralph) was in serious danger of missing kickoff ... in October.
This is what happens after Week 1 of each new NFL season. Across the league, everyone either parties or panics way too much. You're either 1-0, undefeated, looking good and heading to the playoffs, or you're 0-1, winless, in disarray and wondering how long 'til your coach gets canned and you get the No. 1 pick in the draft.
It's the football equivalent of the Fight or Flight response. It's the annual Week 1 Party or Panic response.
In Philly -- God love this place -- the normally surly football savants were downright giddy after T.O. caught three TD passes against the (They Might Be) Giants. You could almost hear Ralph's buddies extrapolating T.O.'s TD totals over the entire season ... eight ... carry the one ... add to the three ... 48 TDs!!!!!. Afterward, a revived Ralph and his friends were talking about having "the greatest offense this town has ever seen." And, realizing they've somehow been awarded the Cardinals schedule by accident, they began bragging how the "1972 Dolphins won't be sipping champagne this season."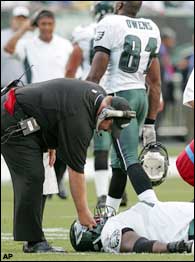 This is definitely not the position the Eagles hoped Shawn Andrews would be in.
Never mind that the season-ending injury to guard Shawn Andrews leaves Philly dangerously thin up front, or what it says about the Philly front seven when the top three leading tacklers on Sunday were defensive backs. Forget, too, the hangover from three straight loses in the NFC title game -- a streak that one player confessed to me last year had the team worried about becoming the "NFC version of the Buffalo Bills."
Forget all that. Just give the 1-0 Eagles their damn Lombardi trophy now, block off Broad Street and let them have the parade before the weather turns nasty.
Reeelax, people. Pace yourself. Sit down. Take a deep breath. It's a long season.
Trust me, the Redskins aren't really that good. The Ravens aren't really that bad. The Chargers are still as strong as static electricity. These are not the 1964 Browns. And the Lions should look at their win against the Bears this way: "Cool! Now we're 1-24 on the road."
I hear people talking about the Kansas City-Carolina game this week as a "must-win situation" for both teams, and I want to jump into that yellow pickup truck and match Ralphie boy Natty Light for Natty Light. Yes, I'm well aware that only 10 teams in NFL history have come back from an 0-2 start to win their division. But, really, parity has made the races down the stretch so tight that the month of September is more like an extended version of the pre-season.
In 1980, the Detroit Lions started the season 4-0. Everyone in my hometown of Motown went nuts. A doofus safety named James 'Spiderman' Allen cut a cover of Queen's "Another One Bites the Dust." Of course, the Motor City Kitties bit the dust in four of their last seven games and missed the playoffs. I threw out my Lions gear and never listened to another Queen song in my life. (So it wasn't a total loss.)
On the flip side of that, in 1996, I visited with new head coach Tony Dungy after he started 0-5 during his first season in Tampa. The 5-0 Vikes were coming to town, and even Dungy's son Eric had jumped ship on the Bucs and their long history of bushwhacked buffoonery. Dungy, though, didn't change a thing. He never turned a table over. Never raised his voice. Didn't show a single sign of panic. The great ones never do. (Are you listening, Tom "watch my cranium explode right here on the sidelines" Coughlin?)
The Bucs beat Minnesota 24-13 that week for Dungy's first W. His calm and consistent leadership during this stretch is still cited by his players as the beginning of the turn-around in Tampa.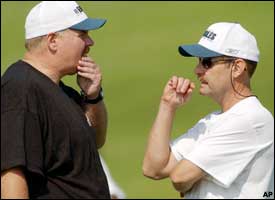 Don't count Andy Reid and Brad Childress among the fans basking in Week 1 glory.
I can tell you there is no partying going on at Philly's practice facility this week. Responding to Donovan McNabb's eye-popping performance -- 26 of 36 (76 percent) for 330 yards, four TDs and a 137.5 passer rating -- Andy Reid called it a "nice day." Somebody get this red bull a Red Bull. By 1 p.m. on Monday, Philly's sharp offensive coordinator Brad Childress had already put the Giants game "to bed" and was busy inside his darkened office breaking down film on the Vikes.
Like the rest of us should, Childress and Reid remembered back to the start of last year when both the Patriots and the Birds were skunked in their season openers. Somehow, the world didn't end. Both teams made their conference title games.
The Vikes, on the other hand, started 6-0 and sat home in January.
"What if last year, the Patriots had said, 'OK, we're done, it's over' after losing (to Buffalo 31-0 in the 2004 season opener)," said New York Giants linebacker Kevin Lewis. "If we look at it like it's time to panic now, we'd be done for the season before it even began. I'm not sure how long you've been covering the league, but the last time a team went undefeated was in 1972."
Nearby, Jeremy Shockey stood by his locker wearing a yellow (one shade away from surrender, I suppose) bath towel as a doo-rag. He guaranteed that the next time these two teams meet, the game will be a lot closer. On the other side of the locker room, Tiki Barber was another picture of calm confidence.
"Coming in, we were using this game as a measuring stick," he said. "So now, we know what we have to do."
Yeah. Stay away from Ralph.
FLEM GEMS -- NFL WEEK 1
30-SECOND COLUMN
If it hadn't been for a police escort, Terrell Owens would have arrived late to the game on Sunday after somehow misjudging the traffic in his new hometown. But once he caught three TDs in his Philly debut -- ust two fewer than the entire Eagles WR corps had in 16 games last year -- everyone seemed eager to laugh off the incident. The team reportedly won't fine T.O., and coach Andy Reid says he wasn't even aware of the 'tardy' arrival.

But counting his disparaging insinuation during training camp about Jeff Garcia's sexual preference, this is now the second T.O. 'incident' that has been laughed off or disregarded altogether. "I was on time for the game," said T.O. "That's all that matters." OK. Fine. But it's stuff like this that makes athletes think they're above the rules in the first place. And when T.O. goes off the deep end at some point this season -- and you know he will -- don't sit there scratching your head wondering why he just doesn't get it. Maybe it's us.
FLEM FILE FIVE
Top five scariest quotes from Elton John before the season opener:
5.) "When they (the Pats) won the Super Bowl the first time and John Madden was saying, 'They shouldn't be risking this play,' I was going ... 'Go for it, Go for it!!!'"
4.) "No (I don't have a Super Bowl ring), I have a skull ring."
3.) "It's pretty much the same (football in the United States compared to England), without the vulgarities that the crowds chant at each other."
2.) "I think Detroit improved (in the off-season)."
1.) "Robert (Kraft) has been after me to write a song about the Patriots."
(T)FLEM FILE
I'm happy to report that Titans backup FB Troy Fleming aced his interview to fill in while Flem File mascot ZFlem is on IR with a torn Achilles. But really, how can you not like a fullback? A selfless, hard-working guy (all Flemings are like this) who happily puts his body in harm's way to help someone else find the end zone and the spotlight.
TFlem is the kind of guy who, when asked how he's feeling, you have to remind him he has a broken ring finger on his left hand. "Ah, yeah," he finally says. "It's not too much pain." TFlem was more freaked out by the weather during his NFL debut in Miami, held a day early because of the oncoming hurricane. "Man, it was hot, then it rained, then the sun came out again, then it got cloudy, rainy and sunny again -- wild," says the self-professed forensic TV junkie (he also likes Def Poetry).
When the Titans selected TFlem in the sixth round of the 2004 draft, all of his buddies teased him about "never leaving the state of Tennessee." Fleming grew up in Franklin, Tenn., about 15 miles outside of Nashville, where at Battle Ground Academy, he set the Tennessee high school rushing record with 3,008 yards. Twice named Mr. Football as a prep, Fleming was a regular guest on "The Jeff Fisher Show." He matriculated to UT, where the 6-foot, 230-pounder developed a rep as a nasty bulldozer blocker (he rushed for one TD in four years) as well as a special team's monsta.
That's where he'll see the most action as an NFL rook, but you get the feeling TFlem kinda likes the contact and chaos in there, especially when it's against his former teammates from UT like Miami LB Eddie Moore. "When that happens, it's even more of a blast," he says. "I'm not trying to hurt anybody, but I will take care of business."
Well, TFlem, your business here is finished. You're hired.
WHYLO
Here's why I love Page2: Now I'm getting emails from guys named "Bucket," "Melon" and "Shooter."

My man Shooter writes, "I loved your piece about 'Prime Time,' and I couldn't agree with you more. I'm not sure why he even wears pads. Athlete, yes ... football player? Maybe if it was flag football."

Melon says, "Mr. Flem. First time reader, I enjoyed everything."
Bucket isn't a big fan, but somehow hate mail from someone named Bucket just doesn't sting quite as much. Mr. B writes, "Regarding your shock-therapy column ... Dude, that's just disturbing."
Adds fellow reader Howard, "G-g-glad y-y-you ssssurvv---vived thesshhshho--shhshhock treatment. I wouldn't even let some super hot dominatrix do that to me! Truthfully, it sounds sick."
Matt suggested more torture. "No doubt you'll have a plethora of vitriolic correspondence to show your readers every week if you attach your name to idiotic opinions like your implication that Hamm should forfeit his gold medal," he wrote. "This suggestion is so ignorant and myopic that I wonder if it is simply bait to get the impassioned letters flowing."
Matt, Part II, says, "You obviously know a lot more about boy bands than you do about John Mayer."
Here's what J. had to say, "Why don't you make your entire column a '30-second' column? That way, we'll only have to wade through a half-minute of inane, unfunny BS before we tune out. And OBTW, you're only the 11th jealous hack to do the 'it keeps Deion off the TV' joke this week, but you're definitely the most boring. Congrats!"
Bruce counters with, "Ahh, another sign the best season of the year looms: The Flem File returns. Not quite as sweet as the return of the NFL for another year, but always good for a laugh and a look at the players."
And Chris adds, "Finally, someone's talking some sense. Deion Sanders was just as fast two years ago and he still got burned all the time, for exactly what you said ... he's afraid to tackle."
Regarding our Flem File mascot, Ari begs, "Definitely do not demote ZFlem; he is awesome."
Led by Jeff, a group at the University of Arizona that calls itself the Flem Squad nominated TE Steve Fleming as the next Flem File mascot. They already have "Fleming for Heisman" T-shirts made up. "As long as you don't jinx him," writes Jeff. "In other words, he better not blow out his Achilles also."
Carol brings up a good point. "Why do you address your comments to 'dudes'? There are a great many FEMALES who love and enjoy football. My husband is clueless when I talk about a 3-4 defense or the West Coast offense. I don't really want to appear in the WHYLO column, but I think you could be a little less gender-biased."
Hey, tell that to Brian: "After reading your column, one word comes to mind ... p---y."
Still, you know it's been a good week when that sewage is not enough to win the WHYLO award. Regarding the note on Adam Archuleta's bench press, Charles begins his missive with a question: "You must be kidding, right? There is probably not a man on earth who can bench near three times his own weight. And most assuredly for those few monsters who can, none of them weigh only 205. Please fix this obvious error because it's hard to read the rest of the column with anything resembling credulity when you start off with something as obviously off the mark as that figure."
For starters, three times Arch's weight would be 615 pounds. I said last week that he has a 530-pound bench press. (If I'm correcting your math, you have bigger issues than the WHYLO, my friend.) Chuck is correct on one point: The number is off. After finishing his workouts this summer, Arch now actually bench presses closer to 560 pounds. Good for Arch. Bad for Charlie. For suggesting that I simply made up that number, Charles gets the distinction of being the first Page 2 WHYLO in the history of the Flem File.
Oh, Mr. Mental Bench Press, Who Helped You Log On?
FLEM GEMS
Philadelphia Highlight No. 1: T-shirt seen while walking into The Link: 'DRINK BEER' in huge lettering on the back, with the tiny inscription underneath, go eagles ... Is it effeminate to bring your own shampoo on the road?
PHN2: The rather large man sitting next to me in the press box had a picture of himself in a bathing suit as his screensaver. The only thing worse than that are people who name their columns after themselves. ... See, this Oprah thing works out great because the next time my wife asks me to watch the show, I can demand a car in return. ... These new NFL Hawaiian-style shirts are cool, but please follow this simple rule when considering this type of shirt: Your garments should never have more personality than you do.
PHN3: With no hockey on the horizon, they're turning the Spectrum into a million-dollar haunted house in October. Can't wait to see the NFC Championship Game chamber of horrors. ... How can "Entourage," yet another phenomenal show from HBO, already be done? And why aren't more people using the catch phrase, 'Let's hug it out-b---h.'? ... Dave Chappelle=comic genius.
PHN4: Heard this on some shamelessly lame gambling radio show on Sunday morning: "If you love yourself and your family, then you owe it to them to call our hotline and get our absolute lock of the year on the Dallas-Minnesota game ... Now, always bet responsibly and never bet more than you can afford to lose; but if you normally bet $100 on a game, this would be a situation where you should put $500 down." ... No human being alive can drink as much Red Bull as Duce Staley. ... We are now only two months away from a national holiday: the release of a U2 album. I'm told this one is hard-core Irish rock, a kind of karmic backlash by Edge to all the doo-gooding of Bono.
PHN5: Saw a black Eagles jersey at the game with the name LOCAL on the back and No. 56 below it.
PHN6: Coupla things to note from the game. McNabb's second TD pass to T.O. had to be thrown before the wideout made his second move. It usually takes a season or two for QBs and WRs to get that in sync. Also, Brian Westbrook had 119 yards on just 17 carries, but I was even more impressed by his blitz pickup. ... After Week 1, the Deion Sanders/Cardinals tackles-to-victories challenge remains tied at 0-0. ... Charlotte may have been the lamest MNF crowd I have ever seen -- or, with 8:00 left to play, not seen.

THIS COLUMN WRITTEN WHILE LISTENING TO: Modest Mouse.
David Fleming is a senior writer for ESPN The Magazine. Contact him at Dave.Fleming@espn3.com.