THIBODAUX, La. -- I found the antidote to the ugliest offseason in NFL history.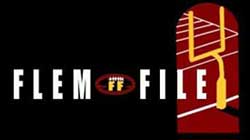 It was down in the oppressive late-summer heat of the Louisiana swamps, about 45 minutes southwest of New Orleans, past the fish camps, past the murky canals and an endless string of cypress trees covered in moss. I came upon the tiny, time-warped town called Thibodaux, home to Nicholls State University and the 12th annual Manning Passing Academy.
There, as more than 1,200 campers from across the country filed onto a 10-acre patch of steamy, lush, perfectly green football fields, I sat in a golf cart with Archie Manning, the bayou legend, former Saints QB and the patriarch of the first family of the forward pass. At the time, the Michael Vick thing was just beginning to unfold, the heat was raining down on Pacman and it was beginning to feel like Roger Goodell was suspending players two at a time to save money on press releases. So when Archie explained how special this time was for him and his boys and how Cooper, Peyton and Eli would be involved in every last boring, sweaty minute of the camp, without knowing it, I let out a cynical little chuckle.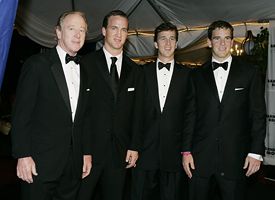 AP Photo/Darron Cummings
The first family of the forward pass: Archie, Peyton, Cooper and Eli Manning.
It didn't seem possible, not given the current state of the NFL. Besides, at most of these camps, the celebrity host usually drives by in his limo, waves at the kids and drives back to the airport. You want a picture with him? Here, kid, stand next to this cardboard cutout. That'll be $50.
But two fields over there, they were just as Archie had promised: One Super Bowl MVP, two No. 1 picks, both worth well north of $100 million, each one in the middle of 15 skinny, scraggly, goofy kids, giving tips and instruction on the monumental minutiae of the position -- everything from looking off the safety, to the height of an elbow, to the proper placement of a toe. And after a few days at the MPA, I learned something: I saw Peyton Manning greet his family for the first time just moments after the Super Bowl and I watched him ham it up on "SNL" and, trust me, you won't ever see him as happy and relaxed as he was here, surrounded by 1,200 eager-to-learn QBs, his brothers and an endless supply of route-runners and open field.
"For us, this camp is our Thanksgiving, Christmas, vacation and birthdays all rolled up into one," Cooper says. "To be in the same city, let alone the same dorm room and without the phones, the families, the duties and the distractions of daily life, it's something we cherish."
The three brothers roomed together in a dorm suite on campus. They got yelled at by their dad for sleeping late. They played practical jokes on each other. They watched from afar as Eli mixed into the crowd and enjoyed his escape back to high school. Eli, says Cooper, is hard to figure out: "He's silent but deadly, and the harder people try to get him, the less accurate they seem to be. They get mad and frustrated, but Eli just doesn't care."
And, of course, they picked on the ultra-serious Peyton.
FLEM FILE NOTES
As many old school FlemFilers have noted, at different times during the past 12 years the column has contained a sidebar of shorter weekly features that were actually quite popular (who knew?) -- stuff like the FlemFile Mascot, the WHYLO (Who Helped You Log On?) reader e-mail award, The FlemFile Five and This Column Was Written While Listening To. By popular demand this season we've defrosted these from the Page 2 cryogenic chamber and will be bringing them back this season in limited release, which just means some weeks you'll get far more than you wanted and other weeks you'll get much less. So enjoy. Or not.
30-SECOND COLUMN
One of the most interesting conversations I had during the offseason was with Erik Weihenmayer, the first blind person to reach the world's highest peak. Erik started out by saying, "I'm kinda tired of talking about Mount Everest." Imagine, for a second, the kind of life you'd have to lead to be able to utter that phrase. But in the six years since Erik Weihenmayer scaled Everest, the 38-year-old resident of Golden, Colo., has conquered the Seven Summits -- the highest peaks on each continent -- become a world-renowned advocate for the blind, an award-winning author, speaker and filmmaker, carried the Olympic torch (twice) and even had his likeness recreated on "The Simpsons." (Suddenly, the picket fence I built in my backyard this summer didn't seem so badass anymore.)
Everest might bore him now, but while discussing his second book "The Adversity Advantage: Turning Everyday Struggles into Everyday Greatness" (co-authored with business guru Dr. Paul Stoltz), a self-help book for people who normally hate self-help books, Weihenmayer did get worked up over a recent game of rock, paper, scissors. Weihenmayer, who went blind at 13 from the degenerative disease Retinoschisis, has been working with researchers at BrainPort to develop artificial vision equipment.
A camera mounted on the forehead sends electronic pulses to the tongue, forming shapes and interpreting movements to create a new field of vision. The idea is to one day allow blind people enough "vision" to ski, hike or climb on their own while following a guide. "My message has never been, 'Oh, great, I went blind, yipee!'" says Weihenmayer, who discussed artificial vision, his book and other new technologies at this summer's No Barriers Festival in Squaw Valley, Calif. "It has been about facing that adversity and converting it into fuel to elevate yourself and others."
Eventually. Initially, though, Weihenmayer used his first "taste" of sight in 20 years to challenge his daughter, Emma, and researchers to a game of R-P-S. "They beat me," he laughed. "I forgot I was a little out of practice."
FLEMFILE FIVE
Top Five Offseason Adventures of the FlemFile (that I can still find links for or else I'd include the day I spent at a nudist colony during the Atlanta Olympics learning the No. 1 rule of nudity -- that the people who love being naked are always the ones who most need to be covered up):
5. Vick Diary: The first installment of my 10,000-word diary on the summer I spent shadowing Mike Vick. It was only 2003 but it seems like a lifetime ago now.
4. (TIE) Being Invincible: My day working as an extra on the set of Invincible.
AND Donte's Inferno: (http://sports.espn.go.com/espn/page2/story?page=fleming/050907): A day spent with former Saints receiver Donte' Stallworth at a Hurricane Katrina relief shelter in San Antonio.
3. England's Hallowed Ground: My visit to the center of the futbol universe: Manchester United's Old Trafford.
2. Crossing Pattern: My week in the ancient Mexican town of San Miguel de Allende with Chiefs tight end Tony Gonzalez.
1. Big Ben Cuts The (Swiss) Cheese: My week touring Switzerland with Steelers QB and fellow Miami University product, Ben Roethlisberger.
ADD IT UP
Mike Singletary + Deion Sanders + "Must Be the Money" + Ving Rhames + Keith Olbermann = new Pats linebacker Adalius Thomas.
FLEM FILE MASCOT
Since old school FlemFilers enjoyed our section on former NFL tight end and all-around cool guy Zeron Flemister so much, I'm pleased to announce that we are currently in negotiations with a new FlemFile mascot who -- fingers crossed -- seems to possess all the very strident prerequisites for this task: a job in pro football, a healthy sense of humor, a phone and, well, the right last name.
FLEMGEMS
• TRAINING CAMP OBSERVATION No. 1: Great insight from a fellow NFL head coach on the ongoing saga involving Andy Reid and his troubled sons: "Being the child of a coach is hard, but being a coach's son is even tougher. The external pressure is constant because the assumptions are always: 'Why are you not a star player? Why don't you love football?' People think this is a sports thing or a football thing, but what most people don't understand is the frustrations a coach has because their son or daughter doesn't have that same drive or passion that they do. I think that might be at work with Andy Reid and his family. And it becomes a big problem, a big divide. Most coaches are so focused and driven, it's hard for that kind of person to understand a typical 18-, 19-, 20-year-old kid who, like most kids, isn't quite sure what they want to do with their life. A supremely driven person, like a coach, would think, 'I don't know that world.' And that creates a lack of empathy on our part. Most coaches have known they always wanted to coach. We latched onto that goal and focus at a much earlier age and it's a very narrow tunnel to look through to appreciate those around us who haven't found their life's work as readily as it came to us." … There's a scene in the second season of "Weeds" in which Mary Louise-Parker daydreams out loud about not having the responsibilities of a parent and it's done with such guilt, torment, confusion, joy and sadness, she deserved a stack of Emmys for that one scene alone. …
TCO No. 2: Jags defensive tackle John Henderson spent 200 grand on his wedding in Nashville, Tenn., this summer. And did the guy who gave him some national magazine pub sniff an invite? Nope. I think word got back to Hendie how this summer I sent a wedding present to a friend of mine that was actually engraved with the wrong initials. …
TCO No. 3: While discussing the intricate changes he sees in Cover 2 defenses from week to week, Falcons wide receiver Joe Horn stopped in midsentence and said, "It's all ego, man; I think defensive coordinators do all this stuff and add all these twists just so they can say they invented some s---, you know?" …
Did you know the chord progression for the "High School Musical 2" song "All For One" is the same as Audioslave's "Doesn't Remind Me?" …
TCO No. 4: He's old, but future Hall of Fame linebacker Derrick Brooks can still take the heat. Apparently he is the sauna king of the Bucs. "He gets in there, pours a whole bottle of water on the coals, turns it up to, like, 200 degrees and watches all the young guys run for the door," says former teammate Dewayne White. …
Did you know that Meatloaf, Dr. Phil and Mean Joe Greene all went to the University of North Texas? …
TCO No. 5: This one from a defensive coordinator in the AFC had me rolling on the ground: "Here's what I like, when a head coach gets up on the podium after a loss and he says, 'This one's on me; I take the blame; the buck stops here.' And then he launches into, 'So don't you dare blame the cornerback who gave up that last-second touchdown, or the special teams coach who let that punt get blocked or our running back who fumbled away a sure six points or our GM for not getting me the receivers I needed in the offseason. No sir. This one's on me.'" …
The best performance I saw this summer was turned in by my hometown Davidson College women's soccer goalie, Bevin English. A senior from Charleston, S.C., English put on a clinic for 88 minutes in a recent exhibition against nationally ranked Clemson -- diving, leaping, acrobatic saves, impeccable positioning, perfect timing and gutsy challenges on breakaways.
THIS COLUMN WRITTEN WHILE LISTENING TO:
Rilo Kiley's new album: "Under the Blacklight."
"Peyton, shoot, he just can't help but be in charge of everything and he's never satisfied," Cooper says. "He's still a tough customer and a very difficult person to impress. Eli can still walk into a room and find his way to his table and blend into the crowd without shutting down the whole restaurant. Peyton can't do that any more and I think he's a little jealous of Eli for that. After the Super Bowl, he feels a real sense of 'OK, I'm going to itch my nose now, I know the whole world is watching and I swear, it's just a scratch.'"
Call me sappy. Say I've been beaten down by all the bad news. Say I was just missing my own brothers or that I was in a food coma from eating three meals a day at the famous Bubba's. But the truth is, I had no idea just how much I needed the pure, rejuvenating football joy I found at the Manning Passing Academy.
Campers were up at 6:30 a.m., they had two full practices, a lecture and a seven-on-seven passing tournament every night. And at the end of each exhausting day, I'd drive across the dark campus with my friend and photog Ross Dettman and see hundreds of still-inspired kids gathering under street lights where shadows of footballs flickered and fluttered and filled the night sky.
"The kids get you excited and make you feel lucky to be playing again," Eli said.
Tell me about it.
During every water break, the campers would get picked on and made fun of by their counselors. No one was spared. Eli would send a kid deep and then -- psyche! -- not pass him the ball.
"Do you want to win a Super Bowl before you retire?" he was asked.
"You know there are no dumb questions," Eli replied, "only dumb people."
Cooper, meanwhile, teased kids for looking more like linemen than quarterbacks. Archie talked about Peyton as a skinny, gawky, dorky teenager. (Part of the reason the camp is not an "elite" invite-only deal is that Peyton doesn't want to run something he wouldn't have been invited to as a teenager.) Everyone seemed to have an impression of Peyton's dance moves or scrambling ability. (After his quarterbacks rolled the wrong way on four consecutive drills, I heard one coach, clearly doing his impersonation of Chiefs gung-ho assistant coach Tim Krumrie, yell, "Oh, come on guys, it's so simple even a caveman can do it!") I've been to camps like these as a kid and, over time, what gets to you isn't the heat so much as the condescension. So I began to wonder when the campers would get their revenge? And if they didn't, what would the world be coming to?
Later that same night, before the third evening lecture, each kid was given a free colorful, Nerf-like football as they piled into the school's small gym. Sensing an impending disaster, the director of the camp stood up, grabbed the mike and began to speak. "Men, I'm only gonna tell you once … HOLD THOSE FOOTBALLS, I don't want to see one single …"
And before he could finish his sentence, footballs rained down from every direction, landing on the gym floor all around him creating a drumming sound that wasn't quite loud enough to cover up all the gut-busting laughter.
Other than that, the real world invaded the MPA only once. Archie is a spokesperson for AstroTurf, which donated a new surface for the Nicholls State football stadium. And during the camp it was dedicated "Manning Field." Following the ceremony, the topic shifted quickly to the Manning brothers' challenges in the 2007 NFL season. It was the usual stuff. How will Peyton handle the Pats? And how will Eli cope with the pressure?
Peyton went first, of course.
"Everyone wants to talk about Randy Moss," he said. "That worries me a little, but they also signed Adalius Thomas, and that's what's really got me worried. I was thinking, 'Great, let's get him out of Baltimore' and then they go and sign him in New England."
When it was Eli's turn, he touched on an epiphany that Peyton had in 2006: Last season was not the most talented Colts team he has ever played on, but sometimes it's just about getting on a roll.
"The most important thing is to support each other and not turn against each other," Eli said after someone asked about Michael Strahan. "You don't get frustrated or satisfied, because you just never know which year is going to be your year."
Cooper watched from the side of the room. With Peyton's critics as quiet as the X in Thibodaux, most of the questions were aimed at Eli. Someone suggested that because of their personalities, perhaps the brothers would have been better-suited switching towns.
"Naw," Cooper says. "Peyton would have strangled someone in New York by now."
If New York is Peyton's last choice, Thibodaux has to be one of his first. Yes, he recoils a bit when you ask him personal questions, but he can talk for hours about the details of a great play-action pass. Is it a tad dorky? Sure. Can it be boring? I guess. But after the NFL's 10 Most Wanted offseason, I gotta say, dorky and boring suddenly doesn't seem so awful.
I found a new, unmistakable and regal air to Manning now that he has won the Super Bowl. That's one thing that really stood out during my week of summer camp. The other is Manning's clear impact on the next generation of quarterbacks (he has only six or so seasons left, he says): The connection he has found between the physical tools of the position and how they work in concert with the mental side of quarterbacking. How all the fundamentals, technique and mind-numbing preparation required of the position are all done to put the passer in the best possible position to do what Manning does best and loves the most: to read and deceive the defense.
"I've been telling them all week that the mental part of the position can make up for a lot of the physical," Peyton said on the last day of camp. "Every defensive coordinator's aim is to make sure the quarterback can never relax. You don't see different things from week to week, or from game to game, or half to half or even from series to series anymore -- you see different looks and different defenses from play to play now."
The final camp practice was about to get under way, but by now Peyton was off on a tangent about the depth of the middle linebacker and the presnap read on the safety and the variations of the Cover 2 and how to hide the ball from the backside defensive end and on and on and on until he saw me smiling and stopped.
"Guess you're ready for the season to start, huh?" I said.
"Yeah, yeah," he said, nodding that big block head of his. "I'm excited to get back at it, I really am."
And now, thanks to the Manning Passing Academy, so am I.
David Fleming is a senior writer for ESPN The Magazine and the author of the memoir "Noah's Rainbow." His next book "Breaker Boys: The NFL's Greatest Team and the Stolen 1925 Championship" will be published October 9th by ESPN Books and has been optioned as a movie by Fortress Features. The Flem File will run each Thursday during the NFL season.