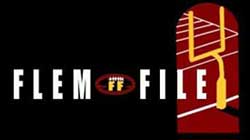 The 2007 NFL season officially began for me during a trip up to the press box in Jacksonville, Fla., where I shared the small elevator with the team's blue-spotted, Muppet mascot, Jaxson De Ville. Still humming the Thelonious Monk tune I heard on the way in, I gave Jaxson the perfunctory "what's up?" nod and he responded with a loud, moist, thunderous belch that rocked the elevator and blew back my hair.
Who's ready for some football, huh?
Everyone in Jacksonville seemed to be, where the pregame temp was 100 degrees on the field and fans slathered on sunblock as they rolled into the stadium, many of them already sporting new starting quarterback David Garrard's No. 9 jersey. There is always a lot of heat on quarterbacks, but especially so these days in Jacksonville, where the Jags dumped former No. 1 pick Byron Leftwich just days before the start of the regular season in favor of Garrard.
It was a bold, burn-the-ships move by Jags coach Jack Del Rio, who put the 2007 season, his coaching legacy and, maybe, the fate of the franchise all in Garrard's hands. Players always tell me that if they're going to make a mistake, coaches want them to do it at 100 mph. The same holds true for coaches. So while only time will tell if Del Rio made the right call, he certainly went about it in the right manner. (Twenty-four hours later, a rook was in Leftwich's locker, a stunning example of just how quickly the league -- and life -- moves on.)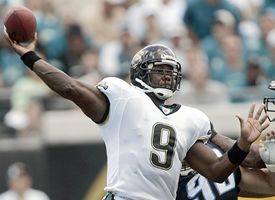 Phil Coale/AP photo
The fate of the Jacksonville franchise might rest on David Garrard's shoulders.
That's something they're trying to avoid here in Jacksonville, where it's hard not to notice the huge tarps that cover large portions of the stadium -- even on opening day. (Some of them, by the way, now even have ads on them, which seems like a bad association to me, unless, of course, the ads are for companies that make seat tarps.) Anyway, my point is there is a real and palpable pressure to win now because if interest in the Jags continues to wane, it's only a matter of time before bigger, richer suitors come calling.
Save a season. Save a coach. Save a franchise. Oh, and did I mention Garrard and his wife are expecting their first baby this month? Yikes, that's a lot of pressure for a guy who hasn't been the undisputed opening day starter since 2001 at East Carolina. Still, backup quarterbacks have become the 12th member of most NFL offenses, where the apprentice-style development now produces far more usable pro passers than the first round of the draft. And already this season, the Jets, Giants, Browns and Bucs have QB issues, setting a blistering pace that may surpass 2006, when more than 20 backup passers made significant contributions on the field, including Garrard, who has 19 starts under his belt and, two years ago, led the team to the playoffs.
Although, in many ways, Garrard isn't your typical backup. He's got a big arm. He can run. The team's behind him. He's already overcome Crohn's disease, so how difficult can the AFC South be? And when I met up with him after the game, he just seemed to have the "it" that all successful QBs have in this league.
He played well (OK, in a 13-10 loss to the Titans) going 17 of 30 for 204 yards, including a highlight reel 47-yard rainbow bomb to John Broussard. But Garrard failed to close the deal and bring the Jags back on any of their three fourth-quarter possessions. A good start but not a great one. The same could be said for his counterpart, Vince Young, who threw for 78 yards and still seemed uncomfortable with his read progressions and was plagued, at times, by fundamental breakdowns in his technique.
Of course, they both looked better than Brett Favre, but we all know that when Favre makes stupid decisions, bad throws or gets lucky after poorly improvised plays, he's not scolded but instead applauded as a gutsy, scrappy, cagey, lovable rapscallion. All in all, the most important thing to remember after all the Week 1 hype (when I actually heard one pundit say the race in the AFC East is "over") is that, trust me, no team is as good or as bad as it seems in the season opener. The league is so close now, it takes at least a month (unless you live in Oakland, Cleveland or Kansas City) to determine just how bad -- or good -- your team is.
For example, all the pregame hype on the First Coast was about the Jags' switch at QB when the real focus should have been on the defense's banged-up front. Jacksonville schemed like its D-line was healthy heading into this game. It wasn't, and the Titans rammed the ball through the line of scrimmage with ease, while one linebacker always seemed to be way out of position playing as a stand-up end and normally stalwart middle linebacker Mike Peterson still looked a bit rusty after missing 2006. And I've never seen anything less than stellar, dominant performances from Peterson. (He's not the only one. In Week 1, I made the rookie mistake of calling my wife's cell phone during the game. She was at church, of course, and the extra-loud dee-doo-dee-doo hellomoto ring tone interrupted what had been, up until that point, a very nice service.)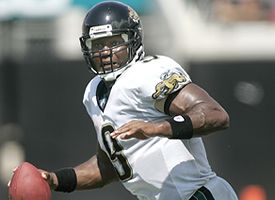 Phil Coale/AP photo
Garrard has the necessary confidence to be a starting quarterback in the NFL.
It was just an odd day all around in Jacksonville, where the nylon stretchers they used to try and shade the Jags on the bench seemed like a perfect metaphor for the way they withered in the heat. The kicker got injured in warm-ups. And Maurice Jones-Drew was heading toward the end zone in the fourth quarter when a teammate kicked the ball out of the hands. (One thing didn't change: Wideout Matt Jones continued to struggle to get open in anything other than mismatch situations.)
But when I met up with Garrard in the Jags' weight room after the game, he didn't seem ruffled at all by the bizarre beginning to his real career. He was talking on the phone, designer sunglasses pushed atop his head, tasteful, diamond-stud earring in place and a perfectly tailored platinum velvet sport coat. "You want to sit down?" he asked, pointing to a weight bench. "I'm gonna sit down. I'm tired."
Man, what a week you've had, I said.
"It was surreal the way everything happened, me having no idea that it was all gonna go down like this. It was a bittersweet situation. I'm friends with Byron, and I was feeling for him, but at the same time, I was very excited for myself and all the possibilities. And beyond handling that, I was dealing with everything else -- the media, the team. At one point I had, like, 150 messages from people, some people from high school, people I had never even met. The support I had from here to North Carolina, was incredible."
You're the same guy you were 10 days ago, but now you've got 150 messages. What changed?
"It's wild, but when you're the starter of an NFL team, there's only 32 of them. This is the most-watched, most-loved sport in our country and to be in the position of one of the top players, quote-unquote, that's a big deal. If you're an end or a safety, you don't always get that attention. But quarterbacks do."
How would the average person understand what it's like to go from being a backup to the starting quarterback? Is it like getting a huge promotion at work?
"We're going through something right now. We're about to have a baby. I would have to think that this a little like that. As soon as that baby comes out, the emotions you feel, the way your whole world changes. It's not like having a baby [the importance of it], you know? But those are the feelings you experience. When it happens, it's like, 'Is this a dream or is this for real? My life just changed. Is this really my kid?' That's exactly what it feels like."
Some of the things that make you a good backup aren't necessarily what make a good starter, right?
"As a backup, you can't overtalk or overstep the starter. You can't make him look bad. The quarterback position is a sensitive one. Quarterbacks aren't prima donnas, but it's a position and a relationship that takes some finesse. When I was a rookie, people told me I needed to go out there and be aggressive and really challenge Mark [Brunell]. And so I was saying things that shouldn't be said. But you learn that you have to wait your time."
But is it hard to turn off and on, the mentality of being a leader and a starter, to subjugate your instincts?
"As a person who's been a starter his whole life, it was always there. I just waited my time. This was always Byron's team. The only time I could ever outdo Byron was when I got a chance to play. That's the only time you can be who you want to be as a backup, but you still can't have a good game and go to the media and say, 'See, that's why I should be starting.' You just can't make those comments. You have to be more respectful than that. If you are clearly the best guy, it will happen. And some guys, I think, believe they are better than they really are. That's when you hear guys saying and whispering, 'Oh I should be out there. I'm better than that guy.' For me it was all about patience and continuing to believe in myself. Mark Brunell told me the key is to never let the demons creep into your mind and start to make you think you're not as good as you really are."
When did you know you could be more than a backup quarterback?
"After my first preseason, I had a great camp. I threw touchdowns, moved the ball well. That told me I could play. But I wouldn't know for sure until I saw real, live bullets. I played against the Colts that year, and I think we almost beat them. That was my first start. Every time a backup gets on the field, it's big because that's what tells you whether you can play or not. And every time I played, I just felt more and more comfortable out there."
Why is this position such an apprenticeship-type spot?
"Quarterback is all about learning. Being behind a veteran is a good thing, because you're learning a lot. You learn and experience a lot of things. A couple years as an apprentice really does help, because to get thrown out there with live bullets is tough. It really can [ruin a guy]. The speed of the game. Knowing all the plays. You just don't have it down like the back of your hand, like you should. Because you're young. And once you get comfortable with the system, you go to the next step, which is, you don't have to worry about your own plays, you know them, so now you can start to concentrate on what the defense is doing. That's big. If you're out there, a young guy, worried about where this guy is running, you're already behind. You're already late."
Is there a fraternity of backup QBs in the NFL? Do you guys talk and encourage each other?
"It's funny, there really is something like that. But it includes the starters, too. Guys in same situation talk. Starters tell you to just wait your time. They tell you, 'Hey, don't worry, your time will come, and you're going to be a great quarterback in this league some day.' Most guys have been in this position before. So that gives you a lot of confidence to hear that from your peers. Other guys on other teams -- defenders, coaches -- once in a while they'll come up to you and encourage you. That gives you that confidence. It continues to let you know that you can do this. You might not be in a situation right now, but one day it's gonna happen for you."
And for Garrard, that day is now.
As we finished speaking in the lobby of the stadium, where security was waiting to escort him to his car, a solemn, slightly battered Del Rio, his mouth pinched shut, came up to Garrard and shook his hand.
"We'll get it coach," Garrard promised in a confident whisper. "We'll get it done."
And both the coach and the reporter couldn't help but believe him.
TIGER V. BEAR: THE DEBATE
FlemFilers take a bow. In last week's column, I mentioned a simple, yet seemingly indecipherable question from Rob in Cincinnati about who would win in a fight between a grizzly bear and a tiger. And the e-mail response (plus the awesome real-time debate that happened in the comments section at the end of the column) captured everything I love about doing this column: passionate arguments on bizarre topics, creative thinking, detailed research, hilarious ideas and gut-busting riffs that blew the doors off my one-sentence column and 99 percent of the screaming, over-reacting, under-researched hyperbole of the Week 1 in the NFL.
It was so good I'm canceling the WHYLO for this week and using my entire sidebar space (which is infinite, I know, but still a nice gesture, I think) to publish the results of this enthusiastic debate. I know we're only three weeks into our 12th season together, but dangit, you guys … sometimes … sniff … you just … sniff … you'rejustthebestokay?
First, in this corner, hailing from the Pacific Northwest, weighing in at 400-900 pounds and standing 7 feet tall, ladies and gentlemen, he's no ordinary bear and whatever you do don't ask him if he's from Memphis, the guuuuuuhhhhrrrrizzzzzzly bear.
And his opponent, from Asia, with a length of 8-10 feet and weighing in at 400 pounds, from the Carnivora order, they might be endangered, but now so are youuuuuuu, the tiiiiiiiiiyyyyygggggrrrrrrrrrr:
Grizzly bear wins hands down because it will break the tiger's skull as it attacks trying to grab the bear's throat. "Tests" were performed with lions in the 19th century. Joe, Pittsburgh, PA
The Tiger wins, but the real winners are the fans.
Michael, Bedminster, NJ
A full-grown grizzly would toss a tiger around like a rag doll. No contest.
Jerkstore22
Tigers actually do confront brown bears (relatives of the grizzly and comparable in size) regularly in Eastern Asia, though the tigers usually run away. Tigers have been known to feed on younger bears, but will only attack a full-grown brown bear if desperate or cornered. As a secondary test, try looking up stories on people fighting off a bear and a tiger with a shotgun. They will speak of taking down the tiger in one shot unless it's aimed poorly. With a bear, it could survive a few.
Roger, Overland Park
The tiger vs. grizzly debate is such a tough one to call, but here's my theory: grizzly bears live in an environment with no prey that can even come close to standing up against them and as such, they have evolved as hunters with very little defensive skills, simply using their vast weight as their greatest advantage, they simply hold down their prey as they literally eat them alive. Tigers on the other hand live in environments with animals that can fend off attacks, i.e. elephants, jaguars etc., and as such they have evolved super agility and a necessary ability to kill with precision and quickness. So I would have to say that in the end a tiger's quickness and its evolutionary ability to defend itself against bigger animals puts it on the winning side of this battle. Just watch the viral video of a tiger attacking a dude on a 12-foot tall elephant (nothing gruesome I promise -- but really amazing) and tell me that the slow moving bear could handle this beast.
Curtdiggidy
Curt, I live in Alaska, where grizzlies are everywhere. There are a lot of predators out here including moose and rams. You take a moose charging at full speed at a bear and there are problems. Grizzlies (besides polar bears) are the most ferocious animals up here in Alaska. Grizzlies deal with the worst of conditions, have incredible speed, great sense of smell, and monstrous strength. No chance for the tiger, period.
Dthompson08
The more interesting question, one that has fascinated me for years is: How much can a fully grown male silverback gorilla bench? My guess? 4,000 lbs.
Matt
A quick troll around the 'net shows that there are in fact documented incidents involving bears and tiger. The Siberian tiger regularly preys on brown bear cubs and has been known to kill an adult bear. Sloth bears and Sumatran tigers have been known to tangle. A grizzly, however, is a very different beast and vastly outweighs any of them thar bears.
Blake, St. Louis
Tiger vs. bear on YouTube. The bear was scared to death.
Deanpostma
While the video clip was good for the debate, the bear ran away b/c it was a cub. If that was a fully grown adult bear, then it would have stayed and defended its territory. Another thing is that tigers usually max out around 500 pounds, whereas a grizzly usually weighs between 700 and 1,500 pounds, and although you might think tigers are faster than bears, they both reach top speeds of about 35-40 miles per hour. The last point that tigers have going against them is that when tigers attack they usually go for the throat, spinal cord or back of the neck. These are all places that bears have extra protection. Bear wins hands down.
Ddso4477
I think the grizzly wins "hands down." Not every bear every time, but with two powerful claws to deflect bites, and the ability to stand and come down, I think there's no contest.
Jim, Overland Park.
From what I've read, I'd go with the grizzly 9 out of 10 times in a neutral setting, and 7 out of 10 times in other settings. The bear's natural strength, body mass and ability to absorb multiple slashes gives it a clear advantage over a tiger or lion, which would more easily have its skull crushed by a grizzly, even a wounded grizzly.
Ralph, St. Clair Shores, MI
According to the Discovery Channel, it appears that the bear would win (in a hypothetical battle). On the other hand, based upon this real life cougar/bear encounter, it appears that bears wouldn't be interested in such a flight.
Micah, Rochester NY
In response to the debate about grizzly bears and tigers, I found myself in the same quandary as you. I did some Internet research and discovered the following: Grizzly bears typically are 7-8 feet long and weigh about 500 pounds. They are omnivorous and have very sharp claws, and are muscular. They are quick in short distances, but cannot run for long distances. They typically eat small game, fruits, berries and roots. Then we have the typical Bengal tiger. The typical tiger is about 9 feet long, weights about 500 pounds, is quick in short distances and cannot run over long distances, much like the bear. Also like the bear, tigers have sharp powerful claws and musculature. However, the stark and only striking difference between these two animals is that tigers have been known to kill small elephants and rhinos weighing in at 1,000 pounds! That's double their own weight for those math majors out there. All other characteristics being a wash, I would say the tiger would win in a fight with a grizzly due to its ability to kill prey double its own size.
Adam, Harrisburg, PA
My friends and I have been debating this same question since high school (1999), but substituting a lion for the bear. I personally am a bear devotee and can see no reason to vote for the big cats. In fact, a grizzly is so powerful (thank you, Wikipedia) that it could crush either a lion or a tiger with one blow of its paws. To settle our debate, we ran a poll in our 12-team fantasy league. Wouldn't you know it, 6-6. Let's hope the Bears and Bengals meet in the Super Bowl and settle this once and for all!
Buzz
If you think about it, there is no way the tiger can win. The max size for a male grizzly is like 1,200 pounds or something like that, for the tiger like 600. The tiger is quicker but not that much. One well-placed swipe by the bear and it's over. The tiger has no similar knockout blow.
Pete, Mountain View, CA
Both animals made TV.com's list of "Most Extreme" for strongest animals. So, given that the bear weighs more, but perhaps a tiger is stronger pound-for-pound, let's call this even. A tiger is also faster over open ground than a bear but the bear is no slouch, and we're talking about combat not footraces, so that's about even as well. The most common method for tigers to attack is the hide and pounce method. Even though they might outrun bears on an open field they are not wired to use their speed for most of their hunting. Also, a tiger kills its prey by biting the neck and holding on until the prey bleeds out. A grizzly also doesn't usually run down prey, but it has decent speed of its own, and has a significant weight advantage over a tiger. A grizzly also has good hand-eye coordination -- take for example fishing by swatting fish out of a stream. A grizzly would probably attack by swatting at its target with its paws, which based on its strength would be like hitting someone with a sledgehammer. The outcome of this fight would be the duel between a grizzly pummeling the tiger into submission versus the tiger getting a successful bite onto the bear's neck. I think in the matchup of these two fighting styles the bear would win. A bear's neck is not nearly as accessible as what a tiger is accustomed to, and the bear is not giving up so much quickness that it wouldn't be able to defend itself. On the other side, it wouldn't take more than a few swats for the tiger to either give up or be reduced in fighting effectiveness enough for the bear to then finish it off.
Paul, Columbus, IN
THIS COLUMN WRITTEN WHILE LISTENING TO: A song built out of a tsunami of power, funk and experimentation, with such perfectly blended styles and sounds, that it gives me hope for the future of music. I'm talking about, of course, the Foo Fighters cover of Prince's "Darling Nikki" sung by Cee-lo at the Video Music Awards.
David Fleming is a senior writer for ESPN The Magazine and the author of the memoir "Noah's Rainbow." His next book, "Breaker Boys: The NFL's Greatest Team and the Stolen 1925 Championship," will be published October 9 by ESPN Books and has been optioned as a movie by Fortress Features. The Flem File will run each Thursday during the NFL season.