With everyone so busy these days and suffering from information overload, I give you the Flem File's latest collection of 30-second columns.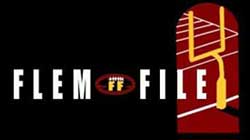 16 AND OH WHO CARES?

How can we already be obsessed with the Colts-Pats matchup on Nov. 4 and calling it the next great Game of the Universe? Remember a few years ago when the Colts were actually on the verge of an undefeated season? Well, I spent a lot of time talking to coach Tony Dungy around that time and he swore to me he was going to rest many of his starters because, truthfully, the 1972 Dolphins don't mean anything compared to a shot at the Lombardi. Trust me, even if they get past the Colts, the Redskins and the Steelers, the Pats are going to approach 16-0 in the exact same way. If for no other reason than Bill Belichick wants to show the world just how unimportant he considers the folly of such "records" and the foolishness of fans. And, I gotta tell ya, this time I agree with Bill. I'd like to see 16-0, too. Who wouldn't? (I hate that classless champagne ritual in Miami as much as anybody.) But in a world ruled by fantasy football, ubiquitous, overloaded and mostly meaningless stats as well as the simulated reality of cyberspace and computer games, have we all lost the actual capacity to judge greatness by anything more than a number? True greatness is the ability to do something incredibly difficult and make it look easy. That's New England. The Pats could lose three games this season and, if they roll through the playoffs and dominate the Super Bowl, they'll still go down as one of the all-time greats -- just like the '85 Bears. Just for giggles, let's look waaaaaay ahead to the final week of the season, when the Pats will have locked up a No. 1 seed and a bye and their second- and third-teamers will be playing in New York against the Giants, who could still be fighting for positioning in the playoffs (which means everything). If that happens, 16-0 just isn't in the cards for the Pats. But if it means winning with scrubs, how important can it be anyway?
ARE THE PACKERS A FRAUD?

When reporters recently questioned Brett Favre's arm strength, Golden Boy challenged them (albeit, jokingly) to stand in front of one of his passes. Really? Where do I sign up? I know Favre is the NFL media's mascot 'n' all, but anyone who saw his last performance -- 19-for-37 for 188 yards and two picks in a 17-14 win over Washington in which three of his deep balls fell way, way short -- has to wonder if the 5-1 Packers are going to be exposed in the middle part of the season. Even with a schedule that still includes the Rams, Bears and Oakland, if Favre reverts to his old self, this team is in big trouble. As the playing conditions get nasty in Lambeau, Green Bay still has no running game to speak of -- literally. Decimated by injuries, the Pack is dead-last in the NFL on the ground with 65.7 yards per game. They have a decent defense, but it's young, and as it wears down and the games get more important and complex, don't expect it to carry the team, either. It's up to Favre. And if I'm a Packers fan, right now I've got the Lambeau creeps.
CHARGERS

I applaud the Charges for bouncing back to 3-3 and my best wishes go out to everyone affected by the wild fires in California. Right now the Chargers are saying all the right things and keeping everything in perspective. We can handle this. At least we're safe. Don't feel sorry for us, focus on those who have lost their homes. It's just a game. But in 2005, I spent a week with the Saints when they were evacuated to San Antonio, and while the Saints said the same kinds of things, privately, I saw just how much this kind of thing can ruin a team's focus. Players lived out of cramped hotels with playbooks, clothes and room service trays covering every inch of space. They juggled e-mails, texts and cell phones trying to check on their displaced families and ruined homes. They took cabs to a Gold's Gym to lift weights next to bloated civilians. NFL teams have their entire seasons scheduled down to the minute. They don't improvise well. Because to compete at the highest level, players and coaches must push everything else out of their minds and focus on the field. Even with the best attitudes and the best contingency plans, focusing on football is an impossible task for the Chargers right now.
THE BRUISE

I mention this only because I think it's a fitting metaphor for how, no matter how well we think we're protected, life always has a way of nailing us … hard: Last week in my rec hockey league, a slap shot from the point struck my leg just above my shin guard and just below my thigh pad, leaving the most wonderfully grotesque 7-by-5-inch (yes, I measured; and, no, they would not let me run a picture) oval hematoma on my vastus medialis that, I swear, looks like a yellow, red and purple version of the Carolina Hurricane's logo. I don't mean to go all Gupta on you, but I say "hematoma" because the truth is in our ultra-violent football society, no one really appreciates a good bruise any more. As a former Division I athlete and now a proud weekend warrior playing on a team with students from Davidson College, I was quite fond of my giant, multicolored badge of courage. But I was the only one. Oh, we love bruised egos and we love the Black and Blue division and some of you may have even enjoyed the Rolling Stones 1976 album "Black and Blue" (the first with Ron Wood, I might add) but in a world of brain injury, mangled joints, spinal injuries and feet twisted the wrong way, the bruise has lost all its cachet. And I think humanity itself is a little worse off because of it. That, or I just need to quit being so cheap and buy some bigger hockey pads.
THE HERMINATOR

A couple of more wins and Chiefs coach Herm Edwards will have wrapped up NFL Coach of the Year honors. Seriously. We all watched HBO's Hard Knocks this summer. We all saw the level of talent in Kansas City. We all thought the Chiefs had conceded 2007 and were already secretly looking toward 2008. Larry Johnson was holding out. Damon Huard was under center. Tim Krumrie was screaming at someone. But somehow, eight weeks later, the Chiefs are in first place. Now all that could change -- and change fast -- with Green Bay, Denver and the Colts lined up on the schedule. And a lot of it has to do with the AFC West. But really, it doesn't matter. Like running back Priest Holmes' incredible comeback, somehow the Chiefs have found a way to persevere. Is it pretty? Uh, no. Is it dominant? Not exactly. But does it represent something even bigger and better in sports that often gets lost or ignored? Hell yeah. This summer Bucs linebacker Cato June told me, "Some people in this world are so driven, they make physical limitations obsolete." That pretty much sums up the Chiefs under Edwards so far in 2007.
BREAKER BOYS

Don't worry, I promise there won't be one word from me in this column about my book. Instead, I thought I'd let some others chime in about "Breaker Boys: The NFL's Greatest Team and the Stolen 1925 Championship." "Fleming does a superb job of recreating the Maroons' remarkable season and ultimate heartbreak." -- Vic Carucci, national editor, NFL.com. "Living history." -- Peter King, Sports Illustrated. "A fascinating story, by a great writer -- I guarantee you'll enjoy this book." -- John Hancock, WBT Radio. "… a remarkable book." -- John McClain, Houston Chronicle. "If you love history and sports, you have to check out this book." -- Todd Jones, Columbus Dispatch. "Thorough and entertaining … difficult to put down." -- Republican & Herald. "Brilliantly captures the zeitgeist of that distant era and of the rough-and-tumble squad that called Pennsylvania coal country home." -- My Borders Monthly.
AFC BCS PDQ?

I only have 30 seconds, so let me start by saying: This will never happen. The AFC is dominating the NFL in 2007. The Patriots obliterated Dallas, the NFC's best team. Statistically, four of the top five defenses are from the AFC. Ditto on offense. So if the NFL is really about competitive excellence (and not about owners bathing in massive piles of $1,000 bills), shouldn't the league look into a playoff system in which the 12 best teams make it in, instead of the six best from each conference? How fair will it be in the playoffs when the Colts, Pats, Steelers or Titans are done playing but the -- ahem -- Bucs are still alive? This is an easy fix, really. All we have to do is get two or three owners in the NFC to willingly hand over $25 million in profits from making the playoffs and -- voila -- problem solved. Can someone get on that?
BACKUP QBS

We need a paradigm shift people. The season is barely two months old and, by my count, 14 teams have already used their backup quarterbacks in some significant way. Let's face it: The speed and violence of the game and the advances on defense where versatile weapons like Shawne Merriman, Osi Umenyiora and Sean Taylor have become unstoppable, have made the backup quarterback perhaps the fifth-most important player on offense. I don't know about you, but unless you want a league featuring Gus Frerotte, Vinny Testaverde, Kerry Collins and Brian Griese, we need to rethink the whole idea of the clipboard caddy. I know the search for alternative fuels is really important and vital to the future of our planet, but, uh, hello? This is about the future of football. So let's focus. Maybe starting quarterbacks can pass the ball from inside a Pope-mobile thingie in the pocket to avoid injury? Or, I say backup QBs shouldn't count against the 53-man roster. You should be able to have 20 quarterbacks on your team if you want. NFL Europe should reopen as a passing clinic and developmental league and international scouting combine for potential quarterbacks across the globe. Maybe Steve Clarkson should be the next commissioner? And, finally, fantasy football leagues should start offering bonus points for stats produced by backup QBs.
GRAB BAG

Bucs linebacker Barrett Ruud, who leads the league in tackles, played college ball at Nebraska. Just like his dad, his brother, his uncles and half the men in his family tree. In fact, back home the Ruud's are known as the Mannings of the Midwest. … I didn't truly understand how bad things had gotten in my hometown of Detroit until I read that the Red Wings were having trouble selling tickets. … Listen, I'm not apologizing to Randy Moss. He deserves all the success and accolades he's getting this season, perhaps even an MVP, but that doesn't change the fact that for several years in Oakland and Minnesota he was a total dog -- unfocused, selfish, disruptive and immature on and off the field. This is the problem with our collective 2.8-second attention span: Everyone has to be painted in extremes, when the fact of the matter is most of us are not all good and not all bad. Right now he's the best player in the NFL. But that doesn't erase his past behavior. Just like his past behavior doesn't diminish what he's doing now. … The Bengals are cratering -- can you feel it? Trade rumors. Bad losses. Uninspired play. Internal bickering. Coach Marvin Lewis is about to realize why it doesn't pay to be unnecessarily combative and autocratic with everyone when you're winning. Because sooner or later things go sour and the coaches who are perceived as good guys get the benefit of the doubt and the time to turn things around. The others? They get run out of town. … With injuries and depth becoming such a huge factor in the NFL, how far off are we from teams holding guys back until December? Seriously. What if teams held back a running back, a receiver, a blocker and some linebackers until, say Week 10? They'd come in and be healthy, fresh and dominant. … I think Larry David is getting his fastball back. … Recently down here in North Carolina, Bruton Smith, the owner of Lowe's Motor Speedway, threatened (read: bluffed, badly) to pack up his 2,000 acre eyesore and leave town if he wasn't granted permission to build a drag strip next to his track. But before I could even offer up my buddy Jak's truck to help move LMS out of town, the so-called city leaders practically piddled themselves and relented. Good for them. I mean, what's a world-class banking town like Charlotte without a noisy, dirty, smoke-spewing, traffic-snarling drag-racing strip? … Haven't decided yet, but I'm leaning toward Maroons running back Tony Latone as my Halloween costume. I've got the forehead for it, that's for sure. … This column was written while listening to Siouxsie Sioux's new "Mantaray."
David Fleming is a senior writer for ESPN The Magazine, his latest book, "Breaker Boys: The NFL's Greatest Team and the Stolen 1925 Championship,", published by ESPN Books, has been optioned as a movie. In addition he is the author of the memoir "Noah's Rainbow."The Flem File will run each Thursday during the NFL season.
Also See
ESPN Top Headlines