Instead of a celebration, the 10th anniversary of the Flem File's Turkey Of the Year Awards arrives with bittersweet emotions. Ten times I've written this column and 10 times I've had this tiny, imperceptible flicker of hope that it was the last one -- that the following year there wouldn't be enough turkeys in the sports world to merit a TOY column. Now comes No. 10 and with all the horrible stuff transpiring in sports during the past year, I'm sorry to report this was the easiest one yet to write.
Barry Bonds? Don Imus? Bill Belichick? Tim Donaghy? Mike Vick? Marion Jones? O.J. Simpson? Tim Hardaway? Isiah Thomas? Ugh.
I was hoping for leftovers in 2007. What I got instead was an all-you-can-eat buffet. And just to give you that "I should have stopped when I was full" feeling, we've thrown in some of our favorite TOY nominees from the past.
So now let us trudge together through yet another overflowing trough of TOY Awards, keeping in mind two very important ideas: It's always better to laugh than cry and, hey, there's always next year.
ME. OW: Earlier this season, the NFL sent a memo out prohibiting cheerleaders from warming up, stretching or doing anything else too close to the visiting team's bench. This is utterly ridiculous. Let me just say this: If the thought of NFL cheerleaders warming up and dancing together in front of you is enough to, um, distract, uh, you, from concentrating on your … something … um … wait … what was I saying?
RETRO TOY (1999) DION RAYFORD: My absolute favorite during the past 10 years. The Kansas football player wedged himself, Winnie the Pooh style, into the drive-thru window of a Taco Bell after becoming enraged that workers had left a chalupa out of his order.
BILLY MARTIN: After Mike Vick turned himself in early to begin serving time for running a dogfighting ring, his attorney Billy Martin said in a statement, "From the beginning, Mr. Vick has accepted responsibility for his actions …" Oh, really? Well then who was that guy, just four months ago, pleading "not guilty" and saying he was "looking forward to clearing my good name" and that we should all "hold judgment until all the facts are known."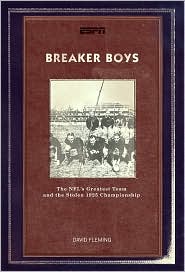 Buy the book
Click here to purchase "Breaker Boys: The NFL's Greatest Team and the Stolen 1925 Championship" by David Fleming. Click here to read an excerpt.
For more on "Breaker Boys" check out breakerboys1925.com
BILL BELICHICK: Look, Pats fans should be more upset than anyone about Videogate and the botched, worthless, antagonistic non-apology apology. Because I'm really starting to believe that New England is going 19-0. And that means instead of getting to stand on the mountaintop alone and enjoy the title of Greatest Ever free and clear, the Patriots and their fans will always have to temper everything with the notion that Belichick soiled everything by cheating.
TACKLING DUMMIES: With the kind of kick coverage and poor tackling on display this season, Kansas coach Mark Mangino would probably have three touchdowns himself by now.
GENIUS SCHMENIUS: Charlie Weis, Eric Mangini and Sean Payton are now a combined 10-23, so maybe they don't belong in the same sentence as Albert Einstein after all.
ROGER GOODELL: Dallas coach Wade Wilson, who has suffered from diabetes for most of his life, was suspended for five games and fined $100,000 for purchasing what is believed to be human growth hormone for his own use. Yet after being caught once and warned to stop with the filming, Belichick continued to cheat in a way that threatened the integrity of the game. But he's allowed to keep coaching?
JOHN MAYER: In a recent Rolling Stone interview he complained that there isn't enough talent in the music industry. This is like Miami Dolphins coach Cam Cameron whining that there aren't enough quality teams in the NFL.
THE U-TOY: The Un-Turkey of the Year. They don't come much tougher on the field than Atlanta fullback Ovie Mughelli. "When Ovie gets done blocking you feel violated," said Daniel Wilcox, his former teammate in Baltimore. "He's gonna run over you, step on your face, step on your chest and look up for the next guy to hit while you lay there and wonder who it is that just almost killed you." And off the field, they don't come much better, either. Last week Mughelli, a dean's list student at Wake Forest who was planning on med school before the NFL came calling, was named the 2007 Atlanta Falcons Man of the Year for his work as the founder and chairman of the Ovie Mughelli Project. The organization helps kids in Baltimore, Atlanta and Charleston, S.C., and is a reminder that the TOY's only make up a tiny fraction of the NFL.
RETRO TOY (2002) PETER FILANDIA: This Australian Rules Footballer was suspended for 10 days for biting an opponent's testicles during a match. Suddenly, Gram's gag-inducing green bean casserole doesn't sound so bad.
DALLAS CLARK: A week after winning the Super Bowl, Clark was ejected from a high school girls basketball game in Burnside, Iowa, after making inappropriate comments to a ref. So now we know what these guys are thinking during the dog days of training camp: Someday when all this hard work and pain pays off and I'm a world champion, someday I swear I'm gonna go straight back to my hometown and use my new power and fame to really get in the face of a girls high school basketball ref.
MIKE SHANAHAN: When your turkey goes ice cold on Thanksgiving because you had to wait an extra eight minutes to watch a field goal, make sure to thank Shanny for this new uber-lame trend of trying to ice kickers with timeouts.
THE AFC WEST: After losing three in a row, the Chiefs and their 30th-ranked offense are now 4-6 -- but just one game out of first place in this division. Actually, I checked and technically the winner of the annual Neely Bowl family football game from last week's column is only two games out in the AFC West.
TODD MARINOVICH: The now 38-year-old NFL flop was skateboarding in Orange County when cops arrested him for allegedly carrying a gram of meth. Police chased him six blocks. I don't know what's sadder, really, a guy skateboarding at that age or the fact they needed six blocks to catch Marinovich. Who is on that police squad, anyway, Julius Peppers?
TRAVIS HENRY: A paternity suit in Georgia revealed that Henry has fathered nine children by nine different women. Henry is now fighting a possible yearlong suspension for testing positive for marijuana. That makes no sense whatsoever. Doesn't pot lower your sperm count?
RETRO TOY (2006) MITCH COZAD: Cozad (pronounced: Gillooly), the backup punter at Northern Colorado, was recently convicted of second-degree assault after police accused him of stabbing the team's starting punter. Scene from the Cozad house last year: Yeah, OK, um, Mitch, this year I think we're gonna let your brother Ronnie carve the turkey.
BAD BADGERS: A couple found having sex in a women's bathroom stall inside the University of Wisconsin's Camp Randall Stadium could end up losing their season tickets. This is disgusting, outrageous and appalling. People buy season tickets for Wisconsin football?
NORV TURNER: Ever wonder about the expression on a turkey's face when he realizes the phrase "We're having you for dinner" isn't an invitation? That's what the Chargers coach looks like on the sidelines.
AGENT SMITH: Suggested 2008 slogan for Alex Smith and the 49ers: The NFL: It's TRYPTOPHAN-tastic!
MEET DAVE FLEMING
If you're anywhere near the Keystone State and want to meet David Fleming and get a signed copy of "Breaker Boys" now is your chance:
12/6:
7 to 8 p.m. Moravian Book Shop, Bethlehem, Pa.
12/7:
9 to 11 a.m. Providence Place, Pottsville, Pa.
12/8:
2 to 3 p.m. Borders, Harrisburg, Pa.
12/9:
2 to 3 p.m. Tudor Bookshop, Kingston, Pa.
12/9:
6 to 7 p.m. Borders, Reading, Pa.
12/10:
5 to 8 p.m. Waldenbooks, Pottsville, Pa.
For a full list of author events check out the
ESPN Books event page
.
PACMAN JONES: Titans officials are investigating an incident between Jones and 2006 TOY nominee Albert Haynesworth. My guess? Haynesworth was jealous about Jones receiving this year's Golden Drumstick Lifetime TOY Achievement Award.
NICK SABAN: Compared football to two acts of war that killed thousands. His only defense is that after Miami no one believes a word he says any way.
RETRO TOY (2004) COLE FORD: Former Raiders kicker was arrested at a Kinkos after an alleged shotgun attack on the Jungle Palace, the home of Las Vegas magicians Siegfried & Roy. I could continue writing this column for the next 87 years and never get a chance to write a sentence like that ever again.
1972 DOLPHINS: If they get to repeat their classless champagne schadenfreude, remember this: This team had the second-easiest schedule of any Super Bowl champ. Ever.
GOD SAVE THE COMMISH: How is American football supposed to catch on in England when fan streaking ends up being the most athletic and intriguing part of the game?
WHAT I'M THANKFUL FOR THIS THANKSGIVING: Miami University athletics. After sweeping Michigan State in hockey last week, my lil' RedHawks, THE NO. 1 RANKED TEAM IN THE NATION, improved to 11-1 thanks to the work of junior forward Justin Mercier, the nation's leading scorer. Meanwhile, Miami's football team only needs to beat something called Ohio University in order to clinch the MAC East title. Frankly, I thought OU had dropped football, like, a decade ago. I was only half wrong. This will be our seventh win in the past eight games against the Boobcats.
BLAKE HIGH SCHOOL: A member of the Blake football team (in Silver Springs, Md.) was arrested and charged with second-degree assault after allegedly stabbing several members of the Magruder High team during the postgame handshake. A stabbing, during the one last remaining sacred and pure gesture of sportsmanship in all of sports? Let's all take a moment to weep for the future of mankind.
BENGALS: With the season on the line they lose to the Cardinals? This team is like the ready-made turkeys you buy at the grocery store -- no guts.
AL DAVIS: Recently predicted another handful of Super Bowl trophies before he stepped away as owner of the Raiders. I guess Al thinks he's going to live to be 167.
RETRO TOY (2005) ONTERRIO SMITH: One word. Whizzinator.
JETS FANS AT GATE D: Tired of watching their team get humiliated, intimidated and stripped bare by opponents, Jets fans have now begun to turn on their own.
DAVID FLEMING: Player-hating, no-good-book-writing, keyboard coward, ugly, stinking hack. There, I just saved you from having to write up your own hate e-mail since we all know how busy everyone is at work on the day before Thanksgiving.
Happy turkey day everyone, Flem.
David Fleming is a senior writer for ESPN The Magazine. His latest book, "Breaker Boys: The NFL's Greatest Team and the Stolen 1925 Championship,", published by ESPN Books, has been optioned as a movie. In addition, he is the author of the memoir "Noah's Rainbow."The Flem File will run each Thursday during the NFL season.