The Turkeys of the Year column always inspires hundreds of the most angry, bizarre and keyboard-slapping hilarious reader responses. It's the best part of the column, by far. I swear. And this year was no exception.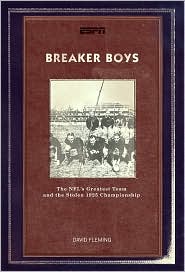 Buy the book
Click here to purchase "Breaker Boys: The NFL's Greatest Team and the Stolen 1925 Championship" by David Fleming. Click here to read an excerpt.
For more on "Breaker Boys" check out breakerboys1925.com
This batch of responses even included one from my boss. Now, it's almost never a good thing to get an e-mail from your boss on Thanksgiving. It usually means you've done something so horribly wrong that he or she has decided to roust themselves out of their post-meal food coma in order to straighten your stuffing out.
In this case, though, he just wanted to lightheartedly point out just how unfunny and uninformed he thought my crack on Wisconsin football happened to be.
Well, by then about 852 other Badgers fans had already beaten him to it.
So let me please state for the record (and the sake of my future employment) that I am well aware of the wonderful atmosphere at the sold-out Camp Randall Stadium. I also know all about the team's successes with the Rose Bowls and Heismans and victories and winning streaks and whatnot.
To be perfectly honest, I thought everyone was up to speed on the Wisconsin football program. I also believed the collective sense of humor in this great state was stronger than any possible inferiority complex that existed. Boy, was I wrong. You people with the cheese and the blockage and the long, cold shadow cast from Ann Arbor and Columbus, your Thanksgiving rage actually scares me more than Raiders fans.
And so, in an effort to free up my e-mail account, I will now run the (printable) Wisconsin responses first and then beg for a truce.
Dan from New Jersey writes: "Why is it so appalling that people would have season tickets for Badger football? The Badgers have been relevant for the past 13 years. Maybe a better joke would be to comment on the stereotypical, physical appearance of your average Wisconsin couple."
Sid from Belleville, Wis., doesn't realize that 82,000 is a good week for me when he writes: "$*! YOU, I have been a season ticket holder since 1993 sorry that you have had nudder damn [Notre Dame] shoved down your throat your whole life, it is one of the best atmosphere in football and would not give it up for anything. NICE COMMENT way to make 82,000 people hate you!"
Dan, a minimalist from Madison, adds: "Get laid."
Jeremy from Greenwood, S.C., kills two turkeys with one stone when he writes: "You sir, are an idiot. The Patriots are killing the rest of the NFL because of talent and a burning desire created by members of the media such as yourself. Cheating has nothing to do with their success. Camp Randall Stadium is packed on Saturdays and holds a fantastic college football atmosphere. You should stop writing right now, killing yourself would help too."
Rod from Madison says: "For your information people actually do buy season tickets to see Badger Football (three Rose Bowl victories help). By the way where did your ignorant (backside) go to school? Has your lame (female dog's tail region) ever been to Camp Randall? You obviously don't know anything. Go $#*&! yourself."
John from Antioch, Ill., displays that hearty Midwestern sense of perspective and humor with: "Ummm ... you're making fun of Wisconsin's home football games? Why don't you just come right out and say, 'I'm a freaking idiot who has never been to a Wisconsin football game.' Do a little research on the University of Wisconsin-Madison. They've been sold out for almost two decades in a row now, in both basketball and football. In the past couple years they have been voted as Party School of the Year and College Sports Town of the Year. They won three Rose Bowl titles in the '90s. They have a much better record against Ohio State lately than any other Big Ten school. It's a bad year when they DON'T win a Bowl game (it doesn't happen often). They had a Heisman trophy winner in 2000 (note: actually, 1999). Last year they were 12-1 (only losing to Michigan) and their new head coach was named as the Big Ten Coach of the Year. You're an absolute moron."
MEET DAVE FLEMING
If you're anywhere near the Keystone State and want to meet David Fleming and get a signed copy of "Breaker Boys" now is your chance:
12/6:
7 to 8 p.m. Moravian Book Shop, Bethlehem, Pa.
12/7:
9 to 11 a.m. Providence Place, Pottsville, Pa.
12/8:
2 to 3 p.m. Borders, Harrisburg, Pa.
12/9:
2 to 3 p.m. Tudor Bookshop, Kingston, Pa.
12/9:
6 to 7 p.m. Borders, Reading, Pa.
12/10:
5 to 8 p.m. Waldenbooks, Pottsville, Pa.
For a full list of author events check out the
ESPN Books event page
.
Continuing to take things a wee little bit too serious, Darrens from St. Paul says: "Your 'Bad Badgers' entry was moronic. This team has won three Rose Bowls and the past 15 years and has made annual bowl appearances. Your statement 'who wants Wisconsin season tickets' shows pure ignorance and shows a lack of credibility to the staff of ESPN. You and ESPN.com should be ashamed."
Next up were Ohio University fans who were eager to point out just how horribly wrong my turkey trash-talking backfired, since three days later the Bobcats beat up on my lil' RedHawks from Miami.
Kevin, from Strongsville, Ohio: "Excellent call on the Miami (OH) versus Ohio University game, boob."
Shawn, from Jackson, Ohio, another fine product of Ohio U, writes: "I was just wondering who won the OU/Miami football game last year?"
Brian, of Bowling Green, Ohio, starts out angry, then turns funny: "Go $#* yourself you RedSKIN piece of $#(*# after Ohio runs all over your precious fratboy date rapists I wanna read all about it in your column next week. (You'll have to forgive me ... I never had a chance to be fired up about the Bobcats when I was a student there ... unless you count Gary Trent and the basketball team ... that lost to Miami all the time. Damn you. Umm ... Mike Schmidt went to OU! So there!? Eh, I give up.) You thought OU dropped football, but yet they beat you last year, so I thought maybe that might have reminded you the folks in Athens still play ball. But then you and your frat brothers from Oxford were probably too busy tasting wine at the Sushi bar to catch that game."
Some general comments on the 10th T.O.Y. Awards.
Misha from Pasadena writes: "Thanks for sparing the Michigan Wolverines after their string of epic collapses this year. We've been roasted enough."
Bill, from Boston, might be a psychopath but at least he's polite: "Please kill yourself. Thanks."
Jeff from Louisville wonders: "Do you actually get paid?"
Damien from parts unknown where they don't study contractions, says: "Your the real turkey loser."
Alex from St. John's says: "Flem, Let me cut to the chase, your 10th annual TOY article simply wasn't funny. Straight up lame. It was like you recycled a bunch of Simmons jokes, except they were poorly delivered and seemed stale coming from you. You said you didn't want to have to write that column, but had so much material from '07 that you were obligated to, yet you had multiple references to people/events from the past 10 years or so. You're usually a pretty decent read, but this was a miss far as I'm concerned. Consider this constructive criticism."
Tim from Milwaukee points out an omission with: "How about the Minnesota Vikings for fining their player for going to his grandmother's funeral?"
Tom, from Richman, Va., ignores the 1923 Canton Bulldogs when he says: "Enjoyed the TOY's again this year. But, don't be so hard on the '72 Dolphins, No team except them in the 88 year history has gone undefeated. They don't make the schedule they just play it and they played it perfectly. Even an away AFC championship at the Steelers in Pittsburgh. They won them all, until another does it they are on the mountaintop alone."
RF from Mass writes: "Hey chief turkey, Since you did not include Bonds, you must idolize him. Get a real job."
Next up are some actual positive comments. Wait. How did these get in here?
Eric from Pennsylvania, writes: "Another great column from the best Page 2 writer. Keep up the good work."
Tom from Bensalem, Pa., helps fulfill my Breaker Boys quota: "No question. 'The Breaker Boys' cause and book are brilliant. My parents and grandparents are from the coal mining region of Pennsylvania. I commend the cause! You are equal to Albert Einstein!"
Matt from Murray, Ky., says: "Not so much a question as a comment: In a world that takes sports way too seriously sometimes (thankfully, since it covers both of our paychecks and I love my job), I appreciate your take on things and I always enjoy reading your column."
David from Elko, Minn., writes: "Just saying thanks for a great TOY article! You help all of us understand that it is just a bunch of games anyway. Have a great Thanksgiving!"
Is Eric from Australia being serious (I can't tell) when he says: "I just read your TOY column. Very funny article. I was laughing out loud at several points. Your writing style is excellent. Only two other authors I have read deliver humor as well as you. David Sedaris and Christopher Moore."
Next up are John Mayer fans who sent in a very bizarre series of "You're right but I disagree" e-mails responding to my questioning whether a guy who once crafted the phrase 'your candy lips and bubble gum tongue' should be passing judgment on the music industry.
Scott from Royal Oak, Mich., says: "Dude, I know that John Mayer isn't making great music but there is no way you can debate how talented of a guitarist he is. Top 10 alive in popular music. Get your facts straight."
Brian from Newark, N.J., is next up with: "John Mayer is a [bad person], but if you think he doesn't have talent you're a worthless judge and know nothing about music."
Adds Matt from Denver: "There you go ragging on John Mayer again. Have you actually seen him play that guitar? Maybe his comment on the lack of talent in the music industry is more like you saying there aren't enough good writers on ESPN.com. Happy Turkey Day!"
Walter from Halifax adds: "Hey David, love your turkey column, but your comment about John Mayer is just grossly, massively umm, wrong. I don't like his pop schlock either, but he is doing it to make money in a cut throat industry that he understands. He's making money because he understands what sells and knows that making that music for him is effortless. He's an incredibly talented guitar player. If you listen to his real music instead of the 'hits' or if you see him live, you'll either agree, or know absolutely nothing about music. There's no rebuttal to this. You are wrong. Talent is about what you can do well, not what you've done bad."
Tim from Fort Wayne continues the bizarre string with: "I can understand not liking his music -- especially as it's gotten more mass appeal (or mass teenage girl appeal, anyway), but watching him perform live leaves no doubt that he's an extremely talented guitarist. I'm not a huge fan of his music, but as a musician, there's no question about his abilities. I think you're unfairly confusing 'untalented' and 'unlikable.'"
Thank god for Paul from San Antonio, who restores my faith in music when he writes: "Once I got to your comment on John Mayer I didn't even bother reading the rest of the article. Anything else you may have written would pale in comparison to the truth in that paragraph!! As a proud Texan I cringe every time I hear someone try to rip off my beloved Stevie Ray Vaughan, and no one has been more guilty of it than that no-talent hack John Mayer. THANK YOU FOR SEEING THE LIGHT. Peace brother!"
And finally, it's not a surprise that most Pats fans didn't appreciate my wondering if a 19-0 Patriots season will forever be tainted by Bill Belichick's cheating. There were some very thoughtful, well-crafted e-mails in this bunch, but sadly, a majority of them only reinforced my notion that in a sports world increasingly devoid of humor and perspective the idea of Right and Wrong has morphed into My Team Right or Wrong.
Courtney from Boston represents the 1 percent of levelheaded Patriot fans with: "Just reading your turkey of the year column (hilarious, by the way) and I realized that you're a Miami U alum. Nice to see that you're one of the few who has the guts and brains to acknowledge the Belichick problem even when it's not popular among journalists. The intellectual quality of Miami students, current and former, is clearly alive and well."
Ditto for Mike from Sommerville, Mass., who writes: "The Patriots themselves are a model group of players -- no guns, no drugs, no drinking and driving, no crime; the last player to get in trouble for assault was released. Guys go to work, go home, kiss their wives and go to bed on time. In a league that still has the Bengals in it, it sends a perilously bad message to constantly attack the accomplishments of a team that has finally figured it out. Work hard, play hard, win. You should laud their character and tenacity, not woefully 'accept' that they are going to win the Super Bowl after a perfect season."
Someone called Rockland adds: "Should the Pats go undefeated, we fans will enjoy it completely free and clear, as there was no competitive advantage gained by taping for a few minutes of the first game of the season. Was it disappointing? Yes ... but cheating is a stretch. Breaking the rules (like parking in a handicapped space), should be punished, as it was, then set aside. If face-masking stops a sure touchdown run, we penalize the offender, then move on. We don't keep whining about how it changed the game. Any dynasty (Steelers, Celtics, Yankees, Lakers, 49rs, Bulls, Pistons -- God, did I hate them, except for Joe Dumars) is going to bring out the haters and snivelers, but please do not delude yourself that your (along with Mr. Easterbrook, et al) self-righteousness is in any way going to take the shine off whatever the Pats may accomplish this year."
Paul from Massachusetts argues: "Perhaps he TRIED to cheat, but never actually did. Recall that the video camera was found eight minutes into the first quarter in the first game of the season, BEFORE anyone on the Patriots staff had a chance to view the video. In other words, perhaps there was an attempt to cheat. But it was not successful. Therefore, all the subsequent ass-whoopins are above board and cheat-free."
Chris from Rockville, Md., gives us a nice visual to end on: "When Brady and Belichick finish their careers with seven Super Bowls, we will walk proud and gladly flip off the rest of America."
David Fleming is a senior writer for ESPN The Magazine. His latest book, "Breaker Boys: The NFL's Greatest Team and the Stolen 1925 Championship,", published by ESPN Books, has been optioned as a movie. In addition, he is the author of the memoir "Noah's Rainbow."The Flem File will run each Thursday during the NFL season.