The current economic structure of the NFL -- made up of the contrasting forces of free agency and a salary cap -- has created a system of unprecedented parity that has elevated pro football to our new national pastime. But this season has exposed one major flaw in the system: restricted from stockpiling enough quality talent and depth on their 53-man rosters, in the NFL now it only takes a few key injuries to ruin most teams' entire seasons. <! -- start sidebar table -- >
HAIL FROM THE CHIEF
When The Letter arrived it actually remained hidden under a stack of cards and shopping catalogues for the better part of a day. Figures. You wait your whole life for correspondence like this and when it's finally delivered it almost gets tossed out with the Domino's coupons, VISA applications and those look-how-beautiful-and-loving-our-monochromatically-dressed-family-is Christmas cards.

Last week the White House called ESPN Books in New York looking for my home address, so I knew I was either getting my own FBI file or something from the president regarding my recent book "Breaker Boys." I signed more than 3,000 books during my last two book tours in Pennsylvania and in October I do remember inscribing one for someone at the Maroons Sports Bar and Grill in Pottsville who said he would deliver it to George W. Bush. But I never gave it another thought.

Since then I've learned never to doubt the power of the coal region's six-degrees-of-separation connection to the rest of the world.

At best, though, I figured on maybe getting a stamped photo or some kind of form letter from the president. I never imagined it would be a hand-written note in blue ink on gold leaf White House parchment that would begin: "Dear David, I just finished Breaker Boys ... I did enjoy the book ... you are a fine writer and your history of the Maroons was illuminating ..."

I know exactly how I'm supposed to play this: Cool and nonchalant with a political joke or two tossed in, right? But the truth is once I confirmed it wasn't a hoax played on me by one of my brothers or the guys on my hockey team, I was thrilled. I loathed Boy Scouts growing up (the dorky uniform, the rules, the gleeful conformity and the realization that it was cheaper than a babysitter for my mom) but for a second, with that letter in my hand, I felt like a real credit to my country, like an Eagle scout or something -- just with better skin and less of an interest in "Star Wars."

I've gotten notes back from Roger Goodell and Dan Rooney about the book. At my last book tour stop I signed 700 books in just under five hours. One of them was for a woman who hadn't talked to her brother in years -- until she sent him "Breaker Boys." But how do you top a positive review from the leader of the free world? (Does anyone in Pottsville know Bono?)

It was just my luck that the only person around when The Letter arrived was my oldest daughter Ally.

"You know who the president is?" I asked her.

"Yeah, he runs the country and other stuff, like a big principal," she said.

"Well, kinda, he's also the most powerful man in the world."

"The world?"

"Yep, and he just wrote your dad a letter -- pretty cool, huh?"

"OK," she said, "... you should put it on the 'ridge then, dad."

It makes sense. In our house that's the highest honor you can receive. It's where all the important family documents go. Funny notes. Cute photos. Good report cards. The Davidson College basketball schedule. A really top-notch drawing of Rudolph.

And now, a copy of dad's letter from the president.

How's that for a cool fridge?
<! -- end sidebar table -- > Forget the draft, free agency, quarterback talent, coaching, speed, strength or smarts. The unpredictable and increasingly catastrophic nature of injuries in the game has quickly become the key to winning in the NFL. In other words, without the ability to build depth, success in the NFL is on the verge of becoming a by-product of chance rather than skill.
And it's only going to get worse. It's pure physics. The players keep getting bigger and faster. The league has created a high-risk, violent sport and stretched it into a 22-game, seven-month season (for Super Bowl champs). The demands of that schedule are nearly impossible for any normal human being to survive.
Something has to give. (And it's usually someone's ACL or femur.) Just six weeks into the 2007 season 160 players (or, roughly 10 percent of the league) had already been lost for the year and placed on injured reserve. Shredded joints. Cracked spines. Concussed melons. Everything is broken, bruised, torn or sore this time of year.
Except, that is, our appetite for the uberviolence and the "rub some dirt on it" gladiator mentality of football that we love so much. So we look the other way or go to the kitchen when the injury cart wears two tire tracks onto the field; we glorify the grotesque injuries on highlight reels and in video games and we turn our backs on the long-term effects of the game because, the truth is, we can't stomach the notion that our own hard-wired bloodlust makes us culpable in the crippling aftereffects of the sport we love.
And, certainly, no one associated with the NFL is in any hurry to change our minds. Because, trust me, if you ever truly understood the toll the game takes on players, if you ever had to watch Dan Reeves or Earl Campbell walk 10 feet or spend a few minutes in an NFL locker room in January, you might lose your taste for the violence.
And the league can't have that. You might watch less football. Less beer might get sold each Sunday. And then the world would collapse, "I Am Legend" style.
I know, I know, these are grown men making millions of dollars playing a child's game, so, understandably, the sympathy level for injuries is extremely low. I get it. But it's no longer about that. There's no denying that injuries now play a disproportionate role in the success or failure in the NFL and that by this time of year a lack of healthy players severely reduces the quality of the play in the NFL; to say nothing of the competitive nature and entertainment value of football.
In training camp now every GM and coach tempers his high hopes for the season by saying something like, "... as long as we stay healthy." Let's just put it this way: If Vinny Testaverde is still an attractive option in the sport, well, something is horribly, horribly wrong with the current system.
It's funny, you pay the NFL hundreds of dollars for your tickets or watch it on TV each week and no one ever complains about paying Donovan McNabb prices to see A.J. Feeley. Yet if you shelled out $175 to see Pearl Jam but Fred Durst came out on stage instead of Eddie Vedder, the Jamily would flat out wreck the place and hang Fred by his boxers from the flagpole in the parking lot. OK that's probably not true. Fred Durst wears tighty whiteys.
Teams with high hopes, like Chicago, Washington, Buffalo, Miami and Carolina were essentially eliminated from 2007 not because they stunk but because a few bad breaks at some key areas caused them to run out of talent. The fact that the Bills are still fighting is why Dick Jauron should be getting way more attention in the coach-of-the-year voting. Carolina spent, what, $100 million this year to field a team and its fate rests in the hands of Matt Moore, an undrafted rookie claimed off the waiver-wire scrap heap.
You're supposed to build your defense from the center out and the Dolphins have used, by my count, eight different players at safety so far this season. If there's a huge drop off in the NFL between starter talent and back-up talent, imagine for a minute what it's like when you get to player No. 8. Yikes. St. Louis was probably the team hit hardest by injuries this season; at one point, 10 of 11 starters on offense missed time as the Rams started the season 0-8. As Scott Linehan, the Rams' beleaguered coach, said: "This definitely isn't something I ever want to go through again."
But maybe he doesn't have to.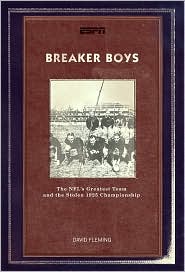 Buy the book
Click here to purchase "Breaker Boys: The NFL's Greatest Team and the Stolen 1925 Championship" by David Fleming. Click here to read an excerpt.
For more on "Breaker Boys" check out breakerboys1925.com
As the speed, size and violence of the game increase so, too, will the role that injuries play. Sure, there will always be great organizations like the Patriots and Steelers who understand that the value of a consistent approach to coaching, scouting and schemes gives you the most valuable commodity in the game today: depth. But if injuries continue like this for a few more years the rest of the league will need to innovate when it comes to preserving personnel.
What that means is anyone's guess -- but here's a few far-out ideas.
Even in the hysteria surrounding the Mitchell report, the NFL injury numbers -- not to mention phrases like: Lemon to Camarillo for the Dolphins' game-winner! -- are enough to make you wonder, just a tiny bit, if the NFL should at least consider allowing the use of recovery-type aides like HGH. (If HGH does actually help players recover from injuries; we don't know with more testing. And with Justice Department approval, of course.)
Wait. Stop. Close your Outlook mail folder for just a second. See, it's always been my theory that players using steroids this time of year (like the Carolina Panthers' players who reportedly used steroids before their Super Bowl appearance in 2004) aren't doing it to gain a competitive advantage like baseball players. Instead, they're doing it merely to survive the season.
Is it really cheating if you play in a league that has created a situation in which the players have no choice? Really, what's the difference between taking low levels of steroids or HGH for strictly recovery purposes and, say, massive amounts of cortisone or ibuprofen?
Still, in the current climate of sports today, I don't think more drugs will ever be the answer. Instead, the league should begin to investigate other solutions, like reducing the preseason by 50 percent or expanding the game-day active rosters from 45 to 55. (This could actually happen since Green Bay and other teams have already proposed bumping it to 48.) Ten more bodies per team would change everything and make December about scouting reports and not injury reports.
And if that happens, you watch, sooner or later some forward-thinking GM with a lot of salary-cap space is going to start holding back selected players until the end of the season.
It sounds a little nuts, I know, until you step into Linehan's shoes or you step back and realize that on some level it's already happening by accident all over the league. Teams like the Jags who use two running backs are essentially just trying to reduce wear and tear on great playmakers like Fred Taylor. And it's hard to argue with the results.
Meanwhile, the Pats waited until Week 8 to activate All-Pro defensive lineman Richard Seymour, who had been recovering from a knee injury. Back from an eight-game suspension, defensive tackle Tank Johnson's fresh legs are sure to help Dallas' defense make it through the December meat grinder.
If teams want to "save" players in the future, the framework already exists. Each week clubs must pay but deactivate eight players to make the game-day restriction of 45. Normally, teams sit their eight worst players or seven players and a third quarterback. But what if -- stay with me now -- the Bills, the Bears or the Rams were able to stay competitive for the first two months of the season while using those spots to hold back, say, a running back, a speedy playmaker, a quality blocker or two and some other impact players on defense?
They'd now be infused with a throng of fresh, healthy players and mounting a challenge for the playoffs against decimated opponents -- instead of spending their days licking their wounds, shrugging their shoulders and preparing for the 2008 draft.
David Fleming is a senior writer for ESPN The Magazine. His latest book, "Breaker Boys: The NFL's Greatest Team and the Stolen 1925 Championship,", published by ESPN Books, has been optioned as a movie. In addition, he is the author of the memoir "Noah's Rainbow."The Flem File will run each Thursday during the NFL season.