Want to make an NFL coach curl up into the fetal position and start sucking his thumb?
During the month of January all you have to do is mention these three words to him:
Vote. Of. Confidence.
On Monday, Baltimore Ravens owner Steve Bisciotti fired Brian Billick exactly 19 days after apparently giving him the dreaded NFL vote of confidence. It was a rapid reversal of fortune for Billick, who had won 13 games in 2006, but just the latest example of one of the NFL's oldest, and most bizarre, January rituals.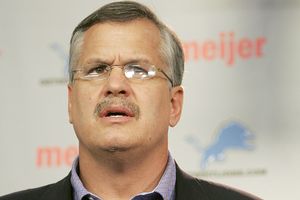 Tom Pidgeon/Getty Images
Detroit fans are hoping Matt looks in the mirror when delivering his next VOC.
The entire list of voodoo VOCs is far too long to catalog here but a few choice examples of the practice include: 1991 Colts coach Ron Meyer who was given a vote of confidence one week before getting fired; 2001 Bills coach Wade Phillips who was let go after receiving a public VOC from owner Ralph Wilson; in 2002, Dennis Green (Minnesota), Tom Coughlin (Jacksonville) and Jim Mora (Indianapolis) were all dismissed shortly after being doomed by the VOC virus. Mora, at least, knew what was coming when Indy owner Jim Irsay sealed his fate by declaring, "I have the utmost confidence in him."
And in one of the greatest (read: most messed up) examples of the dreaded VOC and the schizophrenia that attacks NFL front offices this time of year, in 2003 Lions GM Matt Millen sacked coach Marty Mornhinweg 27 days after repeated public proclamations that the coach would be coming back for another season.
On Dec. 31, 2002, Millen gave Mornhinweg a VOC because "the same reasons that I hired him still exist, and we move forward."
Less than four weeks later, though, after Mornhinweg was allowed to hire several staff members, rather than just admit he wanted Steve Mariucci, the always straight-shooting Millen clarified his change of heart, by saying, "Earlier this afternoon I let coach Mornhinweg go, for a number of reasons. It was something we felt we had to do, and we move forward."
Since then, while the NHL works hard to think up new ways to expand and improve its game -- like the spectacular outdoor match in Buffalo on New Year's Day -- the NFL has been busy inventing more and more twisted ways for the game's leaders to go back on their word.
Let's see, there's the always-effective non-VOC used by Bill Parcells with players like kicker Mike Vanderjagt. There's the players-circling-the-wagons VOC for the lame-duck coach who everyone knows is about to get canned. There's the "I don't need no stinkin' VOC" from the coach who is about to get fired, probably for being too defiant.
Coaches get the VOC from owners. Players get them from coaches. Assistants get them from everybody. But the only people who put any weight behind them are fans and media. When, in fact, the only real truth behind VOCs is the inverse relationship they have with reality, meaning, the bigger, stronger and more adamant the VOC the quicker you need to get in touch with your real estate agent. Case in point: At the end of the 2006 season in Atlanta, Jim Mora (Jr.) gave Mike Vick a big, sloppy, public VOC. "I'm a huge Mike Vick fan, always have been," he said. "I love the guy. He's a great player and I think he's a better person."
Recently, though, coaches have begun to turn the VOC back on owners. In early December 2006 Dolphins owner Wayne Huizenga said, "I may be wrong but I don't think so, I am completely sold on Nick Saban." Three weeks later Saban became one of the few people in recorded history to move from South Beach to Alabama. Last month former Falcons coach Bobby Petrino set some kind of record by reportedly leaving for Arkansas hours after giving Arthur Blank his rock-solid, double-platinum, hand-on-his-playbook VOC.
Who's next? Well, if Billick wants to keep coaching -- and I certainly hope he does, because there are few coaches in the game today with Super Bowl rings and the kind of perspective and candor he brings -- in the past few weeks both Carolina coach John Fox and St. Louis coach Scott Linehan were infected by varying degrees of the VOC.
So, I guess any day now we can expect those jobs to be vacated.
Actually, I think Fox is safe. He has got to get more dynamic on offense but his players gutted out the last month of the season for him behind a fourth-string QB and Panthers owner Jerry Richardson seems to understand how, in towns like Philadelphia, Pittsburgh, New England and Indianapolis, coaching continuity has become the best weapon available against the corrosive elements of league-mandated parity.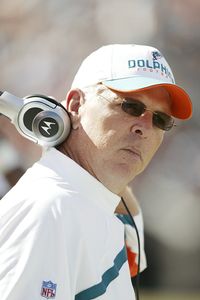 George Gojkovich/Getty Images
Most people were confident that Cam would be looking for work soon.
Linehan, I'm afraid, is about to become a perfect VOC case study. When Rams president John Shaw gave Linehan his original VOC it was based, correctly, on the fact that no coach should be judged by the performance of such an injury-riddled team. But since then the Rams lost four straight without a fight to end the season, mild-mannered Torry Holt lost it on the sidelines and quarterback Marc Bulger may have sealed Linehan's fate with a single roll of his eyes. Word arrived Wednesday that Shaw and Linehan were going to meet next week in Los Angeles to discuss how to fix the franchise.
If that means going back on his vote of confidence, something tells me Shaw won't lose too much sleep over it. The combination of money and competition has created an every-man-for-themselves atmosphere in the NFL where, during the trigger-happy month of January, the concept of someone's word or a VOC has become virtually meaningless. Nice, huh?
What's more, as much as we all like to cling to this romantic notion that we're shareholders in our teams and somehow capable of holding GMs and owners to a higher standard, the bigger truth exposed by VOCs is that NFL franchises are privately held businesses and the people who own and run them can pretty much say or do or promise anything they want and with utter impunity.
So rather than rail against the pathetic, degrading, bizarre NFL culture of paranoia, incompetence and dishonesty that allows the VOC practice to flourish this time of year, I say we embrace it in our own lives.
What did you think of your kid's four-hour school choir holiday extravaganza? Don't answer, just give it a vote of confidence. When your parents asked about your grades last semester? Don't complicate things with stuff like the truth or details, just give yourself an academic vote of confidence. And when teams like the Ravens, Broncos, Bengals, Rams, Lions, Dolphins or Chiefs call this month to re-up your season-ticket account, don't give them an answer right away.
Tell them right now all you're prepared to offer their franchise is a vote of confidence.
David Fleming is a senior writer for ESPN The Magazine. His latest book, "Breaker Boys: The NFL's Greatest Team and the Stolen 1925 Championship,", published by ESPN Books, has been optioned as a movie. In addition, he is the author of the memoir "Noah's Rainbow." The Flem File will run each Thursday during the NFL season.