Chad Johnson sleeps with the fishes.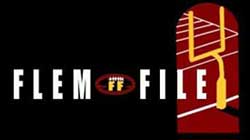 And by that I mean at Johnson's offseason home in Florida -- the Bengals wickedly talented wideout has a custom-made arching glass bed canopy that doubles as an aquarium. Which, of course, is not to be mistaken with the 30-foot fish tank he built in his den. The one with the exotic blue-dotted stingrays buried in the sand underneath the three 50-inch in-laid flat-screen TVs that, when I was there, were showing "Talladega Nights" on an endless loop.
As chronicled through the years in this very space, I have spent my summers away from the NFL on some pretty bizarre and cool adventures. There was my summer of 2003 shadowing Mike Vick. There was my time spent working as an extra on the set of "Invincible". My visit to the center of the futbol universe: Manchester United's Old Traffor. My week touring Switzerland with Steelers QB and fellow Miami University product Ben Roethlisberger. And my visit to the ancient Mexican town of San Miguel de Allende with Chiefs tight end Tony Gonzalez.
But none of it prepared me for my strange trip into Chad's World.
In the end, though, what shocked me wasn't the giant five-horse fountain in the front driveway or the 6-foot red velvet "Alice in Wonderland" furniture pieces. It wasn't the cheesecake cooking in the kitchen like we were on the set of "Mad Men," the Lynyrd Skynyrd ring tone on his cell or the fact that before posing nude in his garage for The Magazine, Johnson told me he was seriously thinking about legally changing his last name to Ocho Cinco so the league couldn't touch him when he wore it on his game jersey.
"Maximize your opportunities in this game at all times and at all costs," Johnson said earlier this summer. "That's my motto. I'll give you an example. This brings all of what I am together into one thing: have fun, be original, stay a step ahead and maximize your opportunities. Here it is: I'm thinking about legally changing my last name to Ocho Cinco next season. Cool, right? The league, the announcers, the media, they would all be forced to refer to me as Ocho Cinco. From a money standpoint, think about how much I could make, because everyone would have to buy the jersey all over again. Think how much my team would make? Sales will skyrocket. Boom. It's fun. It's original. But if I do it I better perform."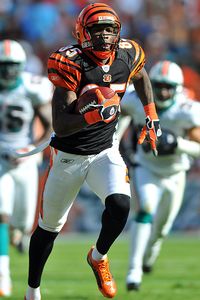 Steve Mitchell/US Presswire
Love him or hate him, everyone wants to see what Ocho Cinco does next.
No, like I said, it wasn't the oceanic surroundings that freaked me out. It was the realization that sometimes the ideal of what we say we really want from our stars is often wildly distorted by the NFL fishbowl, just like Johnson's household companions. And like him or not, the truth is, even if you're a Brett Favre disciple, reading a Vince Lombardi biography in Bart Starr's steakhouse, Johnson actually embodies much of what we want from the NFL at the dawn of the 2008 season.
We say we want production. Last year, Johnson had an "off" season, but still hauled in 93 passes for 1,440 yards (a personal best) and 74 first downs (tops in the NFL.)
We say we want toughness. Remember that "not-all-there" interview he gave a few years back after getting his bell rung in Cleveland? Last year, Johnson posted those numbers with a gimpy ankle. And this week after spraining his shoulder, rather than have surgery and sit, he chose to play while wearing a harness; the kind of thing Philip Rivers is being canonized for in San Diego. Yesterday, when reporters asked Johnson if he was OK, he dropped down and did 20 pushups on the locker room floor.
We say we want leadership. This summer everyone freaked and grumbled when Johnson demanded a trade because the Bengals weren't doing enough to get to the next level. But isn't that what fans have been complaining about for the past 17 years while the team has had one winning season and no playoff wins? The past three years under Marvin Lewis, the Bengals have finished 27th, 30th and 28th in total defense, and in its past 10 preseason possessions, the Bengals' first-team offense has produced eight punts, a pick and a blocked field goal. To fix everything, the team just re-signed NFL outlaw Chris Henry. Now, I ask you, under these circumstances is it leadership -- or cowardice -- to stick your head in the sand and say nothing?
And finally, we say we want the game to be fun, to be an escape. Do I even need to cover this one? In a super-puckered, ultra-uptight sports world being overrun by cold-fish personalities, market-researched stars and mind-numbing clichés (don't even get me started on the soulless stat geeks), thank goodness for the occasional living, breathing fallible and goofy human being and his Ohio River Dance, blonde 'frohawk, Pepto-Bismal delivery, HOF jacket, Michael Phelps challenge and salary-bonus-sized fish tank sleeping chamber.
"This game is about having fun but not being a joke," Johnson said this summer. "If it's not fun, why do it? It's never about being an a------. I'm just a humorous person and I let my personality come through in what I do. I don't mean any harm. I don't know why I rub people the wrong way. The key is doing your thing in a way that comes out right as far as the vibe and the energy. I do it right. And everybody is drawn to it and loves it and can't wait to see what I'm going to do next."
And whether you're willing to admit it or not, when it comes to this game you're just like me.
Hooked.
---
30 SECOND COLUMN
This was not the NFL's greatest preseason. It was filled with tragedy (the death of Hall of Famer Gene Upshaw), turmoil (Brett Favre) and far too many untimely injuries (Osi Umenyiora). But one of the most disturbing headlines of the preseason actually went unnoticed: when Roger Goodell said he's considering expanding the season to 18 games. I spent a few moments with the commish before his news conference at the Super Bowl and, well, he seems like a reasonable man to me. If so, I want to beg him to reconsider this idea. Or, at least, walk through an NFL locker room in mid-November -- when you can sense the pain, smell the Lidocaine and practically hear the bones grinding against each other. Or just go watch someone like Earl Campbell try to walk 10 feet. And then decide if, given the increases in speed, strength and violence in the game, the human body can actually endure two more pro football games. I mean, the season hasn't even started and already because of the economics of the game the product is being watered down by injuries to stars such as Umenyiora, Shawne Merriman and Jason Taylor. And we haven't even played a game yet. Imagine the human carnage after 22 games, which is what wild-card teams like the 2007 Giants would have to play to win the Lombardi. The NFL has become our national pastime because, as a society, we love and crave violence. I'm cool with that. But that all changes, I think, the minute fans begin to lose their taste for the grotesque toll the game takes on their heroes.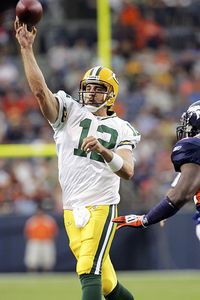 AP Photo/Jack Dempsey
The only thing worse than living in Brett Favre's shadow is doing it with with your own signature on your helmet.
FLEMFILE FIVE
Top Five Training Camp Pranks:
5. Cal grad and Green Bay quarterback Aaron Rodgers once signed a Packers helmet for a teammate's charity auction. Only there was no charity and the helmet turned out to be Rodgers' game lid.
4. April 3, 2008, statement from Bengals president Mike Brown: "Chris Henry has forfeited his opportunity to pursue a career with the Bengals. His conduct can no longer be tolerated." Four months later, Brown signed Henry to a two-year contract. The biggest prank in football is that the NFL cares about character.
3. TIE: Old-school entrants: (1) HOFer Larry Csonka once put a live alligator in the shower of coach Don Shula, and (2) when a former Titans lineman got into hot water for shooting a deer without a license, the team's strength and conditioning coach, Steve Watterson, filmed an entire faux "60 Minutes" episode that included teary-eyed teammates asking the camera, "Is he going to shoot Rudolph next?"
2. On some teams, when a rookie loses his car keys, they are returned a few hours later in a Gatorade bottle of frozen urine.
1. I heard that some centers will split the back of their football pants on purpose, much to the delight of everyone but the young, unsuspecting QB about to take the snap.
FLEMFILE FIVE, PART DEUX

Got an iPhone this summer, so in honor of that (and the twisted mind of P2's Mike Philbrick) here's my Top Five Things That Annoying, Pretentious iPhone Message Tag Is Really Saying To You:
5. "Yeah, there's a 99 percent chance I'm totally cooler than you."
4. "I don't know what rocks more: Coldplay or the fact that the band's instruments run on fumes collected from stadium port-a-johns."
3. "This message is not from John Clayton but at least it was sent on a totally rad phone."
2. "... hold on a sec: Yeah, I'll have a grande hot extra soy half shot vanilla latte with whip."
1. "iPhony."
TELL FLEM A STORY
Soon after Texans GM Rick Smith was hired in 2006, he was asked to speak at a local banquet full of Longhorns power brokers. During his talk, Smith tried to explain his plan of attack with the Texans by using an allegory about 19th century Italian composer Gioachino Rossini. In 1816 after Rossini's "The Barber of Seville" was panned, an angry mob showed up at the composer's doorstep only to hear a sleepy and calm Rossini explain, I'll just write another opera. I'm guessing it was a first for the bolo and boots crowd, but it worked. The message was clear: There's a new sceriffo in town. Smith and coach Gary Kubiak have trimmed all but a few players from the team they inherited. And using the Patriots blueprint of building through the draft with inexpensive and malleable young talent, the Texans have become energetic, explosive and young enough to make Chris Brown look like Keith Richards.
"The point of that story was, he's got a plan, he believes in it and it doesn't matter what's happening or being said all around him -- he's sticking to it," Smith told me one day while strolling the sidelines during practice. "At the time we had all the stuff going on with [former No. 1 overall pick] Mario Williams and I was like, 'Look, we've got a plan and we're gonna execute the plan.' But yeah, I still get people who come up to me and say I'm the only football guy who ever quoted Italian opera to get to his point with us."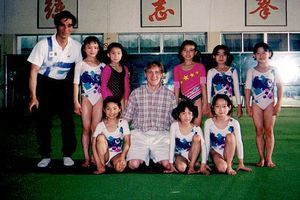 David Fleming
Don't laugh, none of us looked good in '95.
FLEM FILE FOTOS -- WHAT I DID ON MY SUMMER VACATION:
WATCHED THE OLYMPICS: This photo was taken in 1995 at one of the national gymnastic academies in China during a 21-day summer reporting trip I took before the Atlanta Olympics. First of all, yeah, that shirt alone should have gotten my Visa revoked. Just 13 years ago, China was a completely different country, a waking giant just beginning to warm up to western influences. At some stops people we met had never seen anyone with blond hair (or such a bad cut, I suppose) and they would reach into our car to pet my hair. One of our interpreters got mad when we told him he was one in a million, because in a place as big as China, that means there are thousands more just like you. I flew on a plane with a hole in it, ate fried scorpions and cow's stomach and drank caterpillar extract and, believe it or not, Pabst Blue Ribbon, which was everywhere. As were these academies -- full of kind, vivacious, amazing kids as young as 4 who had been snatched from their families after showing the slightest bit of aptitude for sports. It struck me last week while watching the Olympics that, by now, some of these kids had to be competing or coaching in the Beijing Games. The thing is, I'm not sure if that makes me happy or sad.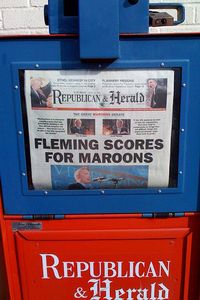 David Fleming
NASA reports that the Fleming headline was visible from space.
WON AN 83-YEAR-OLD DEBATE: Through some strange act of almost subliminal self-sabotage (I blame my parent's divorce) I take summers off from the FlemFile. So each time we come back I like to let loyal readers know exactly what I did while I was gone. This summer? Oh not that much -- unless you count winning an 83-year-old debate about the 1925 NFL championship against a historian/expert from the Pro Football Hall of Fame. The Chicago Tribune ran a nice story about my triumph in the Great Maroons Debate, as did the local paper, the Pottsville Republican & Herald, which pushed the Pope and Ethel Kennedy off the page to make room.
I just wish they would have used a bigger headline font.
DAVID(SON) FLEMING
As far as I can tell, one of the only drawbacks to living in a college town is the bus stop where, on any given day, my inferiority complex can rage out of control while standing next to renowned poets, authors and designers, Ph.D.'ed profs, the director of the school's foreign studies department, a Harvard educated psychologist and, now, an Olympic medalist.
That's right, Team USA assistant baseball coach Dick Cooke lives right across the street from me and on Monday there he was, after a long flight home that took him over the North Pole, waiting in the rain with the rest of us for the school bus to drop off our kids. (By the way, I hope it stops raining here before Wednesday's Freshman Cake Race, an event where townies, like me, bake 20 cakes that the new students race for -- a tradition that started out in, oh, 1934, as a way to spot fast kids for the track team. Gotta love college, right?)
Anyway, Dick said Beijing was a clean, gracious and almost overly attentive host. And together we lamented the fact that baseball, as of now, and despite an exciting and sold-out competition, is no longer an Olympic sport. Of course, the only thing I was really interested in was asking him if I could cut my lawn wearing his bronze medal. Which is when I found out coaches don't get Olympic medals. What the?
Yeah, that's right, the guy on the trampoline, the gals tangling up those ribbons and the dudes playing ping-freaking-pong all get Olympic medals. But not my neighbor?
FLEM GEMS
Training Camp Observation No. 1: It was 11 p.m. in Charlotte during the first week of the preseason and I was nearing the end of my third fake football game in as many nights when, to entertain the crowd during a (swear to God) challenged call in OVERTIME, the stadium speakers blared a Huey Lewis tune from 1980-something.
Let me just say this: As a sport, you know you're in big, big trouble when your product is so demented that it reminds people of a scene from a Bret Easton Ellis novel.
TCON2: Here's the scene from my interview in Cleveland with new Browns defensive tackle Shaun Rogers: Big Baby was sporting a 'frohawk, a diamond-encrusted medallion that was the size and shape of roadkill and a pair of Yves Saint Laurent high-tops without socks. (Because of this, his new teammates were calling him "Shoeless Joe Jackson.") Oh, and did I mention that while we talked a shirtless Rogers was using the wall next to his locker to scratch his considerable, well, back fat?
Now, I'm sure some of you sadists in the audience are partial to watching pear-shaped kickers with Halloween costume shoulder pads flailing at the air and nose-wheelie'ing into the turf while attempting to tackle during a return. But for me, nothing's funnier than fat guys running with the football. Nothing. I mean, I'll never forget a teammate's zombie-like reaction after 310-pound defensive tackle Warren Sapp scored a touchdown back in the 2003: "The jiggle man," the guy said with a look of post-traumatic stress disorder on his face, "the jiggle, I … I just can't get it out of my mind."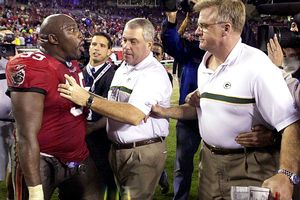 AP Photo/Chris O'Meara
"Yo ... you talkin' about the jiggle? No one talks about the jiggle."
It just so happens that last year while playing for the Lions, Rogers set the gold standard for my very own FGF -- Fat Guys with the Football -- rating, when he returned a pick at the speed of anti-sound 66 yards for a touchdown, rewriting the known laws of physics by levitating his prodigious heft the final 5 yards during a celebratory somersault. They felt the tremors all the way down in Toledo.
Figuring FGF is easy, by the way, and I'll expect all of you to monitor this for me during the 2008 season. You just take the player's roster weight (in this case, 340) multiply it by 1.075 to get his actual weight (366) then add the distance traveled (66 yards) and divide by the number of cheeseburgers consumed prior to the game (50) for a nearly perfect FGF rating of 8.64.
The jiggle man, oh the jiggle.
TCON3: Grab bag: Keeping in mind that I was an English major and have occasionally torn an oblique while attempting long division, by my calculations if you sent Olympic stud (all due respect to runner-up Michael Phelps) Usain Bolt deep on a fly route, after just 15 yards he'd be seven feet past the fastest player in the NFL. Now, if someone like Chris Henry can secure a two-year deal, why wouldn't someone at least throw a few mil at the world's greatest athlete? ... People want to talk about steroids and HGH, but if you ask me, the one drug that the NFL can't live without is pain-killers. If tomorrow they banned the use of Lidocaine, Cortisone, Toradol, Marcain, Oxycotin, Vicodin and all the other pain-killers out there by Week 8, the league would have trouble fielding teams. ... My summer reading leads me to believe that John Updike is rather lucky the guy right up the road in Pennsylvania, John O'Hara, never became more famous. ... I never do this, but, fantasy sleeper alert: Texans wideout Kevin Walter. The Texans' secret weapon? Chicken Kitchen. ... I don't know who I miss more right now, Rob or Big. (Probably Big. "Do ... sniff ... work ... sniffsniff ... son!") All I can say is thank goodness David Duchovny's Hank (and the rest of "Californication") is coming back on the air soon. ... You ever just go on an iTunes bender? This summer I had a few strange ones: Tom Petty, Psychedelic Furs, Michael Jackson, Kid Rock and Arcade Fire. ... Congrats to Charleston Southern for pulling off the rare Miami double in football. The school plays the other Miami (of Florida) this week and then Sept. 13 things get serious when the Bucs face my alma mater, the lil' fighting RedHawks of Miami University.
TCON4: I talked to Roethlisberger on the phone before training camp and I hung up thinking he seemed more mature and at peace than ever before. He showed it on the field, as well. Probably the prettiest play I saw in my travels was Roethlisberger making a blitz sight adjustment off cover zero during his cadence and then hitting a two-step drop and throwing across his body all the way to the sidelines, lacing the ball to Santonio Holmes, who side-stepped a shocked Brian Dawkins while jetting into the end zone.
TCON5: When she heard I was headed to Texas for a week of training camp, my youngest daughter was very excited thinking I might get a chance to meet Sandy the squirrel from SpongeBob SquarePants (for those who are ignorant, Sandy hails from the Lone Star State). She's a little obsessed with SpongeBob. I know this because after her first communion this summer she wanted to reply "Ah-yi Captain!" instead of amen. An idea that I totally green-lit.
TCON6: Outside the stadium in Cleveland I saw a bomb-sniffing dog relieving himself on a tiny patch of grass and it struck me as odd, since, for whatever reason, I never think of bomb-sniffing dogs as having to go to the bathroom. ... It was here I saw quite possibly the coolest T-shirt of all time: a grateful dead skull logo with a little Cleveland Brown mascot standing where the lightning bolt normally goes. ... Outside the Browns' locker room a thick piece of climbing rope is hanging down from the ceiling with a note asking which players will become knots in the rope. I have no idea what that means. And as odd as that is, right across the hall is a giant football action mural where the players are so big their hair follicles are as thick as tailpipes. ... I'd say they're a little obsessed with the Steelers here in Cleveburgh: most of the T-shirts for sale by street vendors made some kind of reference to having unnatural relations with Pittsburgh. But if the Browns are as young, fast and athletic as they looked when I was there, they should get over that pretty quick.
TCON7: Reason No. 64 why I'm glad the NFL is back, (completely off the top of my head) a list of Redskins back Clinton Portis' alter egos: Southeast Jerome, Sheriff gon Getcha, Kid Bro Sweets, Reverend Gon Change, Inspector Tu-Tu, Dolemite Jenkins and Choo Choo.
TCON8: The most unlikely player to be in a hilarious, viral video starring Will Ferrell? Panthers center Ryan Kalil. ... On a more serious note, in my mind, the past several years of decent behavior and gutty play on the field have earned Panthers wideout Steve Smith what he didn't have the first time he fought with a teammate: the benefit of the doubt.
TCON9: A few thoughts on Favre mania. First, this headline from The Onion: "Packers Tell Fans They Gave Favre to a Nice Farm Family." ... Ya know the first time Favre tried to take the field as something other than a Packer, the skies over Lake Erie opened up and poured down on the Jets. So that means God is either a Packers fan -- or a, gulp, Jets fan. ... After all the mania we never really answered the most important question: What do the Packers know about Favre that the rest of the world doesn't?
Maybe this is the answer: Part of my offseason was spent at Athlete's Performance in Tempe, Ariz., the cutting-edge of sports training and the summer hangout for many NFL players, including Julius Peppers, Matt Ryan, Jake Long, Alge Crumpler and Mike Karney. I was there reporting on a story about the epic, transcultural Forrest Gumpian path of the world's best, and oldest, piece of athletic equipment, the medicine ball. AP used a grueling med ball workout to train Favre before his outstanding 2007 season, but as far as I could tell, he hadn't lifted so much as a whiffle ball this summer.
TCON10: Every time I think injuries have depleted the Colts and brought them back to the field, I watch them play and am just astounded by their depth. In the spring, Colts GM Bill Polian told me the first round of the NFL draft was broken. "Insane" is the word he used. Few other GMs have figured out what Polian has already mastered: When it comes to price versus performance, the best picks in the draft are, roughly, 33 through 129.
TCON11: Loved what 13-year veteran Eagles tackle Jon Runyon had to say about humor in the game: "We all get to the point where it hurts a helluva lot to play this game and so you've got to be able to laugh at it. People take this game way too seriously and the whole thing can get so negative. So you have to find something to take your mind off it or the stress and pressure and pain can snowball on you and all of a sudden you don't feel like doing it anymore. You've just got to laugh at it all. I just hope I'm laughing at it in 40 years."
THIS COLUMN WRITTEN WHILE LISTENING TO: REM, Accelerate; and The Red Light District by Ludacris, the only guy I know who can riff a nursery rhyme (knick knack paddy wack) with a Cadillac.
David Fleming is a senior writer for ESPN The Magazine and the author of the memoir "Noah's Rainbow." and "Breaker Boys: The NFL's Greatest Team and the Stolen 1925 Championship,", which has been optioned as a movie. The Flem File will run each Wednesday during the NFL season.