Some half-decent (and some half-baked) observations at the halfway point of yet another half-crazy NFL season.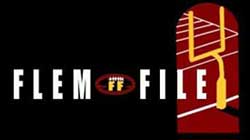 HALFWAY TO MVP: Not to take away from the stats being put up by Clinton Portis, Drew Brees, Andre Johnson and Kurt Warner, but so far this season it seems like a defender should win this award. London Fletcher? Joey Porter? James Harrison? We shall see.
WAIT HALF A SEC: Philip Rivers is first in the NFL with a 107.8 passer rating and the Chargers are 3-5, and Kerry Collins ranks 27th and the Titans are 8-0?
ONLY HALF JOKING: I have to wonder if Jake Delhomme's success after Tommy John surgery will only encourage other quarterbacks to get elective elbow surgery the same way that some baseball pitchers do.
HALF THE MAN: Number of teams in the league who have turned to their backup quarterbacks.
HALF OF THAT HALF: Number of backup QBs who have actually been effective. Listen, you guys hear me yell about injuries ruining the NFL almost every week in this space, and I don't know what proves it better than this: The NFL drafts 250 players every year, and the game has become so specialized and dangerous that teams can't find or develop more than 40 usable passers?
HALFWAY HOME: Of the past 14 teams to start 8-0, seven have gone on to win the Super Bowl. Gotta say: That's as close to a sure thing as you can get in today's NFL.
HALF A CENTURY: How long Pittsburgh defensive coordinator Dick LeBeau has been dominating offenses in the NFL. He's one of a handful of assistant coaches in the game today -- Tampa D-coordinator Monte Kiffin is another -- who should get serious consideration for the Hall of Fame.
HALF: The amount of information it seems we get when it comes to the recovery of star players like Peyton Manning and Tom Brady.
HALF THE CREDIT THEY DESERVE: Carolina fullback Brad Hoover. Colts linebacker Gary Brackett. Redskins 'backer London Fletcher. Dolphins coach Tony Sparano. Tampa's Antonio Bryant. And Jets running back Thomas Jones.
TAKE HALF AN HOUR: And e-mail me about your great family football games over the holidays. Seriously. We started this last year and the responses were awesome. Be sure to include: (1) the title of your Turkey Bowl; (2) at least one pulled hammy or nasty injury; (3) turkey vomiting; (4) trick plays pulled on new members of the family; (5) tales of near fisticuffs between siblings. (Oh, no, wait, that's just my family.)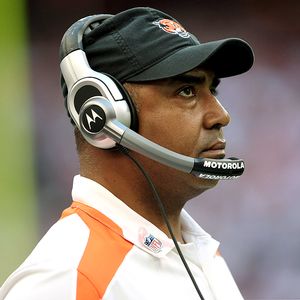 Stephen Dunn/Getty Images
Whoa, Marvin … don't start thinking the Bengals are for real.
YOU HALF TO BE KIDDING ME: The Bengals win a game and they start talking about finishing 8-8? This is such a pet peeve of mine and one of the most cowardly, hollow, pathetic, meaningless gestures in all of sports (it's also something the Bengals have perfected): teams that start to play loose, great football once all the pressure and consequence is gone from the season.
HALF AS HARD AS IT SHOULD BE: Think about where the Falcons were a year ago. A total disaster on every front. Then they hit three front-office home runs: They hired coach Mike Smith, signed free-agent running back Michael Turner and drafted quarterback Matt Ryan. Turned around in a year. Depressed yet, Detroit fans?
NOT HALF A MAN: I salute Pittsburgh's safety and new father Troy Polamalu, who said no football game was important enough for him to miss the birth of his child.
HALF TO SHARE THIS: Polamalu reminded me that a lot of us in the extended Flem File Family are young fathers. One of the best quotes I've ever seen on the topic of fatherhood is from Geoffrey Wolff's outstanding biography of the fascinating, tragic life of John O'Hara, one of America's greatest (but least-known) writers. (O'Hara covered the 1925 NFL champion Pottsville Maroons as a sportswriter and I discovered him while researching the team.)
Every week, one lucky reader gets to exchange e-mails with David Fleming.
This week, a disgruntled Raiders fan is up
Anyway, O'Hara's enigmatic talent has been largely overshadowed by his nasty, short temper, thin skin and general combativeness. But, as Wolff points out, he adored his daughter and ... "he loved his child and let her know as much -- without obligating her to be grateful or even acknowledge that he relished her company. And he did this in the fondest way warmth can be expressed: daily, habitually, cumulatively."
WAY MORE THAN HALF: Of Detroit fans want the Lions to go 0-16. I mean, if you're gonna be bad, then be the best worst team in history, right? My only question: Will members of the 2006 Dolphins gather to toast them with champagne?
ALTHOUGH YOU HALF TO REMEMBER: That when the Lions go 0-16 -- and they will -- the person who gets 100 percent of the blame is Matt Millen, the former GM, who proved that when your scouts and personnel people aren't in sync with your coaches and schemes, then you have only half a team, if that.
NOT HALF BAD: Maybe the best pass I've seen this year was Chiefs wideout Mark Bradley's 47-yard bomb to quarterback Tyler Thigpen. This got me to thinking: Why don't we see this more often? When teams like the Chiefs, Rams, Lions, Bengals, Raiders and Seahawks reach the halfway point of the season with no hope of the playoffs, instead of just trying to keep games close, why don't they experiment wildly, innovate with gusto and make some effort to entertain?
DOING TWICE AS MUCH WITH HALF THE TALENT: Dolphins. Jacksonville. Baltimore. Miami. Atlanta. Chicago.
DOING HALF AS MUCH WITH TWICE THE TALENT: Chargers (aren't they on this list every year?). Houston. Seattle. Cleveland. Oakland. Dallas.
HALF A STEP FASTER: Joey Porter playing as a pass-rushing outside linebacker in Miami's 3-4 instead of the 4-3 the Fins used last season. With 11.5 sacks, he's now halfway to the NFL sack record of 22.5.
HALF A SEMESTER: The amount of math I took in college, which would explain my calculations in the previous item.
HALF AS PHYSICAL: The Jags this season, since their offensive line was decimated by injuries in September.
HALF THE ATTENTION IT DESERVED: "Lars and the Real Girl."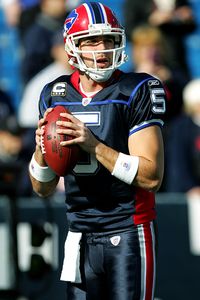 Paul Jasienski/Getty Images
Football isn't just a game of inches; it's also a game of seconds. Right, Trent?
HALF A SECOND TOO LONG: The time Bills QB Trent Edwards holds the ball.
HALF A SECOND LONGER THAN THAT: The time Steelers QB Ben Roethlisberger holds the ball.
HALF THE CREDIT HE DESERVES: Kurt Warner. With the Cards in first after Halloween -- and six players catching a pass for more than 18 yards -- you could argue that he's the front-runner to start for the NFC in the Pro Bowl.
HALFWAY TO THE PLAYOFFS: The Miami Dolphins? Their final eight games are against teams that have already lost a combined 40 times.
HALFWAY TO A FIRST DOWN: The Raiders gained 5 yards in the first quarter against the Falcons.
HALFWAY DONE: This column.
HALF THE RULES OF SYNTAX: Will be broken in the next item.
HALFWAY TO 600: On Sunday, Brett Favre became the first quarterback in NFL history to throw 300 interceptions. I'd like to comment on how -- in an era of the game where turnovers are one of -- if not the -- key stat that determines success (in the past five weeks the Broncos, for example, have been outscored 56-0 on the series after turnovers) -- this should significantly diminish a quarterback's standing in history. But the minute most of you read the word Favre, little cartoon heart bubbles form on your computer screen and block out everything else.
HALF OF YOU: Think I picked the wrong Patriot (Richard Seymour instead of Vince Wilfork) for the Dirtiest Player in the NFL list. And I halfheartedly agree with you.
WAIT HALF A SECOND: Let's add Jags defensive lineman John "The Eye Scream Scooper" Henderson to the list.
HALF A LIFETIME AGO: It seems that we were talking about the Patriots being, maybe, the greatest team in the history of the sport.
HALFWAY TO CANTON: Texans wideout Andre Johnson just finished one of the greatest months ever for an NFL receiver. In October, he caught 41 passes for 593 yards and two TDs. That's more than 15 receivers had in all of 2007. Johnson is just the third player in NFL history to have 130 yards receiving in four consecutive games.
HALF DRESSED: I read that 49ers coach Mike Singletary dropped trow during his first halftime speech. This really is the perfect way to audition ... for "Girls Gone Wild."
WAY MORE THAN HALF THE PLAYERS IN THE NFL: Eventually tune out screamers and rah-rah type coaches, even the ones who were Hall of Fame players.
HALF FELL OUT OF MY CHAIR: When I realized in a few weeks there could be a real, honest-to-goodness QB controversy in Chicago between Kyle Orton and Rex Grossman.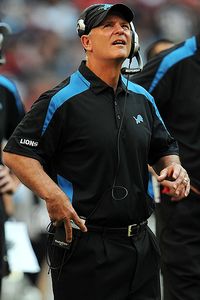 Ronald Martinez/Getty Images
Say what you want about Rod, but he's clearly drunk on Lions Kool-Aid.
YOU HALF TO BE KIDDING: All this garbage from Detroit Lions coach Rod Marinelli and defensive coordinator Joe Barry about how much they really like what this team is all about, what a terrific job the coaching staff is doing and how the Kitties shouldn't change a thing because they really are thisclose to breaking through. Um, hello? You guys HAVEN'T WON A GAME YET. The Lions are 1-15 dating back a year, they are 10-30 under Marinelli, and they are currently 31st in rushing offense and dead last in defense.
HALF WIT: Who was the dork who nominated the Texans (now 3-5 without QB Matt Schaub for the rest of November) as this year's "it" team? Oh yeah, wait, that was me.
HALF AS TOUGH: The Giants' first eight opponents as compared to their next eight.
CUT THAT CONTRACT IN HALF: Just eight months ago, after saving everyone's job in the Cleveland front office, Cleveland quarterback Derek Anderson was given a $24 million contract. This week, he got benched for Brady Quinn, who now gets half a week to prepare.
ANYONE WITH HALF A BRAIN: Can see that the key to rejuvenating massive nose tackles is to trade them to a different town so they can be inspired by all the new restaurants. I mean, just look at the Jets' Kris Jenkins and the Browns' Shaun Rogers.
ONLY HALF JOKING: The Jets, Dolphins and Packers all got better with the Brett Favre trade.
I'M ALMOST HALF SERIOUS: Only teams in the NFC East and South and the AFC North and South should be eligible for the playoffs.
HALF SHOCKED: To see Bill Belichick get outcoached last week in Indianapolis. It happens. He's still halfway to getting my vote for coach of the year. I mean, look at some of the other teams who lost their star QBs. How are the Bengals and Seahawks doing?
HALF AS LOUD: The Colts' new stadium, compared to the RCA Dome.
HALFHEARTED: A Seahawks defense that couldn't shut down someone named Brent Celek (a backup tight end in Philly and star of "Magnum PI: The Next Generation") who blew by them for catches of 44, 39, 27 and 15 yards.
HEY, NOT HALF BAD: That Heineken mini-keg.
HEY, NOT HALF BAD II: Great teams win even when they don't play their best games, and that's what the Titans did against Green Bay.
HALFWAY TO A HALFWAY HOUSE: Mike Vick. Beyond all the horrific consequences of his actions and from a purely football fantasy standpoint, I can't help but wonder what a Wildcat direct-snap offense would look like with a true RB/QB hybrid like Vick behind center.
HALF OF 1 PERCENT: Of the readers agreed with my column last week that nominated Hines Ward as one of the league's dirtiest players. The rest wrote passionate and thoughtful (and yes, angry) letters questioning everything from my manhood to my sanity.
HALF A GENIUS: In religion and football, closed-mindedness often gets mistaken for conviction. But, love him or hate him, one of the reasons Bill Parcells has been successful for as long as he has is that he's not above adapting his schemes and philosophies to changes in the game, his roster or the competition. You're seeing that philosophy at work in Miami this year. It reminds me of 1996 and the way he transformed from old-school captain conservative into a pass-happy freak and rode Drew Bledsoe's hot arm all the way to the Super Bowl.
HALFWAY TO A NERVOUS BREAKDOWN: Who's gonna blow first: T.O., Ocho Cinco or Mike Holmgren?
HALF AS MANY TEAMS AS THEY NEED: The NHL should expand and add a second team in Detroit. Seriously. A second team in Motown is a no-brainer. All we need is a name to get this thing rolling. Mustangs? Bombers? Hybrids?
HALFWAY TO THE PLAYOFFS: New Orleans and Minnie. Trust me.
HALF MY iTUNES MONEY: Will go to John Legend this week.
David Fleming is a senior writer for ESPN The Magazine and the author of the memoir "Noah's Rainbow" and "Breaker Boys: The NFL's Greatest Team and the Stolen 1925 Championship," which has been optioned as a movie. The Flem File will run each Wednesday during the NFL season.