I was somewhat shocked when I heard that after just 30 minutes of football the St. Louis Rams were already down 40-0 to the New York Jets. I laughed when I learned about the five turnovers that led to 27 points for the Jets. I gasped when I realized this would be the third-worst defeat in the 71-year history of the franchise. And I have to say I was somewhat relieved when in the second half Rams coach Jim Haslett decided to bench quarterback Marc Bulger (or whatever alien life-form has been occupying his body) in favor of Trent Green.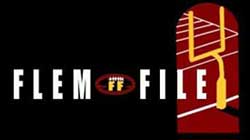 But then the Rams went too far.
Somehow, on the opening drive of the second half, St. Louis bumbled its way to the Jets' 19-yard line. And then, get this: Down by 40, with all their pride evaporated and their season pretty much over at 2-7 and with nothing whatsoever left to lose, on fourth-and-7 the Rams decided to kick a field goal.
That's when I decided somebody needed to step in.
And not a moment too soon. I mean, is this how far we've all sunk? Have the Rams and the rest of us sheep out here been so thoroughly Lombardomized by a Nilla-wafer, risk-averse NFL, in which the last new innovation was developed in the 1970s, that we're not the least bit insulted or disappointed in the utter lack of imagination and inspiration it must take for a team down by 40, with absolutely nothing to lose, to kick a field goal?
On Tuesday night I attended an amazing dinner at Davidson College for Newsweek editor and renowned author Jon Meacham. (If you haven't read Newsweek's magnificent 50,000-word opus on the presidential campaign, be sure to check it out.) Anyway, I was sitting next to a very sharp senior poli-sci major who also happened to be a slightly depressed Chiefs fan. (Is there any other kind?) He did, however, finally manage to perk up a bit when I told him, "Hey, as bad as your team is, at least Herm Edwards had the stones to go for it at the goal line against the Chargers."
"It could be worse," I told him, quoting myself. "You could be the Rams. They were down 40 and kicked a field goal."
Even the diminutive math scholar sitting at the table chuckled at that one.
Mocked by a math prof? It's hard to get any lower than that, really.
Honestly, though, what more could Jim Haslett do? The Rams fired the original coach. They benched the quarterback. They shuffled their lineup. They might have performed an exorcism inside the locker room for all I know. On Sunday, Haslett said it was "embarrassing" and "bad football" and that "we either don't want to do it or we're not good enough to do it."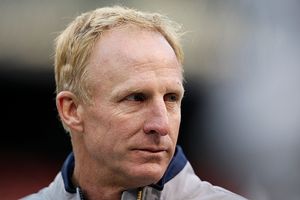 Nick Laham/Getty Images
Step 1, Jim -- CUT YOUR KICKERS!
Gee, how about both?
Carolina coach John Fox once told me that when things get this bad and all else fails some coaches like to go with the "evaluation" speech. Look fellas, they'll say, you might think we don't have anything left to play for this season, but let me guarantee you something: the people who sign your checks and keep you employed in this league and in this wonderful cushy life you enjoy? They're all still watching. Maybe I'll get fired. Maybe. But the owner is still watching, the GM is still watching, scouts and personnel people from around the league are still watching, and nothing is more damning to your future employment than film of you quitting out there on Sunday.
Of course, I think the Rams are probably long past that kind of reasoning.
On Monday, after all, Haslett said the Rams' defensive line got beat up by the Jets. He said it had "nothing to do with coaching, it had nothing to do with scheme, it had nothing to do with X's and O's." It had nothing to do with injuries, voodoo or Brenda Warner, either. "To sit here and say that you're fragile and all that, I think it's bull," Haslett said. "You can say it's the psyche, you can say it's adversity, you can say whatever you want to say; it doesn't make a difference. Call it whatever you want to call it. To me, it's just bad football."
Exactly.
CALLING ALL TURKEYS!
Attention Flem File devotees: Dear Flem is taking a hiatus this week, but we need you to send an e-mail about your great family football games over the holidays.
We started this last year and the responses were awesome. Be sure to include: (1) the title of your Turkey Bowl; (2) at least one pulled hammy or nasty injury; (3) turkey vomiting; (4) trick plays pulled on new members of the family; (5) tales of near fisticuffs between siblings. (Oh, no, wait, that's just my family.)
See, if the NFL is ever going to complete its plan for perfect parity, the problem won't be pulling teams like the Giants and Titans back to the pack. It will be trying to get "bad football" franchises like the Rams, Lions, Bengals, Browns, 49ers, Chiefs and Raiders up to mediocrity. The league practically legislates parity with the salary cap, free agency, draft order and schedule strength. So in my mind, the Patriots going 16-0 was amazing, but it's even more remarkable, with everything working in their favor, that the Lions could well be on their way to 0-16.
In other words, these problems aren't gonna fix themselves, folks. And frankly, if I have to read any more sob stories from Dear Flem readers who have waited their entire lifetime for their sad-sack NFL team to win a Super Bowl (or even a playoff game), I might just cram a letter opener in my ear.
So that's where the Rams Rules come in.
On Nov. 10 of every NFL season henceforth, I propose that a blue-ribbon committee of Wayne Fontes, Mike Brown, Jeff George, myself and -- oh, I don't know, let's just pick some random person I'd have to spend a lot of time with -- CNN pundit Amy Holmes will compile a list of all teams already mathematically eliminated from the playoff race (it's usually about a third of the league, actually), and for the remainder of the season those franchises will be allowed to operate under the Rams Rules.
Now, this isn't a big giant freebie. For starters, Rams Rules teams will have to wear a scarlet "RR" on their uniforms.
They will also have to agree to immediately cut both their punter and their field goal kicker, since they will be required to go for it on all fourth downs and will not be permitted to KICK FIELD GOALS TO TRIM THE DAMN SCORE TO A MORE MANAGEABLE 37 POINTS.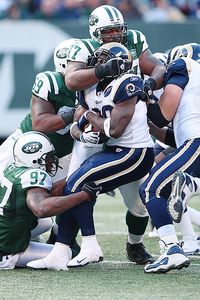 Al Pereira/Getty Images
Just another horrible day at the office for the Rams.
Rams Rules teams may not, under any circumstances, sign, play or even consider using a quarterback who (A) has declared himself retired; (B) is old enough to remember any of the original MTV VJs; or (C) has the physique of a professional bowler. Teams must do something completely crazy and play the young quarterback they drafted in order to develop.
RR teams will be encouraged to foster team unity by producing a new music video for each opponent.
The trading deadline will be extended for Rams Rules teams so they can dump all the high-priced free-agent busts poisoning their locker room for future draft picks, or Target gift cards (just in time for the holidays).
To keep fans interested, the price of beer and merchandise at the home stadiums of RR teams will decrease by 20 percent for every quarter the team goes without scoring, or, in the case of the Raiders, it will just be given away on a first-come, first-served basis.
RR teams won't have to worry about roster sizes or the salary cap, since we're going to suspend those for them for the remainder of the season or until they reach .500 -- whichever comes first. Also, teams will be refunded the salary of any players currently active in MMA.
To turn these teams around -- fast -- we also need honest communication about what the club's real problems are. So all RR teams will receive amnesty from all penalties, suspensions and fines for speaking out against the current coaching staff, the management of the team, the owner or the fans.
Based on a player vote, RR teams may elect not to retain their coach and just wing it themselves the rest of the way.
RR teams will not be charged a loss of downs for the use of any flea-flicker-type plays.
And in extreme cases, such as the Bengals, RR teams may also be granted: (1) an extra "mulligan" down for every trip inside the red zone; (2) two points just for kicking the ball into the end zone; (3) a one-bounce reception rule when trailing by 21 points or more; (4) an extra 10 points for showing "Rattle and Hum" on the JumboTron during the game; and (5) 18 minutes of quality chalk-talk time with Bill Belichick each Tuesday from 3:18 until 3:36 a.m.
Oh, and this one is the most important Rams Rule of all: There will be no more drug testing for any RR team in good standing. Not the players, mind you; we're actually gonna start testing them more -- like after each third down. But there will be no more drug testing of any kind for the poor fans of these teams.
And, of course, the media.
David Fleming is a senior writer for ESPN The Magazine and the author of the memoir "Noah's Rainbow" and "Breaker Boys: The NFL's Greatest Team and the Stolen 1925 Championship," which has been optioned as a movie. The Flem File will run each Wednesday during the NFL season.