According to organizers, the Times Square New Year's Eve Ball is a 12-foot geodesic sphere that weighs 11,875 pounds, is covered in 2,668 Waterford crystals and powered by 32,256 Philips Luxeon Rebel LEDS, making it capable of creating a kaleidoscope of more than 16 million colors and billions of unique patterns.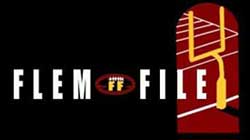 Uh. Yeah. I don't have one of those.
But in the spirit of the New Year, I do have an epic, electrifying countdown of the Flem File's top 100 NFL headlines of 2008 -- and not once during my countdown will you be subjected to Ryan Seacrest.
Pacman Jones. The Detroit Lions. Brett Favre. Ed Hochuli. And 96 other NFL stories. But no Seacrest.
So enjoy the list.
And the new year.
100. Browns reverse course and fall from 10-6 to 4-12.
99. Ravens lose two games to Steelers by seven total points, including a home loss on a questionable end-zone call.
98. Carson Palmer misses 12 games with elbow injury.
97. Giants trade disgruntled tight end Jeremy Shockey to Saints where, plagued by injuries, he finishes without a TD catch.
96. Nagged by injuries, LaDainian Tomlinson finishes with 1,110 yards rushing, the lowest output of his career.
95. Michael Strahan retires.
94. Arena League suspends play for 2009 season.
93. Patriots safety and 15-year NFL vet Rodney Harrison suffers potential career-ending leg injury against Broncos.
92. During an April debate against an NFL historian, "Breaker Boys" author (me) proves Pottsville Maroons were wrongly denied 1925 NFL championship.
91. Texans rookie back Steve Slaton rushes for 1,282 yards and catches 50 passes.
90. Chargers linebacker Shawne Merriman misses all but one game with knee injury.
Every week, one lucky reader gets to exchange e-mails with David Fleming.
This week, a few questions from a Jaguars fan who has
some New Year's resolutions
for his team.
89. Using third quarterback Tyler Thigpen operating out of the spread, Chiefs still blow six late leads to close 2-11.
88. Joe Gibbs retires.
87. Chiefs trade Jared Allen to Vikings. Minnie wins division. KC ends up with 10 sacks, fewest in NFL history.
86. Matt Hasselbeck's back injury sends Seahawks into a 4-12 nosedive during Mike Holmgren's final season.
85. Houston falls to 0-4 after fourth-quarter collapse against Indy, recovers to finish 8-8.
84. Jason Taylor wins Walter Payton Man of the Year award but ends up a bust in Washington.
83. Chiefs GM Carl Peterson resigns.
82. Piedmont High School near Oakland, Calif., invents A-11 offense, a super spread scheme with no offensive line and all 11 players potentially eligible in a scheme that could one day become the NFL offense of the future.
81. Who Dey Revolution fan group fights back against Bengals' ineptitude.
80. Adrian Peterson rushes for 129 yards and two TDs to become only the second rookie to win Pro Bowl MVP honors as the NFC defeats the AFC.
79. Bears win back-to-back OT games to stay in hunt for NFC North title.
78. Steve Smith suspended after breaking teammate's nose in training-camp fight.
77. Lions give up 172.1 yards rushing per game.
76. Pacman Jones gets suspended, again.
75. Broncos collapse down the stretch and finish 8-8. After going 24-24 since 2005, Broncos fire coach Mike Shanahan.
74. Washington starts 4-1, then loses to St. Louis.
73. Brady Quinn finally gets his chance and goes 1-2 with two TDs and two picks before getting injured.
72. Raiders spend $255 million and finish 5-11.
71. Cowboys' new stadium to cost more than $1 billion.
70. Carolina's Jake Delhomme becomes first starting NFL QB to successfully return from Tommy John surgery.
69. Saints QB Drew Brees comes up 16 yards short of breaking Dan Marino's record for passing yards in a season.
68. End of an era in Tampa as Bucs' defense collapses in final month of season, coordinator Monte Kiffin leaves to join his son at Tennessee.
67. Raiders owner Al Davis hold bizarre press conference after firing Lane Kiffin.
66. Tony Romo breaks pinkie and misses three games.
65. Hurricane Gustav forces Saints to evacuate to Indianapolis. Team back home in Superdome nine days later.
64. Packers quarterback Aaron Rodgers steps out of Brett Favre's shadow to throw for 4,038 yards, but can't rally team late in games. Pack finishes season 6-10.
63. Bengals complete 17th season in past 18 years without a winning record.
62. The 2006 NFL Rookie of the Year, Titans quarterback Vince Young, is demoted to backup after knee injury and concerns from family members about his mental well-being.
61. Falcons GM Thomas Dimitroff pulls off rare personnel hat trick: signs coach Mike Smith, drafts Matt Ryan and grabs free-agent running back Michael Turner.
60. 50th anniversary of the Greatest Game Ever Played.
59. Chad Johnson changes last name to Ocho Cinco.
58. Texas Stadium closes.
57. Art Monk, Darrell Green lead 2008 Hall of Fame class.
56. Indianapolis Colts win nine in a row after 3-4 start.
55. Matt Millen, the architect of the Lions' 0-16 run, gets fired, finally.
54. Nine fumbles cost Adrian Peterson MVP consideration.
53. Dolphins' Joey Porter goes from free-agent bust to 17½ sacks.
52. After shaky tryout, 49ers elevate Mike Singletary to full-time head coach.
51. Bills give up home game in the elements against division rival Miami for indoor payday in Toronto.
50. Indy GM Bill Polian says first round of NFL draft -- in which untested players are guaranteed millions -- is "broken." Despite all the resources put into draft, research study shows first-round picks' chances of being at Pro Bowl or out of the league after five years are about the same.
49. Hurricane Ike damages Reliant Stadium, postpones Texans-Ravens game.
48. Mag senior writer and Page 2 columnist David Fleming finishes third while picking NFL games on ESPN's panel of experts.
47. Browns tight end Kellen Winslow suffers staph infection, the sixth known case with the Browns, and accuses team of trying to cover up problem.
46. Dolphins take Michigan tackle Jake Long with top pick overall in 2008 draft.
45. DeMarcus Ware leads NFL with 20 sacks.
44. Jaguars lose half of their offensive line in the final week of training camp and never recover.
43. Dolphins and Giants tie for NFL record of just 13 turnovers in a season and finish a combined 23-9.
42. Lobby for disgruntled NFL veterans who want increased benefits and disability coverage continues to grow.
HEADLINE ROLL CALL
Did David Fleming miss any headlines?
Well then go ahead and drop him a line to let him know where he messed up.
41. Colts coach Tony Dungy takes 10th straight team to the playoffs.
40. Titans RB Chris Johnson (1,228 rush yards, 43 catches) rounds out the best rookie running back class in NFL history.
39. NFL owners opt out of CBA early, leaving possibility of un-capped 2010 season.
38. Falcons running back Michael Turner runs for 1,699 yards as the year's top free-agent pickup.
37. D-linemen Kris Jenkins and Shaun Rogers revive careers with Jets and Browns.
36. Nineteen starting quarterbacks suffer serious injuries.
35. Houston's Andre Johnson leads the league in receiving yards (1,575), receptions (115) and 100-yard games (8).
34. In his 12th season, tight end Tony Gonzalez catches 96 passes. Gonzalez now has most catches, yards and TDs by a tight end in NFL history.
33. NFL one step closer to European expansion with Saints-Chargers game in London.
32. Patriots beat NFC West champion Cardinals 47-7 on way to becoming first 11-win team to miss playoffs in 23 years.
31. Bears rookie Matt Forte rushes for 1,238 yards and leads team with 63 catches.
30. Six players suspended for testing positive for what league says is a masking agent for steroids.
29. Without starting a game since high school, Matt Cassel steps in for Tom Brady and winds up as one of the league's top 10 QBs.
28. NFL continues levying huge fines for hits that were not flagged during games, while simultaneously marketing the violence of the game.
27. Jags tackle Richard Collier survives 14 gunshot wounds, but is left paralyzed and has his left leg amputated. He rejoins the team for the coin toss on Dec. 18.
26. Referee Ed Hochuli blows critical call late in first Denver-San Diego game, handing the game to the Broncos.
25. DeAngelo Williams and Jonathan Stewart combine for 2,351 yards rushing as Panthers win NFC South and No. 2 seed.
24. Cardinals lose four of final six and still win first division title in 33 years.
23. After 0-2 start, Vikings coach Brad Childress saves season by benching quarterback Tarvaris Jackson in favor of journeyman Gus Frerotte, who wins eight of 11 starts.
22. Dolphins introduce Wildcat direct-snap formation, which is hailed as fresh, new and bold even though it was created 100 years ago.
21. Steelers linebacker James Harrison (16 sacks, seven forced fumbles) emerges as MVP candidate as Steelers' defense takes place among Pittsburgh pantheon, finishing first in fewest total yards, points per game and passing yards, and second in fewest rushing yards.
20. Andy Reid benches Donovan McNabb. Quarterback and team respond by winning four of last five to make playoffs.
19. After starting 4-8, San Diego Chargers win AFC West.
18. At 35, Kerry Collins leads the Titans to a 13-3 record and No. 1 seed in AFC.
17. A year after he was murdered in his Miami home, bringing the topic of player security and safety to the forefront in the NFL, Washington safety Sean Taylor is inducted into the Redskins' Ring of Honor. "It's not about the time you had, but the impact," teammate Clinton Portis says.
16. Ravens rookie quarterback Joe Flacco and rookie coach John Harbaugh lead Ravens back to playoffs.
15. Discarded by the Jets, Chad Pennington leads Dolphins to AFC East title.
14. Tennessee Titans start season 10-0.
13. Adrian Peterson of the Vikings leads NFL with 1,760 yards rushing and becomes fifth player in NFL history to rush for 3,000 yards in first two seasons.
12. Giants Brandon Jacobs and Derrick Ward become fifth combo in NFL history to each reach 1,000-yard rushing milestone in same season.
11. Patriots become third team in NFL history to go undefeated in regular season then lose in league championship game.
10. Dallas Cowboys embarrassed 44-6 in season finale at Philadelphia to extend playoff-win drought to 12 years.
9. Falcons rookie QB Matt Ryan raises bar for first-year quarterbacks with 25 negative plays in 480 dropbacks and wins NFL ROY, sparking Falcons' turnaround.
8. Hall of Famer and NFLPA executive director Gene Upshaw dead at 63.
7. NFL MVP Tom Brady blows out knee in season opener.
6. Brett Favre tarnishes legacy. Unretires, creating ugly divorce with Green Bay Packers before signing with the Jets, then leads NFL in interceptions (nine picks and two TDs in final five weeks) and helps take out coach Eric Mangini after Jets lose four of last five to miss playoffs.
5. Detroit Lions become first team in NFL history to go 0-16.
4. Colts QB Peyton Manning recovers from preseason knee surgery to complete his ninth season with 4,000 yards passing.
3. Super Bowl XLII hero Plaxico Burress arrested and suspended after shooting himself in leg at New York nightclub, re-igniting debate about player safety and security.
2. Miami Dolphins go from 1-15 to 11-5 and AFC East champs.
1. On third and 5 at the New York 44 with 1:15 to play in Super Bowl XLII, Eli Manning of the underdog Giants spins away from two Patriot defenders and hits David Tyree who cradles the ball against his helmet, and away from a swarming Rodney Harrison, for a 32-yard pickup and the signature moment in one of the best Super Bowls ever played.
David Fleming is a senior writer for ESPN The Magazine and the author of the memoir "Noah's Rainbow" and "Breaker Boys: The NFL's Greatest Team and the Stolen 1925 Championship," which has been optioned as a movie. The Flem File will run each Wednesday during the NFL season.