Gregory Shamus/Getty Images
The scene was classic Baltimore Ravens.
Quarterback Joe Flacco had just become the first rookie quarterback in league history to win his playoff debut on the road, and there he stood, leaning against the cinder-block wall of a small room next to the team's locker room, waiting his turn, silently, as safety Ed Reed stood at center stage discussing the team's beatdown of the Dolphins. "Cause havoc," said Reed. "Week in and week out, that's what we do. We're on a mission now, and the mission is the Super Bowl."
As Reed waxed on about his interceptions, not winning the defensive MVP award, another Super Bowl run, and about his No. 1 fan, Michael Phelps, Flacco stood there just like the rest of us on Sunday -- mesmerized by Reed and the rest of Baltimore's ravenous, righteous, jaw-dropping D.
In a league that no longer even tries to hide its love of offense, passing, quarterbacks, scoring and all things pretty and fast and exciting, for one brief moment defense came first, and all was right with the universe.
"This is just one," said Flacco. "We still need three more."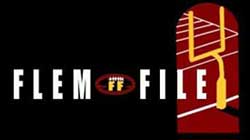 And after all that I witnessed on Sunday in Miami, it wouldn't surprise me one bit if the Ravens did just that.
Baltimore Ravens Observation No. 1: The Dolphins had 65 yards passing at halftime when I went in search of Mountain Dew and noticed on the wall of the press box a massive color photo from a bygone era: a shot of wideout Mark Clayton in action from a 1984 playoff game against Pittsburgh when the Dolphins had nearly 600 yards of offense.
BRON2: The only thing worse than the Dolphins' performance in the first 30 minutes were the dudes they brought in for the halftime "entertainment." I don't even know how to describe it. Six guys straight out of the Wiggles, wearing orange jumpsuits, who, as far as I can tell, were paid handsomely to bounce on a trampoline and excessively high-five each other for having the tumbling skills of fourth-graders.
BRON3: Prophetic sign on a van in the parking lot outside the stadium: "Let Go Dolphins." Prophetic sign in stands No. 2: the guy wearing a Troy Polamalu jersey. Prophetic sign in the stands No. 3: "CBS: Come on Bill, Stay."
BRON4: I arrived late inside the stadium because I ran across a Lynyrd Skynyrd cover band in the parking lot and I waited around to see if it was going to play "Free Bird." It didn't. Hacks.
BRON5: When Ravens punter Sam Koch tries to hit a shallow knuckleball that his coverage team can down near the goal line, he holds the football with the cone in the palm of his hand like a brandy snifter -- only now people holding snifters can claim they're holding their brandy like Sam Koch.
Every week, one lucky reader gets to exchange e-mails with David Fleming.
This week we open it up to a few people. We let fans ask him questions about the four playoff games this weekend. Best Divisional game of all-time? How much money is due Darren Sproles? Should Giants fans be scared right now?
Check it out.
BRON6: Early in the second half, Ray Lewis crashed into a pile of bodies with so much force his teammates were waving for the trainers to get on the field immediately. Lewis stood up like Lazarus. Shook it off. Waved the trainers away. And then he made the tackle on the next play.
BRON7: I haven't seen a beatdown like this in the playoffs in a long, long time. The Ravens were relentless on defense, and they never took their foot off the gas. The stands were empty and the game was over and they were still blitzing Pennington, trying to fold him in half like a cheap wallet. There is something visceral and violent and unpredictable about a defense this scary-good. Rex Ryan: "Our philosophy has always been: If you hit 'em hard enough, teams will turn it over."
BRON8: An NFL football is about 10 inches long. And for an NFL first down, because you need only to break the plane of the yard-marker, this means that refs have a margin of error of almost a foot when they spot the ball.
BRON9: Mad, wild, salsa dancing in the parking lot before the game. Awesome.
BRON10: As far as team colors that lend themselves well to body painting, I'd have to rate orange and teal at the bottom of the list. You either come off looking like the Heat Miser, a Smurf or a Miami Beach cougar.
BRON11: The Dolphins' coaching staff leads the league in cool nicknames. Special teams coach John Bonamego goes by Bono and D-coordinator Paul Pasqualoni -- who deserves a lot of credit for getting the most out of his players by simplifying the team's way-too-complicated schemes from 2007 -- goes by "Blue" from "Old School" fame. "Ring the bell you..."
BRON12: Dolphins legend Don Shula made an appearance at halftime to hand out an award to a local high school coach, a classy ceremony that ended with the poor guy having to shake the fin of the Dolphins mascot, T.D.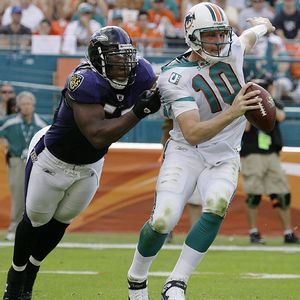 Ronald C. Modra/Sports Imagery/Getty Images
Chad Pennington didn't have any answers for the Ravens vaunted defense.
BRON13: I found out 19-year veteran kicker Matt Stover's secret: dude does yoga poses, like Cobra, on the sidelines. Not a good look for a football player.
BRON14: As well as the game translates to TV, you still miss a lot of the -- yes, I'll admit it, thrilling -- uberviolence of the game. Like Ravens safety Daren Stone street-fighting his way 50 yards downfield as a gunner on punt coverage. On one play, I counted eight dangerous, violent, angry, high-speed collisions with six different Dolphins players.
BRON15: Every time I cover the Ravens, I still think of "Yo dawg, hit these tots right here!" -- the saying former Baltimore player Adalius Thomas and I tried to start up as a new catchphrase a few years ago.
BRON16: Ed Reed has become like the Peyton Manning of NFL defense: You could make an argument every year that he should win the MVP award. I said a few weeks ago in my column that in 20 years we might end up saying Ray Lewis was the guy who played with Ed Reed instead of the other way around. But let me point something out first from this past weekend: Pennington could not physically get the ball downfield or beyond the numbers with any kind of velocity or accuracy and, as a result, the Ravens were able to cheat everything inside and overload the middle of the field, knowing that's where he was going with the ball. Take nothing away from the Raves or Reed, but this was a colossal mismatch. They won't have that luxury against the Titans. Kerry Collins still has a good arm.
BRON17: Ed Reed on the DPOY Award: "There's only one trophy I want to put my hands on, and that's the Lombardi Trophy."
BRON18: With 5:24 left in the game, with T.D., the team's albino dolphin mascot flat on his back throwing a toddler-like tantrum, the inside of the stadium took on the look of a fire drill. This was not a trickle-out exit: this was a code orange evac. After seeing this, I'm gonna stop picking on the wine and cheesers in Charlotte for leaving early.
BRON19: As I watched the Dolphins get manhandled, I just couldn't help myself: I started looking back at the list of teams they beat -- only one playoff team in the whole bunch. And here's why I really thought Bill Parcells was gonna pocket his $9 mil and move on: Next year, the Dolphins play 13 games against teams who were 8-8 or better. God, don't you love the NFL and media types like me? A team improves by nine wins in one season, we celebrate it for all of 10 days and then go, "yeah, but..."
BRON20: Sixth seeds are 2-10 against No. 1 seeds. But the Ravens should know that the two wins came in the last two playoffs.
BRON21: During pregame warm-ups, Ravens kicker Steve Hauschka nailed a member of the National Guard with a shanked kick. I saw the whole thing. It left a mark.
BRON22: Random, so-depressing-it's-funny, Smith's lyric enjoyed on my new sat-rad: "...and if a double decker bus, crashes into us, to die by your side is such a heavenly way to die ..."
BRON23: As many of you already pointed out in e-mails in last week's column (The Top 100 NFL Headlines of 2008), in my eagerness to commence New Year's celebrations, I listed Miami's Joey Porter as "Jerry" -- something we corrected but not before it jinxed whatshisname against the Ravens.
BRON24: Matt Millen on TV as an NFL "expert"? Ever wonder what TV people think of the intelligence of their audience? There's your answer. What's next, Ashton Kutcher critiquing actors? Or Bon Jovi and Nickleback joining together to rate actual rock musicians? Or Brody Jenner educating us on pride?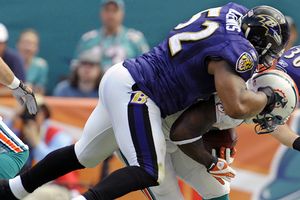 Al Messerschmidt/Getty Images
Don't let the passing of time fool you, Ray Lewis can still bring it on Sundays.
BRON25: In an e-mail last week, Justin in Nashville, a long time Flem Filer and soon-to-be-dad, broke out a WHYLO Award reference. Old school Flem Filers will remember that we used to give out a WHYLO (Who Helped You Log On) Award for the worst (best?) hate mail each week. It's a much-copied but never-equaled gimmick. Maybe we'll bring it back for the Super Bowl.
BRON26: What a sight of pure joy after the game, with the Ravens dumping Gatorade on each other and coaches John Harbaugh and Rex Ryan throwing their hats into the stands and running up and down the edge of the field to high-five the massive collection of Baltimore fans who encircled the field like a giant purple victory bow.
BRON27: Inside the Ravens' giddy, collegial locker room, a member of the team put it best when he said: "It's so much more fun when it's not expected." How true. I always remember Tony Stewart and Peyton Manning reaching the pinnacle of their sports with a look on their faces that was more relief than joy -- as in, "how do you celebrate something you have been expected to accomplish your entire life?" Is there anything more sad or messed up in our sports culture?
BRON28: Less than 90 minutes after the game, crews inside the stadium were already preparing to spray-paint over the Dolphins logo at midfield in preparation for the BCS title game. We obsess over this stuff 24/7 for seven months, and then some guy spray-paints over it in 10 minutes. That's pretty harsh.
BRON29: Rex Ryan: "If we're coming to your town, it's going to be tough. I promise you one thing: We'll be ready and the Titans are going to get our best shot."
BRON30: The Ravens had already started breaking down the Titans last week in anticipation for this potential matchup. One thing I'm sure they're still kicking themselves about is giving up two late drives to Kerry Collins, who brought the Titans back from a 10-3 deficit -- a performance that defined the veteran QB's resurgence. I know everyone's first inclination is to jump up and down and scream about the Prevent Defense, right? But trust me on this, when used in the correct situations and executed properly the Prevent Defense is one of the most effective schemes in the game. It has just become one of those things that poseurs who don't know anything about football like to jump up and down about. But late in games when teams are protecting a lead of more than four points, they aren't battling the scoreboard but the clock and in a situation where one quick score is the worst-case scenario, the Prevent is your best bet. (The only thing it lacks is better PR.) Just ask Ohio State.
BRON31: How loose are the Ravens right now? In his post-game press conference head coach John Harbaugh, his gray shirt still soaked from the Gatorade shower he received on the sidelines, joked about being winded from his victory lap to high-five fans and, while leaving the room he feigned disappointment that no one asked him any Coors Light questions. Talented? Down to earth? Successful? Funny? Where did this guy to school? Oh yeah, that's right: Miami University.
BRON32: Speaking of Miami, let's just go ahead and add Harbaugh to the school's amazing Cradle of Coaches, a group that includes Weeb Ewbank, Paul Brown, Woody Hayes, Bo Schembechler, Ara Parseghian and Jim Tressel, to name a few.
BRON33: The past three Super Bowl champs were all low seeds who had to win on the road in the playoffs. This weekend will tell us if this officially a trend or an anomaly.
BRON34: Am I the only one who is now day dreaming about a Steelers-Ravens III: a 13-10 melon stomping gut-punching romp inside a snowy Heinz Field between two teams that genuinely dislike each other and featuring the two best defenses in the game and the two best defensive players, James Harrison and Ed Reed.
BRON35: FLEM FOTOS
They tore down the goalposts in Miami -- just not the way many Dolphins fans were hoping for.
BRON36: Dolphins owner Wayne Huizenga, wearing a tan, a huge grin and a cheesy Dolphins tie, put the game in perfect perspective as he left the stadium: "This was not a good day, but it was a great year." In the background the Foo Fighters "Times Like These" was playing over the stadium speakers.
David Fleming is a senior writer for ESPN The Magazine and the author of the memoir "Noah's Rainbow" and "Breaker Boys: The NFL's Greatest Team and the Stolen 1925 Championship," which has been optioned as a movie. The Flem File will run each Wednesday during the NFL season.
2008 NFL Playoffs

The road to Tampa for Super Bowl XLIII on Feb. 1, 2009, began Jan. 3 with the wild-card playoff round. Will the Steelers or Cardinals replace the Giants as champs?

Championship Game results: NFC | AFC


COLUMNS/FEATURES
•
Wojciechowski: May the bitter team win
•
Chadiha: McNabb lets good times roll
•
Football Outsiders: Numbers Crunching
•
Sunday Countdown: Predictions and more
•
Clayton: First and Goal
•
Garber: This Philly Story seeks proper ending
•
Clayton: Peaking Steelers should advance
•
Chadiha: Eagles will soar in desert
•
Wojciechowski: Book Eagles for Tampa
•
Football Outsiders: Any Given Sunday
•
Football Outsiders: Quick Reads
CHAMPIONSHIP GAMES (Jan. 18)
Steelers 23, Ravens 14
•
Polamalu's INT return secures win
•
Playoff page
|
AFC North blog
Cardinals 32, Eagles 25
•
Fitzgerald leads Cardinals to first Super Bowl
•
Playoff page
|
NFC West blog
...
East
DIVISIONAL ROUND (Jan. 10-11)
Steelers 35, Chargers 24
•
Walker: The Bus sparks Parker
•
Williamson: Bolts need season-long urgency
•
Recap: Steelers knock out Chargers
•
More
|
AFC West blog
...
AFC North
Ravens 13, Titans 10
•
Graham: Battered Ravens pass physical
•
Kuharsky: Titans failed to answer critics
•
Recap: Turnovers doom Titans
•
Zoom Gallery
•
Fleming: Can anyone stop the Ravens?
•
More
|
AFC North blog
...
AFC South
Cardinals 33, Panthers 13
•
Sando: Desert bloom for Arizona's faithful
•
Sando: No denying Cards' makeover
•
Yasinskas: Carolina's big plans fall apart
•
Recap: Delhomme's 5 INTs doom Panthers
•
Zoom Gallery
•
More
|
NFC West blog
...
NFC South
Eagles 23, Giants 11
•
Wojciechowski: Book Eagles for Tampa
•
Mosley: Giants lost to better team
•
Recap: Defense smothers Giants
•
Zoom gallery
•
Chadiha: Eagles' defense hitting stride
•
More
|
NFC East blog
WILD-CARD ROUND (Jan. 3-4)
Ravens 27, Dolphins 9
•&nbsp
Wojciechowski: Scary Ravens' D
•
Recap: Ravens' defense overpowers Dolphins
•
More
|
AFC North blog
...
AFC East
Eagles 26, Vikings 14
•
Mosley: Eagles' run continues
•
Recap: Westbrook, big plays carry Eagles
•
More
|
NFC East blog
...
NFC North
Cardinals 30, Falcons 24
•
Sando: Cards' winning identity
•
Recap: Strong second half powers Cards
•
More
|
NFC South blog
...
NFC West
Chargers 23, Colts 17
•
Williamson: 5-6 Sproles comes up big
•
Recap: Chargers shock Manning, Colts in OT
•
More
|
AFC South blog
...
AFC West
ESPN Top Headlines